by Herb Montgomery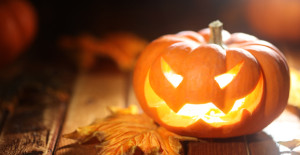 "Don't be alarmed," he said. "You are looking for Jesus the Nazarene, who was crucified. He has risen! He is not here. See the place where they laid him." (Mark 16:6)
Tomorrow is Halloween so let's talk about that first. Halloween has roots in the Western Christian tradition of All Saints' Day or All Hallows. In the Eastern Orthodox community, Christians celebrate All Saints Day on the first Sunday after Pentecost during the spring, not the fall. But the West has observed it on November 1 since the 8th Century CE, which makes October 31 its eve and thus All Saints' Day Eve, All Hallows Eve, or "Halloween" as pronounced by the Scots. Over time, Halloween became influenced by Gaelic and Welsh harvest festival traditions and folklore. It is important to keep Celtic Fall Festivals and the Christian roots of Halloween separate in our thinking. They are related; they are not the same.
In these festivals, humanity's fascination with and fear of death is invoked. Whether we are memorializing the lives of "saints" who have died (in the spring or the fall), or Celtic fall festivals marking the transition from summer to winter, we're tracing the transitions from light to darkness, plenty to paucity, life to death.
Humanity and Death
Death is at the heart of all our discussions about morality and ethics. That which leads to life is seen as good and right, and that which leads to death is seen as evil or wrong. Our entire moral compass as a race is dictated by how certain behaviors relate to life and death, the continuance of humanity or its end.
Historically, religion has held out hope for some type of existence beyond death (e.g. Egyptian religion, Christianity, Islam) or a more mystical resignation with death (e.g. Buddhism and Ancient Judaism).
The Jesus Story and the Resurrection
The resurrection is the most potent force in the early Jesus movement. The original followers believed they had witnessed Jesus, whom the status quo had executed, alive again, and it was his resurrection event that liberated them from the fear of death. Because of that event, they could stand up to domination systems and threats of execution if they stepped out of line, because death had become a conquered enemy.
Notice how the letter to the Hebrews, in true apocalyptic fashion, states this:
Since the children have flesh and blood, he too shared in their humanity so that by his death he might break the power of him who holds the power of death—that is, the devil—and free those who all their lives were held in slavery by their fear of death. (Hebrews 2:14, 15, emphasis added.)
These early Jesus followers could stand against the violence, injustice and oppression of earthly principalities and powers whom they viewed as conduits of cosmic evil Powers, because they no longer feared death and no longer feared what these earthly powers could do to them.
Through Jesus, death had been overthrown and so if his followers were executed by the domination systems as their Jesus had been, they believed they would also follow him in being resurrected at the time of universal restoration (see Acts 3.21; 1 Thessalonians 4.16-18, 1 Corinthians 15.22-23)
As a side note, I find it fascinating when humanists and secularists who do not believe in life after death but are resigned about death are still willing to lay down their lives unselfishly for those who may come after them. The gift of their life is genuinely selfless but is given purely for betterment of others. (Some researchers think Dr. Martin Luther King, Jr. may have been such a humanist in his later years.)
Humanizing Monsters
Regardless of how we arrive at that point, from my own experience, being liberated from one's fear of dying is a breathtakingly beautiful thing, especially when it has the potential to change how we relate to each other.
Morality rooted in our fear of dying influences the way in which we view one another: those who threaten our lives are viewed, too often, as evil. And those who significantly threaten our lives in ways that terrify us the most—those people we deem monsters.
The first step in ridding someone from society is to villainize them. If we can cease to see someone or a group as human and begin to see them as monsters, then we are well on our way to imagining an existence without them. These people must be seen to threaten the "good" —the life—of a society. And if they are, then fear drives out compassion, just as perfect love drives out all fear.
Tomorrow, millions of children will don masks and costumes, and go from door to door asking for cheap chocolate and industrially produced sweets. But underneath each mask is a child. I wonder if there is a deeper lesson in this.
Could the masks we see over the faces of those we fear simply hide children of a divine being, children just like you and I? Whether it's fear of someone of a different culture or race than you, fear of someone from a different economic status than you, fear of a person with a different gender than you, or fear of someone whose orientation and sexuality is different than yours, our challenge is to pull back the mask that we have fixed upon them in our own hearts, and see that person as the genuine human being that they are. They are a child, just like you, of God, a sibling of yours within the divine/human family. It takes effort to humanize our monsters. Yet it's only by doing so that we can fully to embody the value of loving our neighbors as ourselves.
Our choices are fear or compassion, death or life.
HeartGroup Application
1. This week I want you to take inventory of the people on this planet that you are afraid of. They can be specific people or simply types of people. I want you actually write down a list. I want you to name your fear this week.
2. Secondly I want you to do some research on your similarities with those you fear. This may be difficult for some, but it will be well worth it. Write down ten ways that those you are afraid of are like you: where do you not differ from them?
3. Journal the insights you gain from this exercise and share your results with your HeartGroup this upcoming week.
We are all children of divinity. We are all siblings of the same divine/human family. Our hope lies in learning how to sit beside one another at the same family table once again. There are no monsters! There are only people, who feel, who love, who hurt, who, like us, are scared. Everyone has a story, and it's time we give those we are afraid of an opportunity to share theirs.
Till the only world that remains is a world where love reigns.
I love each of you dearly, and I'll see you next week.