BY HERB MONTGOMERY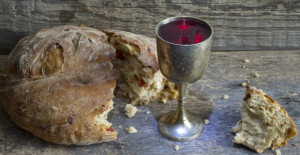 While they were eating, Jesus took bread, and when he had given thanks, he broke it and gave it to his disciples . . . Then he took a cup, and when he had given thanks, he gave it to them, and they all drank from it. (Mark 14:22-23)
Ritual is defined as "a sequence of activities involving gestures, words, and objects, performed in a sequestered place, and performed according to set sequence." All known human societies include rituals, and these rituals have anthropological functions. They're a set of activities, symbols, or events that help to shape those who participate in them and assist them in making sense of the world around them, giving order to the chaos, and providing meaning for each participant. In the early Jesus movement, the ritual of a shared meal was at the center of the group's rituals.
You can find the origins of the shared meal ritual in Jesus' last supper with his disciples in the gospels of Matthew, Mark, Luke, and John. The first time the ritual is mentioned is in the first epistle to the Corinthians.
Included in Jesus' early followers' shared meal ritual were the symbols of broken bread and spilled wine. I do not believe the early Jesus followers saw this shared meal as an appeasement of an angry god, a way to satisfy some divine demand for retributive justice, or another human sacrifice demanded by the gods. Instead, this ritual was rooted in the Jesus story itself, and it helped them make sense of what had happened to Jesus. It gave order to what had happened. And it bound them together with meaning, purpose, and a vision for their future.
It did this, I believe, in multiple ways. Let's discuss these one by one.
First, notice how the elements of the shared meal memorialized all of the faithful ones who had been broken and spilled out before them.
Both Matthew's and Luke's gospels put Jesus' rejection and execution, and the rejection of execution of his followers in the context of a long list of those who had been rejected and executed in Hebrew history:
"Woe to you, teachers of the law and Pharisees, you hypocrites! You build tombs for the prophets and decorate the graves of the righteous. And you say, 'If we had lived in the days of our ancestors, we would not have taken part with them in shedding the blood of the prophets.' So you testify against yourselves that you are the descendants of those who murdered the prophets. Go ahead, then, and complete what your ancestors started! "You snakes! You brood of vipers! How will you escape being condemned to Gehenna?* Therefore I am sending you prophets and sages and teachers. Some of them you will kill and crucify; others you will flog in your synagogues and pursue from town to town. And so upon you will come all the righteous blood that has been shed on earth, from the blood of righteous Abel to the blood of Zechariah son of Berekiah, whom you murdered between the temple and the altar. Truly I tell you, all this will come on this generation. (Matthew 23:29-36, emphasis added.)
"Woe to you, because you build tombs for the prophets, and it was your ancestors who killed them. So you testify that you approve of what your ancestors did; they killed the prophets, and you build their tombs. Because of this, God in his wisdom said, 'I will send them prophets and apostles, some of whom they will kill and others they will persecute.' Therefore this generation will be held responsible for the blood of all the prophets that has been shed since the beginning of the world, from the blood of Abel to the blood of Zechariah, who was killed between the altar and the sanctuary. Yes, I tell you, this generation will be held responsible for it all. (Luke 11:47-50, emphasis added.)
These passages, spoken by a Jew to Jews, later became the root of Christian anti-Semitism, so I want to be especially clear here. The early Jesus community does become increasingly anti-Semitic within the first century, and this trend is reflected in each telling of the Jesus story after Mark: it starts with Matthew and becomes more overt in John. However, I do not believe that Jesus' rejection and execution are a uniquely Jewish trait. On the contrary, Jesus' rejection and execution remind us of the strong tendency within all subordinated human cultures to reject nonviolent confrontation and resistance as a viable means of social change, and to seek more violent means in its place.
The Jesus of the Jesus story emerged within first century oppressed Judaism as a prophet of nonviolent social change. As Jesus' vision for nonviolent social change was rejected, violent militaristic methods took hold that would contribute to the events that lead to the Jewish-Roman War of 66-69 C.E. and ultimately to the destruction of Jerusalem by its Roman oppressors in 70 C.E.—the "this generation" he referred to. Who rejected Jesus' method? Not the Jewish people as a whole, but the few, extremely influential, controlling class whose position of privilege in Jewish society at that time Jesus most threatened. These are very real human dynamics taking place within the Jesus story. They are not Jewish in particular. These realities have repeated themselves in all human cultures at various times and places throughout history: there is no excuse for an anti-Semitic interpretation.
I want you to notice that the writers of the gospels did not view Jesus' execution and death as an isolated, solitary occurrence. Not only were Jesus' followers to expect their own rejection and execution (see Mark 8:34; Matthew 16:24; Luke 9:23; 14:27), but the writers wanted them to see Jesus' death as the latest in a long line of others whose lives had been broken and spilled out for critiquing the system as Jesus and his early followers did. The "blood of all the prophets from the beginning of the world" Included and preceded Jesus.
As well as being tied to prophetic history, in the Mark's gospel the shared meal of the early Jesus community was also associated with the Jewish Passover meal of liberation from Egyptian oppression. The Passover ritual gave the Jewish people a way to explain what had happened repeatedly within their history, and it helped them build meaning, purpose, and a vision for the future.
That Jesus would use this Jewish ritual, reframing it for his own nonviolent liberation shows his ingenuity. Jesus came as prophet of social change, announcing liberation of the oppressed through self-affirming, nonviolent enemy transformation. Like the prophets of old, he would be executed by the domination systems he was critiquing. And he would call his followers to be willing to do the same.
The ritual of the shared meal, including broken bread and spilled out wine, therefore is quite appropriate. It was a memorial, first, of all those who had been broken and spilled out in the past by domination systems. It was a time to remember those who had gone before them. It reminded them that they were part of something larger than themselves, that their movement and their Jesus were part of a larger stream whose tributaries stretched back centuries before them.
Their shared meal memorial also centered Jesus, who stood in solidarity with all who have ever been broken and spilled out, and after his death, the ritual also kept his teachings at the center of the movement. It continually reminded them of the one who was broken and "spilled out for many" just as they were to be willing to be (Mark 14:24 cf. Mark 8:34).
This ritual not only helped these early followers to explain what had happened to Jesus, and not only gave them a historical context and meaning, it also helped them to cast a vision for future of human society. This shared meal was a protest, a demonstration that this new Jesus community was to form around a shared meal and shared table in significant contrast to the domination/subordination form of the wider society and of every human societies since. This was a vision of a way of relating that could liberate humanity from everything that hindered and oppressed it! We talked about Jesus the liberator in last week's e-Sight (link).
This shared table was more than an economic symbol, though. Our new series, A Shared Table, explains that this ritual helped participants to more harmoniously live out the values of egalitarianism or equality, diversity, and basic, human inclusivity. In light of what we learn about the community of Jesus-followers in Acts 2 and 4, we see that it taught its participants to live in a society without domination, one based on the universal truth of the golden rule, sharing, justice, equity, and peacemaking.
The ritual begins within small communities, remembering the names and lives of all those who have gone before, celebrating a vision for what the world can be, and then getting up from the table and choosing to put it into practice. And through these small acts in small communities, the world is "turned upside down" (Acts 17).
HeartGroup Application
I want to encourage each HeartGroup to participate the ritual that Jesus shared with his disciples, the last supper. In the 1st Century, this ritual took the form of a shared meal that included "bread and wine." The ritual both memorialized Jesus and those in the past whom he was standing in solidarity with, it gave meaning to the ways they too were being broken and spilled out for many, and it set before their imaginations what a world changed by the teachings of Jesus could look like.
This week:
Schedule with your HeartGroup a special time when you can come together and participate in this ritual of a shared meal. Read some more historical background on the shared agape meal.
2. Take time during the meal to read the stories of Jesus' last supper from each of the four New Testament gospels (Matthew, Mark, Luke, and John). Then share the broken bread and spilled wine with each other in whatever way feels comfortable and appropriate for you.
3. Remember and share stories about those in the past who have envisioned and moved humanity closer toward Jesus' new world. Then spend some time sharing with one another aspects of Jesus' new world that you are looking forward to. What steps can your HeartGroup take together to move closer toward that new world?
In the light of the resurrection event, the shared table ritual gave meaning and purpose to the early Jesus communities. I hope that it will do the same for each of you.
Till the only world that remains is a world where Love reigns.
I love each of you dearly.
I'll see you next week.
---
*I have explained that the destruction of Jerusalem was a result of the people rejecting the way of nonviolence. See The Final Eight Prophecies of Jesus Part 1-9.