Herb Montgomery | October 19, 2018
---
"What does it mean to be delivered from economic oppression and ecological oppression as well? The U.N. reported this last week that we have only twelve years left to address climate change, and if we don't we face dire consequences."
---
"And lead us not into the time of testing, but deliver us from evil." (Matthew 6:13)
As we wrap up our look at what we call the Lord's Prayer, I want to begin with a story of a dear West Virginian woman, her children, and her husband in context of deliverance from evil. There is a type of coal mining here in West Virginia called mountain top removal. It's legal here and is happening in much of the southwestern region of the state. Many of our elected representatives are financially supported by coal mine owners who profit from how those representatives structure our laws. This is the story of a family involved in trying to change these laws. Listen to how the mother of this family tells her story:
"Coal miners work in the coal mines because they have no other choice, others because they enjoy that type of work. Most coal miners have college degrees in many things, yet Coal mining is the only thing we have to offer them.
My husband has a degree in electronics engineering and 1080 [credit hours] in industrial electronics, but his only choice was to become a Coal miner. He worked in the mines for two years, the toll it took on his body… that was heartbreaking. When he would come home from work he looked like death in the face. He worked twelve hours a day six days a week — the kids and I only saw him on Saturdays and half a day on Sundays. His skin was stained black, he coughed constantly as if he had the flu.
I was 8 months pregnant with our son the day the UBB mine disaster happened. I had laid down to take a nap. When I got up my cell phone had 10 missed calls and 20 text messages on it. The calls and messages were from my two oldest daughters and my sister, asking if my husband was working. I called my 15-yr-old first and asked what was wrong. She was in a total panic and crying wanting to know if her step-dad was ok, that a mine just blew up and 12 (at the time) miners were trapped. The news didn't report which mine or [its] location until later. When I informed her he was ok and was getting ready for work, she responded 'NO, do not let him go back to work mommy, Please!' I got her to calm down then called my 19-yr-old and got the same response. 'Mommy, please don't let him go.' It broke my heart in two knowing he had to go to work to pay bills and take care of our babies. But what hurt the most was the fear and heartbreak that my children were feeling.
Anyway, I turned on CNN and started to watch the heartbreaking events unfold. I knew that come 9:00 pm my miner would be walking out the door to go to work. But somehow this night was different than all the other nights I told him goodbye. I had a sick feeling in the pit of my stomach that I had never felt before in my life. The mining pay was great, it gave us tons of nice things and plenty of money to provide for our family. But at that moment, I didn't care if we had a dime in the bank and had to live in a tent. I was sending the love of my life, my best friend and my children's father out the door not knowing if he would ever be back. He was killing his body and he was risking his life to provide us with worldly things, things that could be replaced. After he left, I sat and watched CNN until daylight waiting on his morning call letting me know he was coming home. Thank God in heaven I received that call.
As the evening went on I continued to watch the events at UBB unfold. As I watched the [miners'] families standing, praying and waiting on the news of their miner, it broke my heart. I will never forget the look on one young man's face when a reporter [asked] him how he was feeling (stupid question). His response was 'it feels like I'm getting punched over and over in the stomach.' I knew at that moment, I didn't want my son or daughters to ever experience that feeling… Two days later, he decided to leave the mines.
It has been 8 months now since he quit, we are all doing fine. We may not have as much money as before, but we do have the most important thing to our family and that's DADDY!
I just wish our elected officials would see that West Virginia's most valuable resource is our Miners themselves and not the Coal. But I'm afraid that they will continue to fight for the Coal Barons' wallets and the campaign funding, as long as they 'Keep Them in the Coal' our politicians will be fine. Please keep our West Virginia Coal Miners in your thoughts and prayers. Never forget the ones we have lost in Sago, UBB and other places." (Source)
Jesus envisioned a world where people were valued over profit, property and power. That's where this week's portion of the Lord's Prayer comes in.
This is a prayer for liberation. This week's portion of the prayer begins with "Lead us, not into the time of testing."
A time of testing was a familiar concept in the Jewish tradition.
"Remember how the LORD your God led you all the way in the wilderness these forty years, to humble and test you in order to know what was in your heart, whether or not you would keep his commands." (Deuteronomy 8:2, cf. Exodus 16:4, Ecclesiastes 3:18, Isaiah 48:10, and Zechariah 13:9)
In the Psalms we read:
"Do not harden your hearts as you did at Meribah, as you did that day at Massah in the wilderness, where your ancestors tested me; they tried me, though they had seen what I did." (Psalms 95:8-9, emphasis added., cf. Psalms 106:14)
It seems from these passages that in the Jewish tradition both humans and God could be tested. Yet, regardless of who was testing whom, people in Jesus' day understood the idea of a time of testing. First century Zealots (see Faith Like a Mustard Seed) also used this phrase.
Josephus tells us how how the zealots used this idea of a test for one's faith. He writes of incidents during the mid-1st Century, when revolutionary prophets/zealots would lead large groups of people into a desert outside Jerusalem on the premise that, if they took the first step, if they submitted to testing, God would see their faith and respond by bringing them liberation from Roman oppression.
Felix, the Roman procurator, regarded these gatherings as the first stage of revolt, and so sent cavalry and heavy infantry to cut the mob into pieces (see Josephus, The Jewish War, p. 147). The most infamous of the revolutionary prophets who promised the people reward if they would first step out in faith (the test) was a militaristic messiah referred to as "the Egyptian" (Acts 21:38).
Josephus describes the event as follows:
"Arriving in the country, this man, a fraud who posed as a seer, collected about 30,000 dupes, led them round from the desert to the Mount of Olives and from there was ready to force an entry into Jerusalem, overwhelm the Roman garrison, and seize supreme power with his fellow-raiders as bodyguard." (Josephus, The Jewish War, p. 147)
Josephus believed the future of the Jewish people depended on the elites collaborating with Rome rather than rebelling against Rome. Most scholars think he exaggerated the numbers of people involved: "30,000 dupes" as compared with the book of Acts' "4,000 assassins." But the fact that he mentions the event at all is important. In a parallel account, Josephus includes the "sign" that this rebel had claimed would be shown to the people if they passed the test of going out to assemble. It was supposed to be a sign like Joshua's at the Battle of Jericho: at his command, the walls of Jerusalem would fall down so that his followers could enter and seize the city. However, before he could make his signal, the Roman cavalry and infantry slew and captured hundreds and put the rest to flight, including the militaristic messiah himself. (Josephus, Antiquities, pp. 170-172). Liberation prophets like the Egyptian framed the people's act of taking an initiative despite hopeless odds as a test of faith that their God would honor with liberation from Rome.
Jesus grew up in Galilee in the wake of a similar destruction that Rome had wrought on revolutionaries in Sepphoris. I believe this played a role in Jesus seeking a different path toward liberation than violence, one that incorporated the best odds of survival and would not just be about the liberation of Jerusalem, Galilee or Judea, but also be about an end to socio-political structures of domination for humanity as a whole.
Gustavo Gutiérrez writes about this at length:
"This universality and totality touch the very heart of political behavior, giving it its true dimension and depth. Misery and social injustice reveal 'a sinful situation,' a disintegration of fellowship and communion; by freeing us from sin, Jesus attacks the roots of an unjust order. For Jesus, the liberation of the Jewish people was only one aspect of a universal, permanent revolution. Far from showing no interest in this liberation, Jesus rather placed it on a deeper level, with far-reaching consequences. The Zealots were not mistaken in feeling that Jesus was simultaneously near and far away. Neither were the leaders of the Jewish people mistaken in thinking that their position was imperiled by the preaching of Jesus, nor the oppressive political authorities when they sentenced him to die as a traitor. They were mistaken (and their followers have continued to be mistaken) only in thinking that it was all accidental and transitory, in thinking that with the death of Jesus the matter was closed, in supposing that no one would remember it. The deep human impact and the social transformation that the Gospel entails is permanent and essential because it transcends the narrow limits of specific historical situations and goes to the very root of human existence: relationship with God in solidarity with other persons. The Gospel does not get its political dimension from one or another particular option, but from the very nucleus of its message. If this message is subversive, it is because it takes on Israel's hope: the Kingdom as 'the end of domination of person over person; it is a Kingdom of contradiction to the established powers and on behalf of humankind.' And the Gospel gives Israel's hope its deepest meaning; indeed it calls for a 'new creation.' The life and preaching of Jesus postulate the unceasing search for a new kind of humanity in a qualitatively different society. Although the Kingdom must not be confused with the establishment of a just society, this does not mean that it is indifferent to this society. Nor does it mean that this just society constitutes a "necessary condition" for the arrival of the Kingdom nor that they are closely linked, nor that they converge. More profoundly, the announcement of the Kingdom reveals to society itself the aspiration for a just society and leads it to discover unsuspected dimensions and unexplored paths. The Kingdom is realized in a society of fellowship and justice; and, in turn, this realization opens up the promise and hope of complete communion of all persons with God. The political is grafted into the eternal. This does not detract from the Gospel news; rather it enriches the political sphere. Moreover, the life and death of Jesus are no less evangelical because of their political connotations. His testimony and his message acquire this political dimension precisely because of the radicalness of their salvific character: to preach the universal love of the Father is inevitably to go against all injustice, privilege, oppression, or narrow nationalism." (Gustavo Gutiérrez, A Theology of Liberation: 15th Anniversary Edition, pp. 134-135, emphasis added.)
Jesus promoted a path toward liberation that parted ways with the methods of the Zealots and the elite Sadducees who wanted to cooperate with Rome hoping for greater representation in a system of exploitation. Jesus presented a restructuring of the norms we use to interact with one another, and at the heart of these new norms was a preferential option for the vulnerable, exploited, and marginalized.
"What does it mean for Jesus' followers today to follow that path? What does it mean for coal mining families here in West Virginia to be delivered from the evil of corporate oppression where the owners continue to gain more and more while the majority of the people struggle without being able to make ends meet? What does it mean to be delivered from economic oppression and ecological oppression as well? The U.N. reported this last week that we have only twelve years left to address climate change, and if we don't we face dire consequences. A prayer for deliverance from evil also has its application for the evil of bigotry that many in the LGBTQ face. We might expect to be delivered from the evils of racism, sexism, misogyny, patriarchy, and more."
Jesus, whose teachings we follow, stood in the Jewish tradition that traced its roots all the way back to the liberation story of Moses's alignment with toiling masses of slaves. So what is our work, today?
What injustice or evil are you staring at this week?
What does it mean to work toward deliverance from evil in your context?
What does it meant to work in solidarity with other communities affected most deeply by these evils as they also work toward their deliverance?
I'll close this week with a statement by Dorothy Day that encourages me when I feel like our small efforts are insignificant, and I feel like a world structured in a way that answers Jesus' prayer in Matthew is so far, far away:
"One of the greatest evils of the day is the sense of futility. Young people say, 'What can one person do? What is the sense of our small effort?' They cannot see that we can only lay one brick at a time, take one step at a time; we can be responsible only for the one action of the present moment. But we can beg for an increase of love in our hearts that will vitalize and transform these actions, and know that God will take them and multiply them, as Jesus multiplied the loaves and fishes." (Catholic Worker, September 1957)
This week choose something to do, no matter how large or small, that aligns with Jesus' prayer in Matthew:
"And lead us not into the time of testing, but deliver us from evil." (Matthew 6.13)
HeartGroup Application
Sharing our stories is how we heal the world. Hearing one another's stories empowers us to let go of our fear of one another and enter into compassion. Listening to the diverse experiences of one another's lives leads us to replace insecurity with a much broader understanding of each other and our larger world.
1. This week I want you to take some time in your HeartGroup and let those who wish to share tell their story to the group.
2. We here at Renewed Heart Ministries also want to hear your story. We are asking our followers to share their stories with us. How has this ministry impacted your life for the better? How have you been blessed by Renewed Heart Ministries? How has journeying alongside RHM inspired you or made a difference for you? We want to hear your story! And if you give us permission, we may feature your story in one of our upcoming newsletter issues so your story can help others, too! (But only if you give us permission.) Send your story of how you have been positively impacted by the ministry of Renewed Heart Ministries by emailing info@renewedheartministries.com.
3. Consider making story-telling a part of HeartGroup experience on some type of ongoing basis, either monthly, quarterly, or even weekly.
We believe every person's story matters and every person's voice has value. The Jesus of the gospels spent the majority of his time teaching by telling stories. Author Sue Monk Kidd (The Secret Life of Bees) states, "Stories have to be told or they die, and when they die, we can't remember who we are or why we're here."
I'm looking forward to hearing from you, with much gratitude and excited anticipation.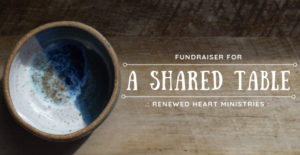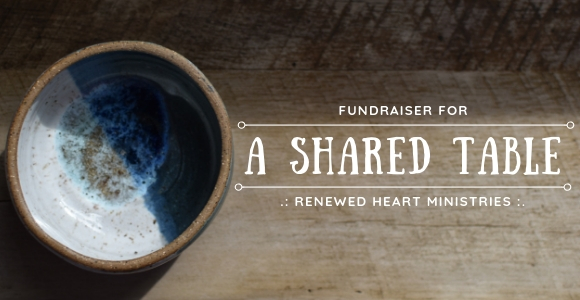 Also, don't forget about our Share Table Fundraiser for the month of October. Find out how you can participate and get your own Share Table Pottery Bowl as representation of Jesus' shared table philosophy of doing life together. If someone wanted to actually use it, they by all means could. Each time you eat from your bowl or use it as a serving dish, you can be reminded of Jesus' shared table, mutual aid, and philosophy of resource sharing as a means of restructuring our communities and healing the hurts in our world. You can also place it on your coffee table or desk at work as a conversation starter. When asked about it you can share with them about the Shared Table philosophy, and even direct them to Renewed Heart Ministries to find out more. That way you can partner with us in even more ways to spread the message of love, compassion, justice, sharing and taking care of one another.
Find out more here: A Shared Table: A Fundraiser for RHM
Thanks for checking in with us with week. Keep living in love, resistance, survival, liberation, reparation and transformation.
Another world is possible.
I love each of you dearly,
I'll see you next week.