by Herb Montgomery | October 11, 2018
---
"'Politics is really about how we as a community choose to distribute resources and power among people and groups of people.' She goes on to say, therefore, 'There's no opting out of it.' We are either a target of others' political engagement or we are choosing to instead help shape that distribution. Jesus taught distributive justice."
---
"And forgive us our debts, as we also have forgiven our debtors." (Matthew 6:12)
This week I want to look at a portion of this prayer that has evolved: the portion on forgiveness. To the best of our knowledge, Matthew's version is much earlier than Luke's. We'll see the significance of this in a moment. And before Matthew's version, many scholars believe the earliest version of the prayer was:
"When you pray, say' Father — may your name be kept holy! — let your reign come: Our day's bread give us today; and cancel our debts for us, as we too have cancelled for those in debt to us." (Saying Gospel Q 11:2-4, emphasis added.)
In this earliest version of the prayer, notice the specific economic quality. It's about cancelling the debts of those who are indebted to us. There is quite a bit of history behind this.
The Torah taught that every seventh year in Jewish society, all debts were to be cancelled:
"At the end of every seventh year you must make a remission of debts. This is how it is to be made: everyone who holds a pledge shall return the pledge of the person indebted to him. He must not press a fellow- countryman for repayment, for the Lord's year of remission has been declared . . . There will never be any poor among you if only you obey the Lord your God by carefully keeping these commandments which I lay upon you this day." (Deuteronomy 15:1-4) (REB)
There were also strict warnings to lenders as they watched the seventh year approaching, in case they thought they could not make loans at all rather than make loans that would soon be cancelled:
"Be careful not to harbor this wicked thought: 'The seventh year, the year for canceling debts, is near,' so that you do not show ill will toward the needy among your fellow Israelites and give them nothing. They may then appeal to the LORD against you, and you will be found guilty of sin. Give generously to them and do so without a grudging heart; then because of this the LORD your God will bless you in all your work and in everything you put your hand to." (Deuteronomy 15:9-10)
We've discussed Rabbi Hillel's prozbul as a way to solve money lenders' reluctance (see Renouncing One's Rights and The Golden Rule). The prozbul was a loophole where a loan made just before the seventh year could be declared exempt from cancellation. This loophole was Hillel's solution to the wealthy not wanting to make loans that less affluent farmers needed for survival whenever the seventh year was near. Although Jesus taught similar ethics to Hillel in other areas, in this area Jesus parted ways with Hillel and taught what the Torah had stated in Deuteronomy:
"Do not turn away from the one who wants to borrow from you." (Matthew 5:42, cf. Deuteronomy 15:1-5, 9-10)
And
"And if you lend to those from whom you expect repayment, what credit is that to you? Even sinners lend to sinners, expecting to be repaid in full. But love your enemies, do good to them, and lend to them without expecting to get anything back." (Luke 6:34-35; Deuteronomy 15:1-5, 9-10)
Debt in the ancient world led to slavery, poverty and death. In short, debt was a conduit of oppression. Jesus choose to stand in the stream of Jewish tradition that called for the liberation of the oppressed. In Luke's gospel Jesus' liberation is tied directly the cancelling of all debts, or to put it in the language of his Jewish culture, "the year of the Lord's favor."
"The Spirit of the Lord is on me, because he has anointed me to proclaim good news to the poor. He has sent me to proclaim freedom for the prisoners and recovery of sight for the blind, to set the oppressed free, to proclaim the year of the Lord's favor." (Luke 4:18-19)
The year of the Lord's favor was "the year for canceling debts" (Deuteronomy 15:9), the year where there was to be a "remission" of all debts (Deuteronomy 15:1). That year was a type of wealth redistribution. It was a check on any system where the wealthy could just keep on getting wealthier while the poor kept on getting poorer. It was a safeguard against some having too much while many went without enough. If the Torah's economic teachings were followed, poverty could have been eliminated: "There need be no poor people among you" (Deuteronomy 15:4).
In Jesus' time, this aspect of the Torah was being disregarded and violated outright or through Hillel's prozbul. Jesus was calling for a return to a deeply Jewish practice.
You can understand why many of the wealthy elites of Jesus' society and others of privilege and power combined their efforts to have Jesus and his movement silenced.
If this is the early form of the language of this prayer, which makes sense given its Jewish roots in the Torah, there is a telling evolution in the language.
In Matthew's gospel, the word "forgive" replaces the word "cancel," yet the economic word of "debt" remains.
"And forgive us our debts, as we also have forgiven our debtors." (Matthew 6:12)
Once we get to Luke's gospel, written much latter, the economic element of this prayer is wholly removed, and the prayer's application has been universalized instead of referencing a specific economic situation.
"Forgive us our sins, for we also forgive everyone who sins against us." (Luke 11:2-4)
Crossan also sees this evolution of language:
"I have three conclusions from all of that textual activity. One is that 'debts' was originally intended quite literally. Jesus meant that eternal peasant dyad of enough bread for today and no debt for tomorrow. Were it originally and clearly metaphorical—'debts' meaning 'sins'—everyone would have understood that intention and the progression in terminology from 'debts' to 'trespasses' to 'sins' would not have been necessary. Another is that, from Mark through Matthew and into Luke, 'debts' change to 'trespasses' and then to 'sins. ' In its present format, therefore, it seems advisable to read Matthew's text as including both debt and sin—not debt alone, not sin alone, and certainly not sin instead of debt, but both together. Indeed, the ultimate challenge may be to ponder their interaction. And, at least for the biblical tradition, when debt creates too much inequality, it has become sinful." (John Dominic Crossan, The Greatest Prayer: Rediscovering the Revolutionary Message of the Lord's Prayer, pp. 159-160)
Debt can become exploitative. To curb this exploitation, the Torah did not permit debts to extend past seven years.
The language in the prayer changes as the followers of Jesus change. As the early movement of Jesus followers changes from illiterate to more literate, from marginalized and impoverished to more centralized and more affluent, this prayer also changes from the wealthy cancelling debts to the violated forgiving perpetrators for sins committed against them.
These changes transfer responsibility from those in power to those in a very different social location from them. When we consider the societal cone that privileges and empowers some at the center and top of society and pushes others to the margins and undersides of society (see Pyramids, Circles and a Shared Table: Jesus' Vision for Human Community, Part 1 and 2), the original language of this prayer makes those at the center and top responsible for canceling the debts of those on the peripheries or further down the social hierarchy. As the language evolves, it risks being coopted by the elite, and the responsibility is now placed on those on the margins and undersides to forgive the injustice of their violators and exploiters so that they too might be forgiven. This removes the responsibility of creating a more egalitarian world, cancelling actual debts, and redistributing wealth from those who will lose with these changes. It also asks those exploited by debt to simply forgive without the world or its structure being challenged or changed.
There is a lot to consider here and much room for pause. Putting the world right includes not just forgiveness but also reparations. To call for reconciliation without reparations, to call for reconciliation solely on the basis of forgiveness being exercised on the part of those who have been harmed, is a special kind of oppression. It fails to hold perpetrators accountable. It fails to value and protect survivors. It fails to work towards the transformation and re-humanization of perpetrators, and genuine healing for those who have been sinned against. Certainly Jesus taught forgiveness. Jesus also called the wealthy, like Zacchaeus and others, to make reparations. To focus solely on only one of these is move away from a safer, just, compassionate world rather than towards it.
To reemphasize what we focused on last week, the original language of this prayer shows a concern the early Jesus followers had for people's temporal needs as well as the spiritual and relational well being of all. It sees humanity as whole beings again in a very Hebraic fashion, rather than as divided people only impacted by the gospel in one aspect of life. It's a holistic prayer.
I want to close this week with a story from Matthew, where the focus on monetary debt cancellation still remains:
"For this reason the kingdom of heaven may be compared to a king who wished to settle accounts with his slaves. When he began the reckoning, one who owed him ten thousand talents was brought to him; and, as he could not pay, his lord ordered him to be sold, together with his wife and children and all his possessions, and payment to be made. So the slave fell on his knees before him, saying, 'Have patience with me, and I will pay you everything.' And out of pity for him, the lord of that slave released him and forgave him the debt. But that same slave, as he went out, came upon one of his fellow slaves who owed him a hundred denarii; and seizing him by the throat, he said, 'Pay what you owe.' Then his fellow slave fell down and pleaded with him, 'Have patience with me, and I will pay you.' But he refused; then he went and threw him into prison until he would pay the debt. When his fellow slaves saw what had happened, they were greatly distressed, and they went and reported to their lord all that had taken place. Then his lord summoned him and said to him, 'You wicked slave! I forgave you all that debt because you pleaded with me. Should you not have had mercy on your fellow slave, as I had mercy on you?' And in anger his lord handed him over to be tortured until he would pay his entire debt." (Matthew 18:23-34)
Today, we live in a world where most of the globe is indebted to so-called developed counties with debts that are impossible to pay off. Six people possess more wealth than the entire lower 50% of the world's population. But we have come to the end of the monopoly game. It's time for a reset. It's time for a Jubilee. It's time for debts to be cancelled.
One way or another, history proves this reset will come. We can choose a gentler path of debt cancellation and wealth redistribution now, or a more volatile path where many are hurt in the process will be chosen for us in the future. Historical resets are cyclical. We can choose whether they come in life-giving or destructive form. What is clear is that our current path is not sustainable, economically, socially, or ecologically. What does it mean to live in this world in such a way that the answer to Jesus' prayer is realized?
"And forgive us our debts, as we also have forgiven our debtors." (Matthew 6.12)
HeartGroup Application
I have a unique request of all those in our HeartGroups. I believe everyone reading this would agree with me when I say people matter. And that's why this week I want to share with you why politics also matter. But hang on! How we define politics also matters. Here in America, we make what I believe is a mistake in how we define politics. Politics for too many means parties, partisanship, lobbying, or law. And while politics can include those things, I prefer how my friend Dr. Keisha McKenzie defines politics. "Politics is really about how we as a community choose to distribute resources and power among people and groups of people." She goes on to say, therefore, "There's no opting out of it." We are either a target of others' political engagement or we are choosing to instead help shape that distribution. Jesus taught distributive justice. And as follower of Jesus, we, too, should care about how power and resources are distributed, because this distribution can concretely hurt people. Wherever we share space with other people and "there are norms governing how you interact with them or a budget governing common resources," (McKenzie) there is simply no way to be apolitical. There is no such thing as a political neutrality that doesn't help the powerful or doesn't hurt the vulnerable. When we understand this we can see readily why the late theologian and activist Dorothee Sölle stated, "Every theological statement must be a political statement as well."
Recently I received an email from Rev. Dr. Katharine Rhodes Henderson, President of Auburn Seminary where she made the statement, "The separation between Church and State is different from the separation of faith and public life." I could not agree more. The separation of church and state is about keeping the state out matters of religious conscience. Separation of church and state also is about keeping the church from welding the power of the state to enforce its own articles of faith. It does not mean that people of faith and goodwill cannot, in following Jesus, advocate along side vulnerable communities calling for a just distribution of resources and power.
This is why we here at RHM believe that politics in not simply about voting. It also must be combined with movement building. The late Ron Dellums used to remind folks that we need both movement building and people in office that can help support those movements. I've witnessed this first hand here in West Virginia. We spend countless hours building a movement for social change here in this state, only to have people in office obstruct those changes. The opposite is also true, we can elect solid people as public servants, but if there is not a movement for them to act on, they have nothing to advocate for from the "will of the people." Those who desire an unjust distribution of resources are putting people in office who will act on their wishes. Again, there is simply no way to opt out. We are either a participant in the discussion or we are the target of another's agenda.
Which leads me to say, that voting, given our current structure, and especially for marginalized communities, yes, is only a part of the process of shaping our world into a safe, compassionate, just home for all, yet it is a part of that process. So this week, I want you to do something simple. Check your voter registration to make sure it's current. If you're not registered, do so. This November, vote your values remembering that at the end of the day people matter and they will be concretely affected by the outcome. Also encourage others to participate and vote to ensure all of our communities are truly represented.
Another world is possible. As Rev. Dr. Katharine Rhodes Henderson shared, our work is to "trouble the waters" and "heal the world."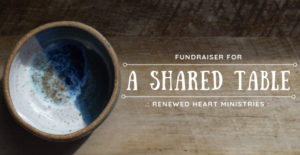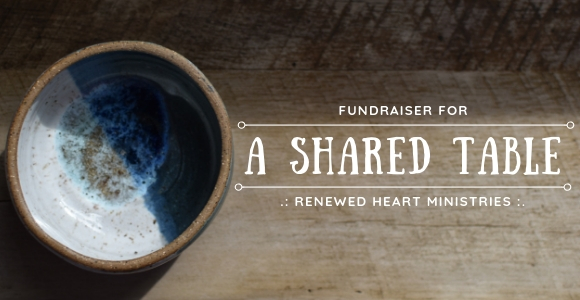 Remember, too, there's still time to participate in RHM's Shared Table Fundraiser for the month of October. We've had a good response so far. To find how you, too, can join in click:
A Shared Table: A Fundraiser for RHM
Thanks for checking in with us this week. Right where you are, keep living in love, justice, survival, resistance, liberation, reparation, and transformation. Keep engaging the work of shaping our world into a safe, compassionate home for everyone.
I love each of you dearly.
I'll see you next week.