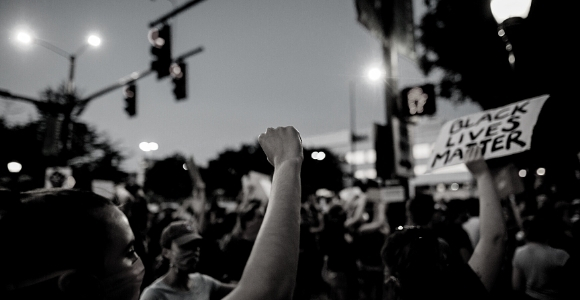 Herb Montgomery | September 11, 2020
"Yes, the love of the gospels is universal. Yes, every person has worth and value. But not every person is facing the same level of harm in our society from how our current society is structured or shaped. Jesus said that those who are well don't need a doctor. Those being attacked by societal sickness do. This is why Christians not only saying "Black lives matter" but also working alongside others to correct the harm our system is causing to Black and other less privileged communities is quite possibly the most Christlike work a Christian can be engaged in."
In the gospel of Mark we read,
"On hearing this, Jesus said to them, 'It is not the healthy who need a doctor, but the sick.'" (Mark 2:17)
Every person has worth and value. When a person is attacked by sickness, though, their immediate need demands that they take priority. This is the ethic of preference or priority we see in the passage above from Mark's gospel.
This doesn't only apply to physical sickness. This ethic in Mark can apply just as equally to those being harmed today by systemic, societal sicknesses. Howard Thurman refers to this specific focus and priority in Jesus and the Disinherited:
"It is necessary to examine the religion of Jesus against the background of his own age and people, and to inquire into the content of his teaching with reference to the disinherited and the underprivileged." (Howard Thurman, p. 16-17)
We would expect this kind of preferential treatment in Mark's gospel. Mark's gospel was not written to be universal. It was written for those Thurman referred to as the disinherited and underprivileged. As W.R. Telford writes, "Mark's Gospel originally was written to help imperial subjects learn the hard truth about their world and themselves. He does not pretend to represent the word of God dispassionately or impartially, as if the word were innocuously universal in its appeal to rich and poor alike. His is a story by, about, and for those committed to Gods' work of justice, compassion, and liberation in the world." (Writing on the Gospel of Mark, p. 172, italics added)
In Matthew's gospel, too, Jesus says:
"Come to me, all you who are weary and burdened, and I will give you rest. Take my yoke upon you and learn from me, for I am gentle and humble in heart, and you will find rest for your souls. For my yoke is easy and my burden is light." (Jesus. Matthew 11:28-30)
Jesus' call in Matthew 11 did not go to all indiscriminately, but to those oppressed by their society's social-economic, political and religious system, those worn out, burdened, and needing liberation.
Luke's Jesus makes this same distinction in Luke's gospel: "Blessed are you who are poor, for yours is the kingdom of God." And he immediately adds, "But woe to you who are rich, for you have already received your comfort" (Luke 6:20 cf. 6:24).
Jesus' vision of God's just future, what the gospel authors call "the kingdom" here on earth, was one where those made poor in the present system became blessed and comforted, liberated from the heavy price of discrimination and being othered. The message Jesus declared that God's just future held for to those already privileged in his society was "You've already received your comfort." That was all he said.
What we have seen in each of these examples is what liberation theologians refer to as a preferential option for the oppressed. The word preferential denotes a preference. Option denotes a deliberate choice to stand with one side over and against the harm being done to them and those who would perpetuate that harm. It is a preference given to the well-being of those who are powerless in their society. Near its close, Matthew's gospel paints the picture of the nations being arraigned on a day of judgment and their verdict hanging on one, and only one, criterion (Matt 25). How did each person treat the most vulnerable and powerless in their society? This question can be asked of people individually and personally. It can also be asked of societies systemically.
In Luke's gospel, Jesus explains his preferential treatment of those his community had pushed to the margins. He tells the story of a shepherd who, when one of his sheep is in danger of being harmed, "leaves the ninety-nine in the open country and go after the lost sheep until he finds it" (Luke 15:3).
As I write this, my heart is heavy. After a summer of progress, after police violence and racial bias in Wisconsin in the shooting of Jacob Blake, there is still All Lives Matter rhetoric from some sectors of Christianity. I'm tempted to believe there are not just those who don't get it, but there are also those who are refusing to.
The rhetoric and movement of Black Lives Matter is the same preferential option for the oppressed as practiced by the Jesus of the gospels. To be certain, the love of the God that Jesus teaches is universal: His God loves everyone. But if Christians really believe that, then justice for the objects of God's love who are being systemically harmed in our society must follow close behind.
Yes, the love of the gospels is universal. Yes, every person has worth and value. But not every person is facing the same level of harm in our society from how our current society is structured or shaped. Jesus said that those who are well don't need a doctor. Those being attacked by societal sickness do. This is why Christians not only saying "Black lives matter" but also working alongside others to correct the harm our system is causing to Black and other less privileged communities is quite possibly the most Christlike work a Christian can be engaged in.
Gustavo Gutiérrez admonishes followers of Jesus, "Christians have not done enough in this area of conversion to the neighbor, to social justice, to history. They have not perceived clearly enough yet that to know God is to do justice. They have yet to tread the path that will lead them to seek effectively the peace of the Lord in the heart of social struggle." (Gustavo Gutiérrez, Essential Writings, p. 289)
Peace and justice in the social struggle: these are the values I see taught by the Jesus of the synoptic gospels. These are the stories that continue to remind me in our present struggle, it is not those unaffected by society's sicknesses who need solidarity at this moment. It is those being harmed.
Heart Group Application
We at RHM are continuing to ask all HeartGroups not to meet together physically at this time. Please stay virtually connected and practice physical distancing. When you do go out, please keep a six-foot distance between you and others, wear a mask, and continue to wash your hands to stop the spread of the virus.
This is also a time where we can practice the resource-sharing and mutual aid found in the gospels. Make sure the others in your group have what they need. This is a time to work together and prioritize protecting those most vulnerable among us. How many ways can you take care of each other while we are physically apart?
1.  Share something that spoke to you from this week's eSight/Podcast episode with your HeartGroup.
2. How can White Christians especially support and work alongside Black communities and communities of color at this time in American history? Discuss with your group and put something from the discussion into practice.
3. What can you do this week, big or small, to continue setting in motion the work of shaping our world into a safe, compassionate, just home for all?
Thanks for checking in with us, today.
Right where you are, keep living in love, choosing compassion, taking action, and working toward justice.
I love each of you dearly,
I'll see you next week