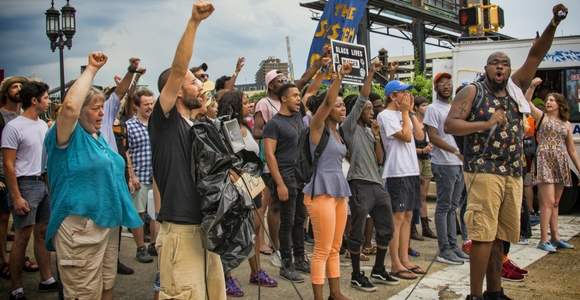 by Herb Montgomery
"It's one thing to mistake something bad as good. It's quite another to mistake the Sprit's work of liberating and re-humanizing those who have been dehumanized and objectified as an evil that should be opposed. This is the sin that is 'unpardonable.'"
Featured Text:
"The law and the prophets were until John. From then on the kingdom of God is violated and the violent oppose it." (Q 16:16)
Companion Texts:
Matthew 11:12-13: "From the days of John the Baptist until now, the kingdom of heaven has been subjected to violence, and violent people have been raiding it. For all the Prophets and the Law prophesied until John."
Luke 16:16: "The law and the prophets were until John; from that time the kingdom of God is preached, and every one useth violence towards it. But it is easier for heaven and earth to pass, than one tittle of the law to fall." (Douay-Rheims)
The Law and the Prophets
I have to confess that I used to interpret this passage differently than I do today. Growing up in a sector of Christianity that taught replacement theology, I interpreted this passage to mean that the Kingdom superseded the "Law and the Prophets." I no longer believe that. Jesus was a Jew. He was never a Christian. As my friend Charlie Kraybill is fond of saying:
"Where did Jesus get his inspiration? From the Torah, the Prophets, and the Writings, of course. Little of what Jesus said was original with him. His genius was not so much in the substance of his sayings as in the way he curated his source material, the methodology he used for selecting what to highlight and what to leave on the shelf. And Jesus left a lot on the shelf. He ignored the negative qualities attributed to Yahweh: the wrath, the retribution, the jealousy, the rage, the pettiness. He also ignored Yahweh's military exploits, the occasions where God was portrayed as siding with one tribe over other tribes on the battlefield. Jesus knew, intuitively, that stories of Yahweh behaving badly were projections of the humans who had written the texts. He understood that "Yahweh the Warrior" is a literary character, created by the scribes for their patriotic tales of Israel's glorious past. At the same time, Jesus resonated with Yahweh's noblest qualities: mercy, compassion, generosity, forgiveness, non-judgment, etc. He scoured the scrolls for passages where God is shown in the best light. These became Jesus's favorite passages. They inspired his philosophy of conciliation, affirmation, and pacifism. Because Jesus was confident that the God who really exists — the Source of All Truth and Beauty in the Universe — is conciliatory, affirming, and non-violent. All the time. Any teachings or texts that contradict the mercy and compassion of God carry no weight. It was a radical perspective for a marginal Jew from the Galilean hinterlands, yet it's the perspective that has made Jesus such a provocative and inspirational figure for the past two millennia." (Marginal Mennonite Society)
The teachings that have been attributed to the historical Jesus are deeply Jewish. Here are a few examples of where we see Jesus's teachings directly influenced by his Judaism:
Leviticus 19:17: "'Do not hate a fellow Israelite in your heart. Rebuke your neighbor frankly so you will not share in their guilt.
Leviticus 19:18: "You shall not take vengeance or bear a grudge, but rather love your neighbor as yourself."
Deuteronomy 4:31: "God is merciful. God will neither abandon you nor destroy you."
Deuteronomy 15:11: "Open your hand to the poor and needy."
Psalms 37:26: "The righteous are always giving liberally and lending."
Psalms 103:8: "God is merciful, gracious, and abounding in steadfast love."
Psalms 145:9: "God is good to All. God's compassion is over all that God has made."
Psalms 147:9: "God gives to the animals their food, and to the young ravens when they cry."
Proverbs 20:22: "Do not say 'I will repay evil.' Wait for God and God will help you."
Proverbs 23:4-5: "Don't wear yourself out to get rich. Be wise enough to desist. When your eyes light upon it, it is gone, for suddenly it takes wings to itself, flying like an eagle toward heaven."
Proverbs 25:21: "If your enemies are hungry, give them bread to eat. If they are thirsty, water to drink."
Proverbs 29:13: "The poor and the oppressor have this in common: God gives light to the eyes of both."
Isaiah 44:22: "I have swept away your offenses like a cloud, your sins like the morning mist."
Isaiah 49:15: "Can a woman forget her nursing child, or show no compassion for the child of her womb? Even these may forget, yet I won't forget you."
Jeremiah 31:34: "I will forgive your iniquities, and remember your sins no more."
Lamentations 3:30: "It is good to give one's cheek to the smiter and be filled with insults."
These verses show that Jesus's vision for humanity (the kingdom) grew from these seeds found in the Law and the Prophets.
The Violation of Violence
In the second phrase of this week's saying, "the kingdom of God is violated and the violent plunder it," I hear Jesus speaking of the violence of the establishment's opposition. In every version of the Jesus story in the gospels, the established social and political order responded violently to Jesus's social vision. Mark, held by many as the earliest gospel, also describes violence as an early response to Jesus. In chapter three, "the Pharisees went out and began to plot with the Herodians how they might kill Jesus" (Mark 3:6).
Ched Myers explains that this violence is "the bottom line of the power of the state."
"Fear of [the threat of death] keeps the dominant order intact. By resisting this fear and pursuing kingdom practice even at the cost of death, the disciple contributes to the shattering of the power's reign of death in history. To concede the state's sovereignty in death is to refuse its authority in life." (Binding the Strong Man, A Political Reading of Mark's Story of Jesus)
This may sound like fatalistic nihilism, but it's not. It's the realization that sometimes protest and resistance come at the very high price of having to endure violence from the establishment.
Rome used crucifixion as political or military punishment inflicted on the lower classes and the unruly elements in rebellious provinces like Galilee and Judea. Crucifixion was reserve primarily for people who, in Roman society, had no rights. These were groups whose organizing had to be suppressed by whatever means necessary to ensure law and order within the state. As we have often said in this series, those in power will use violence when they feel threatened. Stand up anyway.
Reassurance
Luke assures Jesus's followers facing the threat of violence: it is easier for heaven and earth to pass, than one tittle of the law to fall. Luke harmonizes Jesus's teachings with the Torah, especially his teachings on debt cancellation and wealth redistribution. Jesus's "kingdom" teachings were not anti-Torah, and in the 1st Century, assurances rooted in comparisons to the endurance of the earth held more meaning than they do today.
Today we are living in the midst of climate breakdown and realizing that the moral arc of the universe only bends toward justice if we choose to bend it that way. So today I would use different rhetoric than Jesus did to inspire people to keep hoping and to keep working despite the fact that there is violent pushback. We must work for justice anyway. The fact that we are all connected and share each other's fate should make us engage with more intent, not less. As Alice Walker has said, "We are the ones we have been waiting for."
Contemporary Displays of Violence Against Liberation
Those in positions of power and privilege accused Jesus's liberation ministry of being demonic. He responded by defining that accusation as blasphemy. Juan Luis Segundo writes, "Blasphemy resulting from bad apologetics will always be pardonable . . . What is not pardonable is using theology to turn real human liberation into something odious. The real sin against the Holy Spirit is refusing to recognize, with 'theological' joy, some concrete liberation that is taking place before one's very eyes" (in Capitalism Versus Socialism: Crux Theologica).
It's one thing to mistake something bad as good. It's quite another to mistake the Sprit's work of liberating and re-humanizing those who have been dehumanized and objectified as an evil that should be opposed. This is the sin that is "unpardonable." Ched Myers echoes Segundo when he writes, "To be captive to the way things are, to resist criticism and change, to brutally suppress efforts at humanization—is to be bypassed by the grace of God."
This past week, Evangelical Christians once again engaged in violence against fellow Image-bearers. As in the days of Christian genocide of Native peoples, or enslavement of Africans, or objections to equal treatment of women, a group of Christians are again on the wrong side of history. The Coalition for Biblical Sexuality has repeated the anti-LGBT activism of the 1980s with a 14-article statement of bigotry signed by Evangelical Christian leaders including James Dobson, John Piper, John MacArthur, and Francis Chan. This document has been titled the Nashville Statement, although the Mayor of Nashville has made it clear that Nashville had absolutely nothing to do with it.
You can read it if you'd like, but you also don't need to. It's the same fear-driven, hateful rhetoric that has inspired violence toward the LGBTQ community throughout history. The Christian privileged elite has never been short of Biblical justifications for their oppression, exclusion, marginalization and dehumanization of socially vulnerable people.
Renewed Heart Ministries rejects the Nashville Statement in its entirety. We recognize and affirm our lesbian, gay, bisexual, transgender and gender nonconforming community members as fellow image-bearers, as sacred, as being fully human and deserving our respect, of love, and justice. Objectification and dehumanization is violence. And in response to this violence we join our voices and our actions with all those saying "No" to efforts such as these.
If you are reading this and are part of the LGBTQ community, you are holy. You are worthy. You are valuable. And you are not alone.
The outcry against this document on social media platforms such as Twitter and Facebook was swift and stern demonstrating a turning of the tide in our society. These are steps that must be taken as we together work to make our world a just, safe, compassionate home for us all. There is still a lot of work to be done. And I am committed to that work.
Maybe this week's saying can offer us some encouragement as we stand up to violence, bigotry and fear. The narrative of violence has been repeated over and over throughout history. We learn from the stories of Jesus in the gospels that God was not aligned with those placing others on crosses but in solidarity with the one they crucified for standing with the marginalized and calling for change.
We are not alone today. We are in the right story. If nothing else, may this give a little comfort, and encourage you to keep going.
"The law and the prophets were until John. From then on the kingdom of God is violated and the violent oppose it." (Q 16:16)
Heart Group Application
This week I want you to do something simple. As Oscar Romero wrote in The Long View, "That is what we are about: We plant seeds that one day will grow. We water seeds already planted, knowing that they hold future promise. We lay foundations that will need further development. We provide yeast that produces effects beyond our capabilities." Gandhi also wrote similarly, "It's the action, not the fruit of the action, that's important. You have to do the right thing. It may not be in your power, may not be in your time, that there'll be any fruit. But that doesn't mean you stop doing the right thing. You may never know what results come from your action. But if you do nothing, there will be no result."
In times like this, we must remember we are each other's keeper.
This week at your HeartGroup meeting, go around the room and say something you value and appreciate about each person in the group. Make sure no person is left out, and encourage one another. When there are those who are continually endeavoring to tear us down, we must take the time to build each other back up.
Go home and journal some of the things that others said to you during this exercise and read from those pages when you need to be reminded how valuable you really are.
Wherever you are this week, know you are loved, you are fully human, and you are worthy. I'm so glad you checked in with us. Keep living in love, survival, resistance, liberation, restoration, and transformation.
We are making a difference and weeks like last week only demonstrate that. If there weren't folks threatened by change, they wouldn't be acting out of such desperation.
Thank you to each of you supporting our work. To support Renewed Heart Ministries directly, you can go to http://bit.ly/RHMSupport
or you can mail your contribution to:
Renewed Heart Ministries
PO Box 1211
Lewisburg, WV 24901
If you are new to RHM, find out more about us at http://bit.ly/WhoIsRHM
So glad you're journeying with us.
I love each of you dearly.
I'll see you next week.