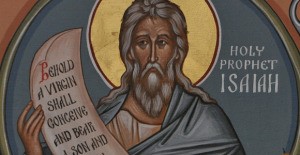 "Blessed are you when people revile you and persecute you and utter all kinds of evil against you falsely on my account."—Jesus (Matthew 5.11)
Luke's version is even more pointed:
"Blessed are you when people hate you, and when they exclude you, revile you, and defame you on account of the Son of Man. Rejoice in that day and leap for joy, for surely your reward is great in heaven; for that is what their ancestors did to the prophets" (Luke 6.22–23; emphasis added).
The first question I'd like to ask is why were the prophets also treated this way?
The Prophets
Take a moment and look at what the prophets actually said and the reasons they were reviled becomes disturbingly clear.
In his judgment of Israel, Amos said:
Thus says the LORD:
For three transgressions of Israel,
and for four, I will not revoke the punishment;
because they sell the righteous for silver,
and the needy for a pair of sandals—
they who trample the head of the poor into the dust of the earth,
and push the afflicted out of the way . . .
in the house of their God [the temple] they drink
wine bought with fines they imposed (Amos 2.6–8; emphasis added).
Isaiah spoke these words about Judah and Jerusalem:
Hear the word of the LORD, you rulers of Sodom!
Listen to the teaching of our God, you people of Gomorrah!
What to me is the multitude of your sacrifices? says the LORD;
I have had enough of burnt offerings of rams and the fat of fed beasts;
I do not delight in the blood of bulls, or of lambs, or of goats.
When you come to appear before me, who asked this from your hand?
Trample my courts no more; bringing offerings is futile; incense is an abomination to me.
New moon and sabbath and calling of convocation—I cannot endure solemn assemblies with iniquity.
Your new moons and your appointed festivals my soul hates;
they have become a burden to me, I am weary of bearing them. . . .
your hands are full of blood.
Wash yourselves; make yourselves clean. . . .
learn to do good;
seek justice,
rescue the oppressed,
defend the orphan,
plead for the widow (Isaiah 1.10–17; emphasis added).
And Jeremiah spoke thus against evil kings:
Thus says the LORD: Act with justice and righteousness, and deliver from the hand of the oppressor anyone who has been robbed. And do no wrong or violence to the alien, the orphan, and the widow, or shed innocent blood in this place. . . . But your eyes and heart are only on your dishonest gain, for shedding innocent blood, and for practicing oppression and violence (Jeremiah 22.3, 17; emphasis added).
For Jerusalem, Ezekiel and Micah had these words:
As I live, says the Lord GOD, your sister Sodom and her daughters have not done as you and your daughters have done. This was the guilt of your sister Sodom: she and her daughters had pride, excess of food, and prosperous ease, but did not aid the poor and needy (Ezekiel 16.48–49; emphasis added).
He has told you, O mortal, what is good;
and what does the LORD require of you
but to do justice,
and to love mercy [rather than sacrifice],
and to walk humbly with your God? (Micah 6.8)
What were the prophets known for?
Defending those who were oppressed from those who were in a position of privilege.
The prophets spoke against New Moon festivals, Sabbaths, the Temple, and sacrifice, and they spoke up for those who were oppressed by the religiously pious. This vocal opposition would be enough to get anyone in trouble.
In short, the prophets abandoned their own positions of privilege within Israel and Judah and made room for the voices of the oppressed to be heard. The prophets called those who practiced "holy" or "sacred" oppression, injustice, and violence to listen to the stories of those who were trodden upon. In His sermon on the mount, Jesus calls his followers to do the same.
The question we have to ask next is who was it, do you think, who reviled, persecuted, uttered all kinds of evil against, hated, excluded, and defamed the prophets?
The Privileged Who Feel Threatened
The answer is the same in every era. When men and women speak up for those who are oppressed, those in positions of privilege, practicing their "sacred" oppression, will treat these prophets who give a voice to the oppressed this same way.
The cross and resurrection prove throughout eternity that God stands not in solidarity with those religious systems that crucify others religiously, politically, or economically, but rather with those who are suspended shamefully upon crosses.
This is God. This is the God revealed through Jesus.
Persecution
And as Paul so eloquently wrote, "all who want to live a godly [god-like] life in Christ Jesus will be persecuted" (2 Timothy 3.12).
Make no mistake. If others persecute you, it does not always mean you are doing the right thing. You may just be obnoxious. Persecution does not equal being on the right path. But being on the right path does equal persecution.
The world we live in is comprised of those on the top and those on the bottom, the underdogs. And when you choose to stand in solidarity with the underdogs, you will be targeted by those on top. Again, experiencing persecution doesn't mean you are doing everything right, but if you are not persecuted, you may need to ask yourself why. Are you fitting in too neatly with those at the top of this world's pyramids of oppression?
Do not think that you are to go and seek out or try and produce persecution. No, no. But we should abandon our own positions of privilege and call out for the voices and stories of those who are oppressed to be heard. This act alone will ensure that persecution ensues.
This week, when you witness someone being oppressed, whether it's someone who is poor, or someone who happens not to have the right color of skin, or someone who does not have the "correct" anatomical appendage, or someone whom society has deemed as possessing a non-normative orientation, stand up for them. Call for their stories to be heard, and then get out of the way and let those stories be told.
What will be the result? Ultimately, the result will be a world changed by Jesus. But along the way, you will be, according to Jesus, reviled, persecuted, hated, excluded, and defamed and have all kinds of evil spoken about you by those who have not yet abandoned their own positions of privilege, those who have not yet heard for themselves the stories of those who have been so grossly mischaracterized and wrongly depicted.
It will be scary at first, but have courage. You will quickly find you are not alone. You stand in a long line of those who have gone before—a line filled with martyrs, apostles, and prophets, at the beginning of which stands Jesus of Nazareth.
Peter Gomes
The following paragraph is from Peter Gomes, an American preacher and theologian, about whom it was said that he was, "one of the great preachers of our generation, and a living symbol of courage and conviction." (Harvard Gazette. 1 March 2011) Peter understood what it meant to walk in the shoes of those who are oppressed for he belonged to at least two communities that experience oppression in our societies—one because of his race, the other because he was gay. Pay close attention to his profound recapturing of Jesus' Kingdom.
"Good news to some will almost inevitably be bad news to others. In order that the gospel in the New Testament might be made as palatable as possible to as many people as possible, its rough edges have been shorn off and the radical edge of Jesus' preaching has been replaced by a respectable middle, of which "niceness" is now God. When Jesus came preaching, it was to proclaim the ends of things as they are and the breaking in of things that are to be: the status quo is not to be criticized; it is to be destroyed." (The Scandalous Gospel of Jesus)
Enemy Love 
Lastly, I would be amiss if I did not close with this reminder.
Right after Jesus pronounces a blessing on those who will create many enemies because they follow Him, Jesus says:
But I say to you that listen, Love your enemies, do good to those who hate you, bless those who curse you, pray for those who abuse you. If anyone strikes you on the cheek, offer the other also; and from anyone who takes away your coat, do not withhold even your shirt. Give to everyone who begs from you; and if anyone takes away your goods, do not ask for them again. Do to others as you would have them do to you. If you love those who love you, what credit is that to you? For even sinners love those who love them. If you do good to those who do good to you, what credit is that to you? For even sinners do the same. If you lend to those from whom you hope to receive, what credit is that to you? Even sinners lend to sinners, to receive as much again. But love your enemies, do good, and lend, expecting nothing in return. Your reward will be great, and you will be children of the Most High; for he is kind to the ungrateful and the wicked. Be merciful, just as your Father is merciful (Luke 6.23–36, #mercyratherthansacrifice).
Remember, we are not called to defeat those who benefit at the expense of others. We are called not to defeat them, but to win them. We are called to put on display the beauty of a world changed by Jesus. We are called to recognize where Jesus' Kingdom is already at work, whether in principle or by name as well, and honor it. We are also called to inspire those who have not yet encountered and embraced Jesus' revolution of justice, mercy, and love to rethink everything. We are to call for a reevaluation of the scripts we have been given and by which we currently play the game of life. And, lastly, we are called to challenge oppressive, unjust, and violent ways of seeing God, ourselves, and everyone else around us.
It's what Dr. Martin Luther King, Jr. called winning the "double victory":
"I've seen too much hate to want to hate, myself, and every time I see it, I say to myself, hate is too great a burden to bear. Somehow we must be able to stand up against our most bitter opponents and say: We shall match your capacity to inflict suffering by our capacity to endure suffering. We will meet your physical force with soul force. Do to us what you will and we will still love you. . . . But be assured that we'll wear you down by our capacity to suffer, and one day we will win our freedom. We will not only win freedom for ourselves; we will appeal to your heart and conscience that we will win you in the process, and our victory will be a double victory (Martin Luther King Jr., A Christmas Sermon for Peace on Dec 24, 1967).
THIS is what it means to follow in the footsteps of apostles, prophets, and Jesus himself, according to Jesus' Sermon on the Mount. Certainly there is more at the heart of following Jesus, but there is most definitely not less than standing up for the oppressed.
The time is now. Don't wait for there to be an easier time, for that time will only come when you are no longer needed. Won't you take a stand, too?
"If you're neutral in situations of injustice you have chosen the side of the oppressor." Desmond Tutu
HeartGroup Application
Spend some time this week contemplating the following words of Jesus:
"The Son of Man must undergo great suffering, and be rejected by the elders, chief priests, and scribes, and be killed, and on the third day be raised." Then he said to them all, "If any want to become my followers, let them deny themselves and take up their cross daily and follow me. For those who want to save their life will lose it, and those who lose their life for my sake will save it. What does it profit them if they gain the whole world, but lose or forfeit themselves?" (Luke 9.22–25)
As you sit with Jesus this week with this passage, write down what insights, thoughts, questions, challenges, fears, or hopes Jesus may share with you.
Share what you discover this week with your HeartGroup.
Wherever this finds you this week, may you—and may we all—stop striving to ascend to our own positions of privilege and begin, rather, speaking up for those for whose stories have yet to be heard. Till the only world that remains is a world where Christ's love reigns.
I love each and every one of you. And, remember, God does, too.
See you next week.