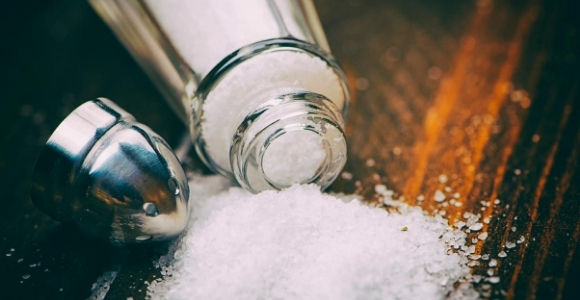 Herb Montgomery | August 21, 2020
In Matthew's gospel, Jesus says:
"You are the salt of the earth; but if salt has lost its taste, how can its saltiness be restored? It is no longer good for anything, but is thrown out and trampled under foot." (Matthew 5:13)
When people harvested salt from ancient saltwater, they would gather the rocks of salt along with various and sundry other white-colored rocks and place them in a cloth for use during cooking. Over time, the salt would dissolve through the cloth and only the non-soluble rocks would remain. Eventually, the salt sack would lose its saltiness and be good for nothing more than common road gravel.
What does it mean for those who claim to be followers of Jesus to lose their salt? Jesus' social teachings grew out of the soil of his own Jewish, prophetic, justice tradition. The Hebrew prophets help us understand Jesus' teachings and reading them should result in us placing social justice work at the center of following Jesus. Certain sectors of Christianity have a long history of ignoring, domesticating, sanitizing, censuring/editing or marginalizing Jesus' teachings related to justice work from their faith. But justice work is not tangential for the Jesus follower.
When we see Jesus, not within the elite establishment, but in the margins of his own society and in the justice tradition of the ancient Hebrew prophets, we can recognize insight after insight in the Jesus story, still relevant to us today.
The Hebrew prophets called for the end of injustice, oppression, and violence, in the here and now. They called for the end of predatory exploitation. Isaiah's wolf would lay down with the lamb:
"The wolf will live with the lamb,
the leopard will lie down with the goat,
the calf and the lion and the yearling together;
and a little child will lead them. (Isaiah 11:6)
"The wolf and the lamb will feed together,
and the lion will eat straw like the ox,
and dust will be the serpent's food.
They will neither harm nor destroy
on all my holy mountain,"
says the LORD. (Isaiah 65:25)
For Amos, justice would roll down like a river:
"I hate, I despise your religious festivals;
your assemblies are a stench to me.
Even though you bring me burnt offerings and grain offerings,
I will not accept them.
Though you bring choice fellowship offerings,
I will have no regard for them.
Away with the noise of your songs!
I will not listen to the music of your harps.
But let justice roll on like a river,
righteousness like a never-failing stream! (Amos 5:24)
And for Ezekiel, the Dead Sea would become a place bearing fruit that would heal the nations:
"He said to me, 'This water flows toward the eastern region and goes down into the Arabah, where it enters the Dead Sea. When it empties into the sea, the salty water there becomes fresh. Swarms of living creatures will live wherever the river flows. There will be large numbers of fish, because this water flows there and makes the salt water fresh; so where the river flows everything will live. Fishermen will stand along the shore; from En Gedi to En Eglaim there will be places for spreading nets. The fish will be of many kinds—like the fish of the Mediterranean Sea. But the swamps and marshes will not become fresh; they will be left for salt. Fruit trees of all kinds will grow on both banks of the river. Their leaves will not wither, nor will their fruit fail. Every month they will bear fruit, because the water from the sanctuary flows to them. Their fruit will serve for food and their leaves for healing.'" (Ezekiel 47:8-12)
The material things we need to thrive would flow to each of us in distributively just ways. A society of death and death dealing would become life-giving.
Abraham Heschel wrote of the prophets' hope: "What saved the prophets from despair was their messianic vision and the idea of man's capacity for repentance… History is not a blind alley, and guilt is not an abyss. There is always a way that leads out of guilt . . . The prophet is a person who, living in dismay, has the power to transcend his dismay. Over all the darkness of experience hovers the vision of a different day" (Between God and Man, p. 240).
Not only does this definition fit Jesus and how he related to marginalized people in his own society, but we are called to do the same.
We can make this world give way to a more life-giving one. We can change our systems. The Jesus of the gospels isn't a priest, or ruler, or member of the community's elite. He emerges in the story on the margins of his society as a prophet of the poor, marginalized, oppressed, and excluded. What does this mean for us as Jesus followers today?
The prophets weren't afraid to get their hands dirty with the material mess of our world's injustice. They spoke truth to those in power, economically, politically, and religiously. They had social concerns. They had religious concerns, and their concerns were also political. The called the attention of those who heard their voices to a God of the poor, the widow, the orphan, and those deemed other. They called for personal righteousness and for social, systemic justice. Their inward contemplative practices empowered them to march onto the public scene as advocates for those harmed in their society. For them, social justice was what God's love looked like in public.
It reminds me of Isaiah 1:12-17:
"When you come to appear before me, who has asked this of you, this trampling of my courts? Stop bringing meaningless offerings! Your incense is detestable to me. New Moons, Sabbaths and convocations—I cannot bear your evil assemblies. Your New Moon feasts and your appointed festivals I hate with all my being. They have become a burden to me; I am weary of bearing them. When you spread out your hands in prayer, I will hide my eyes from you; even if you offer many prayers, I will not listen. Your hands are full of blood; wash and make yourselves clean. Take your evil deeds out of my sight! Stop doing wrong, learn to do right! Seek justice, encourage the oppressed. Defend the cause of the fatherless, plead the case of the widow." (emphasis added)
Isaiah could just as easily been speaking to Christians who prioritize their religious practice but neglect or omit the work of transforming our society into a just, safe, compassionate home for all. Challenging LGBTQ discrimination, White supremacy, patriarchy, or exploitative capitalism that places profit above people is not on the plate of these kinds of Christians, but they give much attention, time, and detail to their religious observances.
I'm reminded of how Luke's Jesus calls out misplaced priorities and attention:
"Woe to you Pharisees, because you give God a tenth of your mint, rue and all other kinds of garden herbs, but you neglect justice and the love of God. You should have practiced the latter without leaving the former undone." (Luke 11:42)
The prophetic book of Micah has that same emphasis:
"He has shown you what is good. And what does the LORD require of you? To act justly and to love mercy and to walk humbly with your God." (Micah 6:8)
Those who seek to follow the teachings of a Jesus must, like the prophets of old, find their own hearts beating for justice for the oppressed and for mercy, rather than sacrifice, for the exploited. Their heart for justice and mercy must express itself daily through humble love that has learned to listen to the cries of the oppressed. As the prophets called for our world to be put right, we, too, can learn how to authentically listen to and live in the way of justice, mercy, compassion, and taking action.
Faith in Jesus that is not aligned with social justice in its many expressions or with communities being harmed is not the kind of faith we encounter in the story of Jesus.
I look forward to the day when Jesus followers are known for ministering justice to the poor, are overwhelmed with the grief of loss, and stand with the beaten down and all those hungering and thirsting for things to be put right (cf. Matthew 5:3-6).
What group of people are on your heart this week?
Let's be salt that hasn't lost its saltiness.
HeartGroup Application
We at RHM are continuing to ask all HeartGroups not to meet together physically at this time. Please stay virtually connected and practice physical distancing. When you do go out, please keep a six-foot distance between you and others, wear a mask, and continue to wash your hands to stop the spread of the virus.
This is also a time where we can practice the resource-sharing and mutual aid found in the gospels. Make sure the others in your group have what they need. This is a time to work together and prioritize protecting those most vulnerable among us. How many ways can you take care of each other while we are physically apart?
1. Share something that spoke to you from this week's eSight/Podcast episode with your HeartGroup.
2. In Saving Paradise: How Christianity Traded Love of This World for Crucifixion and Empire, Rita Nakashima Brock & Rebecca Parker remind us, "The work of justice requires paying attention to how difference is used to justify oppression. It employs astute awareness of how oppressive systems grant privilege and seek to protect it at all costs. It engages those who have privilege in challenging systems from which they benefit, not just helping those 'less fortunate.'" (p. 396)  Discuss the differences, this week, between systemic justice work and charity.
3. What can you do this week, big or small, to continue setting in motion the work of shaping our world into a safe, compassionate, just home for all? Discuss with your group and pick something from the discussion to put into practice this upcoming week.
Thanks for checking in with us, today.
Right where you are, keep living in love, choosing compassion, taking action, and working toward justice.
I love each of you dearly,
I'll see you next week