Herb Montgomery | August 14, 2020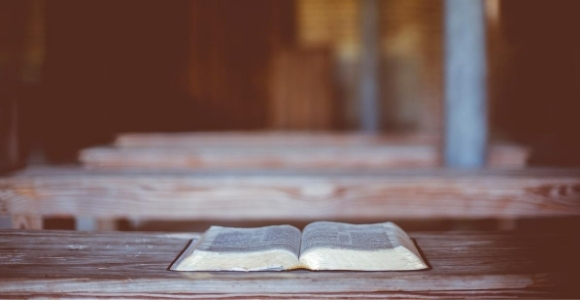 ---
"As Jesus followers today, the gospel we tell must locate Jesus among our oppressed siblings, whether they are women, people of color, Black people, LGBTQ people, poor people, or others."
---
I was shocked when I first realized that the book of Acts doesn't speak about Jesus' crucifixion as a meritorious death that promised postmortem bliss. The author's focus is rather on the resurrection of Jesus, one who had been executed unjustly by those in control of an unjust system. His resurrection marked the beginning of that long-awaited work (rooted in the hope of the ancient Hebrew prophets) that the oppression, violence, and injustice of our present iteration of our world would be put right.
This was profoundly curious to me. I began to notice the message of Acts and the gospels was rather different than the cross-focused preaching and teaching I was used to.
The author of the gospel of Luke also includes resurrection in a category of "musts," things that must happen:
"The Son of Man must undergo great suffering, and be rejected by the elders, chief priests, and scribes, and be killed, and on the third day be raised." (Luke 9:22, emphasis added)
The Jewish early followers of Jesus had a similar focus to the ancient Hebrew prophets. Their dream was not of one day going to a far distant "heaven" and escaping either this world or a postmortem "hell." Their focus was very much on this present world, and the gospels showed a Jesus who taught a path toward righting oppression, violence, and injustice. Their message was that Jesus' unjust execution interrupted his liberation work, and his resurrection overcame or reversed the death that unjust systems dealt.
Consider the following excerpts from Acts, and pay close attention to how each emphasizes the resurrection and describes what it resurrection accomplished:
"Jesus of Nazareth, a man attested to you by God with deeds of power, wonders, and signs that God did through him among you, as you yourselves know—this man, given to you according to the definite plan and foreknowledge of God, you crucified and killed by the hands of those outside the law. But God raised him up, having freed him from death, because it was impossible for him to be held in its power . . . God has raised this Jesus to life, and we are all witnesses of the fact . . . Therefore let the entire house of Israel know with certainty that God has made him both Lord and Messiah, this Jesus whom you crucified." (Acts 2:22-36, emphasis added)
"The God of Abraham, Isaac, and Jacob, the God of our fathers, has glorified his servant Jesus. You handed him over to be killed, and you disowned him before Pilate, though he had decided to let him go. You disowned the Holy and Righteous One and asked that a murderer be released to you. You killed the author of life, but God raised him from the dead. We are witnesses of this." (Acts 3:13-15, emphasis added)
"The God of our ancestors raised Jesus from the dead—whom you killed by hanging him on a cross. God exalted him to his own right hand as Prince and Savior . . ." (Acts 5:30-31, emphasis added)
Two things are happening in these passages. First, each identifies Jesus with communities who had been victimized and excluded politically, economically, and religiously. Second, each states the unjust execution has been overcome.
That Jesus was unjustly executed through an alliance of political and economic systems and that this unjust execution had been reversed places the story's truth on the side of those damaged by those systems. The stories unmask a way of doing life that benefits some at the expense of others deemed expendable and that protects itself at any cost (see Systems of Sacrifice).
With the authors of the gospels, we identify Jesus as in solidarity with all victims and survivors of systemic evil, both historical and contemporary. Whether we victimize people through our politics, economics, or religions, we begin to see that Jesus is with them, rather than with us (see Acts 2:37), and that we are with Jesus when we are standing alongside them too. This understanding "converts" us as followers of Jesus, to stand in solidarity with those we once harmed, over and against those systems which may privilege us at their expense.
As Jesus followers today, the gospel we tell must locate Jesus among our oppressed siblings. Whether they are women, people of color, Black people, LGBTQ people, poor people, or others, the story challenges us not to be the very ones "who don't know what we are doing," believing our actions to be politically "justifiable," economically "expedient," or religiously "required." This interpretation challenges us to ask, as the old Black American spiritual asks, "Were you there when they crucified my Lord," and also ask what role in the story we are taking with our actions today. The story decisively declares and demonstrates that those our present systems oppress are those we should be working alongside of, too.
To save Jesus followers socially, our gospel must include but not be focused solely on an execution, and also emphasize the deep significance of the story's focus on resurrection.
Jesus stood in the justice tradition of the Hebrew prophets before him. It was a tradition that called for the end of politics dependent on violence, economics dependent on exploitation, and religion dependent on the exclusion of others. Far from Jesus' unjust execution being what satisfied cosmic justice, the murder of Jesus on a Roman cross was an act of injustice. The resurrection, in the story, is a symbol of that death-dealing being overcome. It puts Jesus on the side of those opposing those systems.
Our gospel is the story of a Jesus critiquing all exclusionary and exploitative politics, economics, and religious expressions, unmasking them for what they are, and calling us to live in opposition to those systems, too.
The story calls us to begin by identifying our oppressive political, economic, and religious systems today for what they truly are. We can no longer stand in solidarity with death-dealing systems. We have to take our cue from Jesus and stand with the victims of those systems, even if we have previously been "persecutors" or oppressors rather than allies. In the story of Jesus, the main character has the power to change us from oppressor to comrade, to inspire us to stand with those being oppressed and to critique unjust systems and work for change. This Jesus calls us to believe that these kinds of systems can be defeated and stripped of their power over us through their very real threat of death and our fear of death.
"We tell you the good news: What God promised our ancestors he has fulfilled for us, their children, by raising up Jesus." (Acts 13:32-33)
"For he has set a day when he will [put the world to right] with justice by the man he has appointed. He has given proof of this to everyone by raising him from the dead." (Acts 17:31)
The resurrection focus of the book of Acts and the gospels calls us to imagine a world where our politics, economics, and religion have been replaced with the love of others expressed in justice. Ways of domination are replaced with care. Exploitation is replaced with ensuring everyone has what they need to thrive. And exclusion is replaced with an inclusion that centers those who used to be left outside. The story calls us to imagine a human community characterized as life-giving for all, not death-dealing to some.
Understood this way, the resurrection story, the resurrection of one executed by systemic injustice and the ones privileged by it, has the power to help Jesus followers rethink everything.
This truth, I believe, does have the power to set us free.
There is a stark difference between preaching a violent death that substitutionally assures us of postmortem bliss, and teaching about an unjust execution by the powers that be that was interrupted, reversed, undone, and overcome. This story can point us, not simply to liberated and healed individuals, but also to a liberated and healed world.
HeartGroup Application
We at RHM are continuing to ask all HeartGroups not to meet together physically at this time. Please stay virtually connected and practice physical distancing. When you do go out, please keep a six-foot distance between you and others, wear a mask, and continue to wash your hands to stop the spread of the virus.
This is also a time where we can practice the resource-sharing and mutual aid found in the gospels. Make sure the others in your group have what they need. This is a time to work together and prioritize protecting those most vulnerable among us. How many ways can you take care of each other while we are physically apart?
1. Share something that spoke to you from this week's eSight/Podcast episode with your HeartGroup.
2. In the Jesus story, give examples of where Jesus stood with those systemically oppressed or marginalized? Who would he be standing with if the story was re-written for our societal context, today?
3. What can you do this week, big or small, to continue setting in motion the work of shaping our world into a safe, compassionate, just home for all? Discuss with your group and pick something from the discussion to put into practice this upcoming week.
Thanks for checking in with us, today.
Right where you are, keep living in love, choosing compassion, taking action, and working toward justice.
I love each of you dearly,
I'll see you next week