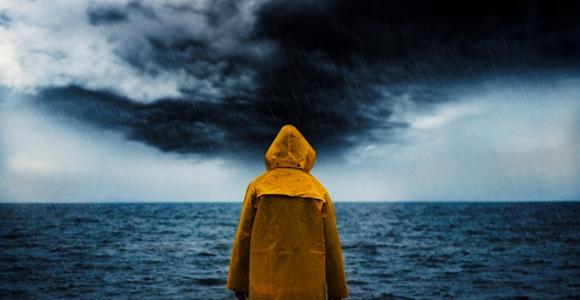 Herb Montgomery | August 12, 2022
To listen to this week's eSight as a podcast episode click here.
---
"Our reading this week calls to mind times when we have also had to make decisions about speaking out against things we feel are unjust or harmful and facing division or controversy as a result. How many times have we found ourselves in a situation where doing what we feel is right or speaking out would involve a personal cost?"
---
Our reading this week is from the gospel of Luke:
"I have come to bring fire on the earth, and how I wish it were already kindled! But I have a baptism to undergo, and what constraint I am under until it is completed! Do you think I came to bring peace on earth? No, I tell you, but division. From now on there will be five in one family divided against each other, three against two and two against three. They will be divided, father against son and son against father, mother against daughter and daughter against mother, mother-in-law against daughter-in-law and daughter-in-law against mother-in-law.
He said to the crowd: "When you see a cloud rising in the west, immediately you say, 'It's going to rain,' and it does. And when the south wind blows, you say, 'It's going to be hot,' and it is. Hypocrites! You know how to interpret the appearance of the earth and the sky. How is it that you don't know how to interpret this present time?" (Luke 12:49-56)
The context of this week's reading is Jesus looking ahead to his arrival at Jerusalem and the demonstration or protest he will engage in there. He will flip the tables of the moneychangers, that protest will cause an uproar, and he will receive pushback that might cost him his life.
A word about the language Luke uses here. The metaphorical imagery of Jesus as a fire starter held different meanings in different versions of the Jesus story. In the gospel of Thomas, for example, fire is something that Jesus kindles and guards till it blazes. This makes fire a good thing that symbolizes the growing Jesus movement itself.
In Luke, however, this rhetoric conjures a more dangerous connotation: social and political conflict. These are the connotations I want to emphasize this week. Jesus' internal conflict was not with his own Jewishness or his Jewish tradition. He struggled with the economic, political, and social harm he saw being committed against those his society had made vulnerable, and with what he felt he had to do in response.
The language of baptism (immersion) is also a metaphor for the concrete hardship or distress that Jesus' protest and speaking out could possibly cause. In this passage we are reading of a Jesus who is in distress on one level but also resolute and embracing the reality that he will cause division and the personal cost that will involve. He doesn't wish to avoid it but rather wishes that it was already over.
It's also noteworthy that the divisiveness that Jesus is talking about will thoroughly permeate his society's social structures, all the way to the family unit. The family unit in 1st Century Judea and Galilee was the central economic and social structure of Jesus' society.
Our reading this week calls to mind times when we have also had to make decisions about speaking out against things we feel are unjust or harmful and facing division or controversy as a result. How many times have we found ourselves in a situation where doing what we feel is right or speaking out would involve a personal cost?
I think of whistleblowers who have to make these difficult decisions.
I think, too, of social truth tellers in religious and nonreligious contexts who suffer personally because they chose to speak truth rather than silently go along with things they knew were harmful.
I don't quote Leo Tolstoy very often anymore, but this week's reading reminds me of a statement that I love:
"And therefore you cannot but reflect on your position as landowner, manufacturer, judge, emperor, president, minister, priest, and soldier, which is bound up with violence, deception, and murder, and recognize its unlawfulness. I do not say that if you are a landowner you are bound to give up your lands immediately to the poor; if a capitalist or manufacturer, your money to your workpeople; or that if you are Tzar, minister, official, judge, or general, you are bound to renounce immediately the advantages of your position; or if a soldier, on whom all the system of violence is based, to refuse immediately to obey in spite of all the dangers of insubordination. If you do so, you will be doing the best thing possible. But it may happen, and it is most likely, that you will not have the strength to do so. You have relations, a family, subordinates and superiors; you are under an influence so powerful that you cannot shake it off; but you can always recognize the truth and refuse to tell a lie about it. You need not declare that you are remaining a landowner, manufacturer, merchant, artist, or writer because it is useful to mankind; that you are governor, prosecutor, or tzar, not because it is agreeable to you, because you are used to it, but for the public good; that you continue to be a soldier, not from fear of punishment, but because you consider the army necessary to society. You can always avoid lying in this way to yourself and to others, and you ought to do so; because the one aim of your life ought to be to purify yourself from falsehood and to confess the truth. And you need only do that and your situation will change directly of itself." (Leo Tolstoy, The Kingdom of God Is Within You, pp. 263-264)
In this week's reading, Jesus stands within his own Jewish prophetic tradition, where the prophets speak out against the unjust actions of the centered rich and powerful harming the poor and marginalized.
How many times have we been told not to be divisive in our time? There is a time to push for unity, and there is also a time when division is holy, just, and good.
The Hebrew scriptures remind us:
"There is a time for everything,
and a season for every activity under the heavens:
  a time to be born and a time to die,
a time to plant and a time to uproot,
  a time to kill and a time to heal,
a time to tear down and a time to build,
  a time to weep and a time to laugh,
a time to mourn and a time to dance,
  a time to scatter stones and a time to gather them,
a time to embrace and a time to refrain from embracing,
  a time to search and a time to give up,
a time to keep and a time to throw away,
  a time to tear and a time to mend,
a time to be silent and a time to speak,
  a time to love and a time to hate,
a time for war and a time for peace." (Ecclesiastes 3:1-8)
Yes: there is a time for unity and there is a time for division.
My burden this week is that each of us will have the wisdom to discern the difference, that we will have the wisdom to recognize where calls for silence are coming from. Is it the privileged who are warning us not to rock the boat? Will division be harmful to those we are trying to help, or is the division simply threatening those who are benefiting from an unjust system.
One last word about Luke's Jesus.
In this week's passage, Jesus is engaging in resistance and speaking out, not promoting passive endurance of injustice. He is also not choosing to die, as feminist and womanist theologians have explained. (See Christianity, Patriarchy, and Abuse: A Feminist Critique by Brown and Bohn, Sisters in the Wilderness: The Challenge of Womanist God-Talk by Williams, and Proverbs of Ashes: Violence, Redemptive Suffering, and the Search for What Saves Us by Parker and Brock.) He's rather choosing to hold onto a life-giving ethic even when threatened with an unjust execution. He's answering not whether he is willing to die but how badly does he want to live. For me, these are not semantics. The difference informs how I myself respond to injustice and abuse.
I desire us to have wisdom and also to have courage in these kinds of moments: courage to bear the personal costs we will suffer when we are called to "instigate" division for the sake of what is right.
Our reading concludes with clouds on the horizon and a coming storm. This could reflect Luke's (and possibly also Matthew's) beliefs in a coming eschaton (cf. Matthew 16:2-3). It could also indicate that Jesus saw that injustice is not sustainable and that, eventually, societies that benefit a few by harming the masses will break down. When they do break down, it harms us all.
In the end, it's harm reduction and mitigation that is moving Jesus to speak out. It is the reality of this harm to everyone that outweighs the personal cost he will suffer for speaking out.
What can this week's story say to you when you, too, are called to speak out?
HeartGroup Application
1. Share something that spoke to you from this week's eSight/Podcast episode with your HeartGroup.
2. Share an experience in your own life where you were faced with similar decisions as we see in this week's reading. How did things turn out? Discuss with your group.
3.  What can you do this week, big or small, to continue setting in motion the work of shaping our world into a safe, compassionate, just home for everyone?
Thanks for checking in with us, today.
Right where you are, keep living in love, choosing compassion, taking action, and working toward justice.
I love each of you dearly,
I'll see you next week
---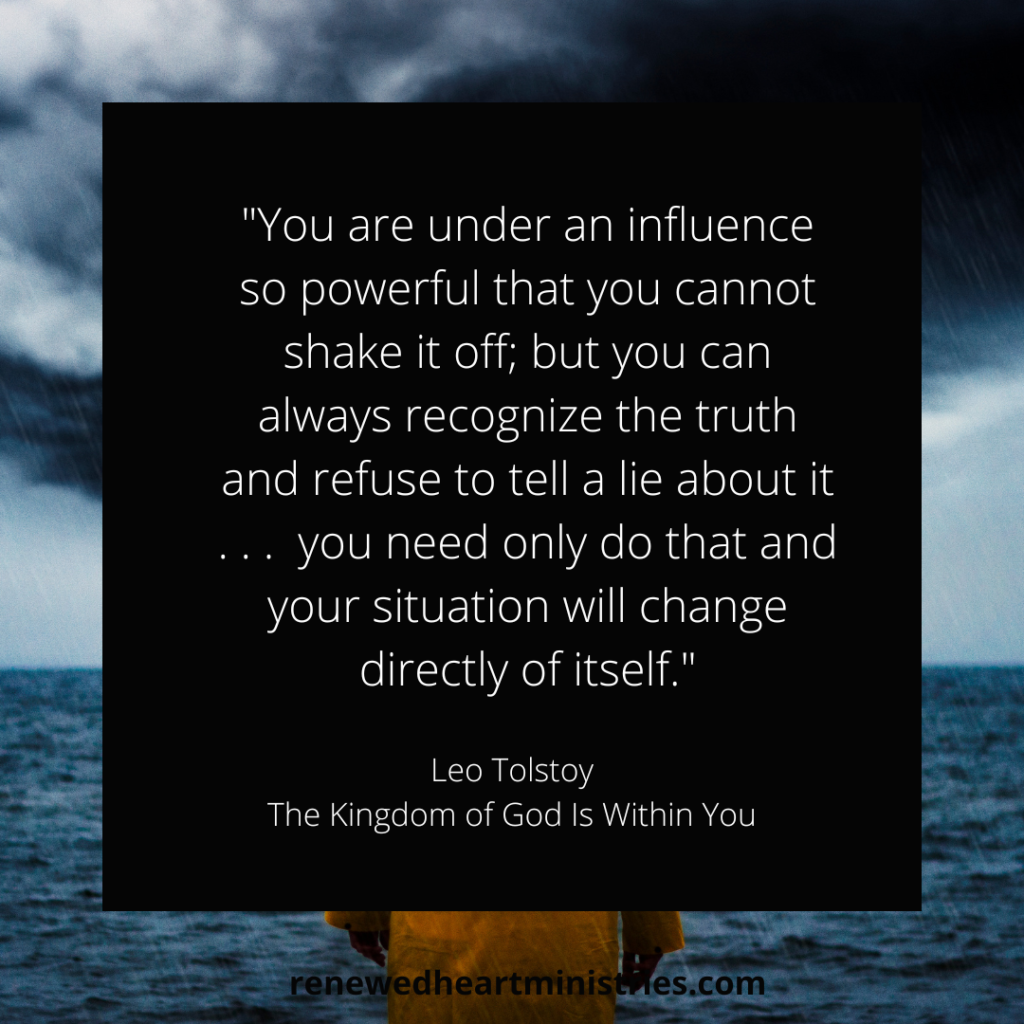 ---
Begin each day being inspired toward love, compassion, action, and justice.
Go to renewedheartministries.com and click "sign up."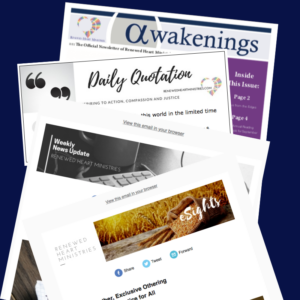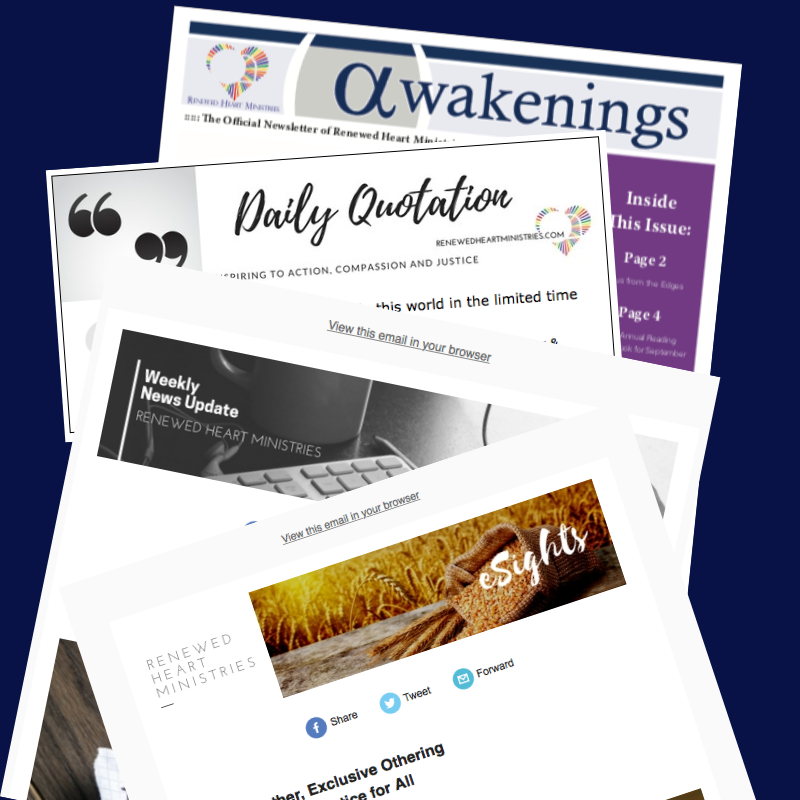 Free Sign-Up at:
https://renewedheartministries.com/Contact-forms?form=EmailSignUp