by Herb Montgomery
"But into whatever town you enter and they do not take you in, on going out from that town' shake off the dust from your feet. I tell you: For Sodom it shall be more bearable on that day than for that town." (Q 10:10-12)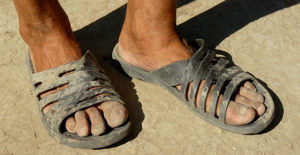 Companion Texts:
Matthew 10:14-15: "If anyone will not welcome you or listen to your words, leave that home or town and shake the dust off your feet. Truly I tell you, it will be more bearable for Sodom and Gomorrah on the day of judgment than for that town."
Luke 10:10-12: "But when you enter a town and are not welcomed, go into its streets and say, 'Even the dust of your town we wipe from our feet as a warning to you. Yet be sure of this: The kingdom of God has come near.' I tell you, it will be more bearable on that day for Sodom than for that town."
Our saying this week has a long history of anti-Semitism. Christians have used the phrase "shaking the dust from one's feet" as a symbol of Jews rejecting Gentiles. But it is simplistic to say that Jews shook the dust off of their feet when leaving Gentile territories as a rejection of Gentiles and it is anti-Semitic to use it to justify rejecting Jews for their rejection of "Jesus as their Messiah."
What is a better way to understand this ancient practice?
Shaking Dust from One's Feet
If this was a practice of the first century Jewish people it would have most likely been a practice of those who followed the Pharisaical school of Shammai. The school of Shammai wanted to maintain the distinctions between Jews and Gentiles in an effort to preserve Jewish identity and culture when Hellenism was threatening their culture. I don't believe that tribal distinctions are the healthiest way to preserve identity, nor do I subscribe to Shammai's teachings on this, but I can't fault the people of that era either. I get it. This was a people who were still recovering from their exile and dispersion throughout the region and trying desperately to hold on to their identity.
The Pharisaical school of Hillel, which many of Jesus' teachings are more in harmony with, did not follow that strict distinction between Jew and Gentile. Instead, Hillel taught that every person, Jew or Gentile, was created in the image of God and worthy of respect and treatment according to the Golden Rule. (We covered this in much more detail earlier this year in The Golden Rule.)
Ultimately the Jewish people abandoned the school of Shammai in favor of Hillel's more inclusive practices. Karen Armstrong writes about the people's choice in the wake of the destruction of Jerusalem:
"It happened that R. Johanan ben Zakkai went out from Jerusalem, and R. Joshua followed him and saw the burnt ruins of the Temple and he said: 'Woe is it that the place, where the sins of Israel find atonement, is laid waste.' Then said R. Johanan, 'Grieve not, we have an atonement equal to the Temple, the doing of loving deeds, as it is said, 'I desire love and not sacrifice.'
"Kindness was the key to the future; Jews must turn away from the violence and divisiveness of the war years and create a united community with 'one body and one soul.' When the community was integrated in love and mutual respect, God was with them, but when they quarreled with one another, he [sic] returned to heaven, where the angels chanted with 'one voice and one melody.' When two or three Jews sat and studied harmoniously together, the divine presence sat in their midst. Rabbi Akiba, who was killed by the Romans in 132 CE, taught that the commandment 'Thou shalt love thy neighbor as thyself' was 'the great principle of the Torah.' To show disrespect to any human being who had been created in God's image was seen by the rabbis as a denial of God himself and tantamount to atheism. Murder was a sacrilege: 'Scripture instructs us that whatsoever sheds human blood is regarded as if he had diminished the divine image.' God had created only one man at the beginning of time to teach us that destroying only one human life was equivalent to annihilating the entire world, while to save a life redeemed the whole of humanity. To humiliate anybody—even a slave or a non-Jew—was equivalent to murder, a sacrilegious defacing of God's image. To spread a scandalous, lying story about another person was to deny the existence of God. Religion was inseparable from the practice of habitual respect to all other human beings. You could not worship God unless you practiced the Golden Rule and honored your fellow humans, whoever they were."
(Armstrong, Karen; The Great Transformation: The Beginning of Our Religious Traditions. Kindle Edition.)
Luke, the most Gentile of the synoptic gospels, colors Jesus' instructions with the phrase "as a warning." By rejecting the values and teachings that Jesus and Hillel sought to promote in Judaism, those in the school of Shammai who practiced shaking Gentile dust off their feet were headed toward the same fate that they claimed the Gentiles were headed toward. In their ethic of separation, alienation, and independence, they were actually aligning themselves more with the path of destruction then the Gentiles they wanted to be separate from.
Remember, Jesus' community practiced interdependence, mutualism, and resource-sharing. The Jewish followers of Shammai rejected the path of interdependence for independence, isolationism, and exceptionalism, and so they shared with violent revolutionists a path that would ultimately lead to a devastating backlash from the Romans.
Shaking the dust off of one's feet could not have indicated rejection of the Jews because Jesus was himself a Jew, not a Christian. Yet a Jewish Jesus would have felt burdened to communicate that there was no moral difference between those who rejected his values and those they claimed moral superiority to. Jesus makes this statement in Matthew's gospel:
"If you love those who love you, what reward will you get? Are not even the tax collectors doing that? And if you greet only your own people, what are you doing more than others? Do not even gentiles do that?" (Matthew 5:46-47, emphasis added.)
Shaking dust off of one's feet was not an act of rejection, but an act of warning. It was a warning to those one genuinely cared about, was invested in, and saw as one's own people. It was a sign of deep concern with the direction one's own community was headed in.
Sodom's Story: Not Finished.
Let's close this with the 1st Century Jewish belief that Sodom's story was not finished. Sodom still had a future, and I believe this is important.
First, let's be clear on what we are talking about. The atrocity of Sodom, according the Hebrew scriptures was this:
"Now this was the sin of your sister Sodom: She and her daughters were arrogant, overfed and unconcerned; they did not help the poor and needy. They were haughty and did detestable things before me." (Ezekiel 16:49-50)
Sodom had become so wealthy and isolationist that any immigrants to Sodom were rejected, even if fleeing there for safety, and subjected to physical violence or even sexual violence. The threat of sexual violence we read about in Genesis 19, rape of men and women, was a common war practice in the ancient world, used to emasculate, dehumanize, and humiliate enemies.*
As inhospitable and greedy as Sodom was, however, Ezekiel uses Sodom's narrative as an indictment against his own people:
"As surely as I live, declares the [LORD], your sister Sodom and her daughters never did what you and your daughters have done." (Ezekiel 16:48)
But then Ezekiel throws in a twist with the Sodom narrative. He envisions a river of life that one day flows out from Jerusalem (Ezekiel 47.1-2). And what this river of life does for Sodom is restorative, not destructive.
"He said to me, 'This water flows toward the eastern region and goes down into the Arabah, where it enters the Dead Sea. [In Ezekiel's time, the Dead Sea was believed to be the region of ancient Sodom.] When it empties into the sea, the salty water there becomes fresh. Swarms of living creatures will live wherever the river flows. There will be large numbers of fish, because this water flows there and makes the salt water fresh; so where the river flows everything will live. People will fish along the shore; from En Gedi to En Eglaim there will be places for spreading nets. The fish will be of many kinds—like the fish of the Mediterranean Sea. But the swamps and marshes will not become fresh; they will be left for salt. Fruit trees of all kinds will grow on both banks of the river. Their leaves will not wither, nor will their fruit fail. Every month they will bear fruit, because the water from the sanctuary flows to them. Their fruit will serve for food and their leaves for healing.'" (Ezekiel 47.8-12, emphasis added.)
Ezekiel had previously said,
"However, I will restore the fortunes of Sodom and her daughters and of Samaria and her daughters, and your fortunes along with them, so that you may bear your disgrace and be ashamed of all you have done in giving them comfort. And your sisters, Sodom with her daughters and Samaria with her daughters, will return to what they were before; and you and your daughters will return to what you were before." (Ezekiel 16:53-55, emphasis added)
Because of how many Christians use the New Testament passages of Jude 7 and 2 Peter 2:6 today, it is important to understand that Ezekiel saw a positive ending to Sodom's narrative. Many Christians today use Sodom's narrative as an example of the future destruction of some categories of people and this belief influences them to practice a hopeless exclusion of whomever they deem unlike them. But Jesus, like Ezekiel, believed that the future of his own people could still be bright.
So in this week's saying about shaking the dust off one's feet, Jesus stands in the tradition of the Hebrew prophets: he evokes the narrative of Sodom and compares it to his own people's future fate. Jesus shows deep concern for the society of his day and the unbearable retaliation Rome would inflict upon Jerusalem if his community continued on its current path. Jesus' nonviolence and the resource-sharing principles would have placed the people on a radically different trajectory.
I believe that after the destruction of Jerusalem, the Jewish people did, through the teachings of Hillel, partially transition to the path Jesus showed, and they made great strides in love, kindness, nonviolence, and radical inclusivity. Economically, Hillel's and Jesus' teachings were somewhat different, and I believe Jesus' economic teachings were more in harmony with the Torah than Hillel's. But Jesus' radical resource sharing and ethics of nonviolence are both waiting for a present or future generation to choose.
Over the last three weeks, we've been looking at the interdependent elements of Jesus' mission instructions. This week we're beginning to transition into the next section of Jesus teachings. Just like this week's saying, these next few sayings contain warnings for his generation if they didn't abandon their path, if they didn't choose the path he was presenting.
I can't help but notice that history is cyclical. We in our society today may be being faced with the same choices that first generations of Christians were. With Jesus' path of nonviolence and resource-sharing in mind, let's take a moment to contemplate Jesus' warning:
But into whatever town you enter and they do not take you in, on going out from that town' shake off the dust from your feet. I tell you: For Sodom it shall be more bearable on that day than for that town. (Q 10:10-12) 
HeartGroup Application
I want to introduce to you a friend of mine, Mark Van Steenwyk. If you haven't read his books, they are well worth it and I recommend them highly. This last week, Mark posted this statement on social media:
"I hate coercion!" says the modern man. "Except for, perhaps, the many coercions of the past that have made me so prosperous."
It is like the parable of the man who slays an entire neighborhood and takes their treasures. Afterwards, he declares himself a pacifist. When the relatives of those slain [come] to his door, angrily holding bats, he says: "You should be pacifists, like me!"
1.   In the context of this statement, discuss in your HeartGroup what it would look like for your group to lean more deeply into the nonviolence and resource-sharing that the Jesus of Sayings Gospel Q taught.
2.   List three ways you believe the teachings of Jesus call you to embrace nonviolence in today's society. Also list three ways you believe the teachings of Jesus call you to share resources and even participate in the reparations needed in our society today.
3.   Pick one action from each list to put into practice between this week and next.
We cannot continue today on our current trajectory without reaching a breaking point. As we are contemplating the changes we so deeply need, the Jesus of Sayings Gospel Q and those whose experiences of life vary from one another can inform our choices to move toward a safer, more just, more compassionate world for us all.
It's much easier to simply worship Jesus than to put into place the world-healing teachings he taught. But healing the world is what Jesus spent his life doing, and his story has called to those who would listen ever since saying, "follow me."
Thanks for joining us this week.
Wherever this finds you, keep living in love, till the only world that remains is a world where only love reigns.
I love each of you, dearly.
I'll see you next week.
---
*It's part of the implicit misogyny of the original culture and contemporary Christian culture that the threatened rape of Lot's daughters—human women—is almost always glossed over in favor of horror about the threat of rape against "male" angels, the different flesh of Jude.