Renewed Heart Ministries is a nonprofit organization working for a world of love and justice.
We need your support to offer the kind of resources RHM provides.
Helping people find the intersection between their faith, compassion, and justice is work that continues to prove deeply needed.
Please consider making a donation to support Renewed Heart Ministries' work, today.
You can donate online by clicking here.
Or you can make a donation by mail at:
Renewed Heart Ministries
PO Box 1211
Lewisburg, WV 24901
And to those of you out there who already are supporting this ministry, we want to say thank you. We continue to be a voice for change because of you.
---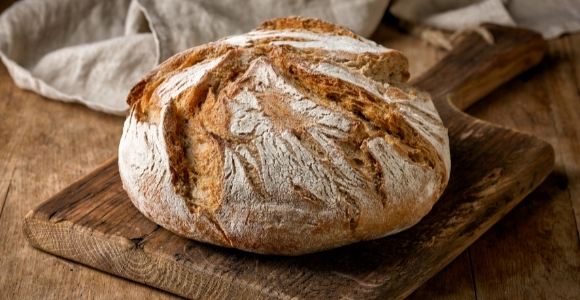 Herb Montgomery | August 6, 2021
Our reading this week comes from the gospel of John,
Then Jesus declared, "I am the bread of life. Whoever comes to me will never go hungry, and whoever believes in me will never be thirsty . . . At this the Jews there began to grumble about him because he said, "I am the bread that came down from heaven." They said, "Is this not Jesus, the son of Joseph, whose father and mother we know? How can he now say, 'I came down from heaven'?" "Stop grumbling among yourselves," Jesus answered. "No one can come to me unless the Father who sent me draws them, and I will raise them up at the last day. It is written in the Prophets: 'They will all be taught by God.' Everyone who has heard the Father and learned from him comes to me. No one has seen the Father except the one who is from God; only he has seen the Father. Very truly I tell you, the one who believes has eternal life. I am the bread of life. Your ancestors ate the manna in the wilderness, yet they died. But here is the bread that comes down from heaven, which anyone may eat and not die. I am the living bread that came down from heaven. Whoever eats this bread will live forever. This bread is my flesh, which I will give for the life of the world." (John 6:35, 41-51)
Our passage this week starts a chain of "I am" statements that are unique to the gospel of John. There are six more in this version of the Jesus story, seven in total. In John 8:12, Jesus states, "I am the light of the world." In John 8:58, he says, "I existed before there was an Abraham." In John 10:11, he says, "I am the good shepherd," and in John 11:25, he says "I am the resurrection and the life." In John 14:6, he says, "I am the way, and I am the truth, and I am life," and lastly, in John 15:1, he says, "I am the authentic vine."
Robert Funk explains that John's Greco-Roman audience would have recognized this series as an "established formula in speech attributed to one of the gods" (p. 419, The Five Gospels). For John's Jewish audience, these sayings could have echoed Yahweh's words to Moses: " I am who I am" (Exodus 3:14). Both associations would have highly honored the Jewish Jesus by whom many who encountered him had their lives changed forever.
But also note two things. John's language about "the Jews" has proven deeply harmful to our Jewish siblings. We must be careful in how we read, understand, and use this passage, and we must not use it to harm Jewish people.
Another problematic phrase is, "No one has seen the Father except the one who is from God; only he has seen the Father." This seems to contradict the synoptic Jesus who accused those in control of the status quo of having established a monopoly on knowing God: "Damn you experts in the law, because you have taken away the key to knowledge. You yourselves have not entered, and you have blocked those who were entering." (Luke 11:52) There is much to ponder here.
Can we reclaim this passage in our lectionary reading for this week?
I think the synoptic gospels can help us.
The synoptic gospels don't emphasize Jesus as a person (as John does) but emphasize Jesus' teachings, specifically his teachings on nonviolent resistance, mutual aid, resource-sharing, wealth redistribution, debt forgiveness, and more. Jesus' teaching in these gospels has very concrete political and economic implications for communities. No wonder many of those with much political and economic power, then and now, have chosen to interpret Jesus as providing a path to heaven rather than an affront to unjust social structures in the here and now.
But ponder for a moment how our understanding changes if we interpret these teachings as "the bread of life." Coupling John's Jesus who is the bread of life with the synoptics' definition of Jesus in terms of his teachings would lead us to state:
Nonviolent resistance is the bread of life.
Mutual aid is the bread of life.
Resource sharing is the bread of life.
Wealth redistribution is the bread of life.
Debt forgiveness is the bread of life.
And in a time of massive wealth inequality, when the richest are competing on getting to the edge of earth and space while most of the world still does not have even their daily needs of food, shelter, and care met, we wonder if these statements could be true.
Consider the political and economic forces obstructing the changes we need to make right now to effectively address climate change alone. What does it mean to have the bread of life today?
If eating this kind of "bread" would lead to life and refusing these things would lead to death, that would make much more sense to me if we defined the bread of life as the ethical, social and political teachings of the Jesus story.
It is much larger than this, too. As a Jesus follower, I have encountered these teachings in my own journey with Jesus. Others exposed to Jesus through harmful expressions of Christianity have encountered these values from other sources. I can say that they, too, are partaking in the bread of life, even if they aren't associated with "Jesus."
What is bread that is only temporary and what is bread that leads to life everlasting? What are sustainable, renewable, long-term ways of supporting life? Could these practices from Jesus be a way for us to interpret Jesus' words in John's gospel?
Lastly, we once again bump into the myth of redemptive self-sacrifice in this week's passage:
"This bread is my flesh, which I will give for the life of the world."
It's good to deny greed for power and resources from the powerful and privileged. I see those kinds of denials as a way for the powerful to reclaim their humanity or "self" rather than sacrifice it. Likewise, I do not interpret Jesus as prescribing self-sacrifice for those who are marginalized, victimized, or disenfranchised. In a system where so many people's full humanity or "self' is already being sacrificed, I do not believe the message for them is one of greater, voluntary sacrifice of themselves, but rather, as we find in Matthew's Sermon on the Mount, Jesus brings a call for them to reclaim their full humanity in their struggle for justice. (See Imagery of a Good Shepherd and A Primer on Self Affirming, Nonviolence (Parts 1-10))
Joanne Carlson Brown and Rebecca Parker correctly warn of the damage that unhealthy interpretations of John's gospel can produce:
"Christianity has been a primary—in many women's lives the primary—force in shaping our acceptance of abuse. The central image of Christ on the cross as the savior of the world communicates the message that suffering is redemptive. If the best person who ever lived gave his life for others, then, to be of value we should likewise sacrifice ourselves. Any sense that we have a right to care for our own needs is in conflict with being a faithful follower of Jesus. Our suffering for others will save the world." (God So Loved the World?, p. 1)
If you would like understand this analysis more deeply, I recommend reading their critique in its entirety.
So what does the bread of life look like for us today?
Rightly understanding our history including our society's racism is the bread of life.
A living wage is the bread of life.
Open, free, and fair elections where voting rights and voting access is protected is the bread of life.
Affordable and accessible health care for all is the bread of life.
Getting vaccinated when we can be is the bread of life.
Common sense preliminary background check on all gun purchases is the bread of life.
Funding those trained in mental health to respond to crisis situations in our communities, ending police militarization, and investing in non-policing forms of public safety and community support is the bread of life.
Clean, renewable energy is the bread of life, especially for those monetarily profiting from the fossil fuel industry now. What does it profit you if you gain all the money in the world but have no planet to live on?
What is the bread of life that results in concrete, life everlasting for humanity rather than temporary gain? What does that mean to you?
HeartGroup Application
1. Share something that spoke to you from this week's eSight/Podcast episode with your HeartGroup.
2. What do you interpret to be the bread of life in our context today? Discuss with your group.
3. What can you do this week, big or small, to continue setting in motion the work of shaping our world into a safe, compassionate, just home for everyone?
Thanks for checking in with us, today.
Right where you are, keep living in love, choosing compassion, taking action, and working toward justice.
I love each of you dearly,
I'll see you next week
---