BY HERB MONTGOMERY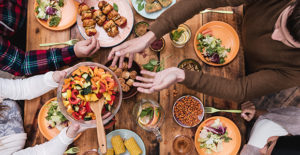 "Into whatever house you enter, first say:  'Peace to this house!' And if a son of peace be there, let your peace come upon him; but if not, let' your peace return upon you. And at that house remain, eating and drinking whatever they provide, for the worker is worthy of one's reward. Do not move around from house to house. And whatever town you enter and they take you in, eat what is set before you, and cure the sick there, and say to them: The kingdom of God has reached unto you." (Q 10:5-9)
Companion Texts:
Matthew 10:7-13: "As you go, proclaim this message: 'The kingdom of heaven has come near.' Heal the sick, raise the dead, cleanse those who have leprosy, drive out demons. Freely you have received; freely give. Do not get any gold or silver or copper to take with you in your belts—no bag for the journey or extra shirt or sandals or a staff, for the worker is worth his keep. Whatever town or village you enter, search there for some worthy person and stay at their house until you leave. As you enter the home, give it your greeting. If the home is deserving, let your peace rest on it; if it is not, let your peace return to you."
Luke 10:5-9: "When you enter a house, first say, 'Peace to this house.' If someone who promotes peace is there, your peace will rest on them; if not, it will return to you. Stay there, eating and drinking whatever they give you, for the worker deserves his wages. Do not move around from house to house. When you enter a town and are welcomed, eat what is offered to you. Heal the sick who are there and tell them, 'The kingdom of God has come near to you.'"
Gospel of Thomas 14:4: "And if you go into any land and wander from place to place, and if they take you in, then eat what they will set before you. Heal the sick among them!"
Last week we discussed the interdependence in the mission instructions that Sayings Gospel Q emphasized. This week, we'll look at the way of mutual sharing or exchange of resources and abilities found in this saying.
Survival versus Liberation
A great summary of this section of Sayings Gospel Q comes from the work of Stephen J. Patterson:
"What does it actually mean for the empire of God to come? It begins with a knock at the door. On the stoop stand two itinerant beggars, with no purse, no knapsack, no shoes, no staff. They are so ill-equipped that they must cast their fate before the feet of a would-be host. This is a point often made by historical Jesus scholar John Dominic Crossan. These Q folk are sort of like ancient Cynics, but their goal is not the Cynic goal of self-sufficiency; these itinerants are set only for dependency. To survive they must reach out to other human beings. They offer them peace—this is how the empire arrives. And if their peace is accepted, they eat and drink—this is how the empire of God is consummated, in table fellowship. Then another tradition is tacked on, beginning with the words 'Whenever you enter a town.' This is perhaps the older part of the tradition, for this, and only this, also has a parallel in the Gospel of Thomas (14). There is also an echo of it in Paul's letter known as 1 Corinthians (10: 27). Here, as in the first tradition, the itinerants are instructed, 'Eat what is set before you.' Again, the first move is to ask. The empire comes when someone receives food from another. But then something is offered in return: care for the sick. The empire of God here involves an exchange: food for care.
This warrants pause. Food for care. In the ancient world, those who lived on the margins of peasant life were never far from death's door. In the struggle to survive, food was their friend and sickness their enemy. Each day subsistence peasants earn enough to eat for a day. Each day they awaken with the question: Will I earn enough to eat today? This is quickly followed by a second: Will I get sick today? If I get sick, I won't eat, and if I don't eat, I'll get sicker. With each passing day the spiral of starvation and sickness becomes deeper and deeper and finally, deadly. Crossan has argued that this little snippet of ancient tradition is critical to understanding why the followers of Jesus and their empire of God were compelling to the marginalized peasants who were drawn to it. 'Eat what is set before you and care for the sick.' Here is the beginning of a program of shared resources of the most basic sort: food and care. It's an exchange. If some have food, all will eat; if any get sick, someone who eats will be there to care for them. The empire of God was a way to survive— which is to say, salvation." (The Lost Way: How Two Forgotten Gospels Are Rewriting the Story of Christian Origins, pp. 74-75)
In Luke's gospel, the goal of Jesus' ministry is the liberation of the oppressed:
"The Spirit of the Lord is on me,
because he has anointed me
to proclaim good news to the poor.
He has sent me to proclaim freedom for the prisoners
and recovery of sight for the blind,
to set the oppressed free,
to proclaim the year of the Lord's favor." (Luke 4.18-19)
This week's saying describes the way Jesus' disciples can survive as they work toward that liberation. It reminds me of Delores Williams' critique of early black liberation theology. Using the Hagar story, Williams explained that "God's activity" is not always liberation. There are times when, as in the case of Hagar, God provides a way of survival in exploitative situations.
"When our hermeneutical principle is God's word of survival and quality of life to oppressed communities (or families) living in a diaspora, we put different emphasis upon biblical texts and identify with different biblical stories than do black liberation theologians." (Sisters in the Wilderness, p. 194)
This week's saying, seen through the lens of mutual resource-sharing, is a plan of survival. It can also be interpreted as creating a new world while the old exploitative one is still present, building a new society within the shell of the old.
Within the Shell of the Old
I read a great article this past week from the Center for a Stateless Society's website about Alcoholics Anonymous illustrating how people can create structures that meet their communities' needs today even as they look forward to one day when the present structures are no longer present. For those not familiar with C4SS, one of the senior fellows of this group is Gary Chartier, professor of Law and Business Ethics and Associate Dean of the Zapara School of Business at La Sierra University.
Jesus showed how to build a new world within the shell of the old, and this was valuable in four ways:
First, the mutualism in Jesus' sharing of resources enabled his impoverished followers to survive and, together, raise their quality of life despite Roman economic exploitation and the religious complicity of the Temple aristocracy.
Second, it empowered Jesus' followers to speak the truth about the system that they lived in. Often, people subordinated in systems do not have the power to immediately abandon and separate themselves from their oppression. They are forced into participation against their will. So survival at times can include a type of lying about the system in order to placate oneself that it not that bad, it's not perfect, but they can work with the present system.
Building a new world within the shell of the old does not require an impossible abandonment of the old world. It enables one to tell the truth about the present system, acknowledging one's inability to fully escape that system, and still dedicate one's efforts to creating a new society. We may not be able to escape it yet, but as we learned last month from Tolstoy and Gandhi, at least we can be honest about it.
Third, Jesus' teachings encouraged his followers to direct their energy toward preparing for their liberation. Too often the need to survive is a reason one can't abandon a present exploitative system. To use Delores Williams' example again, Hagar had liberated herself from the oppression of Abraham and Sarah, yet she and her son were dying! They had become free, but to what end? She and her son were now alone in the wilderness and starving, and in order to survive, she had to return to the house of her oppressors.
Building a new world within the shell of the old promises that one will in the future be able to abandon present oppression because a more just society provides for the needs of the community and liberation moves everyone toward life rather than starvation.
Fourth and lastly, building a new world within the shell of the old critiques the present world, waking others to the injustices of a system they may still be complicit in. An unconscious person might ask, why build a different world if this one is so perfect, so "number one," so "God blessed." To work on a better world while the present world is in motion helps others to see the problems in the present system and provides an option that meets the needs of humanity without domination and subjugation. This method subverts the present world, allowing people to see and freely choose a better option. Thus they accomplish liberation through justice rather than through violence.
"When Power Resides With the Outsiders"
Lastly this week, I want to draw your attention to something in this week's saying that I hadn't noticed, and I want to talk about why I hadn't noticed it. Dr. Keisha McKenzie beautifully pointed out that what we see in Jesus' instructions to the disciples is a power dynamic working in reverse.
"So often when we talk about who is welcome or received, especially in churches, the congregation or pastor or elders are usually described as blessers. They have legal and sacramental authority, they often own the property, they can expel people or invite them into membership: we imagine the power to 'bless' resides with them.
That's not the dynamic at work in this verse.
In this verse, it's the itinerant community that blesses. The power to bring peace moves with them, and reluctant or rejecting hosts can resist it.
This is encouragement for people who don't have conventional power yet may not realize that they aren't without all power. Families may be icy tundras and congregations may be just as cold. But we have the ability to offer the mainstream 'peace' and wholeness, and they have the ability to repel both." (Family Memories)
I encourage you to read the entire article. It is spot on!
What I also want to point out is that although Keisha gave a shout out to me for directing her attention to Luke 10, she captured an insight from our saying this week that I would never have seen on my own in a million years. Why? Because I'm an insider in most areas of the culture we live in today. I'm White. I'm male. I'm American. I'm straight. I'm cisgender. It never occurred to look at these instructions from the perspective of an outsider. I missed that! But most of Jesus' disinherited followers were outsiders too. Jesus was empowering the outsiders of his day in a world where they had been religiously, socially, politically and economically kept out.
This illustrates for me once again why we so desperately need more eyes reading the Jesus story than just White, male, European theologians from the Western so-called "First World." We need South American voices, we need Black voices, we need feminist voices, we need womanist voices, we need queer voices! It's from the diverse perspectives and voices of those on the outlying edges of our societies that we can regain the original meanings of the Jewish Jesus story, not because of these identities in themselves, but because of the way people in marginal social positions experience life: they experience life differently from people in the dominant positions of our societies.
The Jesus we meet in the Jesus story resonated with the marginalized and oppressed of the 1st Century. It makes perfect sense that those who share that experience today will see within the Jesus story things that others in a more dominant social position will initially miss. In Western history, "ownership" of the Jesus story has most often been claimed by those in positions of power and privilege. This has almost obliterated the original meaning of the Jesus story to a point where we can barely recover it today. So recovering the historical Jesus is difficult for dominant society groups and may be much easier for those who parallel in our society those with whom the original story resonated so long ago. That story has been buried under interpretation after interpretation of those in positions of power, interpretations that protect the status quo, keeping it in place rather than subverting it from underneath. This is why, I believe, if we are to rediscover the historical Jesus, we must listen to the voices of those forced by society to live on the fringes of our world.
This is another example of our interdependence. We need each other. We need the value of all of our voices, and we especially need those whose experience is different from our own. Together we can integrate all of those experiences into a coherent and meaningful whole, choose to abandon our fear and insecurity toward those unlike ourselves, and work toward a world characterized by what Jesus subversively called the "empire" of God: a community of people taking care of people.
As we work toward a world that looks like this, let's keep in mind those original instructions from Jesus, which emphasized our interdependence in concrete and practical ways:
"Into whatever house you enter, first say: Peace to this house! And if a son of peace be there, let your peace come upon him; but if not, let' your peace return upon you. And at that house remain, eating and drinking whatever they provide, for the worker is worthy of one's reward. Do not move around from house to house. And whatever town you enter and they take you in, eat what is set before you, and cure the sick there, and say to them: The kingdom of God has reached unto you." (Q 10:5-9)
HeartGroup Application
This week I have a very simple exercise for your HeartGroup.
As a group, write down five ways you feel you depend on one another.
Now share what each of these connections means to each of you. Define them.
Now list three ways that this week you can individually and together lean into these five areas of dependence.
None of us come into this life all on our own. We don't thrive alone either.
Thanks once again for joining us this week.
Keep living in love, till the only world that remains is a world where only love reigns.
I love each of you dearly.
I'll see you next week.