by Herb Montgomery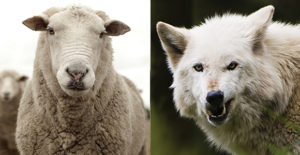 "Be on your way! Look, I send you like sheep in the midst of wolves" (Q 10:3) .
Companion Texts:
Matthew 10.16: "I am sending you out like sheep among wolves. Therefore be as shrewd as snakes and as innocent as doves."
Luke 10.3: "Go! I am sending you out like lambs among wolves."
The image of this week's saying is one of risk. In the last saying, we prayed for laborers. In the saying for this week, we encounter Jesus sending forth fellow laborers and being honest and frank about the risk involved.
I want to point out the participatory nature of this week's saying. And lastly we'll look closely at the imagery of sheep versus wolves and consider what this might have meant given Jesus teachings on changing the status quo with self-affirming nonviolent confrontation. Let's talk about risk first.
An Ethic of Risk Not Sacrifice
When people interpret Jesus's message for victims and survivors of injustice as requiring them to embrace an ethic of passive self-sacrifice in the face of injustice, there are harmful results..Karen Baker-Fletcher has gone to significant, convincing lengths to show that Jesus's message was of self-affirmation, the affirmation of living not dying, and that, although his message was nonviolent, it was nonetheless a message that confronted with nonviolent direct action those who perpetuate injustice.
Jesus's message of choosing life also involved an "ethic of risk." This "risk" was not intrinsic to choosing life but was the imposed result of the elite who felt threatened by the subjugated people's life choice. The way of life is only a way that involves a cross when the status quo threatens the work of social justice with a cross.
In other words, when we follow Jesus, we are not primarily choosing a cross: we are choosing the way of life. But because the powers that be threaten those who choose the way of life with a cross, the way of life also becomes the way of the cross. It need not be thus.
The way of the cross is simply the choice to hold onto life (not suffering), even when threatened with pushback from the dominant party that may result in suffering. It's choosing life and stubbornly refusing to relinquish that life even when the choice confronts the powers of death and the death (cross) they would silence you with. Jesus taught a message of life, survival and liberation. It was the society around him that determined that his message should also involve a cross. For Jesus and for us, the cross is the result of working for justice and transformation within oppressive systems and social orders.
"Persecution and violence suffered by those who resist evil and injustice is the result of an ethic of risk. The assassination of a Martin King or the crucifixion of Jesus Christ is part of the risk involved in actively struggling for social justice. But such people daily resist the very power of systemic injustice that may crucify or assassinate them." —Karen Baker-Fletcher and Garth Baker-Fletcher in My Sister, My Brother: Womanist and Xodus God-Talk, p. 79
Rosemary Ruether also elaborates:
"Jesus did not 'come to suffer and die'. Rather Jesus conceived of his mission as one of 'good news to the poor, the liberation of the captive', that is, experiences of liberation and abundance of life shared between those who had been on the underside of dominant systems of religion and state of his time . . . He did not seek to be killed by the powers that be, but rather to convert them into solidarity with those they had formerly despised and victimized." (Introducing Redemption in Christian Feminism, p. 104)
"It is not the acceptance of suffering that gives life; it is commitment to life that gives life. The question, moreover, is not, Am I willing to suffer? but Do I desire to fully live? The distinction is subtle and, to some, specious, but in the end it makes a great difference in how people interpret and respond to suffering. If you believe that acceptance of suffering gives life, than your resources for confronting perpetrators of violence and abuse will be numbed." —Joanne Carlson Brown and Rebecca Parker in Christianity, Patriarchy and Abuse, p. 18
When we talk about the way of the cross, or our being "lambs among wolves," we must be careful not to understand or communicate these images as an admonishment to be passive "lambs" on the way to sacrificial "slaughter." The lamb/wolf dichotomy is a reference to methods of seeking social change. Self-affirmation and self-giving are involved, but not self-sacrifice. We are lambs only in the sense that our efforts are nonviolent in the face of wolves that use violent means to establish and maintain their position of control in society. Through nonviolent confronting means, after the example and teachings of Jesus and the early Jewish Jesus-community, we challenge privilege and favor that is enforced by violence.
Hero Liberator or Participatory Mutualism
Another element we encounter in this week's saying is Jesus being more than an isolated hero liberator and forming a community. He not only went out himself, but also empowered a community to go out as well. This community was influenced by him, and also influenced him in a mutual give and take relationship. One example of this is found in Mark's story, which Matthew includes in his narrative, of the Syrophoenician woman. Rita Nakashima Brock, in her fantastic work Journeys by Heart: A Christology of Erotic Power, contrasts the difference between viewing Jesus as a individual, isolated, hero-liberator and viewing him rather as a pioneer or center of a participator community where each member is participating in envisioning and creating a new social order:
"Jesus is the hero and liberator… The relationship of liberator to oppressed is unilateral. Hence the liberator must speak for victims. The brokenhearted do not speak to the strong [in] a unilateral, heroic model." (p. 65)
What we see in this week's saying is very different than that unilateral, heroic model. Brock would refer to it as a community participating in the work of liberation with Jesus rather than an individual Jesus doing the work of liberation alone on the community's behalf.
"I believe the above views of Christ tend to rely on unilateral views of power and too limited understanding of the power of community. They present a heroic Jesus who alone is able to achieve an empowering self-consciousness through a solitary, private relationship with God/dess. If Jesus is reported to have been capable of profound love and concern for others, he was first loved and respected by the concrete persons of his life. If he was liberated, he was involved in a community of mutual liberation… the Gospel narratives give us glimpses of the mutuality of Jesus' relationships… Jesus' vision of basileia [kingdom] grew to include the disposed, women and non-Jewish . . . 'the marginal," because of his encounter and interaction with the real presence of such people. They co-create liberation and healing from brokenheartedness." (p.67)
We should not underestimate that the power of the early Jewish Jesus-community was that it was a community. It was not a group rooted in the unilateral dominance of a lone, hierarchical leader, but rather in the power of community centered on the values, teachings, and ethics taught by Jesus and resonant with community members.
Even the collections of the community's sayings, which we now recognize as our scriptures, bears witness itself to this. These writings are a manifestation of a mutually participatory group, not just a lone prophet of social change. Jesus never wrote anything down himself. The community that formed around his teachings did, and it's because of that community that we have accounts of his ministry. We cannot simply gloss over this. We are not waiting for a heroic savior: We are the community he anticipated.
I had the privilege of witnessing two contemporary, practical examples of participatory mutualism this week in the form of two podcasts.
Both of these are community responses to the massacre of LGBTQ people in Orlando on June 12. The first is from the Evangelical Lutheran Church in America's Young Adults Live Webcast. You can find it at:
https://www.youtube.com/watch?v=ZetBq0vJEWE
The second is The Adventist Podcast: Pulse Massacre Orlando which you can download and listen to at:
http://spectrummagazine.org/article/2016/06/20/adventist-podcast-pulse-massacre-orlando
In each of these examples, those affected, the brokenhearted, are speaking to the dominant society. Rather than waiting for unilateral heroism, the community members are working themselves for survival, liberation, and thriving.
The examples are exactly what what I envision happening among those in whom Jesus's sayings first began to resonate in the 1st Century.
Sheep Among Wolves
As we covered in Renouncing One's Rights, Jesus's teachings on nonviolence were not that victims should embrace passive self-sacrifice or self-denial in a world where oppressors already denied the selves of the oppressed. Jesus gave his listeners a vision of nonviolence that confronted and discomforted those in positions of dominance and gave those being subjugated a way to affirm themselves in a social order where they were being dehumanized.
Yet to choose to only use nonviolently confronting means of challenging injustice when those you are standing up to have not made those same choices is risky. It's a choice to be a lamb among wolves. Yet it cannot be forgotten: the goal of Jesus' new social vision is not to replace an old hegemony with a new one. His goal was not peace through victory, the victory of slaughtering our enemies, but peace through restored justice. He was not teaching a new social pyramid to replace the old, but a shared table where victims were not passively complicit in their oppression and their oppressors were not continuing oppression in more subtle ways. Victims were confronting injustice, not in order to become oppressors themselves, but, in the words of Ruether, to "convert" oppressors "into solidarity with those they had formerly despised and victimized."
Too often the sheep among wolves imagery of nonviolence is used to keep victims passive in the face of injustice. Making sure those being oppressed remain passive co-opts the nonviolence that Jesus and others have taught. Martin Luther Kings' nonviolence was trouble making. Gandhi's nonviolence became feared and avoided. Those who use violence themselves will always desire their opposition to "remain nonviolent" if one defines that nonviolence as simply rolling over. Yet true nonviolence is a force more powerful. It is not passive. It confronts, awakens, at times even shames those it is seeking, but not to defeat them, to win and convert to a new paradigm of seeing and a new set of behaviors. To use Jesus, MLK, or Gandhi to induce the subjugated to remain passive and calm is a gross way to use their teachings.
We are sheep in the midst of wolves because our methods of action and the goals we hope to achieve by those actions are radically different from the wolves we seek to transform or change. The Jewish community that cherished Jesus's imagery was a community that held the Jewish vision of a new social order described by the words:
Isaiah 11:1-9: "A shoot will come up from the stump of Jesse; from his roots a Branch will bear fruit . . . Justice will be his belt and faithfulness the sash around his waist. The wolf will live with the lamb, the leopard will lie down with the goat, the calf and the lion and the yearling together; and a little child will lead them. The cow will feed with the bear, their young will lie down together, and the lion will eat straw like the ox. The infant will play near the cobra's den, and the young child will put its hand into the viper's nest. They will neither harm nor destroy on all my holy mountain." (Emphasis added.)
Isaiah 65.25: "The wolf and the lamb will feed together, and the lion will eat straw like the ox, and dust will be the serpent's food. They will neither harm nor destroy on all my holy mountain." (Emphasis added.)
Isaiah 58.6, TEV: "The kind of fasting I want is this: Remove the chains of oppression and the yoke of injustice, and let the oppressed go free."
In this week's saying, those who believe Jesus's teachings have intrinsic value and inform the work of nonviolently confronting, liberating, and transforming our world into a safe, more just, more compassionate home for us all, are reminded that this vision involves embracing an ethic of risk. As I have said before, Jesus was not giving us a hard way to get to heaven, but a risky way to heal the earth. We are also reminded that our hope is not in following heroic, unilateral liberators but in discovering and applying the power of mutual, participatory, nonviolent communities.  And lastly, we are reminded that we are up against "wolves." But we also hold the hope that wolves can be converted, and destruction and harm can be become, by our continued choice, a thing of the past.
A new world is coming, if we choose it. And today, while we make those choices, we find ourselves often in this story . . .
". . . like sheep in the midst of wolves." (Q 10:3)
HeartGroup Application
This week, discuss three sets of contrasts with your HeartGroup as you work together toward clarity.
What are the significant differences you feel need to be communicated clearly between nonviolence direct action and merely being passive?
What are the differences between a hero model of liberation and a community model rooted in mutual participation?
What difference does it make for you to define the way of the cross we choose as Jesus followers as a refusal to let go of life rather than a way of merely sacrificing yourself with no change to the status quo around you?
Thank you for joining us this week. Keep living in love, working toward Justice, till the only world that remains is a world where only Love reigns.
I love each of you dearly.
I'll see you next week.