Herb Montgomery | July 3, 2020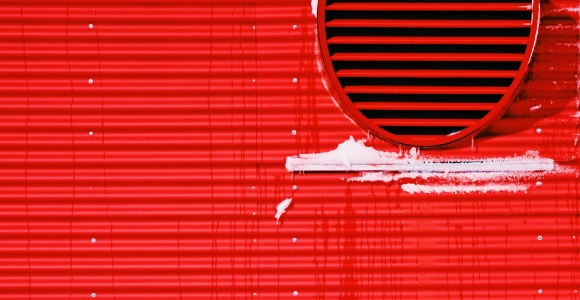 ---
"Every generation faces these inflexible alternatives, transformation or eventual implosion—these are the inflexible alternatives before us, today, too. How much of what we are now experiencing was unavoidable? How much could we avoid in the future if we made different decisions today?"
---
"Some of his disciples were remarking about how the temple was adorned with beautiful stones and with gifts dedicated to God. But Jesus said, 'As for what you see here, the time will come when not one stone will be left on another; every one of them will be thrown down.' 'Teacher,' they asked, 'when will these things happen? And what will be the sign that they are about to take place?' He replied: 'Watch out that you are not deceived. For many will come in my name, claiming, 'I am he,' and, 'The time is near.' Do not follow them . . ." (Luke 21:5-9)
Most scholars today date the gospel of Luke after the events described in Luke 21. In this passage, Luke's Jesus lays out two potential paths for his society, each with its own outcome.
The disciples are remarking on the physical beauty of the temple. But Jesus, seeing instead a system that exploited the poor, widows, and other marginalized people, saw it as a political and economic symbol of that systemic exploitation. This difference in perspective explains Jesus' table-flipping protest in the temple courtyard: the temple was the capital of the temple-state.
As we must say repeatedly when reading the latter half of Luke's gospel, Christians have a long history of interpreting passage like this in antisemitic ways. But the passage is not a critique of Judaism or Jewish people. It is a critique of a civic and economic system, not a religious one. Jesus is not complaining about Judaism, his own religion. His complaint is instead about the power brokers, economic elites, and those privileged in the Jerusalem temple-state who resisted his teachings and the distributive, economic justice teachings in the Torah and the Hebrew prophets. The text is not anti-Jewish. It's opposed to any system that is rooted in exploitation and valuing products and profit over people. Today's climate for those deemed essential workers during our present pandemic is similar. As the Swiss author, Max Frisch wrote, "We asked for workers; we got people instead." Any society produces tension when systemic injustice is designed to benefit a few at the top of society at the expense of the masses on the margins and undersides. Jesus responds to the people by warning them not to follow violent messiahs.
After the fact, we can see how the tension between the haves and have-nots of Jesus' society in the latter half of the 1st Century finally did erupt into a protest, then war, and finally desolation. Stating that these violent false messiahs would come, Jesus offers the people another path, a path of hope mixed with persecution and turmoil.
"Then he said to them: 'Nation will rise against nation, and kingdom against kingdom. There will be great earthquakes, famines, and pestilences in various places, and fearful events and great signs from heaven. But before all this, they will lay hands on you and persecute you. They will deliver you to synagogues and prisons, and you will be brought before kings and governors, and all on account of my name. And so you will bear testimony to me. But make up your mind not to worry beforehand how you will defend yourselves. For I will give you words and wisdom that none of your adversaries will be able to resist or contradict. You will be betrayed even by parents, brothers, sisters, relatives and friends, and they will put some of you to death. Everyone will hate you because of me. But not a hair of your head will perish. Stand firm, and you will win life. (Luke 21:10-19)
The context of this whole section is vital. Just before this week's passage, Luke reminds us of how positively the people responded after Jesus's protest in the temple:
"Every day he was teaching at the temple. But the chief priests, the teachers of the law and the leaders among the people were trying to kill him. Yet they could not find any way to do it, because all the people hung on his words" (Luke 19:47-48, emphasis added).
Jesus was not rejected by the people. He was silenced by the powerful and elite of his society who had everything to lose if the people continued to follow him and if the systemic changes he taught actually took root.
Luke then reminds us:
"Each day Jesus was teaching at the temple, and each evening he went out to spend the night on the hill called the Mount of Olives, and all the people came early in the morning to hear him at the temple" (Luke 21:37-38, emphasis added).
The picture we get from Luke is that this was a time in Jesus's ministry when it looked as if society might be turning the corner and actually becoming more economically, distributively just. This brings to mind recent movements in U.S. politics before the pandemic.
According to Luke, those surrounding Jesus as he speaks are farmers forced by taxes and debt to become day laborers. They are also the destitute and the starving who have been drawn to Jesus given his promise that God's just future would restructure society in their favor (see Luke 6:20-26). Jerusalem, at this time, was a large poverty center. The streets were lined with beggars, and a significant section of the population of Jerusalem lived chiefly or even entirely on charity. Jesus's words gave this crowd hope!
Yes, Jesus speaks in these passages of expecting persecution, arrest, and imprisonment. The revolution/movement would grow and receive negative pushback from those in positions of privilege, who benefitted from and controlled the status quo. Yet even that backlash would be used to "bear testimony" or raise awareness and move toward greater societal consciousness.
Then things become incredibly detailed. Remember, Luke was written after these events took place. It would have been almost impossible for someone in Luke's space and time not to attempt connecting these dots for us.
"When you see Jerusalem being surrounded by armies, you will know that its DESOLATION is near. THEN let those who are in Judea FLEE to the mountains, let those in the city get out, and let those in the country not enter the city. For this is the time of punishment in fulfillment of all that has been written. How dreadful it will be in those days for pregnant women and nursing mothers! There will be great distress in the land and wrath against this people . . . (Luke 21:20-24, emphasis added.)
Luke's gospel claims that the poor people's revolt, the Jewish and Roman war, and the events that followed in its wake all resulted from those in positions of power rejecting a path toward systemic, distributive justice. We now know how that played out historically. Again, the poor people's revolt grew into an all-out open war with Rome in the Jewish-Roman war of 66-69 C.E. In Luke's gospel, though, Jesus was saying that once there was war, hope was lost. It would be time to leave. It would be time to get out. No more revolution or societal transformation for Jerusalem would be possible. We know Rome's retaliation was catastrophically violent. But Luke's gospel claims that all of it was avoidable.
Recently, I listened to New Zealand's Prime Minister, Jacinda Ardern, address New Zealanders and I was honestly moved to tears. I wish we had a leader in the U.S. like her. She has not politicized the pandemic, divided the people along partisan lines, or refused to bring the citizenship together. New Zealand pulled together, uniting its citizenry: it acted quickly, and in the context of greater social safety nets, universal access to health-care, lower rates of inequality, and economic support for its citizens during a shutdown, has now effectively eliminated COVID-19 from its population.
The US crested over 100,000 deaths from COVID-19 that same week, and I sat in silence after listening to Prime Minister Ardern, wondering what might have been here in the U.S. I could not help but see that much of what we are now experiencing here in the U.S. would have been avoidable if we just had competent leadership. Much as in our passage, our massive loss of life here was avoidable, and the coming economic fallout is avoidable too.
Luke's Jesus called for a transformation to a more just, a more equitable society. Even with all the pushback from our status quo, if societies become more just, they avoid an eventual implosion that accompanies societies repeatedly not choosing more justice over and over again.
Every generation faces these inflexible alternatives, transformation, or eventual implosion—these are the inflexible alternatives before us, today, too.
How much of what we are now experiencing was unavoidable? How much could we avoid in the future if we made different decisions today?
HeartGroup Application
We at RHM are continuing to ask all HeartGroups not to meet together physically at this time. Please stay virtually connected and practice physical distancing. When you do go out, please keep a six-foot distance between you and others, wear a mask, and continue to wash your hands to stop the spread of the virus.
This is also a time where we can practice the resource-sharing and mutual aid found in the gospels. Make sure the others in your group have what they need. This is a time to work together and prioritize protecting those most vulnerable among us. How many ways can you take care of each other while we are physically apart?
1. Share something that spoke to you from this week's eSight/Podcast episode with your HeartGroup.
2. What social equity changes would you like to see, both within your own faith community, as well as in our larger society to which we also belong? Discuss with your group?
3. What can you do this week, big or small, to continue setting in motion the work of shaping our world into a safe, compassionate, just home for all? Discuss with your group and pick something from the discussion to put into practice this upcoming week.
Thanks for checking in with us this week.
Right where you are, keep living in love, choosing compassion, taking action, and working toward justice.
I love each of you dearly,
I'll see you next week