"Blessed are those who mourn, for they will be comforted." (Matthew 5:4)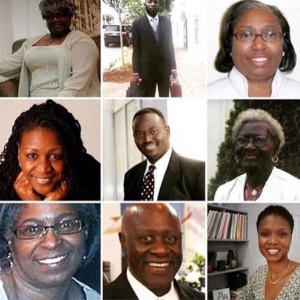 (Top to bottom; left to right.): Ethel Lance, 70; Tywanza Sanders, 26; Cynthia Hurd, 54; Depayne Middleton Doctor, 49; The Rev. Clement Pinckney, 41; Susie Jackson, 87; Myra Thompson, 59; The Rev. Dr. Daniel Simons Sr., 74; The Rev. Sharon Coleman-Singleton, 45.
I'm in Brazil this week sharing two separate series of presentations. The first series was in Manaus and the next will be hosted in Novo Airão.
My heart was torn in two directions as I started to write this article. Since my arrival in Brazil, I've wanted to share with you the gross economic disparity I see between so-called "first world" countries and "third world" countries. I've noticed how developed countries have harnessed developing countries and I'd like to talk more about that.
But my heart also breaks for what has taken place back at home in the US, with the violent, anti-Black, mass murder in Charleston resulting from white, xenophobic hatred.
As a white male in American society, whose voice is often heard and listened to, I've wrestled with whether my comments on Charleston will benefit or harm those who we should be making room to listen to in this moment.
I hope that w hat I am about to share will contribute to a safer and more compassionate world for all. This is what's on my heart.
What I'm sharing are my feelings—how I feel and not just what I think. I believe and teach enemy-transforming, restorative forgiveness, which is vastly different than simply letting someone off the hook. Yet there is a sick feeling in my gut when people of color are murdered by White people and I hear White people affirming the victims for forgiving their murderers and not killing White people in return. When I share this feeling, some of my White friends retort, "But I thought you believed in nonviolence, Herb?"
Yes, I do believe in nonviolence. And I don't think that what I believe is the most important question we could ask at times like this.
So I want to qualify what I'm about to say. This piece is primarily for those White people who want to understand how I apply my teachings about Christological nonviolence. I am in no way critiquing members of the Black community about whether they should be nonviolent or what form their nonviolence should take. African-Americans are entirely free to self-determine their responses, and it is not for me, or any other than that community, to decide for them.
If you've followed my work over the last few years, you'll know that I have said a number of times that Christological nonviolence is not passive in the face of evil; instead, it is disruptive and that's the very reason it can be effective. If nonviolence is passive and does not subvert or transform white racial violence, it simply empowers that violence. Whatever form nonviolence takes, it must carry with it a distinctive and profound "no" to the violence it's responding to.
I'm on the wrong side of the tracks to be thankful that another racist white murderer is being publicly forgiven by relatives of the people he killed. If these family members would like to do that, that is their prerogative. But I do not feel comfortable being thankful for it. The business of racism, the business of oppression, the business of violent, anti Black, xenophobic hatred must not continue as usual, and for me to ask victims of racial violence to be peaceful according to my standards when I belong to the group that still controls the status quo would be a subtle form of violence in the name of nonviolence: nonviolence in name only.
Think back to our study of the Jesus story itself. Only a poor Jewish outcast could tell poor Jewish followers to nonviolently confront their oppressors. For a Roman citizen to tell a Jew to be nonviolent just after a violent Roman massacre of Jews would've been a special, blinkered breed of violence. Those in white society are in no position morally to approve or reject the choices made by those in communities of color, whether those choices be forgiveness or revolt, nonviolence or violence. As someone who belongs to the group still in control of our societies, I have no ground to judge those whose humanity the status quo is denying. As the nonviolent Jesus taught, it's not for me to focus on the dust that may or may not be in someone else's eyes. I need to "first take the beam out of [my] own eye." These are the kinds of feelings I am navigating today.
When we consider the historical context of the Jesus story, we see the wealthy classes economically abusing the poor. Herod's plan was to deliver Israel through economic wealth at the expense of the poor; Pilate oversaw Roman political oppression of the Jewish people; and the High Priest Caiaphas monetarily benefited from both of these abusive structures. He added "God's" blessing to the abuse and allowed the Temple to be co-opted in the stronger's domination of the weaker. Jesus threatens this trifecta and is executed on a Roman cross.
James Cone's monumental book, A Black Theology of Liberation, affirms how Jürgen Moltmann describes the resurrection. Cone writes, "Moltmann is correct when he speaks of the resurrection as the 'symbol of protest.'"
The resurrection is God's "NO" to the systems of oppression that lynched Jesus. Yes, Jesus forgave. And the resurrection is God's further response—a decided NO to the violence Jesus was victim to on the cross. The status quo executed Jesus because he stood in solidarity with the oppressed and those who had been "Othered." In the resurrection, God stood in solidarity with Jesus in this and stood against the violence meted out through the cross.  Everything accomplished in the cross was undone and reversed in the resurrection.
Whenever the status quo desires people of color to remain passive in the wake of horrific white violence, Martin Luther King, Jr. is always drug out of the grave and co-opted. If only the system knew how subversive and critical of the system King really was, I do not think they would tout him so readily. Listen to King speaking at the funeral service of three of the four children killed as a result of racist violence in a church in 1963. Speaking of three of these children, Addie Mae Collins, Carol Denise McNair, and Cynthia Diane Wesley, King said:
"They say to each of us, black and white alike, that we must substitute courage for caution. They say to us that we must be concerned not merely about who murdered them, but about the system, the way of life, the philosophy which produced the murderers. Their death says to us that we must work passionately and unrelentingly . . .".(emphasis added.)
So what about what Jesus taught in Matthew 5? What he taught and demonstrated in his life is not a nonviolence of self-denial that he imposed on the victims of his day. It was oppressors who he called to deny their lust to victimize others. Jesus' nonviolence for the victims is not self-denying, it is self-affirming. Their "selves" were already being denied by their oppressors. Rather than harnessing the oppressed with an enemy embrace, or demanding they reconcile with their "enemy" before their "enemy" becomes a friend, Jesus' nonviolence empowers those being dehumanized with a way to affirm their humanity through nonviolent, enemy confrontation. Reconciliation may happen down the road, yet it is a reconciliation that follows enemy transformation.
As I have said in previous weeks, the Jewish people faced disproportionate violence from Rome. If they reacted to Rome with violence, Rome would raze Jerusalem to the ground, much as white Charleston residents burned down Emmanuel AME church in the 1800s after Denmark Vesey's attempted slave revolt. Jesus empowered the oppressed to choose a nonviolence that they could apply even if they were grossly outnumbered. Its primary goal was not reconciliation but the transformation of the enemy.  Again, any reconciliation would only come after their enemies were transformed. Ultimately, Jesus' nonviolence has the goal of liberation for everyone. King called this the "double victory" of liberating both the oppressed and the oppressors. But we must note that liberation for the oppressors is radically different from the liberation of the oppressed. The oppressors choose to perpetuate dehumanization, whereas the oppressed have dehumanization chosen for them. Both need to be set free from injustice, but liberation means very different things to each side.
Lastly, Jesus' nonviolence is not concerned whether we make waves or "remain peaceful." It is not about maintaining the society of the oppressors. Jesus' nonviolence is grounded in solidarity with the oppressed and a solid rejection of the oppression of the oppressor. Jesus' nonviolence offers the oppressed a self-affirming, enemy-confronting, non-peaceful nonviolence. Scholars such as Walter Wink, Marcus Borg, and others have shown that, culturally understood, the three examples of nonviolent protest Jesus gives in Matthew chapter 5 are nothing less than "cheek" defiance, public nakedness, and a refusal to follow the oppressors' rule. (See Jesus and Nonviolence by Walter Wink, chapter 2; as well as the presentation The Way of Enemy Love). Jesus' nonviolent protest in the Temple flipped tables and scattered livestock. It most certainly disrupted "business," and it might have even involved some damage to the property of those who were facilitating oppression in the temple. Jesus' nonviolence was not passive. Jesus' nonviolence shut down the business of oppression in the Temple. Jesus' nonviolence is rooted in love, even enemy love, yet it is enemy love with the goal of liberation, and it will neither settle for nor stop at anything less.
This week, I don't have much more than this to share: this is what's on my heart. My heart hurts for the nine families whose loved ones were taken from them much too soon. I don't have a neat little HeartGroup Application, I don't have a quippy ending, and I'm asking the followers of Renewed Heart Ministries to simply do this:
Engage and listen to those whose existence in our societies is elementally different from your own, because they don't share the privileges that most of us are oblivious to. This is not the time for censure or smug approval. It is the time to listen to those whom we have failed to hear.
This week more than ever,
Till the only world that remains is a world where love reigns. One shared table, many voices, one new world.
I love each of you and I'll see you next week.