BY HERB MONTGOMERY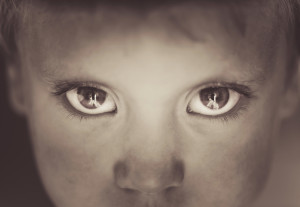 "You are the light of the world." — Jesus (Matthew 5.14)
Last week we talked about the difference it makes when we place the Sermon on the Mount in the context of Jesus belonging to and speaking among the community of the oppressed.
I've taken this week's title from Howard Thurman's book Jesus and the Disinherited. If you have not read Thurman's work, you really do owe it to yourself to do so. It's a short read, and packed with insight.
There are four passages from the Sermon on the Mount that I'd like you to consider this week. Notice how each changes when we name their audience as the disinherited.
The Salt of the Earth
You are the salt of the earth. But if the salt loses its saltiness, how can it be made salty again? It is no longer good for anything, except to be thrown out and trampled underfoot. (Matthew 5.13)
New studies show how first century farmers used salt as fertilizer added to manure to enrich their soil. With this metaphor, Jesus encourages his audience to more fully engage this world, "the earth," not to escape it. The metaphor is about re-enriching the nutrient-depleted soil of this earth. Jesus directs the oppressed to place their focus on "this world," not the next. He directs his audience away from escape and he empowers them to make a difference in the world they live in.
Imagine it this way. Compassion and safety for everyone are just two of the plants that grow out of the soil of a healthy society. When certain voices are marginalized or pushed to the fringes, their absence depletes the social soil. Jesus is here telling the marginalized and oppressed that they are the salt of the earth. Their inclusion can give back to the soil of a society the nutrients of a wider consciousness and perspective that enables compassion and safety for all to grow again. Including marginalized voices enables one to integrate the many diverse experiences of life into a meaningful and coherent whole: inclusion uproots weeds of fear and insecurity, and provides rich soil for a society to produce compassion in the place of those weeds.
Our societies today are depleted of compassion and safety for those who share this globe with us but whom our systems also force to live on the fringes. Jesus actually believes they are the "salt," or the fertilizer, and their voices will give back to the soil the nutrients that need adding back to the societies of our world. Remember, Jesus is looking at the disinherited when he says, "You are the salt of the earth."
As we have said so often, Jesus' shared table must not be homogenous. It is at a heterogenous table that we share our unique and different life experiences, form a more beautiful and coherent world view, and make this world a safer more compassionate place for us all. Through this teaching, Jesus is saying that it is the subordinated, the oppressed, and marginalized who restore the nutrients of society's depleted soil. It is the disinherited who are the "salt of the earth."
The Light of the World
You are the light of the world. A town built on a hill cannot be hidden. Neither do people light a lamp and put it under a bowl. Instead they put it on its stand, and it gives light to everyone in the house. In the same way, let your light shine. (Matthew 5:14-15)
When we understand Jesus' audience to be the disinherited Jews, those who are pressed down, and those who are silenced even among the ones forced to live on Jewish society's fringes, it becomes empowering to hear Jesus affirm that they are the light of the world. Jesus is investing those around him with value and telling them not to hide their light. They are to "let their light shine!"
Some of you who are reading this have been told that your voice is not welcome. You have been made to feel you are "other." To you, first and foremost, Jesus would say, "You are the light this darkened society needs." Remember, darkness is only the absence of light. When we exclude and marginalize voices, their very absence creates darkness in society. And as Dr. King so famously said, "Darkness cannot drive out darkness; only light can do that." Jesus is telling you that the inclusion of your voice brings "the light." Your story is worthy of being shared at Jesus' table. It is to you that he says, "Let your light shine!"
There is also another truth to what Jesus is saying here. Too often, Christians have taken for granted that they are the light of the world when they have been the ones in society calling for the exclusion of those unlike themselves. Whether it be with Jews and Muslims during the crusades, the silencing of women's voices by patriarchal Christians, Black voices by White Christians, the voices of the poor by rich Christians, or the voices and stories of those who belong to the LGBTQ community by christians in general.) Yes, there are exceptions, but as a rule, Christians have made some of the loudest calls for certain voices, certain stories, to be pushed to the margins. Certain people are not ordained worthy of being heard.
Again, when anyone's voice, anyone's story is shut out from Jesus' shared table, the absence of that voice creates darkness. It is the excluded and marginalized in every situation who are Jesus' "light" that must be brought back to dispel the darkness that their absence created. When Christians exclude and marginalize, they cease to be "light," and instead become the creators of darkness itself. "If then the light within you is darkness, how great is that darkness!" (Matthew 6.23) It would be well for those who have historically claimed to be the "light of the world" to listen to Jesus' words here.
Surpassing Retributive Justice
Unless your justice surpasses that of the Pharisees and the teachers of the law, you will certainly not enter the kingdom of heaven. (Matthew 5.20)
The community that Jesus is speaking to here is one whose theism, morality and ethics had been shaped through the interpretations of the Law and the Prophets approved and taught by the Pharisees and the teachers of the law. These groups were the religious educators of the Jewish working class. To get through to the people, Jesus must first disturb their confidence in these teachers, and in this saying, Jesus points out the inadequacy of the approved teachings.
The Pharisees believed in a Messiah who would usher in world peace, and many believed this peace would come through a sword retributively raised against Israel's enemies and energized and supernaturally empowered by the strictest Torah observance.
The justice that Jesus is placing before them in Matthew is of an entirely different nature: it is a restorative, transformative, liberating justice that includes one's enemies. Jesus is clear in verse 17, "Do not think that I have come to abolish the Law or the Prophets; I have not come to abolish them but to fulfill them. "Fullfil" here in this verse is pleroo, which means to complete or to perfect. In the very next verse Jesus says, "Truly I tell you, until heaven and earth disappear, not the smallest letter, not the least stroke of a pen, will by any means disappear from the Law until everything is accomplished." The word here for "accomplished" is ginomai which also means "to perfect or complete." By implication, that which precedes this perfecting is imperfect or incomplete. What Jesus addresses in verse 20 is the retributive, punitive justice that is often found among those who have been oppressed and marginalized. Retributive justice is one of the elements that Jesus is referring to as incomplete, partial, underdeveloped and imperfect. Yes, within the Law and the Prophets one may find a justice defined as an eye for an eye. But one will also find a more complete, restorative, transformative Justice, too. Jesus is calling his audience away from an imperfect retributive justice to a more complete and holistic restorative kind. Jesus' quality of justice was to "surpass" the eye-for-an-eye justice longed for by his contemporaries. So is the justice of his followers.
Liberation from Internalized Anger
You have heard that it was said to the people long ago, 'You shall not murder, and anyone who murders will be subject to judgment.' But I tell you that anyone who is angry with a brother or sister will be subject to judgment. (Matthew 5:21-22)
This passage, our last for today, is where we see Jesus beginning to describe how his teachings would surpass the teachings his community was used to hearing. As we discovered last week, Jesus invites us to stop viewing well-being as solely external and recognize its internal nature as well. In this passage, Jesus is naming the hatred that those who have been wronged so often feel toward those who have wronged them. He teaches that the external liberation the disinherited so deeply long for is founded on prior internal liberation. An example of this is found in his teachings on nonviolence. These teachings were not simply techniques for more effective protest: they were that and they were also much more than that. Jesus' ethic of nonviolence was rooted in an internalized love for enemies and forgiveness that enabled the Jesus follower to think and feel radically differently toward their enemies, to transcend revenge and instead work for their enemies' transformation. Ponder what Jesus is saying in Matthew 15:
"Jesus called the crowd to him and said, 'Listen and understand. What goes into someone's mouth does not defile them, but what comes out of their mouth, that is what defiles them.' Then the disciples came to him and asked, 'Do you know that the Pharisees were offended when they heard this?' He replied, 'Every plant that my heavenly Father has not planted will be pulled up by the roots. Leave them; they are blind guides. If the blind lead the blind, both will fall into a pit.' Peter said, 'Explain the parable to us.' 'Are you still so dull?' Jesus asked them. 'Don't you see that whatever enters the mouth goes into the stomach and then out of the body? But the things that come out of a person's mouth come from the heart, and these defile them. For out of the heart come evil thoughts—murder, adultery, sexual immorality, theft, false testimony, slander. These are what defile a person; but eating with unwashed hands does not defile them.' (Matthew 15:10-20, emphasis added)
If Jesus' disinherited peers were to experience liberation from their enemies, it would be because they were internally liberated from 'anger' against one's enemies. Anger, wrongly placed, too often turns efforts that could have been restorative from transformation to retribution and mere punitive revenge. As King also said, "Hate cannot drive out hate; only love can do that."
This teaching highlights two ditches, two places we could stumble. One ditch is the idea that the disinherited need to focus only on external liberation with no thought for their internal relation to their oppressors. The second is the belief that all one needs is internal liberation, and that when this is in place it no longer matters whether a person is externally liberated. This second ditch has been dug over and over throughout history in the path of the oppressed: it pacifies the oppressed and leaves the status quo unchallenged and undisturbed. I see this too often, even today.
But make no mistake: Jesus' new social order, Jesus' new world, what he called "the Kingdom," is a world where all oppression, injustice, and violence is put right, internally and externally. The new world subverts the status quo here, now. The whole system is to be dismantled. Jesus' revolution doesn't end with internalized liberation from hatred, fear, and anger toward one's enemies. That is only where Jesus' revolution begins.
HeartGroup Application
Reread Jesus' Sermon on the Mount, and reflect on the significance of Jesus' audience being his own community, a disinherited people. May this small interpretative key turn on some more lights for you as it does for me.
Choose a section of Jesus' Sermon on the Mount this week and contemplate its meaning within the context of his audience being his fellow oppressed. How does this audience inform your understanding of his words?
Journal what you discover.
Share your insights with your HeartGroup, your Shared Table, this week.
In the introduction to Jesus and the Disinherited, Vincent Harding eloquently states that Jesus' teachings are replete with significance for any group being subordinated in modern domination systems: "Latinos, Native Americans, Southeast Asians, many women, and gay and lesbian people are only the most obvious additions" and the Black people Thurman originally wrote to. Today, so many make up the community of the disinherited, oppressed, marginalized, or as Thurman would put it, those whose backs are against the wall." Jesus' teachings directly empower these community members to live with dignity and creativity as they move toward liberation.
Whatever your place in this world, whether you belong to the community of the poor, the Native Americans, African-Americans, cisgender women, women of color, gay, lesbian, bisexual, or transgender, YOU have the power to enrich the nutrient-depleted soil of our society, YOU are the light of this world, and it is your voice that must be heard at Jesus' table as we journey together toward a meaningful, more coherent whole, and a safer, more compassionate world for all.
Jesus' new world is coming. In fact, in those whose hearts the Kingdom's mustard seed has already sprouted, Jesus' new world has already begun.
Wherever this finds you this week, keep living in love, enriching the soil of the earth around you, and shining bright like cities on hills, till the only world that remains is a world where Love reigns.
I love each of you.
And I'll see you next week.