BY HERB MONTGOMERY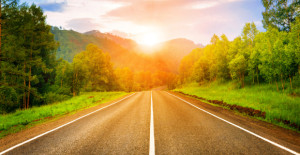 "Do not be afraid, little flock, for your Father has been pleased to give you the kingdom." (Luke 12:32)
I have recently gone through a paradigm shift in the way I look at Jesus and I believe this shift is significant. In short, Jesus and his message were not outside the economically disadvantaged and subordinated in his society. Jesus' teachings emerged from within this community. Jesus was not speaking to people whose daily experience he did not share first-hand. Jesus was speaking to and with his own peers. In Howard Thurman's privately published volume of poems, The Greatest of These, he wrote:
"His days were nurtured in great hostilities
Focused upon his kind, the sons of Israel.
There was no moment in all his years
When he was free."
Jesus was a poor Jew. He was oppressed on two counts: being from the community of "the poor" and being part of the politically subordinated Jewish people ruled by the Romans, he understood first-hand the implications of his teachings. Although he was a Jewish male within a Jewish patriarchal society, he choose to stand in solidarity with Jewish women (see Matthew 9.22; John 8.10; Luke 15.8; Luke 10.42; Mark 10.11; Mark 15.40), and he also also voluntarily chose a life of solidarity with people who were socially marginalized, including the eunuchs of Matthew 19:12, saying there was room in his new world for them, even though many in his day considered them "unclean." (Deuteronomy 23.1; Acts 8.36-39; cf. Isaiah 56.3)
It is as one of the "least of these" that Jesus spoke to his peers about the topic we're looking at this week: the continual war carried out on the nerves of the oppressed people that causes them to live in a perpetual state of fear.
There are three types of fear that we will consider this week:
the fear of going without
the fear of violence
and the fear of isolation, helplessness, and insignificance.
Fear of Going Without
"Therefore I tell you, do not worry about your life, what you will eat or drink; or about your body, what you will wear. Is not life more than food, and the body more than clothes? Look at the birds of the air; they do not sow or reap or store away in barns, and yet your heavenly Father feeds them. Are you not much more valuable than they? Can any one of you by worrying add a single hour to your life? And why do you worry about clothes? See how the flowers of the field grow. They do not labor or spin. Yet I tell you that not even Solomon in all his splendor was dressed like one of these. If that is how God clothes the grass of the field, which is here today and tomorrow is thrown into the fire, will he not much more clothe you—you of little faith? So do not worry, saying, 'What shall we eat?' or 'What shall we drink?' or 'What shall we wear?' For the pagans run after all these things, and your heavenly Father knows that you need them. But seek first his kingdom and his righteousness, and all these things will be given to you as well. Therefore do not worry about tomorrow, for tomorrow will worry about itself. Each day has enough trouble of its own. (Matthew 6:25-34)
I want to point out here that Jesus was not teaching the economically oppressed to sit back and do nothing. Notice the phrase, "Seek first his kingdom and his righteousness." Jesus was speaking to a people who had precious little: security was one of their chief concerns. Jesus is here inspiring them to risks even their own temporary security to make active advancements toward the new world ("the kingdom"). He was casting a vision in their imagination of a just world ("his righteousness"), and assuring them that if they would pursue a world that is just, safe, and compassionate for all, then in the end result, they would see a world where everyone's needs would be met.
This passage directly refers to the mentality so many downtrodden people have: "a bird in the hand is worth two in the bush." Those in control use present security, even when it is a facade, to dissuade people from questioning or threatening the status quo.
Fear of Violence
"So do not be afraid of them, for there is nothing concealed that will not be disclosed, or hidden that will not be made known. What I tell you in the dark, speak in the daylight; what is whispered in your ear, proclaim from the roofs. Do not be afraid of those who destroy your external well being but cannot touch your inner well being. Rather, be afraid of the one who can destroy your entire well being, both your outer as well as your inner wellbeing in Gehenna [(Annihilation of 70 C.E. by following militaristic messiahs)] Are not two sparrows sold for a penny? Yet not one of them will fall to the ground outside your Father's care. And even the very hairs of your head are all numbered. So don't be afraid; you are worth more than many sparrows." Matthew 10:26-30 (Personal translation.)
Here, Jesus is speaking with those whose internalized fear of their oppressors (the Romans) had driven them to also internalize hatred of the Romans and the wealthy Jewish aristocrats who had "sold out" to complicity with the Empire. The Zealots would have only been at one end of the spectrum of those Jesus is speaking to. All across the spectrum of those disgruntled with the system, there were those who believed they could overthrow Rome by taking up the "sword" like Judah Maccabee during the Maccabean revolt. In Matthew 5.38-41, Jesus offers this audience another way. Jesus foresaw that if his people chose the way of violence toward their violent oppressors, that choice would only end in Rome's annihilation of the Jewish people. This is exactly what transpired in the Jewish-Roman War of 66-69 C.E. that climaxed in Jerusalem's destruction in 70 C.E. Jesus offered his peers a force more powerful than violence, a force rooted not in hatred of one's enemies and a desire to defeat them but in love and a desire to transform them. Jesus' teachings on nonviolence were not passive. They did involve noncooperation in some scenarios and they also included nonviolent direct action, risk, and creative imagination. Both noncooperation and direct action have their appropriate use in nonviolently "seeking" Jesus' new world ("the kingdom") and its justice ("righteousness") for all.
But where all of this must begin is deliverance from fear of those in control of the present "dirty, rotten, system" (Dorothy Day). Jesus is offering a way for us to transcend fear of what others can do to our external realities and be internally immunized against the fear that so often leads to a loss of integrity and an embrace of hatred. This is what Jesus means by destroying one's body and their "soul" as well. Fear, falsehood, and hate have the power to kill you, internally as well as externally. They produce what I would call a living and enduring hell.
Take a moment and reread the above passage in Matthew 10 with this in mind. We'll consider Jesus' words through the works of Thurman in just a moment.
Fear of Isolation, Helplessness, and Insignificance
"Do not be afraid, little flock, for your Father has been pleased to give you the kingdom."  (Luke 12:32)
The adjective here for "little" is mikros. It refers not just to size but also to one's dignity. By comparing the oppressed to a flock, Jesus is purposely drawing attention to the way that, like sheep, they have been objectified and dehumanized, and are simply part of someone's else's net worth. And by referring to them as little flock, he addresses the dignity they lack even among others who are objectified and dehumanized. Little flocks were worth far less than large flocks. Jesus was speaking to the least among the disadvantaged, the lowest among the community of the low.
And Jesus says, "It is to YOU, the little flock among the flocks, that the Heart of the Universe is pleased to give this new world." 
These words of assurance are especially for those who are multiply oppressed in the community of the oppressed. (Modern examples of this would be women of color among White feminists, or transgender people in the LGBT community.)
There is something deeply humiliating and foundationally damaging to the self-respect and personal dignity of those who cannot appeal to anyone for protection from their oppressors.
I want to share three passages from Thurman's Jesus and the Disinherited that are relevant: I cannot say it better than Thurman did! I'll simply share his insight here and have only edited Thurman's words to make them more gender inclusive.
"There are few things more devastating than to have it burned into you that you do not count and that no provisions are made for the literal protection of your person . . . A person's conviction that they are God's child automatically tends to shift the basis of their relationship with all their fellows. They recognize at once that to fear another person, whatever may be that person's power over them, is a basic denial of the integrity of their very life. It lifts that mere person to a place of pre-eminence that belongs to God and to God alone. Those who fear are literally delivered to destruction.
"To the child of God, a scale of values becomes available by which people are measured and their true significance determined. Even the threat of violence, with the possibility of death that it carries, is recognized for what it is— merely the threat of violence with a death potential. Such a person recognizes that death cannot possibly be the worst thing in the world. There are some things that are worse than death. To deny one's own integrity of personality in the presence of the human challenge is one of those things . . .
"The core of the analysis of Jesus is that every person is a child of God, the God of life that sustains all of nature and guarantees all the intricacies of the life process itself. Jesus suggests that it is quite unreasonable to assume that God, whose creative activity is expressed even in such details as the hairs of a person's head, would exclude from God's concern the life, the vital spirit, of the persons themselves. This idea—that God is mindful of the individual—is of tremendous import in dealing with fear as a disease. In this world the socially disadvantaged person is constantly given a negative answer to the most important personal questions upon which mental health depends: 'Who am I? What am I?'  The first question has to do with a basic self-estimate, a profound sense of belonging, of counting. If a person feels that he does not belong in the way in which it is perfectly normal for other people to belong, then they develop a deep sense of insecurity. When this happens to a person, it provides the basic material for what the psychologist calls an inferiority complex. It is for a person to have no sense of personal inferiority as such, but at the same time to be dogged by a sense of social inferiority. The awareness of being a child of God tends to stabilize the ego and results in new courage, fearlessness, and power. I have seen it happen again and again." (Adapted from Howard Thurman's, Jesus and the Disinherited)
Dr. King spoke on fear and faith this way:
"Now it isn't easy to stand up for truth and for justice. Sometimes it means being frustrated. When you tell the truth and take a stand, sometimes it means that you will walk the streets with a burdened heart. Sometimes it means losing a job…means being abused and scorned. It may mean having a seven, eight-year-old child asking a daddy, 'Why do you have to go to jail so much?' And I've long since learned that to be a follower to the Jesus Christ means taking up the cross. And my bible tells me that Good Friday comes before Easter. Before the crown we wear, there is the cross that we must bear. Let us bear it—bear it for truth, bear it for justice, and bear it for peace. Let us go out this morning with that determination.
"And I have not lost faith. I'm not in despair, because I know that there is a moral order. I haven't lost faith, because the arc of the moral universe is long, but it bends toward justice. I can still sing 'We Shall Overcome' because Carlyle was right: 'No lie can live forever.' We shall overcome because William Cullen Bryant was right: 'Truth pressed to earth will rise again.' We shall overcome because James Russell Lowell was right: 'Truth forever on the scaffold, wrong forever on the throne.' Yet, that scaffold sways the future. We shall overcome because the bible is right: 'You shall reap what you sow.'
"With this faith we will be able to hew out of the mountain of despair a stone of hope. With this faith we will be able to transform the jangling discords of our world into a beautiful symphony of brotherhood. With this faith we will be able to speed up the day when justice will roll down like waters, and righteousness like a mighty stream. With this faith we will be able to speed up the day when the lion and the lamb will lie down together, and every man will sit under his own vine and fig tree, and none shall be afraid because the words of the Lord have spoken it. With this faith we will be able to speed up the day when all over the world we will be able to join hands and sing in the words of the old Negro spiritual, 'Free at last! Free at last! Thank God Almighty, we're free at last!' With this faith, we'll sing it as we're getting ready to sing it now. Men will beat their swords into plowshares and their spears into pruning hooks. And nations will not rise up against nations, neither shall they study war anymore. And I don't know about you, I ain't gonna study war no more." (Sermon at the Ebenezer Baptist Church on April 30, 1967)
Jesus' new world of compassion and justice for all is possible. We must, just like Jesus, not lose faith in humanity. Jesus spoke as one who himself belonged to the community of the oppressed, and his way to this new world begins with the call to abandon fear.
All that might follow begins with this. For as perfect love drives out fear, fear also drives out perfect love. And it is love for all, and only love, that compels us to sit at Jesus' shared table and opens the way to that world where the Heart of the Universe has become the Heart of us all.
HeartGroup Application
This week, go back and spend some time each day contemplating Jesus' words in Matthew 6.25-34; Matthew 10.26-30; Luke 12.32.
Journal your thoughts, your questions, your insights, and your breakthroughs as you engage with these passages every day this week.
Share your journal insights with your HeartGroup, your shared table, for discussion and feedback.
Here's to a safer, more compassionate world for us all: many voices, one shared table, one new world. Wherever this finds you this week, keep letting go of fear, living in love, and listening with compassion, till the only world that remains is a world where love reigns.
I love each of you.
I'll see you next week.