How "Listening" is the Cure for our Blindspots
BY HERB MONTGOMERY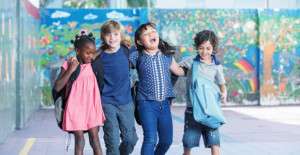 "Lord," she replied, "even the dogs under the table eat the children's crumbs." (Mark 7:28)
This week, I want to place some puzzle pieces on the table for you that may not seem to fit together at first. Once we get them all on the table, though, I hope that we'll see something fresh and relevant in Jesus' interaction with the Syrophoenician woman in Mark 7:24-30. Let's begin by defining three terms.
The first term is intersectionality. Intersectionality is the study of intersections between forms or systems of oppression, domination, and discrimination. It describes oppression as an interlocking matrix. The model, first developed by Kimberlé Crenshaw, helps us to examine how biological, social, and cultural categories such as gender, race, class, ability, sexual orientation, religion, caste, species and other axes of identity interact on multiple and often simultaneous levels and so contribute to systematic injustice and social inequality.
The second term is kyriarchy. Kyriarchy is a social system or set of connecting social systems built around domination, oppression, and submission. Kyriarchy encompasses sexism, racism, homophobia, economic injustice, colonialism, ethnocentrism, militarism, and other dominating hierarchies that encourage people to internalize and institutionalize the subordination of one person or group to another.
The third term is colonialism, the establishment, exploitation, acquisition, maintenance, and expansion of colonies in one territory by a political power from another territory. Colonialism depends on a set of unequal relationships between the colonial power and the colony and between colonists and the territory's indigenous population.
Let's use intersectionality, kyriarchy, and colonialism to look at the relationship between Rome and Jerusalem during the life of the itinerant preacher Jesus of Nazareth. Ponder the status of Jerusalem in the world during that time. Consider the Hebrew people and their own history. Jesus emerged from a people who had participated in forms of kyriarchy and colonialism but, under Rome, was now disinherited.
Jesus presents some images in his teachings that are directly related to this oppressive context.
Dogs and Pigs 
"Do not give dogs what is sacred; do not throw your pearls to pigs. If you do, they may trample them under their feet, and turn and tear you to pieces. (Matthew 7:6) 
Dogs and pigs are both scavengers, and the Hebrews considered them to be unclean. You may have heard that Jews called any non-Jew "dog." But this is not correct. According to the IVP Background Commentary of the New Testament, Jewish people reserved the slurs of "dogs" and "pigs" only for those gentile foreigners who oppressed the Jewish people, such as the Romans. Today, some use the term "pig" to refer to police constables who have become oppressive.
Jesus' teaching in this passage critiques how Rome was being permitted to co-opt the sacred and valuable Jewish Temple for Imperial purposes. That's the most direct interpretation of the passage. Yet I also believe there is something deeper here as well.
Throughout the Sermon on the Mount, Jesus has been speaking of inward realities—objectifying women in one's heart, hatred toward one's enemies—and not merely outward ones. So I have a hunch that in this passage, Jesus is speaking about the ways that oppressed and disinherited people can allow the sacred and valuable space within them to be co-opted and used for hatred toward their oppressors. Howard Thurman writes about this in his book Jesus and the Disinherited.
Tyre and Sidon
As well as teaching about dogs and pigs, Jesus also taught about Tyre and Sidon. (See Luke 4:25-26; Luke 10.13-14; Matthew 11.21-22)  In our story this week, Jesus had retreated to the region of Tyre and Sidon, ancient Phoenician cities, for a respite.  Yet what many miss is that while Jesus is there, he is met by a woman described as Syro-phoenician.  "The woman was a Greek, born in Syrian Phoenicia." (Mark 7.26)  It is the "Syro" part that the gospel authors desire to turn our attention. This woman, being from Syria, was of Seleucid decent. (Syria was the short-hand name used by Rome to refer to the Seleucid Empire.) Why does this matter? These were the ancient oppressors of the Jewish people before Rome! Under the influence of Antiochus Epiphanies, the Seleucids had sought to exterminate the Jewish people. And although the Seleucids and the Hebrews now shared the same fate under Rome, there was a time when the Seleucids conquered and occupied the Hebrew nation. Jesus' exchange with this woman, a descendant of those how had sought to wipe out the Hebrew people under Antiochus, takes place in a time when this was not yet distant history for the Jewish people.
Syrophoenician Woman
Before I talk about the Syrophoenician woman, I want to turn to Howard Thurman's insightful comments on Jesus' exchange with her.
"Opposition to the interpretation which Jesus was giving to the gospel of God had increased, and Jesus and his disciples withdrew from active work into temporary semi-retirement around Tyre and Sidon. The woman broke into his retreat with an urgent request in behalf of her child . . . 'What mockery is there here? Am I not humiliated enough in being misunderstood by my own kind? And here this woman dares to demand that which, in the very nature of the case, she cannot claim as her due.'" (Thurman, Howard; Jesus and the Disinherited [pp. 90-91] Kindle ed.)
The issue here is not that this woman was a Gentile. Though the most prominent Phoenician woman in the Old Testament was Jezebel, Elijah also helped a Phoenician woman (1 Kings 17:17) So her non-Jewishness is not the point. In addition to being Phoenician, the woman was also of Syrian descent: she was Syro-phoenician. As Mark writes, "The woman was a Greek, born in Syrian Phoenicia. She begged Jesus to drive the demon out of her daughter" (Mark 7:26). Syria was the term Rome used to refer to the historical Seleucid Empire.
The issue in this story is that Jesus understood that his announcement of "the favor of God" was to apply to Gentiles too (see Luke 4:25-29; Matthew 8:5-13). But this Gentile begging him for a blessing was of Seleucid descent. This would be the equivalent of descendants of a Holocaust survivor being asked to share survivor reparations with a descendent of the Nazis who had fallen on hard times. It would be comparable to a White American asking to receive reparations intended for the Native American community here in the United States. It would be as if, two hundred years from now, a same-sex married couple were asked to help the descendent of a fundamentalist-evangelical business-owner from Indiana.
The encounter between Jesus and this women is set up to prick our sense of justice. Jesus came to liberate the oppressed. But now one of the oppressors was asking him to liberate her daughter too! Jesus question is valid:
"Is it right to give the children's (the Hebrew people) bread to the dogs (the Seleucids)?"
According to the Torah, there were foods that were not to be eaten by the Hebrews but that could be thrown out as dog food (see Exodus 22:31). Jesus is here asking: is it just to give that which was intended to liberate my people to a person belonging to those who violently oppressed us in the past?
There are two ways I have heard this explained. One explanation is that Jesus is merely play-acting to teach the on-looking disciples an important lesson in generosity. The other explanation, which I think is more plausible, is that Jesus is growing in his own understanding and experience of intersectionality.
Yes, this woman belonged to a people who had endeavored to wipe his people off the face of the earth. But she was also a woman. Where is her husband? Why is her husband or father not making this request as the father does in Mark 5.22? In a patriarchal world, what does it mean for this woman to be speaking for herself and her daughter as if she were a single mother?
Whatever her circumstances, Jesus asks, is it right to help her? Is this how the liberation and reparations for Israel are to be used: not only to benefit those who have been oppressed but also to benefit the suffering oppressors too?
This is where intersectionality comes in. A person can be both oppressor and oppressed simultaneously. After all, the Hebrews were not innocent. Just as the Seleucids had once sought to exterminate the Hebrews from existence, the Hebrews had once engaged in the genocide and colonization of the Canaanites. The Hebrews participated in the cultural patriarchy that those in Hellenistic Tyre and Sydon lived by as well. And although the Jews in Jesus' time suffered economic poverty under Rome's high taxes, the Hebrew had also oppressed the poor with their own kings (Amos 2:6; 5:7, 11, 24). Yes, this Seleucid woman belonged to a people who had historically oppressed the Hebrews, but that day, she, too, needed liberation. Was there enough mercy in Jesus' merciful theism for her as well?
In this story, the compassion of Jesus wins out. It's worth asking ourselves just how Jesus made even a small space in that room to listen.
"Lord," she replied, "even the dogs under the table eat the children's crumbs." (Mark 7:28)
There is theoretical knowledge and then there is experiential knowledge. Jesus understood a love of enemies in theory and gained a deeper understanding of it that day through experience.
I'm thankful for a Jesus who took time to listen. I'm also thankful for a woman who didn't give up, but persisted in helping Jesus and his disciples see her need and their blind spots. Had Jesus sent her away, a great injustice would have been committed. But he listened. And he entered into a fuller experience of his own ethic that day instead. Henry David Thoreau wrote, "Could a greater miracle take place than for us to look through each other's eyes for an instant?"
I cannot fault Jesus for asking the question he asked. Jesus, after all, emerged from the community of the disinherited poor. Jesus faced the same dilemma we face:.how does one embrace enemy love without betraying one's own people?. How does one stay faithful to both justice for the oppressed and the transformation of the oppressors?
Jesus and his disciples, I believe, left the region of Tyre and Sidon that day with a fuller experience of the truth that there is really no such thing as "dogs" or "pigs."  There are only "children." We are all siblings of the same Divine Parents. We all walk this earth side-by-side, and we all wear on our faces the very image of God.
HeartGroup Application
1.  Here are just a few of the categories of intersectional privilege and disadvantage in our society here in the West:
White            Wealthy        Certified Educated       Male        Straight            Cisgender
Non-White     Poor            Uncertified Education   Female     Non-straight     Transgender
These categories combine to create intersectional experiences of domination and oppression.
Consider how each of the following experiences simultaneously includes some level of privilege in our society and some level of disadvantage. Name where they are privileged first. Then look for where they are disadvantaged.
a. A White lower-class, cisgender, straight, blue-collar male
b. An African-American male president of the United States
c. A White cisgender gay female living in inner-city America
d. A bisexual cisgender woman of color living in rural poverty
e. A single White father of three living in suburban America
f. A middle-class White fundamentalist-evangelical, transgender female
d. Wealthy highly educated White, cisgender straight female
2.  We need each other. What does it mean for us to trade our dominations systems for Jesus' heterogeneous shared table? How can we learn to listen to those who are not like us? How can we learn to incorporate each person's varied life experience into a beautiful and coherent whole that leads to a safer and more compassionate world for all? How can we allow others to show us where our own blind spots are and also share our stories that can help others see their blind spots?
3. Discuss your thoughts with your upcoming HeartGroup this week.
I'll close this week with Howard Thurman's Three Hounds of Hell that dog the soul of the disinherited—fear, hypocrisy, and hatred. The ethical teachings found in the values of the Jesus story as it has come down to us today, I believe, offer the disinherited in any area of society a way to escape those three hounds nipping at our heels. This week, if nothing more, may we all learn to sit around Jesus shared table and simply listen.
Wherever this finds you, keep living in love, and listening with compassion, till the only world that remains is a world where Love reigns.
I love each one of you,
I'll see you next week.