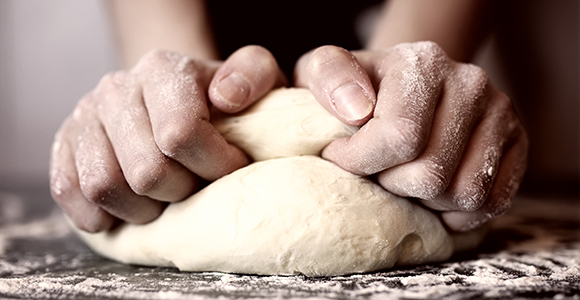 by Herb Montgomery
Featured Text:
"And again' with what am I to compare the kingdom of God? It is like yeast, which a woman took and hid in three measures of flour until it was fully fermented." (Q 13:20-21)
Companion Texts:
Matthew 13:33 "He told them another parable: 'The kingdom of heaven is like yeast that a woman took and mixed in with three measures of flour until all of it was leavened.'"
Luke 13:20-21 "And again he said, 'To what should I compare the kingdom of God? It is like yeast that a woman took and mixed in with three measures of flour until all of it was leavened.'"
Gospel of Thomas 96:1-2: "Jesus says: 'The kingdom of the Father is like a woman. She took a little bit of yeast. She hid it in dough and made it into huge loaves of bread.'"
About a decade ago I started an experiment with Appalachian sour dough bread. I placed a container outside to catch some rain water and then slowly over the next few weeks added flour hoping to catch some local Greenbrier county yeast strains to make my own local sourdough starter. I learned a lot.
I still have that starter alive in my refrigerator. I feed it once a week. I probably only use it twice a year, but when I do, it's the joy of having my own locally sourced sourdough bread.
This week's saying is all about leaven.
Leaven wasn't always a positive term in 1st Century Palestine. The Passover ritual of eating unleavened bread reminded the people of the stories about their hasty departure from Egyptian slavery. These stories were the soil that Hebrew prophetic and liberation theology grew out of.
The community was oppressed, scattered, and returning and their theology and practice reflected this arc. During Passover, they removed all leaven from their homes. And over time, leaven took on a negative association.
In Mark's gospel, Jesus uses yeast in a negative way, and warns the people about "the yeast of the Pharisees and that of Herod" (Mark 8:15)
Jesus' disciples mistakenly thought he was speaking of literal yeast, as if the Pharisees and Herod had opened a bakery! (Mark 8:16) Instead, he was using the metaphor of yeast for greed, harmful teachings, anything that could spread through society with ill effects.
In Matthew and Luke, we see a different use of yeast/leaven. Jesus hints that his own teachings, values, and the ethic of people taking care of people (the "empire of God") were being viewed as negative, as leaven that could ferment in society and change society's nature.
Last week we talked about the harm that results when we misclassify as negative something that not only isn't harmful to society but also bears good fruit. This week's saying was part of that section of the text and so was preserved in that context.
Sometimes things that are perfectly harmless are classified as "wrong" and things that are actually very harmful are classified as "good and right." Religious communities aren't the only type of community that does this, but they do have a long history with it. Some of us grew up in religious communities that prohibited harmless things yet allowed or even praised things that were intrinsically destructive. Part of the journey of growing up is learning to distinguish between that which is harmful and that which isn't by looking at the intrinsic results of something rather than external bans or affirmations.
Religious and secular history provides a long list of people who received religiously legitimized bigotry and oppression. Even in Jesus' own society, religion had been co-opted to justify the exploitation and marginalization of the poor by the elite, temple aristocracy. Not much has changed. The characters of the stories may have changed, but the narrative is much the same.
How does one tell the difference between what is right and what is wrong, between something that's harmful and something that's either neutral or beneficial? For those who have discovered that their previously cherished rule was not aligned with reality, these questions can be quite unsettling. I'll share with you something that has helped me.
Say a child is running down the sidewalk and you say, "Listen if you keep running down the sidewalk, there's a chance you could fall and skin your knee." Let's say the child doesn't listen and, sure enough, they fall and get hurt. Did you impose that pain on the child for running on the sidewalk? Or did they experience pain as an intrinsic result of the activity they were engaging in?
Now let's imagine you said to the child, "Listen, if you keep running around on this sidewalk I'm going to put you in time out and you have to sit still until you can calm down." This might mean a type of pain or discomfort. But would this pain be intrinsic to the nature of the activity the child was engaging in? Or would you have imposed that "penalty" on the child for engaging in the activity?
Moving from being governed by fear of imposed penalties to understanding the intrinsic consequences and results of our choices is maturity. It's "growing up." We are quick to do this in certain areas of our lives. And we are painfully slow to do so in other areas, especially the areas of our life that are religious. In some areas of our religious life, we have moved from being motivated by the fear of divinely imposed punishment or the hope of divinely bestowed reward. We make these choices based on what these choices will result in. And there are areas in our religious lives where we still need to mature.
This journey toward maturity in a religious context is always met with fear by those who have not traversed this ground as of yet. But in our material lives, motives that may be appropriate for a five year old are developmentally inappropriate for an adult.
So how do we know if something is good or "right?" We could try to find a rule that does all of our thinking for us. We could look at the evidence before our eyes for what certain choices will result in. And we could do a hybrid of both. We could look at instructions in our sacred text and try to ascertain what intrinsic negative results the instruction was seeking to help adherents avoid. We could then discern whether those intrinsic results still apply today, given the time and culture differences. We will then understand why something may be in a 3,000-year-old sacred text, but it would be foolish to try and follow the same instruction in our contexts today.
This is all part of growing up.
Will we always get it right? No. But we aren't supposed to. Growing up is about sometime making mistakes and gaining experience and the wisdom to avoid larger mistakes in the future. It's okay. Give yourself permission to grow and mature. As the old adage states, "The only way to not make mistakes is to gain experience. And the only way to gain experience is to make a few mistakes."
Here in America we are seeing a backlash from those who are threatened by society maturing. Change scares us. But change that means moving away from discrimination and bigotry is not something that should scare us. Our consciousness is broadened and informed when we listen to the truth of others' suffering. And these changes work toward making our world a safe place for us all, not just a few.
Yes, these changes may be properly referred to as leaven. They may permeate and change the nature of society. But they are not bad: these changes are actually good things! Equality, justice, reparation, the removal of power from those who would wield it to benefit themselves at others' expense is a good thing regardless of how negatively labeled it may be.
As James Cone reminds us:
"For the oppressed, [Yahweh's] justice is the rescue from hurt; and for the oppressors it is the removal of the power to hurt others—even against their will—so that justice can be realized for all." (in God of the Oppressed, p. 159).
Those who possess the power to hurt others never view its removal as a good thing. They will always see it as a threat to the status quo from which they receive benefit or privilege.
But as Paulo Fierre states, whether it is perceived as good or not, this "leaven" is in fact "humanizing" to all, both those who wield this power and those who are harmed by this power.
"Dehumanization, which marks not only those whose humanity has been stolen, but also (though in a different way) those who have stolen it, is a distortion of the vocation of becoming more fully human. This distortion occurs within history; but it is not an historical vocation. Indeed, to admit of dehumanization as an historical vocation would lead either to cynicism or total despair. The struggle for humanization, for the emancipation of labor, for the overcoming of alienation, for the affirmation of men and women as persons would be meaningless. This struggle is possible only because dehumanization, although a concrete historical fact, is not a given destiny but the result of an unjust order that engenders violence in the oppressors, which in turn dehumanizes the oppressed. Because it is a distortion of being more fully human, sooner or later being less human leads the oppressed to struggle against those who made them so. In order for this struggle to have meaning, the oppressed must not, in seeking to regain their humanity (which is a way to create it), become in turn oppressors of the oppressors, but rather restorers of the humanity of both. This, then, is the great humanistic and historical task of the oppressed: to liberate themselves and their oppressors as well. The oppressors, who oppress, exploit, and rape by virtue of their power, cannot find in this power the strength to liberate either the oppressed or themselves. Only power that springs from the weakness of the oppressed will be sufficiently strong to free both." Paulo Freire; Pedagogy of the Oppressed: 30th Anniversary Edition
This humanizing will require change on the part of oppressors too:
"Nor does the discovery by the oppressed that they exist in dialectical relationship to the oppressor, as his antithesis— that without them the oppressor could not exist— in itself constitute liberation. The oppressed can overcome the contradiction in which they are caught only when this perception enlists them in the struggle to free themselves. The same is true with respect to the individual oppressor as a person. Discovering himself to be an oppressor may cause considerable anguish, but it does not necessarily lead to solidarity with the oppressed. Rationalizing his guilt through paternalistic treatment of the oppressed, all the while holding them fast in a position of dependence, will not do. Solidarity requires that one enter into the situation of those with whom one is [in solidarity]; it is a radical posture. If what characterizes the oppressed is their subordination to the consciousness of the master, as Hegel affirms, true solidarity with the oppressed means fighting at their side to transform the objective reality which has made them these beings for another. The oppressor is [in solidarity] with the oppressed only when he stops regarding the oppressed as an abstract category and sees them as persons who have been unjustly dealt with, deprived of their voice, cheated in the sale of their labor— when he stops making pious, sentimental, and individualistic gestures and risks an act of love. True solidarity is found only in the plenitude of this act of love, in its existentiality, in its praxis. To affirm that men and women are persons and as persons should be free, and yet to do nothing tangible to make this affirmation a reality, is a farce." (Ibid.)
In the 1st Century, Jesus called the exploited in his community to forms of nonviolent resistance. He called exploiters to cancel all debts and redistribute their wealth. Had they followed his teachings, they would have leavened their entire social structure and so fulfilled the summary of Jesus' purpose in Luke 4:18-19. Was Jesus' leaven a good or an evil for his time and culture? The answer to that question might have depended on which "side of the tracks" you asked. I argue that it was ultimately humanizing for all people and therefore good.
What are the leavening elements you see at work in our society today? What are the intrinsic results of those elements? Is it equity, fairness, justice, the protection of the rights of minorities, and enough for everyone? Do those who disproportionately benefit from imbalances in society get upset? Are the oppressed calling for justice? Do you see the other side labeling changes for those who have been historically marginalized and excluded as part of a sinister, evil agenda?
If so, there's leaven at work again in our generation.
Pick up some dough yourself, and start kneading.
"And again' with what am I to compare the kingdom of God? It is like yeast, which a woman took and hid in three measures of flour until it was fully fermented." (Q 13:20-21)
HeartGroup Application
Cleve Jones writes in his recent book, When We Rise: My Life In The Movement, "The basic human rights of any group of people should never be subjected to a popular vote." Minorities' rights can never be protected as long as they are dependent on the whim of the majority. Rights given by the majority can just as easily be taken away by such, too.
What difference has listening to minority voices made for you personally? Stop and write out a list.
How have these differences affected the choices you now make in your daily life?
What can your group do together to center the voices of the vulnerable and broaden your capacity to listen to the voices and experiences of minorities? Pick one action and put it into practice this next week.
We are still taking testimonials of your experiences in HeartGroups for our new HeartGroups page. Share your experience by going to the Contact Us page on our website and sharing with us.
Thank you to all of you who support the work of Renewed Heart Ministries. People like you enable us to exist and to be a positive resource in our world in the work of survival, resistance, liberation, restoration, and transformation.
If you are new to Renewed Heart Ministries, we are a not-for-profit group informed by the sayings and teachings of the historical Jewish Jesus of Nazareth and passionate about centering our values and ethics in the experiences of those on the undersides and margins of our societies. You can find out more about us here.
Everything we do at Renewed Heart Ministries is done with the purpose of making these resources as free as possible. To do so we need the help of people like you.
If you'd like to support the work of Renewed Heart Ministries, you can make a one-time gift or become a monthly contributor by going to renewedheartministries.com and clicking on the Donate tab at the top right of our home page.
Or you can mail your contribution to:
Renewed Heart Ministries
PO Box 1211
Lewisburg, WV 24901
Make sure you also sign up for our free resources on the website.
All of your support helps. Anything we receive beyond our annual budget we pass on to other not-for-profits making systemic and personal differences in the lives of those less privileged in the status quo.
For those of you already supporting our work, again, thank you.
I'm so glad you're on this journey with us.
Where you are, keep living in love, survival, resistance, liberation, restoration, and transformation on our way to thriving!
I love each of you dearly.
I'll see you next week.