Herb Montgomery | May 24, 2019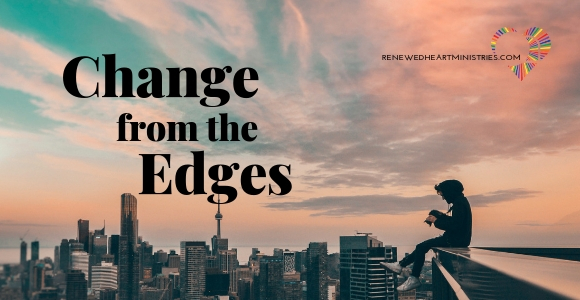 ---
"One of the first steps of hope for people in such wilderness places is to understand that their situation reflects social and political forces, not the divine will . . ."
---
"And so John the Baptist appeared in the wilderness." (Mark 1:4)
Syracuse University's Counseling Center defines marginalization as "the process of pushing a particular group or groups of people to the edge of society by not allowing them an active voice, identity, or place in it . . . Some individuals identify with multiple marginalized groups, and may experience further marginalization as a result of their intersecting identities."
This week I ask what the synoptic gospels (Matthew, Mark, and Luke) have to say to those who live disenfranchised, disadvantaged, marginalized, and underprivileged in our society.
Mark's storytelling about Jesus begins very early on with the character of John the Baptist, who emerges as a Hebrew prophet in the wilderness calling for social change. The much later gospel Luke emphasizes this wilderness location by explaining that John's father is a priest (See Luke 1:5, 8-10). John's lineage allowed him to be a priest in the temple like his father, so it is telling that we instead see a John who isn't a priest but a prophet like Isaiah's voice "crying out" in the "wilderness."
The wilderness represents a marginal location in the Jesus stories: the edges of the Jewish society. It contrasts with Jerusalem, the temple state, and the elite who held positions of power and privilege in Jewish society. This is a Jewish story, and a story of Jewish voices in conflict with each other. It is the story of social tensions between those at the center of their society and those on the margins. It's also a very human story. Every society includes a tension between those who are marginalized and those at the top and center of their social structure. When the status quo depends on marginalizing "a particular group or groups of people" Jesus' time in the wilderness reflects the power dynamics we find in that society.
After Jesus interacted with John in the wilderness, Mark's gospel tells us that Jesus went straight away into the wilderness himself.
"At once the Spirit sent him out into the wilderness." (Mark 1:12)
Some Christian preachers use this passage to parallel Jesus' forty days in the wilderness with the Hebrew people's forty years of wandering in the wilderness. Mark does not explain how long Jesus spent there, and this parallel is often used to teach supersessionism. I do not read it this way.
I believe Jesus is making a social choice. He, like John, is choosing the wilderness as his starting point. From the marginalized region of Galilee, Jesus enters the wilderness after John, possibly to get in touch with his Jewish roots. His is a people whose origin stories were of enslavement, oppression, liberation, and brutal colonization of others. Jesus attempts to ground himself in his story as a Jew, within their wilderness origin story, and figure out how they got to where they are today.
So both Jesus and John emerge from a place of "wilderness." Ched Myers reminds us about the truth inthis story detail for those who today find themselves in "wilderness" locations.
"One of the first steps of hope for people in such wilderness places is to understand that their situation reflects social and political forces, not the divine will . . . While the margin has a primarily negative political connotation as a place of disenfranchisement, Mark ascribes to it a primarily positive theological value. It is the place where the sovereignty of God is made manifest, where the story of liberation is renewed, where God's intervention in history occurs." (Ched Myers, Say to This Mountain: Mark's Story of Discipleship, p. 12)
Mark explains that when John is arrested, Jesus comes out of this wilderness location and does not straightway begin preaching in the more centrally located Jerusalem and Judea. Instead, Jesus enters the marginal region of Galilee.
After John was put in prison, Jesus went into Galilee, proclaiming the good news of God. "The time has come," he said. "The kingdom of God has come near. Repent and believe the good news!" (Mark 1:14-15)
If Judea is a marginal region within the larger Roman empire, Galilee is a marginal region on the edges of Jewish society. In Jesus' day, it was the buffer region between the Jewish population and the largely non-Jewish population beyond Galilee. In Mark, Jesus begins his work here, among those who would have been the marginalized in his society. Consider his teaching as well. Whom does he speak in solidarity with in his teachings?
"Blessed are the poor [broken] in spirit . . .
Blessed are those who mourn . . .
Blessed are the meek . . .
Blessed are those who hunger and thirst for righteousness [distributive justice] . . .
Blessed are the merciful . . .
Blessed are the pure in heart . . .
Blessed are the peacemakers . . .
Blessed are those who are persecuted . . .
Blessed are you when people insult you . . .
Blessed are you when people persecute you . . .
Blessed are you when people falsely say all kinds of evil against you . . .
You are the salt of the earth . . .
You are the light of the world." (Matthew 5:3-14)
In this teaching, Jesus is in solidarity with those who have been pushed to the edges and undersides of his society and are trying to survive there.
Notice, too, those final two statements I quoted from Matthew 5. Jesus states that those on the margins of society are the salt of the earth, the light of the world. This was centuries before refrigeration and the harnessing of electricity. Salt preserved food.
I want to offer a word of caution about the imagery of light in our context today. RHM's book of the month for May is Womanist Midrash: A Reintroduction to the Women of the Torah and the Throne by Rev. Dr. Wil Gafney. In a statement circulating the internet this past Easter season which was attributed to Rev. Dr. Wil Gafney (which I still cannot for the life of me find where she said this, but this does sound like her) we read, "We can celebrate the light of Easter without demonizing darkness and reinscribing a white supremacist dialectic on Christ and the resurrection. My blackness is radiant, luminous and will not and does not need to be made white as snow. The blood of Jesus will not make me white. We must learn to talk about brokenness in the world with our reducing evil to darkness and goodness to light. Blackness is God's good gift." (From more from Gafney go to www.wilgafney.com) 
We can celebrate light without demonizing darkness. Today we understand that life requires both light and dark. What's important is balance, a life-giving equity, rather than one or the other. I can understand the original use of this language and also understand that that use is no longer appropriate today.
Yet in the Jesus stories both images point to the marginalized of Jesus' society. That's the point Myers is making above. In the Jesus stories, the edges of society hold a "primarily positive theological value. It is the place where the sovereignty of God is made manifest, where the story of liberation is renewed, where God's intervention in history occurs."
Change happens from the outside in, from the bottom up, from grassroots movements. It is the voices sharing the experiences of those surviving on the edges of our society that tell us whether the status quo is just or unjust, life-giving or lethal. We can choose to listen to these voices or not. We can choose the way of life or not. We can choose those things that preserve society, like salt, or that which cause societies to self-destruct. Those who are in power and privileged have very little insight into how systems enfranchise some and disenfranchise others. At best they continually risk underestimating the damage done to those who do not share their social location. Change, renewal, intervention, salvation, often emerges from the edges, the "wilderness" locations. And this is one of the first truths we bump into in the Jesus story.
Today, a person can be marginalized on the basis of their gender, race, ethnicity, religion, education, sexual orientation, gender identity and expression, ability, and more. Many marginalized people face exclusion for multiple intersecting traits, too. In whatever area of your life where you face marginalization, contrary to narratives of those at the top or the center of society, the Jesus story tells us that God is with those on the margins, those working in "the wilderness." And we are working with God when we are working in solidarity with them.
A Special Request
If you have been blessed by our work here at Renewed Heart Ministries, please support our work.
This is a time of the year when we keenly feel and deeply appreciate your support.
Click on the donate page on our website or mailing your gift to:
Renewed Heart Ministries
PO Box 1211
Lewisburg, WV 24901
You can make a one-time gift, or, alternatively, consider becoming a monthly sustainer by selecting the option to make your gift recurring.
All amounts help, regardless of the size.
Thank you in advance for your support.
We simply could not exist nor continue our important work without you. Earlier this month, after a presentation I had just given, one of those in audience approached me and said, "Thank you. If we had more messages like this, my church would be a different place."
I believe another Christianity is possible.
I also believe another world is possible.
Thanks for checking in with us this week.
Wherever you are today, choose to keep living in love. Choose compassion. Take action. Seek justice. Till the only world that remains is a world where love reigns.
I love each of you dearly,
I'll see you next week.