(Who Are Our Centurions?)
by Herb Montgomery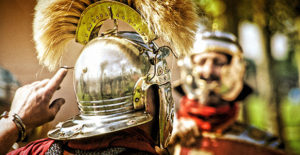 "And it came to pass when' he ended these sayings, he entered Capernaum. There came to him a centurion exhorting him and saying: 'My' boy is doing badly.' And he said to him: 'Am I' by coming, to heal him?' And in reply the centurion said: 'Master, I am not worthy for you to come under my roof; but say a word, and let my boy be healed. For I too am a person under authority, with soldiers under me, and I say to one: Go, and he goes, and to another: Come, and he comes, and to my slave: Do this, and he does it.' But Jesus, on hearing, was amazed, and said to those who followed: 'I tell you, not even in Israel have I found such faith.'" (Q 7:1, 3, 6-9, 10)
Companion Texts:
Matthew 7.28-29: "When Jesus had finished saying these things, the crowds were amazed at his teaching, because he taught as one who had authority, and not as their teachers of the law."
Matthew 8.5-10: "When Jesus had entered Capernaum, a centurion came to him, asking for help. 'Lord,' he said, 'my servant lies at home paralyzed, suffering terribly.' Jesus said to him, 'Shall I come and heal him?' The centurion replied, 'Lord, I do not deserve to have you come under my roof. But just say the word, and my servant will be healed. For I myself am a man under authority, with soldiers under me. I tell this one, "Go," and he goes; and that one, "Come," and he comes. I say to my servant, "Do this," and he does it.' When Jesus heard this, he was amazed and said to those following him, 'Truly I tell you, I have not found anyone in Israel with such great faith.'"
Luke 7.1, 3-10: "When Jesus had finished saying all this to the people who were listening, he entered Capernaum . . . The centurion heard of Jesus and sent some elders of the Jews to him, asking him to come and heal his servant. When they came to Jesus, they pleaded earnestly with him, 'This man deserves to have you do this, because he loves our nation and has built our synagogue.' So Jesus went with them. He was not far from the house when the centurion sent friends to say to him: 'Lord, don't trouble yourself, for I do not deserve to have you come under my roof. That is why I did not even consider myself worthy to come to you. But say the word, and my servant will be healed. For I myself am a man under authority, with soldiers under me. I tell this one, "Go," and he goes; and that one, "Come," and he comes. I say to my servant, "Do this," and he does it.'" When Jesus heard this, he was amazed at him, and turning to the crowd following him, he said, 'I tell you, I have not found such great faith even in Israel.' Then the men who had been sent returned to the house and found the servant well."
To understand this week's portion of Sayings Gospel Q we have to look ahead in Q and see what this story prepares us for. When we first read this story, it feels out of place because Q is a collection of Jesus's cherished sayings, not stories of his healings. In fact, this is the only healing story in Q. So why was this narrative included among the sayings? Why would the early Jewish community of Jesus followers have included this singular healing story?
But the story actually sets up the very next section of Sayings Gospel Q, which we will be looking at next week.
"And John, on hearing about all these things' sending through his disciples, said to him: 'Are you the one to come, or are we to expect someone else?' And in reply he said to them: 'Go report to John what you hear and see: The blind regain their sight and the lame walk around, the skin-diseased are cleansed and the deaf hear, and the dead are raised, and the poor are given good news.' And blessed is whoever is not offended by me.'" (Q 7:18-23)
The early Jesus community saw Jesus as connected to the ancient prophet Isaiah. This passage draws from statements in Isaiah's writings including this section:
"The Spirit of the Lord is upon me, because he has anointed me; he has sent me to preach glad tidings to the poor, to heal the broken in heart, to proclaim liberty to the captives, and recovery of sight to the blind; to declare the acceptable year of the Lord, and the day of recompense; to comfort all that mourn." (Isaiah 61.1-2, LXX)
This passage sums up the initial structure of Sayings Gospel Q. First, the Spirit anoints Jesus at his baptism (Q 3:21-22). Then Jesus proclaims good news and blessings on the poor, broken, and captive (Q6.20-49). Overall, about the first third of Sayings Gospel Q supports the early community's claim that Jesus fulfilled the hopes of Isaiah.
In this week's saying, Jesus appears in Isaiah-like fashion as a liberating healer and also as one who included those who had followed John before Jesus emerged. At this early stage of the Jesus community, Jesus's followers and John's followers would have comprised partially overlapping constituencies.
This saying also presents a very Jewish picture of Jesus. A Galilean centurion would have known quite well how a Jew would feel about entering a Gentile's home, and this tension is part of the centurion's comments in this story. Jewish sensibilities are respected, and yet the Gentile's servant is still healed.
For the early Jewish followers of Jesus to have included this story in their record of Jesus's Gospel shows that they embraced the ethic of enemy love. Centurions, most of all, would have been the people that Jewish citizens least expected to receive Isaiah's favors. The more politically radical of the Jewish community would likely have gone further and judged Centurions as worthy of YHWH's vengeance or punishment. That sentiment could have been quite popular among the less radical as well.
Luke's Softening 
Luke seems to soften this tension between Jews and Gentiles. Notice that Luke's story differs from Matthew's in that the centurion sends a delegation to Jesus rather than coming himself.
Next Luke's narrative emphasizes that this is not a normal centurion: he is different and worthy of an exception, not to be looked at in the same way as most centurions would have been:
"When they came to Jesus, they pleaded earnestly with him, 'This man deserves to have you do this, because he loves our nation and has built our synagogue.'"
In Matthew and Sayings Gospel Q, on the other, hand, the centurion describes himself "unworthy."
Perhaps Luke's version was quite a bit less jarring to those who whose loved ones had been crucified, executed, or arrested by soldiers and centurions. But the Sayings Gospel Q version is much harder to swallow. It demonstrates Jesus' ethic of compassion, even compassion for one's enemy.
This material prepares the audience of Sayings Gospel Q to embrace the Jesus communities' teaching that Jesus is the "one to come." Yet this last section ran the risk of being quite offensive, possibly polarizing, and stirring up pushback.
It's worth mentioning that Luke's version of this story parallels Luke's story in Acts 10, where Peter is invited to go and visit another centurion.
Matthew
Scholars believe that Matthew was written before Luke, and reflects a Jewish Galilean populace rather than the Jerusalem community addressed in Luke. John Shelby Spong in his book Reclaiming the Bible for a Non-Religious World reminds us that Matthew is the most Jewish of the canonical gospels. "Within about a decade, Matthew wrote the first expansion of Mark and aimed his story at the disciples of Jesus who worshiped in rather traditional Jewish synagogues. Recall once again that the split between the church and the synagogue would not occur until near the end of the ninth decade, so when Mark and Matthew were written, they and their readers were still in the traditional synagogue" (pp. 329-330). The interchange between John's disciples and Jesus, which we will cover in detail next week, calls listeners to embrace Jesus's ministry as the one expected in the scroll of Isaiah. Matthew's call expands Q and is not found in Mark.
Yet if Matthew is going to use the Q story about John's disciples, then he also has to build up to it just like the Q community did. Unlike the Q community, however, he chooses not to only use the story of the centurion but also to substantiate the claim with more healing stories. Matthew adds the story of Jesus healing a leper between the Sermon on the Mount and the story of the centurion's boy to reinforce Jesus as healing liberator.
Yet in true Matthean fashion, Jesus is more than simply healer. He is even the healer of enemies. The text still emphasizes the unworthiness of this Gentile and Roman because enemy love was central to teachings found in Matthew's Sermon on the Mount. Matthew incorporates the centurion story to illustrate this teaching and to characterize before Matthew's audience just what type of a liberation Jesus was announcing. He wasn't simply announcing the overthrowing of a Roman hegemony and a Jewish one in its place. No, this was a restoration of the humanity of both oppressed and oppressor. A favorite passage of mine in Paulo Freire's Pedagogy of the Oppressed illustrates what I think is the reason for Q's and Matthew's inclusion of the centurion story:
"In order for this struggle to have meaning, the oppressed must not, in seeking to regain their humanity (which is a way to create it), become oppressors of the oppressors, but rather restorers of the humanity of both." (p. 44) 
Who are our centurions today? 
That's the million dollar question. Jesus offered neither a way of assimilating into Roman oppression nor a path that led to destruction by the Romans. His path was nonviolent resistance and the challenging ethic of genuine enemy love. This love doesn't seek vengeance against one's enemies; it seeks the transformation of that enemy. Through imagination and in whichever situations arise, this love seeks to meet our enemies on the terms of a shared humanity. Take away the system of domination and we are very much the same, and more, we are also connected. You and I both are part of this interwoven family called humanity. Barbara Deming, lesbian, poet, American feminist, and advocate of nonviolent social change, writes in her book Revolution and Equilibrium:
"With one hand we say to one who is angry, or to an oppressor, or to an unjust system, 'Stop what you are doing. I refuse to honor the role you are choosing to play. I refuse to obey you. I refuse to cooperate with your demands. I refuse to build the walls and the bombs. I refuse to pay for the guns. With this hand I will even interfere with the wrong you are doing. I want to disrupt the easy pattern of your life.' But then the advocate of nonviolence raises the other hand. It is raised out-stretched—maybe with love and sympathy, maybe not—but always outstretched. With this hand we say, 'I won't let go of you or cast you out of the human race. I have faith that you can make a better choice than you are making now, and I'll be here when you are ready. Like it or not, we are part of one another.' Active nonviolence is a process that holds these two realities—of noncooperation with violence but open to the humanity of the violator—in tension. It is like saying to our opponent: On the one hand (symbolized by a hand firmly stretched out and signaling, 'Stop!') 'I will not cooperate with your violence or injustice; I will resist it with every fiber of my being'. And, on the other hand (symbolized by the hand with its palm turned open and stretched toward the other) 'I am open to you as a human being.'" (p.16)
As our enemies have lost sight of our humanity, we must fight, for our own sake, to not lose sight of theirs. The Jesus who healed the centurion's servant showed us the way.
HeartGroup Application
Take time this week to contemplate who the centurions in your life are. Who might fit this role for you?
What does enemy love look like for you with this person? Enemy love can take a myriad of forms. How could Deming's "first hand" change the way you relate to them? What about the "second hand" approach?
Discuss with your HeartGroup what you discover.
To each of you who face the challenge of affirming your own humanity while simultaneously refusing to dehumanize those who do so toward you, keep fighting. The path is not easy and maybe this is why it's referred to as "narrow."
Refuse to become like those who subjugate you. Call them to recognize you, and instead of becoming like them, call them to become more like you.
"He [or she] who fights with monsters should look to it that he himself [or she herself] does not become a monster." —Friedrich Nietzsche
Thank you again for being alongside us on this journey.
I love each of you dearly.
Keep living in love, till the only world that remains is a world where only love reigns.
I'll see you next week.