BY HERB MONTGOMERY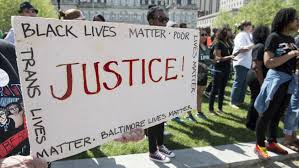 "Do not suppose that I have come to bring peace to the earth. I did not come to bring peace, but a sword." Matthew 10:34
Before you imagine that Jesus is endorsing taking up a sword here, understand that he's describing a sword raised against himself and his followers for calling for a change in the status quo. Those benefitting from the current social order would raise their swords against the changes Jesus came to make. If we simply keep reading, Jesus implores his followers not to take up a sword in response to others, but to instead embrace the cross:
"For I have come to turn 'a man against his father, a daughter against her mother, a daughter-in-law against her mother-in-law—a man's enemies will be the members of his own household.' Anyone who loves their father or mother more than me is not worthy of me; anyone who loves their son or daughter more than me is not worthy of me. Whoever does not take up their cross and follow me is not worthy of me. Whoever finds their life will lose it, and whoever loses their life for my sake will find it." (Matthew 10:35-39, emphasis added.)
The nonviolence Jesus taught here would create disruption. As Dr. Martin Luther King, Jr. wrote, peace is not the absence of conflict but the presence of justice. Jesus' teachings on nonviolence not only included passive noncooperation; they also included nonviolent direct action. Nonviolent direct action disrupts the status quo, the domination system. It confronts oppression, yet at the same time seeks to win oppressors away from their systems of oppression.
"Nonviolent direct action seeks to create such a crisis and foster such a tension that a community which has constantly refused to negotiate is forced to confront the issue. It seeks so to dramatize the issue that it can no longer be ignored." —Nonviolent direct action, Letter from a Birmingham Jail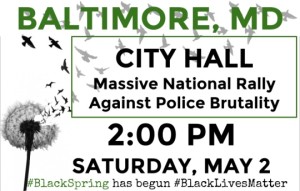 This past weekend I had the privilege of traveling to Baltimore with my daughter Emarya to participate with many others in a rally against Police Brutality. Some stand in solidarity with #blacklivesmatter and others stand in solidarity with #policeofficersmatter, yet most should be able to agree that police brutality is dehumanizing and damaging both to officers and to community members.
Emarya and I left home at 5 a.m. on Saturday morning to embark on a four-and-a-half hour journey to the lawn outside of Baltimore City Hall. We arrived just before lunch, and, after a quick bite to eat, we grabbed a parking place and Emarya's poster, and began our four-block hike to the rally.
My experience at the #blacklivesmatter rally in Baltimore took me right back to the Jesus story. Allow me to recount that narrative for a few minutes.
Jesus shut it down.
The Temple stood as a domination system of oppression toward the poor. The system sacrificed those who were innocent for the benefit of those in power. The Presence had long departed this system that demanded the sacrifice of innocents. Yet the cursing of the fig tree in Matthew and Mark, which marks the end of the Temple, is more than the end of Jerusalem as the city of the "elect" and more than the end of animal sacrifice in religious worship.
Through this story, Matthew and Mark are whispering to us about the end of a way of life founded on sacrifice.  This end began with Jesus' exposure of the sacrificial system in the Temple, and his uncovering of a larger reality where we see that it is the marginalized, disinherited and subjugated who are the actual innocent victims of the slaughter. The Temple in Jesus' day not only promoted the way of sacrifice, but placed it at the very heart of Jerusalem's religion and worship. (When we add Divine affirmation to any system of oppression, the abuse becomes decisively compounded.) Jesus had come to bring an end to domination systems' way of life here on Earth, and he initiated the commencement of an entirely new, radically different way of life. Jesus announced a radically new social order that he referred to as "the kingdom." Though it looked nothing like any kingdom that had ever existed throughout history, it was not imperial. Jesus' new social order took the form and shape of a shared, heterogeneous table.
The rest of the Jesus story flows from cause to effect. Jesus' nonviolent direct action in the Temple leads to his ultimate arrest by the Temple Police. Jesus is then subjected to multiple trials from the Powers that benefit from the way of life that his kingdom threatens to take away. These three sacrificial systems, which we will cover in a moment, unite to crucify Jesus in a supreme act of injustice. But then the injustice of the Domination Systems is overturned and conquered by the resurrection of Jesus, the glorifying of him as the founder of a new healed world.
The resurrection marks the end of all domination systems that demand the sacrifice of innocent victims for the benefit of the masses. It doesn't matter whether the domination system is political, represented by Pilate. A political domination system depends on violence against political enemies and a "religion of war" in which the present generation is sacrificed, like lambs to the slaughter, to sustain the belief that citizens are worthy of the sacrifices of past wars. It doesn't matter whether the domination system is religious, represented by Caiaphas. A religious domination system is rooted in fear of divine repercussions. Adherents are threatened if those deemed as "sinners" are not shunned, marginalized, scapegoated, and ultimately sacrificed to maintain the favor of God or the gods. And it doesn't matter whether the domination system is economic, represented by Herod. An economic domination system, driven by greed, sacrifices the poor at the bottom of society's pyramid structures to maintain the lifestyle of the few positioned at the top (see Luke 6:20, 24).
The story of the Resurrected One shows that the presence of God is not found in the most exclusive "holy places" belonging to those "dirty rotten systems" as Dorothy Day called them (see Matthew 27:51; Mark 15:38; Luke 23:45). The Jesus story teaches us that the Presence truly dwells in the ones shamefully lynched on the orders of the united, threatened Powers-that-be. And the story of the Resurrected One proclaims the beginning of a whole new world in which we need not fear the consequences of our nonviolent engagement against those political, religious, and economic systems and powers, engagement rooted in transformative love for both the oppressed and the oppressors. We stand in the victory of Christ over each of these domination systems, a victory that has already been won. We are people standing in the light streaming from the empty tomb, and we are following the Resurrected One.
Seen in their own context, the stories of Jesus' nonviolent direct action, arrest, trial, execution by crucifixion, and victory through resurrection converge to produce a worldview paradigm-shift. This shift was too significant and too exposing for political, religious, and economic systems based on violence, fear, and greed to tolerate.
The story of the Resurrected One offers the same challenge for us today. The resurrection invites each of us to align our own stories with the story of Jesus, to cleanse Temples, and, if need be, to embrace our crosses to expose and disarm the dominations systems of our day.
Yes, Jerusalem was teetering on the precipice of destruction in her relations to Rome. But Jesus wasn't arranging deck chairs on the Titanic. He was offering Jerusalem the chance to participate in a whole new way of life and a different future from the events of A.D. 70. When we follow Jesus in our world today, we're not arranging deck chairs on the Titanic either. God did not send the Son into the world to condemn the world, but that the world through him might be healed. And this is true of us as well.
If we would simply be open to learning how to recognize and then speak the truth about the systemic evils of oppression, violence, fear, and greed, a new awareness of, and an honesty about, could lead to a decided action toward change.
Mahatma Gandhi, Dr. Martin Luther King, Jr., and many more, far from seeing Jesus' actions in the Temple as contradicting nonviolence, saw in his actions the first step of nonviolent direct action. Jesus shut it down. Nonviolent direct action is, at minimum, is a three-step process. First, the systemic oppression must be confronted. Second, wait for the violent response that the domination system metes out when it feels threatened. Third, bear that violent response with enemy-transforming love to awaken those who perpetuate the system and who, by perpetuating the injustice, tie their own victimhood to systemic evil.
Gandhi, King, and others saw in Jesus' nonviolent direct Temple action hints for how we can and should engage the domination systems of our own day. Each follower of Jesus is called to engage as well. Whether we drive out livestock and overturn money-changers' tables (Jesus), tear up a passport in South Africa or lead a salt march in India (Gandhi), or join sit-ins, freedom rides, and marches in the white, evangelical, "Christian" South (King), the Jesus story calls us to align our stories with the story of Jesus: to embrace and even to subvert our "temples," to face, if need be, a cross, and if so, also a resurrection. The Jesus story calls us to act redemptively and transformatively toward those who benefit from the current structure and systems even when they mock, threaten, insult, accuse, and hate us for engaging them. We are to respond transformatively as we name or expose the injustice of the present systems and display the radical whole new world rooted in and centered around Jesus' teachings. His story whispers to us that a new world is here, if only we have eyes to see it.
The Resurrection of Jesus is God's endorsement of Jesus, his teachings, his critique, and his way. When we participate in nonviolent direct action as a method of transforming our world, again, we are simply aligning our stories with the Jesus in the Temple, putting on display, come what may, the truth that a new world has arrived. Again, we stand in the Victory of Christ over each of these domination systems—a Victory that has already been won. We are people standing in the light streaming from the empty tomb, following the Resurrected One.
Last weekend, we followed him to Baltimore City Hall
While at City Hall, I quickly saw there a broad spectrum of people who were also taking part in the events of the day. Folks came from the Black Panthers and the Nation of Islam to those who self identified as disciples of Dr. Martin Luther King, Jr., and everyone in between.
I want to say, upfront and unequivocally, that I was blessed by everyone I met at this rally. And it was a paradigm-shifting experience for me. What struck me most was not that I was a white life in the midst of many black lives, but that mine was a lower-middle-class life immersed in a world where so many precious lives were fettered to inner city poverty.
Racism and economics go hand in hand in America. We live in the shadow of a capitalist system that has been fueled by racism and enforced by militarism. Today, it is different, but not wholly corrected. Think of it in terms of Hasbro's game Monopoly. 
During the Reconstruction era in America, Jim Crow laws significantly limited how much and how easily black people could compete in the game of capitalism. Not only has black life still not fully recovered from those limitations, but, from what I witnessed in Baltimore, the limitations themselves have also not been fully corrected. Today, for many black lives to escape inner city poverty, they have to possess a higher than average level of talent in areas such as sports, music, entertainment, general academics, or medicine. There are artificial limitations still placed on their ability to play the game, imitations that I simply never have to face. Those who live daily in the desperation of trying to survive while trapped in inner city poverty will live in ways that those in middle and upper classes simply cannot understand.
Before last weekend, I knew the intersection of race and economics in theory. And then Saturday submerged me in a community where I witnessed people still experiencing the reality of an economic system where race is a significant factor.
It was through watching these people that Jesus' liberation work for the poor clicked for me.
Jesus' work for the poor is the ideal point for us to start applying Jesus' gospel to the lives of all those who are disinherited by our domination system today. Whether it be in matters of race, gender, or orientation, Jesus' systemic change, his good news to the poor, is where we must begin.  As James Cone wrote, "Accordingly any understanding of the Kingdom in Jesus' teachings that fails to make the poor and their liberation its point of departure is a contradiction of Jesus' presence." (God of the Oppressed.)
In other words, if our gospel is not first and foremost systemic good news for the poor—fatally undermining all other forms of discrimination—then we have to at least wonder whether our Jesus is the same Jesus in the story. It's not enough to enable black lives, women's lives, and LGBTQ lives to advance in a "dirty rotten system." It is not enough to enable all with the same opportunity to thrive in the status quo of haves and have-nots. Jesus was not preaching equality in regards to equal "opportunity" for all. Jesus' new social order is one where there are no more haves and have-nots, where the last are the same as the first, and where those who gather much share with those who gathered little. The system is not to be cleansed. It is to be dismantled. The status quo is not to be simply critiqued. It's to be deconstructed. Jesus didn't cleanse the temple and its way of sacrifice, he ended it. 
On my way home from the march, I picked up a copy of Howard Thurman's Jesus and the Disinherited. This was the book that MLK took with him when he travelled and read from before each march.
What I began to see as I stood in the midst of America's disinherited last Saturday was that Jesus was not someone from the upper or middle class who chose to help the poor. There is a world of difference in picturing Jesus as the helper OF the poor and a Jesus who WAS poor. He WAS the disinherited. He emerged out of the very people I was standing in the midst of. These were his roots.
The significance of seeing Jesus as one of the disinherited can't be overestimated. This shift breathes new life into his teachings and their practical implications for how we can follow Jesus nonviolently, confronting and transforming domination systems in our day. Jesus was not lecturing the upper and middle class on how they should help the people beneath them. Jesus spoke to his disinherited peers and equipped them with the means to subvert the entire system.
Yes, this was good news to those the present system left poor, hungry, and weeping. Jesus' message was also deeply troubling to those benefiting from the present system, who didn't want things to change.
Broderick Greer tweeted this statement this week: "If your 'gospel' isn't good news to people mourning state-sanctioned police violence and the loss of black life, then it's not the gospel."
And I could not agree more.
The Spirit of the Lord is on me, because he has anointed me to proclaim good news to the poor. He has sent me to proclaim liberation for the slaves, and recovery of sight to the blind in order to set the oppressed free. — Jesus (Luke 4.18)
HeartGroup Application
1. This week I want you to take time each day contemplate the following statement:
"Righteous wealth can only exist where no one is in need."
2. Journal any thoughts, questions, agreements and disagreements, or insights you have as you reflect each day.
3. Share your notes with your HeartGroup and discuss them this upcoming week.
Till the only world that remains, is a world where Love reins.
I love each of you.
I'll see you next week.