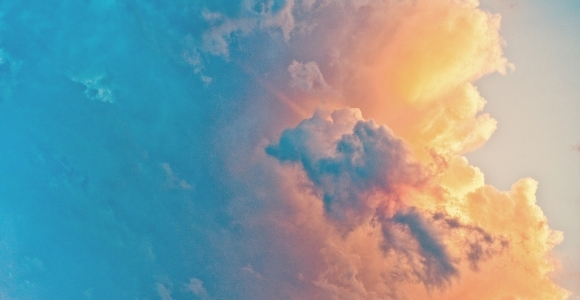 by Herb Montgomery | May 7, 2021
---
"There is a way to teach God's love that is complicit in oppression and is harmful to marginalized communities. There is another way to teach love that can be foundational to the work of transforming our world into a safe, compassionate, just home for everyone . . . Love that only leaves the privileged in a conscience-appeased state so they can sleep better at night isn't a love worth having . . . We can explore ways that understanding Universal love that lead us, not to private, assured passivity, but to the work of remaining in that love by shaping our world into a safe, compassionate, just home for each and every one of us."
---
Our reading this week is from John's gospel:
"As the Father has loved me, so have I loved you. Now remain in my love. If you keep my commands, you will remain in my love, just as I have kept my Father's commands and remain in his love. I have told you this so that my joy may be in you and that your joy may be complete. My command is this: Love each other as I have loved you. Greater love has no one than this: to lay down one's life for one's friends. You are my friends if you do what I command. I no longer call you servants, because a servant does not know his master's business. Instead, I have called you friends, for everything that I learned from my Father I have made known to you. You did not choose me, but I chose you and appointed you so that you might go and bear fruit—fruit that will last—and so that whatever you ask in my name the Father will give you. This is my command: Love each other." (John 15:9-17)
The intended audience for this passage is the developing community of Jesus followers, and the central theme of the passage is love. Out of all the canonical gospels, John's expresses the highest form of Christology since the writing of the gospel of Mark. Since then, the community developed its ideas about the relationship between Jesus and Jesus' Father (see John 1:1-3). In our passage this week, this relationship and Jesus' relationship with his followers are models for Jesus followers to emulate in their relationships with one another. Love is one of the central themes in John, more so than in Matthew, Mark, Luke and even the book of Acts where the word love does not appear even once.
Consider, by contrast, how often love is the focus of John's version of the Jesus story:
"For God so loved the world that he gave his one and only Son, that whoever believes in him shall not perish but have eternal life." (John 3:16, italics added.)
"The Father loves the Son and has placed everything in his hands." (John 3:35,italics added.)
"For the Father loves the Son and shows him all he does. Yes, and he will show him even greater works than these, so that you will be amazed." (John 5:20, italics added.)
"A new command I give you: Love one another. As I have loved you, so you must love one another. By this everyone will know that you are my disciples, if you love one another." (John 13:34,35, italics added.)
"No, the Father himself loves you because you have loved me and have believed that I came from God." (John 16:27, italics added.)
"I in them and you in me—so that they may be brought to complete unity. Then the world will know that you sent me and have loved them even as you have loved me." (John 17:23, italics added.)
"I have made you known to them, and will continue to make you known in order that the love you have for me may be in them and that I myself may be in them." (John 17:26, italics added.)
See also John 10:17; 14:15, 21-23, 31; 17:24; and 21:15-17.
Each of the synoptic gospels addresses love, but none of them repeats the theme to the degree we see in John's gospel.
There is a way to teach God's love that is nothing more than guilt management for the privileged, propertied, and powerful, that does nothing more than help them to silence the background noise of their troubled conscience. I've also found over the years that many Christians who live in an empowered or privileged social location also name John's gospel as their favorite out of the four. I wonder if there is a connection.
There's also another way to teach God's love that could be foundational to our work to transform our world into a just, compassionate, safe home for all those who are vulnerable to harm in the present system. I'm reminded of the words of Dr. Emilie M. Townes:
"When you start with an understanding that God loves everyone, justice isn't very far behind." (Dr. Emilie M. Townes; Journey to Liberation: The Legacy of Womanist Theology)
In 2010, Dr. Cornel West firmly grounded distributive, societal justice work in the soil of universal love when he said, "Justice is what love looks like in public."
Dr. Martin Luther King, Jr. also relied on his deep belief in a universal love and social justice for the objects of that love:
"When days grow dark [sic] and nights grow dreary, we can be thankful that our God combines in his nature a creative synthesis of love and justice which will lead us through life's dark [sic] valleys and into sunlit pathways of hope and fulfillment." (Dr. Martin Luther King, Jr., A Tough Mind and a Tender Heart, in A Gift of Love: Sermons from Strength to Love and Other Preachings, p. 9)
Love that only leaves the privileged in a conscience-appeased state so they can sleep better at night isn't a love worth having. If a belief in universal love is only serves to achieve privatized, individual, internal well-being and doesn't also move us to work publicly for justice within our communities, then we should abandon that belief and kind of love immediately. I agree with James Baldwin who wrote, "If the concept of God has any validity or any use, it can only be to make us larger, freer, and more loving. If God cannot do this, then it is time we got rid of Him." (James Baldwin; The Fire Next Time, p. 47)
The late Thomas Merton went so far as to equate a theology of love with a theology of resistance and revolution:
"A theology of love cannot afford to be sentimental. It cannot afford to preach edifying generalities about charity, while identifying 'peace' with mere established power and legalized violence against the oppressed. A theology of love cannot be allowed merely to serve the interests of the rich and powerful, justifying their wars, their violence and their bombs, while exhorting the poor and underprivileged to practice patience, meekness, longsuffering, and to solve their problems, if at all, nonviolently. A theology of love may also conceivably turn out to be a theology of revolution. In any case, it is a theology of resistance, a refusal of the evil that reduces a brother or sister to homicidal desperation." (Thomas Merton; Toward a Theology of Resistance found in Thomas Merton: Essential Writings, p.121)
I want to offer one word of caution in relation to our passage this week. As I've repeatedly said over the past few weeks, John's gospel speaks to the myth of redemptive suffering more so than any of the other canonical gospels:
"My command is this: Love each other as I have loved you. Greater love has no one than this: to lay down one's life for one's friends."
I've also written repeatedly about the harm the myth of redemptive suffering does to vulnerable communities so I will not unpack the whole discussion again here. Instead I will offer Dr. Katie Cannon's words in the foreword to the 20th Anniversary edition of Delores Williams' Sisters in the Wilderness:
"[Williams] contends that theologians need to think seriously about the real-life consequences of redemptive suffering, God-talk that equates the acceptance of pain, misery, and abuse as the way for true believers to live as authentic Christian disciples. Those who spew such false teaching and warped preaching must cease and desist." (Kindle location 133)
As I wrote in Imagery of a Good Shepherd, there is a difference between empowered people sacrificing and them teaching disempowered people to sacrifice themselves. (Also see Brown and Parker's For God So Loved The World?) The early church was largely comprised of those who, as Rev. Dr. Kelly Brown Douglas often says, didn't have a wall to even have their back up against. While the giving of some people in privileged social locations can hardly be called sacrifice (see Mark 12:41-44), teaching disempowered people the myth of redemptive suffering can be destructive or even lethal.
I'll close with Thomas Merton's timely words:
"Instead of preaching the Cross for others and advising them to suffer patiently the violence which we sweetly impose on them, with the aid of armies and police, we might conceivably recognize the right of the less fortunate to use force, and study more seriously the practice of nonviolence and humane methods on our own part when, as it happens, we possess the most stupendous arsenal of power the world has ever known." (Ibid.)
This week, let's explore ways that understanding God loves everyone can lead us, not to private, assured passivity, but to the work of remaining in God's love by shaping our world into a safe, compassionate, just home for each and every one of us.
HeartGroup Application
1.  Share something that spoke to you from this week's eSight/Podcast episode with your HeartGroup.
2. Contrast some of the ways a message of love can be used to impede our justice work along with ways a message of love can be foundational.  Discuss with your group.
3.  What can you do this week, big or small, to continue setting in motion the work of shaping our world into a safe, compassionate, just home for everyone?
Thanks for checking in with us, today.
Right where you are, keep living in love, choosing compassion, taking action, and working toward justice.
I love each of you dearly,
I'll see you next week
---