Herb Montgomery | April 26, 2019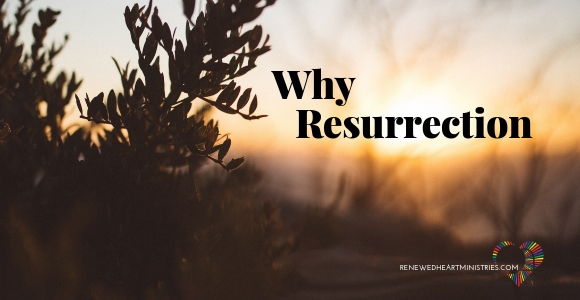 ---
"Even when it looks like nothing is ever going to change, and regardless of whether or not changes are ever made to the extent we desire, the mere presence of our voice makes things different than they would be had we not taken a stand, showed up, or spoken out."
---
"Why do you look for the living among the dead? He is not here; he has risen!" (Luke 24:5-6)
Triumph Over Execution
Last weekend, the majority of Western Christians ritually celebrated Easter. This time of year, in the context of spring, many Christians pause to memorialize and celebrate the story of Jesus' resurrection. Although early Christianity included risking a cross for standing with the social changes that the teaching of Jesus implied, early Christianity was about resurrection, not death. It was not about getting to an otherworldly heaven, and it was not about hell (hell isn't even mentioned in the book of Acts once). Early Christianity wasn't even about a cross. It was about resurrection:
"With great power the apostles gave their testimony to the resurrection of the Lord Jesus, and great grace was upon them all." (Acts 4:33, emphasis added)
"You crucified and killed by the hands of those outside the law. But God raised him up, having freed him from death, because it was impossible for him to be held in its power." (Acts 2:22-24, emphasis added)
"This Jesus God raised up, and of that all of us are witnesses." (Acts 2:32-33, emphasis added)
"You handed over and rejected in the presence of Pilate, though he had decided to release him. But you rejected the Holy and Righteous One and asked to have a murderer given to you, and you killed the Author of life, but God raised from the dead." (Acts 3:12-16, emphasis added)
"Jesus Christ of Nazareth, whom you crucified, but whom God raised from the dead." (Acts 4:10-11, emphasis added)
"The God of our ancestors raised up Jesus, whom you had killed by hanging him on a tree." (Acts 5:30-32, emphasis added)
"They put him to death by hanging him on a tree; but God raised him on the third day." (Acts 10:36-43, emphasis added)
"Even though they found no cause for a sentence of death, they asked Pilate to have him killed. When they had carried out everything that was written about him, they took him down from the tree and laid him in a tomb. But God raised him from the dead . . . And we bring you the good news that what God promised to our ancestors he has fulfilled for us, their children, by raising Jesus." (Acts 13:35-38, emphasis added.)
The early message of the Christian community was not the individualized, privatized and personal message that Jesus had died for you. The message wasn't even that Jesus had died. It was that this Jesus, whose popularity with and message of hope and change for the masses threatened the powers-that-be; this Jesus executed by those with the most to lose from changes in the status quo; this Jesus, a prophet of the poor from Galilee, God had raised back to life! He was alive!
We can only understand why it was such good news that this Jesus was resurrected if we understand how deeply his teachings had resonated with those who faced marginalization, exclusion, and exploitation in his society every day.
Jesus' Teachings Are Salvific
This week, I want to amplify the work of Delores Williams as we seek to understand what people in Jesus' own time found truly special about him. Williams is a womanist theologian who I believe has much to offer us today as we seek to follow Jesus in the most life-giving way in our context. She writes from her experience as a Black woman, yet the majority of her work is rooted in the history of Black women and Black families in the US, the Black Church's oral tradition, and the Bible's stories about women, especially marginalized and African women.
"Black women are intelligent people living in a technological world where nuclear bombs, defilement of the earth, racism, sexism, dope and economic injustices attest to the presence and power of evil in the world. Perhaps not many people today can believe that evil and sin were overcome by Jesus' death on the cross; that is, that Jesus took human sin upon himself and therefore saved humankind. Rather, it seems more intelligent and more scriptural to understand that redemption had to do with God, through Jesus, giving humankind new vision to see the resources for positive, abundant relational life. Redemption had to do with God, through the ministerial vision, giving humankind the ethical thought and practice upon which to build positive, productive quality of life. Hence, the kingdom of God theme in the ministerial vision of Jesus does not point to death; it is not something one has to die to reach. Rather, the kingdom of God is a metaphor of hope God gives those attempting to right the relations between self and self, between self and others, between self and God as prescribed in the sermon on the mount, in the golden rule and in the commandment to show love above all else." (Delores S. Williams, Sisters in the Wilderness: The Challenge of Womanist God-Talk, pp. 130-131)
I agree with Williams here. Jesus being executed by imperial power for being a threat wasn't what was special or salvific about him. What made him special was his kingdom teachings, his vision for what life can look like here on Earth for us as a community. He laid before us an alternative path that leads to life: not a life we somehow earn by following him, but a life that is the intrinsic result of the choices we make in how to relate to ourselves and others.
Williams unpacks further how the resurrection affirmed Jesus' teachings:
"Matthew, Mark and Luke suggest that Jesus did not come to redeem humans by showing them God's 'love" manifested in the death of God's innocent child on a cross erected by cruel, imperialistic, patriarchal power. Rather, the texts suggest that the spirit of God in Jesus came to show humans life— to show redemption through a perfect ministerial vision of righting relations between body (individual and community), mind (of humans and of tradition) and spirit. A female-male inclusive vision, Jesus' ministry of righting relationships involved raising the dead (those separated from life and community), casting out demons (for example, ridding the mind of destructive forces prohibiting the flourishing of positive, peaceful life) and proclaiming the word of life that demanded the transformation of tradition so that life could be lived more abundantly . . . God's gift to humans, through Jesus, was to invite them to participate in this ministerial vision ("whosoever will, let them come") of righting relations. The response to this invitation by human principalities and powers was the horrible deed the cross represents— the evil of humankind trying to kill the ministerial vision of life in relation that Jesus brought to humanity. The resurrection does not depend upon the cross for life, for the cross only represents historical evil trying to defeat good. The resurrection of Jesus and the flourishing of God's spirit in the world as the result of resurrection represent the life of the ministerial vision gaining victory over the evil attempt to kill it. (Sisters in the Wilderness: The Challenge of Womanist God-Talk, p. 130, emphasis mine.)
The Truth Within the Resurrection Story
Williams is describing the gospel message of the first half of Acts. The truth within the story of the resurrection was of Jesus' vision for what human life could be. This vision so captured the hearts of the oppressed in his time that it was victorious over the attempt to kill it. Jesus' death interrupted his lifelong salvific work. He did not die so that we in the 21st Century can be individually and personally assured of going to heaven when we die. Jesus died because he stood up to the status quo in the 1st Century.
And the resurrection is the overcoming of this interruption, this death. It's the reversal of all that Jesus' death meant. The resurrection reignites the flame of Jesus' vision for human life that those in positions of power had attempted to extinguished with his execution. The truth within the story of the resurrection is the restoration of Jesus' message. It is the picking-back-up of Jesus' teachings from being trampled in the dust of death and them living on in the lives of those who choose to embrace the hope that another world was actually possible. The truth within the story of Jesus' resurrection is of a God on the side of those Jesus also lived in solidarity with over and against the system, and not a God on the side of the system over and against those being exploited as is often the system's narrative.
I remember years ago listening to an Easter presentation on Luke's resurrection narrative by the late Marcus Borg. I loved the truth within this story which Borg reimagined for me that day.
"The domination system tried to stop him. They tried to shut him up. But even a rich man's tomb couldn't hold him. 'Why do you look for the living among the dead? He is not here; he has risen!' He's still out there," Borg said into the mic. "He's still recruiting, 'Come follow me.'"
Jesus' Palm Sunday demonstration and Temple protest which followed labelled his movement as something that finally had to be dealt with. Within the week, Jesus was dead. Yet the resurrection transforms his death into an attempted set back and not a final silencing that makes Jesus a failure. The truth within the story of Jesus' resurrection narrative is that systems of injustice don't always win. The status quo doesn't always have the last word. Justice is worth fighting for, even when the outcome looks bleak. Even when it looks like nothing is ever going to change, and regardless of whether or not changes are ever made to the extent we desire, the mere presence of our voice makes things different than they would be had we not taken a stand, showed up, or spoken out.
Joan Carlson Brown and Rebecca Parker remind us again that the gospel is not about an execution but about a refusal to let go of life.
"Jesus did not choose the cross. He chose to live a life in opposition to unjust, oppressive cultures . . . Jesus chose integrity and faithfulness, refusing to change course because of threat . . . It is not the acceptance of suffering that gives life; it is commitment to life that gives life. The question, moreover, is not Am I willing to suffer? but Do I desire fully to live? This distinction is subtle and, to some, specious, but in the end it makes a great difference in how people interpret and respond to suffering . . . To be a Christian means keeping faith with those who have heard and lived God's call for justice, radical love, and liberation; who have challenged unjust systems both political and ecclesiastical; and who in that struggle have refused to be victims and have refused to cower under the threat of violence, suffering, and death. Fullness of life is attained in moments of decision for such faithfulness and integrity. When the threat of death is refused and the choice is made for justice, radical love, and liberation, the power of death is overthrown. Resurrection is radical courage. Resurrection means that death is overcome in those precise instances when human beings choose life, refusing the threat of death. Jesus climbed out of the grave in the Garden of Gethsemane when he refused to abandon his commitment to the truth even though his enemies threatened him with death. On Good Friday, the Resurrected One was Crucified." (For God So Loved the World? in Christianity, Patriarchy and Abuse, p.18-20, edited by Joanne Carlson Brown & Carole R. Bohn)
This is why the truth within the story of the resurrection narratives of the gospels is still worth remembering, ritualizing, and celebrating. This is why the story still matters to me. Why resurrection? This is why.
"Why do you look for the living among the dead? He is not here; he has risen!" (Luke 24:5-6)
HeartGroup Application
This week, spend some time as a group sharing with one another: 
How does the story of Jesus' resurrection give you hope in the here and now, in our world today, and not simply for an afterlife?
As a Jesus follower, how does the story of Jesus' resurrection inform your work for justice in your own sphere of influence today?
How did you as a group celebrate the story of Jesus' resurrection this year?  What parts spoke to you? Share your experience with the group. 
Thanks for checking in with us this week. I'm so glad you did.
Wherever you are today, keep living in love and compassion. Keep taking action. Keep working toward distributive justice.
I will be in Delaware next weekend speaking at a weekend event there. Therefore there won't be a podcast episode or article published next weekend, but we'll be back the following weekend after next.
Another world is possible.
I love each of you dearly.
I'll see you in two weeks.