Herb Montgomery | April 12, 2018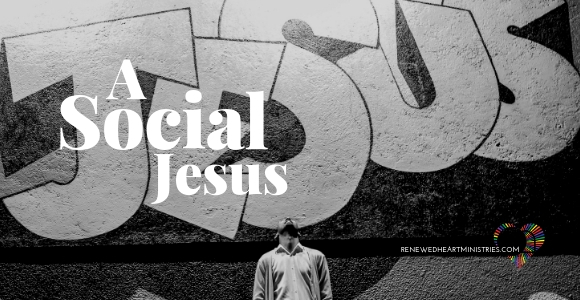 ---
"Today, sectors of Christianity that only teach a personal Jesus deeply need a reintroduction to the gospels' social Jesus. They need to rediscover and understand social salvation contrasted with personal salvation. They need a gospel that impacts the here and now and that isn't just about the premium they must pay in this life to get a post-mortem fire insurance policy."
---
"After John was put in prison, Jesus went into Galilee, proclaiming the good news of God. 'The time has come,' he said. 'The kingdom of God has come near. Repent and believe the good news!'" (Mark 1:14-15)
"Have you accepted Jesus as your personal savior?" he shouted at me. I was at the grocery store one evening trying to grab some missing ingredients for dinner. As I left the store I passed a table on the way to the parking lot. There, a group of Christians sat or stood behind the table, trying raising money for their organization.
I politely smiled in his direction and said, "No thank you." I was still walking as I heard him call out, "If you die on the way home do you know for sure where you'll end up next?"
I couldn't believe there were still Christians who talked like this, with these well-worn phrases as conversation starters. But again, this is Appalachia and as someone born and having grown up here, if you can still find this kind of talk anywhere, you can find it here.
This month at RHM, we are featuring Walter Rauschebusch's classic work A Theology for the Social Gospel as April's book of the month. One of the things I appreciate about the early 20th Century Social Gospel movement is that it drew attention to Jesus' vision for social salvation, not individual, private, personal salvation.
I recently posted this quotation from Rauschenbusch on Facebook: "If our theology is silent on social salvation, we compel [people] to choose between an unsocial system of theology and an irreligious system of social salvation" (Ibid. p. 7). Immediately one person asked, "What is social salvation?" This question reveals more than it asks.
Firstly, contemporary, privatized, and individually focused forms of Christianity focus their adherents so much on personal salvation and Jesus as a "personal Savior" from post-mortem punishment that those who only encounter this kind of Christianity may have never even heard of the social salvation described in the gospels.
Seeing Jesus as a social savior is the oldest Christian message. It can be argued that interpreting Jesus as a personal savior, an individual savior, or a private savior is a later interpretive addition not found until Christianity became populated with middle- to upper-class people centered in their culture.
Secondly, how nice it must be to belong to a social class that's so privileged that it doesn't even know what social salvation is, much less imagine it needs it. Countless people face discrimination, marginalization, and exclusion each day and don't need a textbook definition for the phrase "social salvation" because they know the system all too well. They know what it is to need salvation from societal and social injustice and oppression.
Let's dive in.
Kingdom
Each author of the synoptic gospels (Mark, Matthew, and Luke-Acts) place the theme of "the kingdom" at the center of their stories about Jesus.
"After John was put in prison, Jesus went into Galilee, proclaiming the good news of God. 'The time has come,' he said. 'The kingdom of God has come near. Repent and believe the good news!'" (Mark 1:14-15)
"Jesus went throughout Galilee, teaching in their synagogues, proclaiming the good news of the kingdom, and healing every disease and sickness among the people." (Matthew 4:23)
"But he said, 'I must proclaim the good news of the kingdom of God to the other towns also, because that is why I was sent.'" (Luke 4:43)
"Paul entered the synagogue and spoke boldly there for three months, arguing persuasively about the kingdom of God." (Acts 19:8)
"He proclaimed thekingdom of God and taught about the Lord Jesus Christ—with all boldness and without hindrance!" (Acts 28:31)
I have my own theories about why the author of Acts ties Paul's teaching to Jesus' "kingdom" but the fact is that the Kingdom is the focus in the gospels and Paul must come to be associated with it in the book of Acts. Nowhere in the book of Acts is the goal to escape postmortem hell or enter into a cosmic heaven. The coming kingdom is the central theme.
The kingdom theme in the gospel stories served a twofold purpose: it hearkened back to the Maccabean era of hope in restored Jewish independence and it contrasted with the Roman empire (see Daniel 7). Matthew's use of kingdom is more in line with the first purpose, and Luke's is more about the second. Mark's use can be argued to be a hybrid of both. Neither view of kingdom was about saving individuals. Instead they were about restoring distributive justice for a whole community, including all the individuals that made the community. The hope of the kingdom went beyond the personal to the social: it was about social salvation.
Gospel
In the canonized Jesus stories we have today, the term gospel meant the announcement of the coming of this kingdom. It's important to note that the term "gospel" or "glad tidings" was originally a political term, not a religious one. The Roman empire used it to refer to announcements made when the empire annexed a new territory. The gospel was public announcement, or tidings, of the newly arrived rule of Rome. So the word "gospel" itself was not about privatized, individual, personal change but rather a fundamental social change.
Here are three examples that we have still today of contemporary, secular uses of the term gospel in the 1st Century.
"Even after the battle at Mantinea, which Thucydides has described, the one who first announced the victory had no other reward for his glad tidings [euangelion-gospel] than a piece of meat sent by the magistrates from the public mess" (Plutarch, Agesilaus, p. 33, 1st Century).
"Accordingly, when [Aristodemus] had come near, he stretched out his hand and cried with a loud voice: 'Hail, King Antigonus, we have conquered Ptolemy in a sea-fight, and now hold Cyprus, with 12,800 soldiers as prisoners of war.' To this, Antigonus replied: 'Hail to thee also, by Heaven! but for torturing us in this way, thou shalt undergo punishment; the reward for thy good tidings [euangelion-gospel] thou shalt be some time in getting'" (Plutarch, Demetrius, p. 17, 1st Century).
"Why, as we are told, the Spartans merely sent meat from the public commons
to the man who brought glad tidings [euangelion-gospel] of the victory in Mantineia which Thucydides describes! And indeed the compilers of histories are, as it were, reporters of great exploits who are gifted with the faculty of felicitous speech, and achieve success in their writing through the beauty and force of their narration; and to them those who first encountered and recorded the events [εὐαγγέλιον– euangelion] are indebted for a pleasing retelling of them" (Plutarch, Moralia (Glory of Athens), p. 347, 1st Century).
The phrase "glad tidings/gospel of the kingdom" as the gospels' authors used it was a way to signal that Jesus and his teachings held a new vision for structuring society. Those who were last in the present arrangement would now be first. Those being marginalized were to be included and centered. Those who were hungry and thirsted for a distributive, social righteousness would be filled (see Matthew 5 and Luke 6). The authors of the Jesus story used "gospel" to mean a change in society or human community that went beyond mere personal nor private change. It was about social change here, social change now.
Eternal Life
Even when we consider the way eternal life was framed in the gospel stories, an argument can be made that even eternal life is not private, personal, or individual, but communal and social. Eternal life meant the continuance of a community as a whole, not merely continuance for individuals within that community. The path Jesus was pointing toward is a path by which the human race can continue, a path that leads to life rather than extinction for our race and not simply life for individual humans. Eternal life is about having our quality of life rooted in what Parker and Brock call an "ethical grace" lived here on earth, a path of living differently as a society today, here, now.
"The Gospel defines three dimensions of this eternal life: knowing God; receiving the one sent by God to proclaim abundant life to all; and loving each other as he had loved them. Eternal life, in all three meanings, relates to how life is lived on earth. The concrete acts of care Jesus has shown his disciples are the key to eternal life. By following his example of love, the disciples enter eternal life now. Eternal life is thus much more than a hope for postmortem life: it is earthly existence grounded in ethical grace." (Rita Nakashima Brock & Rev. Dr. Rebecca Parker, Saving Paradise: How Christianity Traded Love of This World for Crucifixion and Empire, p. 22)
Death by Crucifixion
Lastly, people don't get jailed (like John the Baptist) and don't get crucified (like Jesus) for teaching personal, private, post-mortem salvation. They get in trouble, as we saw last week, when they call out social injustice and call for social change, societal reparations, social redemption, and social salvation. Private change threatens no one, but social change threatens those privileged in the present way of organizing society who would have much to lose if the status quo changed.
Today, sectors of Christianity that only teach a personal Jesus deeply need a reintroduction to the gospels' social Jesus. They need to rediscover and understand social salvation contrasted with personal salvation. They need a gospel that impacts the here and now and that isn't just about the premium they must pay in this life to get a post-mortem fire insurance policy.
There is a need to understand how the life modeled and teachings taught by Jesus have the potential to socially save. They aren't a myth of redemptive violence and suffering that saves us from divine satisfaction. We can be deeply revived by following the teachings of Jesus, and not merely mentally assenting or believing story details about him. We need a gospel that recaptures the story truth of a resurrection, and not endless gospels that only offer people a cross.
It is to this end that we'll be turning our attention over the next few weeks. I'm so glad you're with us on this journey.
"After John was put in prison, Jesus went into Galilee, proclaiming the good news of God. 'The time has come,' he said. 'The kingdom of God has come near. Repent and believe the good news!'" (Mark 1:14-15)
---
Heart Group Application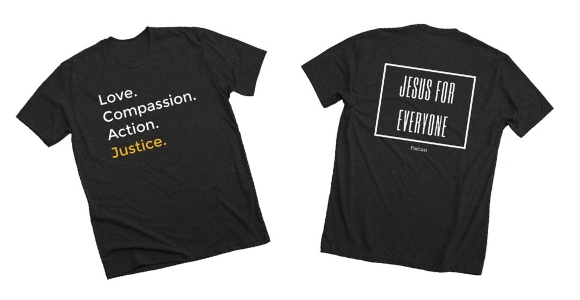 From now through April 22, we're offering our listeners and readers this special, premium t-shirt to support our work, show others you're a fan of our podcast, and help spread the word so others can enjoy each episode as well.
Don't miss out on these! They'll only be available for a limited time.
Get yours today for only $24.99 and support the JFE Podcast in making our world a safe, compassionate, just home for everyone.
Go to:
https://www.bonfire.com/love-and-justice-tee/
All Tees will be shipped out the beginning of May.
Get Your JFE Podcast Tee Today!
Thank you for checking in with us this week. I'm so glad you did.
Wherever you are today, choose love, choose compassion, take action and seek justice.
Another world is possible.
I love each of you dearly.
I'll see you next week.