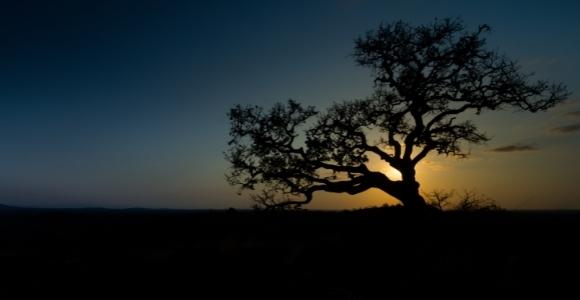 Herb Montgomery | March 18, 2022
To listen to this week's eSight as a podcast episode click here.
---
"Democratic societies must be made to birth a distributively just society where the needs of everyone and not only an elite few are collectively met. The alternative is not sustainable, and ends with that society falling into the rubbish bin of history."
---
Our reading this week is from the book of Luke:
Now there were some present at that time who told Jesus about the Galileans whose blood Pilate had mixed with their sacrifices. Jesus answered, "Do you think that these Galileans were worse sinners than all the other Galileans because they suffered this way? I tell you, no! But unless you repent, you too will all perish. Or those eighteen who died when the tower in Siloam fell on them—do you think they were more guilty than all the others living in Jerusalem? I tell you, no! But unless you repent, you too will all perish." Then he told this parable: "A man had a fig tree growing in his vineyard, and he went to look for fruit on it but did not find any. So he said to the man who took care of the vineyard, 'For three years now I've been coming to look for fruit on this fig tree and haven't found any. Cut it down! Why should it use up the soil?' 'Sir,' the man replied, 'leave it alone for one more year, and I'll dig around it and fertilize it. If it bears fruit next year, fine! If not, then cut it down.'" (Luke 13:1-9)
No other ancient writing describes the incidents that begin our passage this week. Quite honestly, we do not know what the phrases "the Galileans" or "those on whom the tower in Siloam fell" refer to. The message to the audience, though is one found often in sacred texts: repent or perish.
But repent of what? What about their present course points to self-destruction?
While we have no definite proof of what these two examples are referring to, some scholars connect them to a failed Galilean revolt where Roman soldiers surprised and slaughtered Galilean insurgents as they made sacrifices in preparation for their revolt.
In this week's story, the religiopolitical elite question whether the people revolting had been morally upright or whether their sinfulness was to blame for their lack of success. Jesus says to them, "Do you think that because these Galileans suffered in this way they were worse sinners than all other Galileans? No, I tell you; but unless you repent, you will all perish as they did."
Similarly, a few scholars identify the tower of Siloam as a tower where Rome stored its weapons. Galilean insurgents might have tried to dig a tunnel under the tower to seize the weapons for a violent revolt. But the tunneling compromised the tower's foundation, the entire structure suddenly collapsed, and several of these Galileans died. Jesus again denies they are responsible for their deaths: "No, I tell you; but unless you repent, you will all perish just as they did."
When Jesus calls for repentance in our story, I don't hear the moralistic idea of repentance so many of us are used to today. I hear a Jewish prophet of the poor calling for social change. The elites would blame the insurgents' failures on their lack of moral uprightness, but Jesus rather points to an unjust economic structure that oppresses folks and creates insurgents who long to experience the distributive justice that the Hebrew prophets called for (see the book of Amos).
Jesus isn't preaching in the vein of the Christian fire and brimstone preachers who have cried "repent or perish" from their pulpits. He's teaching much more like the Hebrew prophets who saw the intrinsic connection between an exploitative system and its lack of sustainability. "Injustice is not sustainable" is the message we are encountering here.
This is a good time to pause and reflect on how injustice is unsustainable in our day as well. I think of those who long for the days of White, straight, cisgender and male privilege or domination in contrast to the multiracial, multicultural, varied, heterogeneous democracy that many are working toward today. This doesn't just apply to our secular society. It applies to our faith communities, too.
Our faith traditions include voices that bemoan a society they have judged as morally corrupt. Yet they are merely witnessing those in society calling for equality and ways to make our world into a safe, compassionate, just home for everyone. I think of those who see the end of patriarchy in faith communities as an evil rather than a good, and those who see LGBTQ inclusion and affirmation as a sign of the times, rather than as a change where life is overcoming death and love is overcoming fear, bigotry, and hate.
Again, so many of us, like those in our story, are quick to judge as inferior those who are different than ourselves. Instead, the Jesus of our story this week would tell us the reality: that unless we change and become more just, we will perish.
Lastly, this week's passage uses a common metaphor for the condition of Israel's society, one that appears in both the Hebrew scriptures and the rabbinic literature (see Isaiah 5). A healthy, distributively just society was a healthy fig tree that produced much fruit for all to enjoy. Fig trees, after all, were an important source of food in the Ancient Middle East. But a sickly, desolate, or barren fig tree was an unhealthy society that benefitted only a select few through exploiting the masses. The fruitful fig tree symbolized a blessed society where everyone's needs were being met: there was enough for everyone. A barren fig tree was cursed and under judgement from the Hebrew prophets for trampling the vulnerable.
Our story this week answers the cry to immediately cut the fig tree down by encouraging the gardener or owner to keep trying to make it healthy for one more year, to fertilize it and see if things turn around before giving up on it.
There is a love of the fig tree seen here in the desire to make it healthy.
This has applications for us today, too, in our faith communities, and in our larger society as well.
I can't tell you how many times I've scratched my head in wonder at LGBTQ people of faith who keep trying to change their homophobic, transphobic, biphobic faith communities. I've often asked myself, why don't they just shake the dust from their feet and say good riddance! I wonder if they'd be better off. But the reality is these faith traditions are their homes. Many have grown up in them and there is love for these faith traditions rooted in their hearts. They'd rather endure pain from continued effort than grief of leaving the barren fig tree of their faith tradition to die. I see their stories in our story this week.
In our larger society, as well, so many have said that how many minorities have been treated within the "American dream" has been a nightmare. Yet so many people from minoritized communities genuinely love the principles that the United States is supposed to embody and want to see America genuinely live out its highest ideals. They live in hope that their choices to keep at it will help this country become "that more perfect union" one day.
Recently my daughter introduced me to the play Indecent by Paula Vogel. It is a deeply moving story of the lives of Jewish immigrant actors and how they were mistreated here in America while involved with the beautiful, life-changing Yiddish Broadway play The God of Vengeance: Drama in Three Acts by Sholem Asch. Censors unjustly shut down the play, accusing it of being indecent. All the actors were arrested and thrown in jail. But in fact, the play was shut down as a result of antisemitism.
In the story, finally coming to the end of his patience, one of the central characters, Lemml, bursts out, "I'm done being in a country that laughs at the way I speak. They say America is free? What do you know here is free? All over Europe we did this play with no Cossacks shutting us down. Berlin, Moscow, Odessa—everywhere there is theater! You don't have money for a ticket? Tickets over there cost less than a cup of tea. Then you dress up nice in your best coat and maybe you stand up in the second gallery, but you can say to your grandchildren: 'I saw the great Rudolph Schildkraut in Sholem Asch's The God of Vengeance!' I am leaving this country!"
The sad end for Lemml is that he leaves America and returns to his homeland in the midst of the Holocaust and ends up dying at the hands of the Nazi's.
At this spot in the play, I could not help but hear the echo of those for whom America has not been a blessing but a curse. Not a fruitful fig tree, but a barren one.
To all who are working for change, keep digging. Keep fertilizing. Perhaps it will ultimately bear fruit for all those who live here. But my own country is the context for how I hear the message in this week's reading.
Democratic societies must be made to birth a distributively just society where the needs of everyone and not only an elite few are collectively met. The alternative is not sustainable, and ends with that society falling into the rubbish bin of history.
Injustice is not sustainable.
HeartGroup Application
1. Share something that spoke to you from this week's eSight/Podcast episode with your HeartGroup.
2. What are some examples of how you see injustice as unsustainable in our various communities, both our faith communities and our larger society, today? Discuss with your group.
3.  What can you do this week, big or small, to continue setting in motion the work of shaping our world into a safe, compassionate, just home for everyone? 
Thanks for checking in with us, today.
Right where you are, keep living in love, choosing compassion, taking action, and working toward justice.
I love each of you dearly,
I'll see you next week
---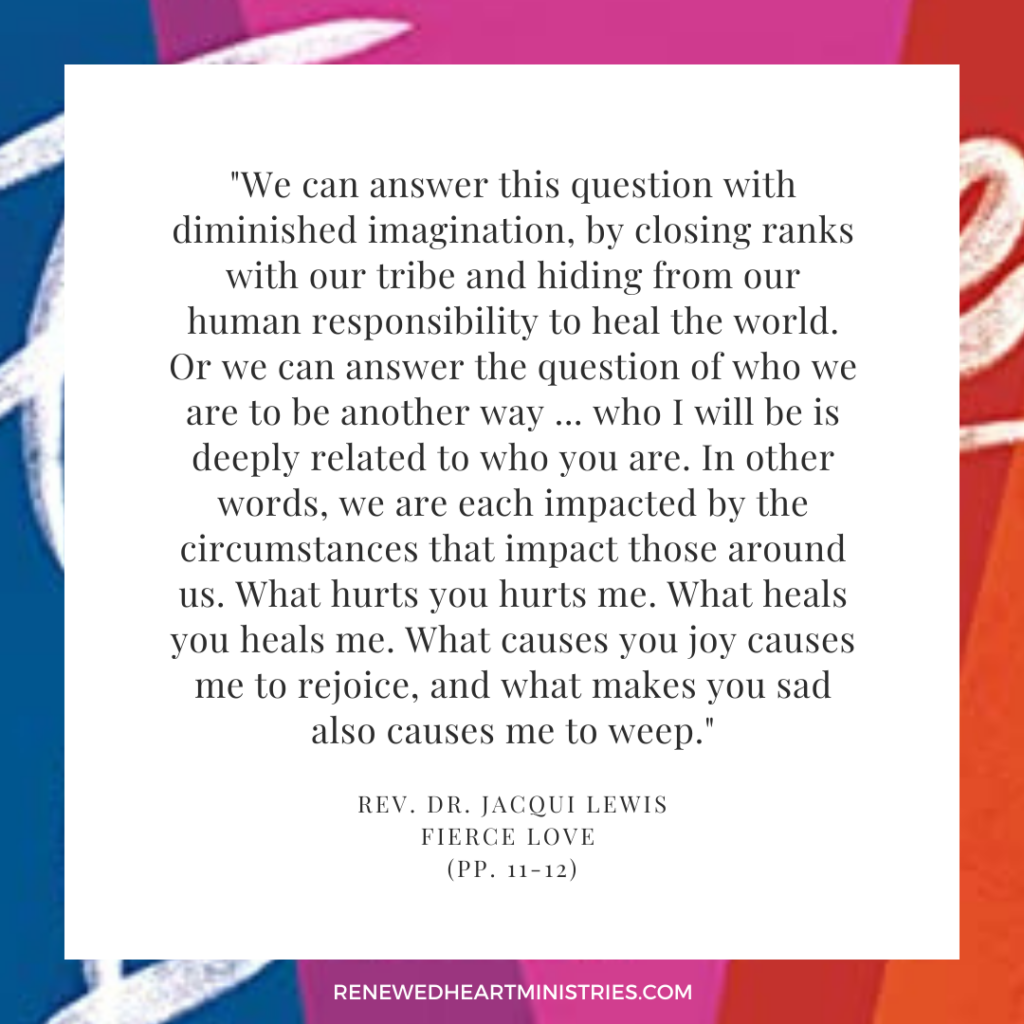 ---
March is Donor Appreciation Month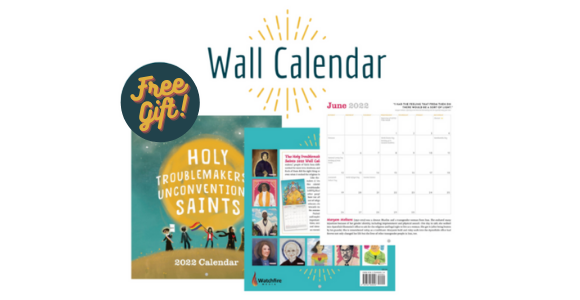 During the month of March, we want to do something special to thank you for supporting the work of Renewed Heart Ministries.
Renewed Heart Ministries provides deeply needed resources that help enable Christians to discover the intersection of their love for Jesus and their work of healing our world through actions of love, justice and compassion; actions Jesus modeled and called us to follow.
Engaging our communities in ways that shape our world into a safe, compassionate, just home for everyone is often hard work and its worth it. We appreciate the actions, big and small, each of you take each day to engage this work.
This month, we are partnering with Watchfire Media to offer a free thank you gift, shipping included. We want to offer you Watchfire Media's absolutely beautiful Holy Troublemakers & Unconventional Saints 2022 Wall Calendar to everyone who makes a special one-time donation of $50 or more through the following special link during the month of March to support RHM's work.
The online donation link to use is https://bit.ly/RHMCalendar.
(Or you donate by mail by sending your donation to
Renewed Heart Ministries
PO Box 1211
Lewisburg, WV 24901
*If donating by mail, simply make sure that your donation is specially marked indicating you would like a HolyTroublemakers & Unconventional Saints 2022 Wall Calendar as a thank you.)
If you are unfamiliar with this special calendar, The Holy Troublemakers & Unconventional Saints 2022 Wall Calendar features 12 "holy troublemakers," people of faith from different faiths and different eras who worked for more love, kindness, and justice in their corner of the world. Each of them did the right thing even when it was the hard thing, and even when it rocked the religious boat.
Like the book Holy Trouble­makers & Unconventional Saints, this calendar centers holy troublemakers who are women, LGBTQ, Black, Indigenous, and other people of color who have too often been written out of religious narratives. Their stories inspire, educate, challenge, encourage, and move us all towards more love and a faith that works for the common good of everyone.
Packed with original artwork, short bios, and inspiring quotes, the calendar also includes important holidays from diverse faith traditions, social justice movement anniversaries, and dates that help us remember that joy is an essential part of holy troublemaking.
Thank you in advance for supporting the work of Renewed Heart Ministries. Together we will continue being a voice for change. And thank you to Watchfire Media, as well, for partnering with RHM this month to be able to share this special thank you gift with our supporters. We appreciate all you do, too!
Product details:
2022 Wall Calendar: 24 pages
Publisher: Watchfire Media
Language: English
Product Dimensions: 12" x 13"
Shipping Weight: 1 lb.
ISBN: 978-1-7340895-1-6