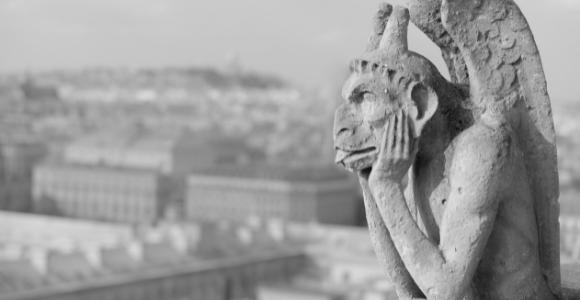 Herb Montgomery | March 11, 2022
To listen to this week's eSight as a podcast episode click here.
---
"Even if threatened by those with privilege, we too, can keep on, in the language of our story this week, casting out demons. The demons of White supremacy, racism, patriarchy, misogyny, classism, homophobia, biphobia, transphobia (and the current laws around our country that those possessed by transphobia are now trying to pass) and more."
---
Our reading this week is from the book of Luke:
"At that time some Pharisees came to Jesus and said to him, 'Leave this place and go somewhere else. Herod wants to kill you.' He replied, 'Go tell that fox, 'I will keep on driving out demons and healing people today and tomorrow, and on the third day I will reach my goal.' In any case, I must press on today and tomorrow and the next day—for surely no prophet can die outside Jerusalem!  'Jerusalem, Jerusalem, you who kill the prophets and stone those sent to you, how often I have longed to gather your children together, as a hen gathers her chicks under her wings, and you were not willing. Look, your house is left to you desolate. I tell you, you will not see me again until you say, 'Blessed is he who comes in the name of the Lord.'" (Luke 13:31-35)
For the early Jesus community, this story would have been meaningful because it put Jesus' work in tension with Herod and the powers-that-be in Galilee. Jesus is neither part of the power structure nor a domesticated insider here. He's not a partisan within the system. He's a radical whom the authorities are seeking to execute. Much like John the Baptist, whom Herod had previously executed for speaking truth to power (Josephus), Jesus is characterized as being on a very similar path in relation to the power structures of his region. His teachings and ministry are framed as a threat to those in power, specifically to Herod.
This helps explain why Jesus responds boldly in this narrative with, "Go tell that fox I will keep on driving out demons . . ."
This phrase immediately triggers me and my more scientific modern worldview and I'd guess it does for many of you, too. But I want us to step outside of the religious, supernatural definition of demons as beings we cannot see but who terrorize our world, just for a moment. I'm stepping away from the characterization of demons I grew up with in the horror films and shows of the 1980s and 1990s, like The Omen and Buffy the Vampire Slayer. Let's consider an interpretation that defines demons in the gospel stories through a more political lens.
Casting Out Demons As Political
Consider this explanation of Jesus' first exorcism (Mark 1:21-28) by Ched Myers in Say to This Mountain:
"To interpret this exorcism solely as the 'curing of an epileptic' is to miss its profound political impact. In contrast to Hellenistic literature, in which miracle-workers normally function to maintain the status quo, gospel healings challenge the ordering of power. Because Jesus seeks the root causes of why people are marginalized, there is no case of healing and exorcism in Mark that does not also raise a larger question of social oppression." (Ched Myers; Say to This Mountain: Mark's Story of Discipleship, p. 14)
In this story, Jesus' exorcism takes place in the heart of a Galilean synagogue, because what the story is juxtaposing the political struggle between the scribal authority there and Jesus' authority teaching something different.
Also consider the story of the exorcism of the Gerasene demoniac in the synoptic gospels (Mark 5:1-20; Matthew 8:28-34; Luke 8:26-39). The name of the demon in this story is Legion. A Roman legion was the Roman army's largest military unit and represented the occupying Gentile forces who were possessing the Jewish homeland. So in this gospel story, the people's oppression by a foreign ruling power appears symbolically as a person's possession by a foreign/demonic spirit.
Walter Wink asks us to make a similar interpretive choice:
"Some first-century Jews and Christians perceived in the Roman Empire a demonic spirituality which they called Satan (the "Dragon" of Revelation 12). But they encountered this spirit in the actual institutional forms of Roman life: legions, governors, crucifixions, payment of tribute, Roman sacred emblems and standards, and so forth (the "beast" of Revelation 13). The spirit that they perceived existed right at the heart of the empire, but their worldview equipped them to discern that spirit only by intuiting it and then projecting it out, in visionary form, as a spiritual being residing in heaven and representing Rome in the heavenly council. In the ancient worldview, where earthly and heavenly reality were inextricably united, this view of the Powers worked effectively. But for many modern Westerners it is impossible to maintain that worldview. Instead, fundamentalists treat the Powers as actual demonic beings in the air, largely divorced from their manifestations in the physical or political world (the theological worldview), and secularists deny that this spiritual dimension even exists (the materialistic worldview) . . . The demons projected onto the screen of the cosmos really are demonic, and play havoc with humanity. Only they are not up there but over there, in the socio-spiritual structures that make up the one and only real world." (Walter Wink, The Powers That Be, Location 358, Kindle Edition)
Within this context, any systemic evil or injustice that becomes almost automated within a family, community, religious structure, civil structure, corporation, government, or world power is a demon that must be exorcised. Consider the demon of White supremacy, the demon of greed, or the demon of domination and subjugation that we see in the invasion and repression of Ukraine this year.
When we read of Jesus being threatened by Herod "who is seeking to execute him," Jesus replies, "Go tell that fox, I'm going to keep on driving out demons."
Jesus is showing the same political obstinance and determination against injustice and abuse of power, even in the face of lethal threat, that he will again show later in the story when he flips the tables in the courtyard in Jerusalem.
Anyone who sees Jesus the exorcist as simply passing out tickets to heaven rather than calling for concrete changes in the systems that harmed the marginalized people around him isn't reading the gospel stories in their historical context. People don't have their lives threatened for passing out tickets to heaven. After all, focusing folks on heavenly assurance doesn't threaten the powerful, propertied, and privileged with change in the here and now. Yet Jesus is making change now. He's casting out demons, challenging harmful political structures in the hearts and lives of his listeners, calling them to imagine the world differently. He, like John, is stirring up the people, and things that stir the people must always be stopped by those who benefit from the way things presently are.
Eventually, Jesus will reach Jerusalem, where his strongest demonstration or protest will take place in the very seat of the Temple state, and this week's story intimates the result. Like the prophets of the poor who called for justice before him and were stoned and killed, Jesus' story is going to get much worse as we hope for things to get better. The authors lean into the Jewish tradition of telling honest stories, of the good, the bad, and the ugly. We today could learn a lot from that tradition if we approached our own ugly histories with honesty rather than with sanitizer.
But this week's story isn't a story about how someone died or was killed. It is a story anticipating how state violence would be reversed and undone. This is a story of how life and life-giving triumphs in spite of death and death-dealing. Love triumphs in spite of injustice in the end. But we are not quite there yet in Jesus' story. We are still on the journey with him.
Before we get to the end, we must first move through demonstration and protest, pushback from those who are threatened, and ultimately the state executing a man calling for changes that were too much for the powerful and elite to leave unanswered. His was a voice that must be silenced.
Yet in the end, death is not conquered with more death, even just one more death. Death is conquered by love, life, and justice. The salvific work that those in power sought to halt proved only to be momentarily interrupted. That salvific, liberative work would live on, and it lives on today in the choices we make every day, even in small things.
This month's recommended reading from Renewed Heart Ministries is Rev. Dr. Jacqui Lewis' book, Fierce Love. I'll end this week with a quote:
"Alice Walker wrote: 'Helped are those who find the courage to do at least one small thing each day to help the existence of another—plant, animal, river, or human being. They shall be joined by a multitude of the timid.' A movement to build a more just society begins with little steps taken by good people every day. Humankind desperately needs a love revolution that leads to equality and equity, to the end of white supremacy once and for all. You have the power to be an agent of change in your everyday living; you can influence your posse to also be the change you seek. And ultimately, together, in community, small steps can lead to morally courageous behavior that loves the world all the way to healing." (Jacqui Lewis, Fierce Love, pp. 167-168).
Even if threatened by those with privilege, we too, can keep on, in the language of our story this week, casting out demons. The demons of White supremacy, racism, patriarchy, misogyny, classism, homophobia, biphobia, transphobia (and the current laws around our country that those possessed by transphobia are now trying to pass) and more.
Here's to more justice work.
Here's to more courage, resistance, persistence and small things that we can do to create change.
HeartGroup Application
1. Share something that spoke to you from this week's eSight/Podcast episode with your HeartGroup.
2. How does reframing the exorcism stories in the gospels impact your own Jesus following? Discuss with your group.
3.  What can you do this week, big or small, to continue setting in motion the work of shaping our world into a safe, compassionate, just home for everyone?
Thanks for checking in with us, today.
Right where you are, keep living in love, choosing compassion, taking action, and working toward justice.
I love each of you dearly,
I'll see you next week
---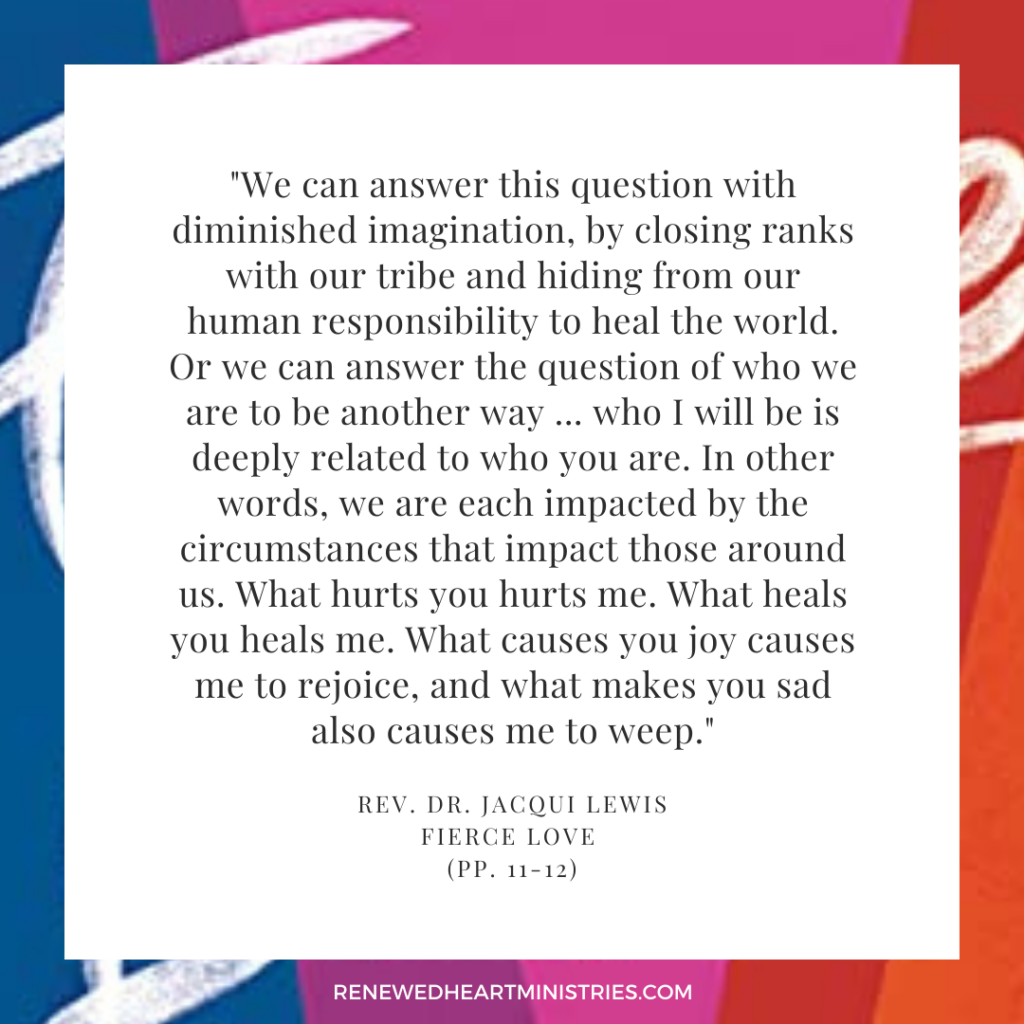 ---
March is Donor Appreciation Month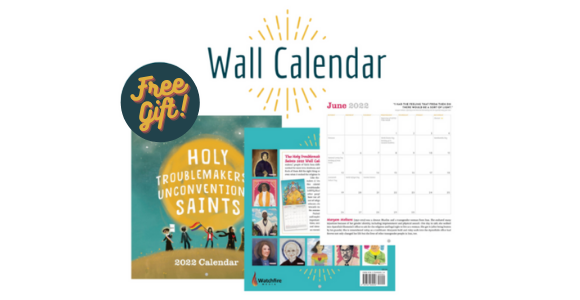 During the month of March, we want to do something special to thank you for supporting the work of Renewed Heart Ministries.
Renewed Heart Ministries provides deeply needed resources that help enable Christians to discover the intersection of their love for Jesus and their work of healing our world through actions of love, justice and compassion; actions Jesus modeled and called us to follow.
Engaging our communities in ways that shape our world into a safe, compassionate, just home for everyone is often hard work and its worth it. We appreciate the actions, big and small, each of you take each day to engage this work.
This month, we are partnering with Watchfire Media to offer a free thank you gift, shipping included. We want to offer you Watchfire Media's absolutely beautiful Holy Troublemakers & Unconventional Saints 2022 Wall Calendar to everyone who makes a special one-time donation of $50 or more through the following special link during the month of March to support RHM's work.
The online donation link to use is https://bit.ly/RHMCalendar.
(Or you donate by mail by sending your donation to
Renewed Heart Ministries
PO Box 1211
Lewisburg, WV 24901
*If donating by mail, simply make sure that your donation is specially marked indicating you would like a HolyTroublemakers & Unconventional Saints 2022 Wall Calendar as a thank you.)
If you are unfamiliar with this special calendar, The Holy Troublemakers & Unconventional Saints 2022 Wall Calendar features 12 "holy troublemakers," people of faith from different faiths and different eras who worked for more love, kindness, and justice in their corner of the world. Each of them did the right thing even when it was the hard thing, and even when it rocked the religious boat.
Like the book Holy Trouble­makers & Unconventional Saints, this calendar centers holy troublemakers who are women, LGBTQ, Black, Indigenous, and other people of color who have too often been written out of religious narratives. Their stories inspire, educate, challenge, encourage, and move us all towards more love and a faith that works for the common good of everyone.
Packed with original artwork, short bios, and inspiring quotes, the calendar also includes important holidays from diverse faith traditions, social justice movement anniversaries, and dates that help us remember that joy is an essential part of holy troublemaking.
Thank you in advance for supporting the work of Renewed Heart Ministries. Together we will continue being a voice for change. And thank you to Watchfire Media, as well, for partnering with RHM this month to be able to share this special thank you gift with our supporters. We appreciate all you do, too!
Product details:
2022 Wall Calendar: 24 pages
Publisher: Watchfire Media
Language: English
Product Dimensions: 12" x 13"
Shipping Weight: 1 lb.
ISBN: 978-1-7340895-1-6