Part 6 of 9
Woman, Here Is Your Son
BY HERB MONTGOMERY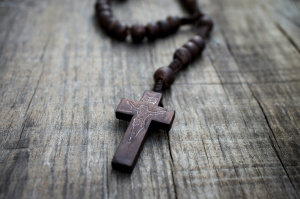 Meanwhile, standing near the cross of Jesus were his mother, and his mother's sister, Mary the wife of Clopas, and Mary Magdalene. When Jesus saw his mother and the disciple whom he loved standing beside her, he said to his mother, "Woman, here is your son." Then he said to the disciple, "Here is your mother." And from that hour the disciple took her into his own home. (John 19:25-27)
This week we begin to move into John's telling of the Jesus story.
John's telling is unique among the four canonical gospels. John's is the latest written, and his Jesus story shows high Christology (Jesus as fully Divine). Unlike other writers in the New Testament whose Christology is more ethically centered (Jesus is defined by what he did and taught), John's Christology seeks to define who Jesus was ontologically and cosmologically. It it in John's gospel that the idea of a divine Jesus is most fully developed among the four gospels.
Ever since I read Irenaeus's Against Heresies, the parallels between Irenaeus and John's gospel have lead me to believe John was seeking to tell the Jesus story in such a way as to intersect and inform what he felt was the threat of early first-century Gnosticism.
Many aspects of John's gospel make more sense when we place them in this cultural context. Many regard Gnosticism as the first great Christian heresy. It took the focus of Jesus' followers off of a renewed and restored earth to an escapist goal of attaining heaven instead. Scholars today see Gnosticism's dualism between the body and the soul (body or nature is evil/soul is good; body or nature is mortal/soul is immortal) and Gnosticism's abandonment of the body and the good world around us as evil to have caused a significant shift in the focus of historic Christianity. This shift, coupled with other influences, is why, to a large degree, some Christians today focus on post-mortem bliss rather than the liberation of the oppressed and healing of injustices in our present world. An example of this is how White Christians in the 30's, 40's and 50's were committed to "getting to heaven" while ignoring and even perpetrating a very "present hell" here on earth. Ida B. Wells once wrote, "Our American Christians are too busy saving the souls of white Christians from burning in hellfire to save the lives of black ones from present burning in fires kindled by white Christians." [1]
John's method then needs to be understood. His intent was to show Jesus to be fully Divine (Holy, from above) and then show how integrated he was in humanity, his body, the earth, and the dirt. He also portrayed Jesus as genuinely human.
This is the controversy John refers to in 1 John 4:2, "By this you know the Spirit of God: every spirit that confesses that Jesus Christ has come in the flesh is from God." (Emphasis added.)
The Gnostics taught that for Jesus to have truly been Divine or Holy, he could not have genuinely possessed a physical body but only the appearance or "impression" of a body. Therefore to show Jesus as also fully human would have taken the focus of those affected by gnosticism off of their post-mortem bliss, and back onto the work of restoration and healing that we see so markedly evidenced in Jesus' own life and work.
Reread John's gospel and see how much John emphasizes Jesus' body and Jesus' genuine bodily functions. (We'll look at this more next week when we look at John's words of Jesus on the cross, "I thirst.")
What John wants us to encounter first about Jesus' experience on cross, unlike any other gospel author, is Jesus' very human relationship with and concern for his mother. This is the humanity of Jesus that Gnostics would be confronted by and need to address.
Womanism and The Jesus Story
I also want to draw attention to a womanist reading of this passage in John this week.
In James Cone's phenomenal book The Cross and the Lynching Tree, Cone recounts the experiences of what it was like for African Americans during America's post slavery era in relation to the lynching being carried out by White Christians.
Cone writes, "The fear of lynching was so deep and widespread that most blacks were too scared even to talk publicly about it. When they heard of a person being lynched in their vicinity, they often ran home, pulled down shades, and turned out lights—hoping the terror moment would pass without taking the lives of their relatives and friends." [2]
Cone retells the story of Martin Luther King, Jr.'s father, who witnessed a lynching at a very young age. Daddy King states, "All I could do was to run on home, keep silent, never mentioning what I'd seen to anyone, until many, many years later, when I understood it better." [3]
The parallels between the lynching of African Americans in America and the lynching of Jesus in the first century are astounding. [4] The horror of crucifixion by Rome and the nightmarish atrocity of lynching in America by White Christians served very similar purposes within their perspective cultures. Both were forms of terrorism used by the dominant system of the day.
The fact that John tells us there were those who didn't "run home" when Jesus was lynched is a testament to the Jewish women John lists, a testament we come to understand and appreciate more deeply when seen through the lens of what Black women experienced in America's lynching history. These women did not run home, as did most of the followers of Jesus, but stood by, not abandoning Jesus when the dominant system "strung him up."
Black women should not be made invisible in America's lynching history. They were not exempt to White Christian mob violence in America. Not only were Black women lynched as well, but those who were not, "not only suffered the loss of their sons, husbands, brothers, uncles, nephews, and cousins but also endured public insults and economic hardship as they tried to carry on, to take care of their fatherless children in a patriarchal and racist society in which whites could lynch them or their children with impunity, at the slightest whim or smallest infraction of the southern racial etiquette." [5]
Jewish women belonged to a similarly patriarchal society. For Mary, the mother of Jesus, to lose Jesus, the specific male she was economically dependent on, to mob violence in her day also meant economic hardship and poverty as she would be left to try and carry on.
Yet John's Jesus is no victim. John's Jesus will leave behind no orphans [6], and as we also see here, no widows.
John's Jesus looks down from the cross and, much to the dismay of the Gnostics of John's time, the first thing Jesus attends to is the human, intimately familial relationship between himself and his mother.
Again, we get a window into the reality of the necessity of Jesus' connecting his mother to a new son through womanist perspectives today.
What we also receive from looking at this narrative detail of the interchange between Jesus and Mary through the lens of womanist theology is the knowledge that we do not have to interpret
Jesus' death as some sort of righteous surrogacy or surrogate suffering. Remember, the cross is not the salvific act, according to the book of Acts, as much as the resurrection is [7], for it is the resurrection that undoes and reverses everything accomplished by the lynching of Jesus by the dominant system. The death of Jesus was the temporary victory of the oppression and injustice that Jesus was confronting and resisting. Far from understanding Jesus' death as the glorification and justification of innocent suffering, the death of Jesus was a travesty of justice. It was the unjust response of evil and oppression to the threat of Jesus as he sought to heal and liberate.
Jesus in John's gospel is not a victim. Nor is he passive. Jesus is an activist whose advocacy for the marginalized and outcast resulted in suffering. Jesus' death was the natural result of Jesus' confrontation of the dominant system. And as followers of Jesus we, too, are to actively oppose evil rather than passively submit to it. Yes, Jesus taught nonviolence, but we are not to interpret this as Jesus' teaching passivity. Jesus taught a nonviolent, direct confrontation of injustice, oppression, and violence as the means of changing the world around us.
Jacquelyn Grant in her book White Women's Christ and Black Women's Jesus: Feminist Christology and Womanist Response rightly states, "The significance of Christ is not found in his maleness, but in his humanity," [8] and the history of Black women today, "the oppressed of the oppressed," can inform and educate our understanding of Jesus' death and resurrection in life- transforming, world-transforming, ways.
What we see in John's interchange between Jesus and Jesus' mother is Jesus' humanity first and foremost. We see the cultural need for making sure his mother was provided for in a patriarchal society oppressive to women. We begin to understand Jesus' death for what it is, not an act by which justice was satisfied but an act of inhumane injustice that was the result of Jesus' confrontation with injustice. And last, we see Jesus' death as that which the Divine Being of the Jesus story would reverse and undo. The dominant system does not have the last world in this narrative. The story does not end with a lynching but with a Divine Being standing in solidarity not simply with Jesus but with all who have been lynched (directly or indirectly) throughout history, whispering that this is not where our stories have to end. The climax of the Jesus story is that over and against those at whose hands Jesus was lynched, stands a Voice, calling the world, both oppressed and the oppressors, to a better way.
Southern trees bear strange fruit/Blood on the leaves and blood at the root/Black body swinging in the Southern breeze/Strange fruit hanging from the poplar tree.
—"Strange Fruit," Abel Meeropol (a.k.a. Lewis Allen)
"They put him to death by hanging him on a tree." (Acts 10:39)
Perhaps nothing about the history of mob violence in the United States is more surprising than how quickly an understanding of the full horror of lynching has receded from the nation's collective historical memory.—W. Fitzhugh Brundage
HeartGroup Application
We are getting closer to when the western Christian world celebrates Easter with each passing week.
This week I want you to dedicate some time to contemplating what a difference it makes to see Jesus' death not as the appeasement of an angry God so that those who have sinned can escape this world and be let into heaven, with the resurrection being a neat little affirmation of post- mortem bliss, but as the lynching that it was, a result of Jesus' standing up to the injustice, oppression, and violence of the dominant system of his day. Try to see Jesus' resurrection not as a tidy ending but as a Divine Being's solidarity with all those who have been oppressed, violated, and affected by injustice throughout time, whispering to us that in this Jesus and the values he espoused and taught, a new world is coming. In fact, as a result of the resurrection, it has already arrived.
1. As an aid in helping you shift in your contemplation of Jesus' death this week, I recommend you watch Billie Holiday's performance of Strange Fruit. One free way to do this would be to simply go to YouTube here. Allow Billie to inform your understanding of the Jesus narrative as you overlay Jesus' lynching on one of the most effective teaching moments in America's recent history. Allow Billie's performance to help you step back into and understand anew the death—and resurrection—of Jesus.
2. Journal what you discover.
3. Share what you discover with your HeartGroup this upcoming week.
As Jesus followers, we subscribe to a narrative that does not end in the defeat of Jesus by the lynching mob. The narrative ends with Jesus' God standing in solidarity with him in his confrontation of injustice, even to the undoing and reversing of their murderous actions. Jesus' death is not his nonviolent protest to injustice. It was the fatal result of this nonviolent protest. The resurrection is Jesus' God's having the last word over the lynching mob. This should give us pause to reflect.
Our narrative is one of hope. Hope that injustice does not have the last word, ever. A new day has dawned. A light is shining from an empty tomb.
Keep living in love, loving like Jesus, until the only world that remains is a world where love reigns.
One shared table, many voices, one new world.
I'm praying for your hearts to be enlarged and liberated as you move more deeply into the contemplation of Jesus' death and resurrection and their implications for us today.
I love each of you deeply. I'll see you next week.
---
1. Wells, Ida B. Crusade for Justice, pp. 154-55
2. Cone, James H. (2011-09-01). The Cross and the Lynching Tree (p. 15). Orbis Books. Kindle Edition.
3. Daddy King, p. 30.
4. Acts 5:30—The God of our ancestors raised up Jesus, whom you had killed by hanging him on a tree; Acts 10:39—They put him to death by hanging him on a tree. (Emphasis added.)
5. Cone, James H. (2011-09-01). The Cross and the Lynching Tree (pp. 122–123). Orbis Books. Kindle Edition.
6. John 14:18—"I will not leave you orphaned; I am coming to you."
7. Acts 13:32-33—And we bring you the gospel that what God promised to our ancestors God has fulfilled for us, their children, by raising Jesus.
8. Jacquelyn Grant, White Women's Christ and Black Women's Jesus: Feminist Christology and Womanist Response