Part 5 of 9
Into Your Hands I Commit My Spirit
by Herb Montgomery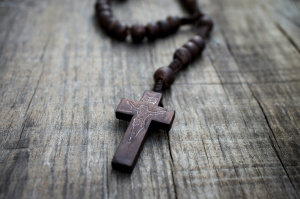 Then Jesus, crying with a loud voice, said, "Father, into your hands I commit my spirit." Having said this, he breathed his last (Luke 23.46).
Out of all the last sayings of Jesus in the four versions of the Jesus story, this one, this week, has come to be my favorite.
When Constantine elevated Christianity from disadvantaged to privileged in the fourth century, the apparent failure of Jesus' revolution on the cross became a source of embarrassment.  Then, coupled with the guilt-ridden consciences of the crusaders in the 11th century, the cross took on a wholly different meaning than it had for early Jesus followers.  It is no coincidence that just as Christian soldiers of the crusades returned from the violence of war with bloodstained hands, Christianity, for the first time, began to interpret the cross as God's doing, God's violent punishment of humanity's sins in Jesus, and as Jesus paying for those sins, freeing humans from their deep sense of guilt.  An interpretation of Jesus death that today is labelled as a "Penal Substitutionary Atonement" arises for the first time in Christian history just when Christian military soldiers need some way of dealing with the post-traumatic stress of the merciless slaughter of Jews, Muslims, and heretics.  These soldiers, just like all soldiers exposed to the ugliness of war, were wrestling with the weight of what they had done.  Therefore, the message that Jesus had mercifully paid for their sins came as a great relief.
This interpretation of Jesus' death, in addition to doing untold damage to Christian theists' understanding of the character of their God, simply did not exist in the early church.
To the early followers of Jesus, the cross was the failure of Jesus' revolution.  It was seen as the triumph of the dominating system, both political and religious, of Rome and the Temple aristocracy, over the prophetic ministry of Jesus. [1]
The victory of Jesus was not on the cross, but in his resurrection, which triumphed over and undid his unjust execution.
We will look at this more historically, and more deeply, in the ninth and final installment of this series, but for now, we must hold in mind that the good news to the early followers of Jesus was not that Jesus died, nor was it that someone had come back to life, but that this specific Jesus, who was executed by the dominating system, had been resurrected by God and that this resurrection marked the beginning of a new age when God was not in solidarity with those on the top of the pyramid's social structures, but in solidarity with those subordinated, marginalized, and oppressed by those social structures.
In order to see and appreciate the resurrection of Jesus as a triumph, we must first see the execution of Jesus for the temporary failure that it was.  We must understand that Jesus' death is not the victory of God, but the victory of those who opposed Jesus and his radical revolution.
This is why Jesus' final saying in Luke holds such meaning for me.
When someone chooses to align their story with the Jesus story, when one chooses to stand up for the marginalized, those on the social fringes, and to embrace those whose society has rejected them, a "cross" of some sort will always loom in their near future.
Whether their community is political, economic, social, or religious, when one chooses to stand in solidarity with those whose community has labeled as "sinners," the threatening nature of that solidarity to the community itself cannot be ignored.
If I could be transparent for a moment, I know something of what I'm writing about here.
This past year (2014), I chose to make some significant shifts in who I was going to stand in solidarity with.  Believing that the Jesus of Luke's Jesus story was seeking to change the world by, one "table" after another, modeling a "shared meal" (with all its cultural implications in the first century) with those his religious, political, economic, and social community had defined as "other," as "outsider, as the "marginalized," I chose to position myself in a way that was intentionally standing in solidarity those whom, today, I perceive my communities treats, at times, as "other." As a white Jesus follower, I chose to position myself in such a way that was standing in solidarity with those of us who are non-white. As a male Jesus follower, I chose to position myself in such a way that was standing in solidarity with those of us who are non-male. As someone who identifies as cisgender, I made decisions that intentionally positioned me into a space of solidarity with those of us who identify as non-cisgender.  As someone who identifies as straight, I made decisions that intentionally positioned me into a space of solidarity with those of us who identify as non-straight.  There is a Jewish blessing that states that before every person there marches an angel proclaiming, "behold the image of God."  A Jewish blessing that a friend of mine is very fond of and recently shared with me is, "Blessed are You, Lord, our God, King of the Universe, Who varies Your creation."
I have chosen to embrace every person I meet as the "image of God" [2] and thus deserving of compassion.
This has had consequences for me.
To make a very long story short, as the director of a nonprofit ministry, the words Jesus spoke in the Sermon on the Mount have become intensely meaningful to me, now more than ever:
Therefore I tell you, do not worry about your life, what you will eat or what you will drink, or about your body, what you will wear.  Is not life more than food, and the body more than clothing? … if God so clothes the grass of the field, which is alive today and tomorrow is thrown into the oven, will he not much more clothe you—you of little faith?  Therefore do not worry, saying, 'What will we eat?' or 'What will we drink?' or 'What will we wear?' … your heavenly Father knows that you need all these things.  But strive first for the kingdom of God [Jesus' new way of arranging the world; Jesus' new social order] and his justice, and all these things will be given to you as well. (Matthew 6:25–32, emphasis added)
I have begun to see how it was that Jesus' ministry, by its nonviolent yet confrontational nature, ended on a Roman cross.  This was a death reserved for the enemies of the dominating system of his day.  This was how Rome, which maintained control of Judaism through its Temple, treated those whom they viewed as a threat.  Jesus' revolution was a threat to both the Temple as well as the Empire's control:
If we let him go on like this, everyone will believe in him, and the Romans will come and destroy both our holy place and our nation. (John 11:48)
You do not understand that it is better for you to have one man die for the people than to have the whole nation destroyed. (John 11:50)
In Luke's version of the gospel, as a result of Jesus' teachings and demonstration (overturning the tables) in the Temple, Jesus' ministry had finally reached a climax and had to be addressed: "The chief priests, the scribes, and the leaders of the people kept looking for a way to kill him" (Luke 19:47).
They found their way.
Very quickly, before the next Sabbath even, Jesus was suspended on a Roman cross by their doing.
To all appearances, they had triumphed over this Jesus.  He was getting what every person receives when they color outside of their community's defined lines.
And yet, Jesus was not dying at their hands without hope.  Jesus was incredibly courageous in the very moment when I am tempted to despair.  This week, Fr. Shay Kerns sent this quotation from Richelle E. Goodrich out via email:
Courage to me is doing something daring, no matter how afraid, insecure, intimidated, alone, unworthy, incapable, ridiculed or whatever other paralyzing emotion you might feel.  Courage is taking action … no matter what.  So you're afraid?  Be afraid.  Be scared silly to the point you're trembling and nauseous, but do it anyway.
Although Jesus stood alone, he had a courageous confidence that he had done the right thing.  The cross did not rob Jesus of his assurance that his life and teachings had not been in vain.  He died believing that even his death would be ultimately triumphed over.  In his most "defeated" moment, he committed to his Father the bringing of his revolution to triumphant fruition.  Jesus' last words in Luke were, "Father, into your hands, I commit my spirit."
There are multiple things that could be said about this dying statement. One is that it shows the confidence that Jesus had that his cause was on the side of what is right. Next, we should discuss  the title Jesus chose to use: "Father." We are not to derive from this that the God of the Jesus story has male genitalia.  No no!  Calling God "Father" was deeply political within first century Judaism.  "Father" is not a title for the Hebrew God in the Old Testament that could be used by just anyone.  This is directly from Psalms 89.  Calling God "Father" was a right reserved only for Israel's King [3]:
The enemy shall not outwit him, the wicked shall not humble him.   I will crush his foes before him and strike down those who hate him.  My faithfulness and steadfast love shall be with him; and in my name his horn shall be exalted.  I will set his hand on the sea and his right hand on the rivers.  He shall cry to me, "You are my Father, my God, and the Rock of my salvation! I will make him the firstborn, the highest of the kings of the earth. (verses 22–27, emphasis added)
This psalm harkens back to Psalm 2 where David retells the decree of this same God:
I will tell of the decree of the LORD: He said to me, "You are my son; today I have begotten you.  Ask of me, and I will make the nations your heritage, and the ends of the earth your possession. (Psalms 2.7–8, emphasis added)
Of King David's royal offspring, the Hebrew God had declared, "I will be a father to him, and he shall be a son to me" (2 Samuel 7.13–14).
Lastly, to a Hebrew, death was the moment when the body returned to the earth from which it came and one's spirit returned to God. [4]  For those Hebrews who believed in a resurrection at the end of the age, one's spirit rests in God's safe keeping, awaiting the resurrection when it will be reunited with a restored body.
Jesus had stated earlier to his disciples in Luke, "The Son of Man [5] must undergo great suffering, and be rejected by the elders, chief priests, and scribes, and be killed, and on the third day be raised" (Luke 9.22, emphasis added).  What Jesus is saying to his disciples here in Luke is that the way to the new world he was inaugurating would be through rejection, crucifixion, and resurrection. This was Jesus' confidence:  resurrection! Yet resurrection required crucifixion, and crucifixion required rejection.
Do you feel rejected, at times, by your community because you have chosen to follow Jesus in confronting the dominating system of your day?
Jesus, in his final moment, still believed in the intrinsic value of what he had taught and demonstrated throughout his life.  "Seek first God's new social order and its justice and all these things (and more) will be given back to you." [6]  This is Jesus, dying in full confidence that, although it looked like the dominating system was winning, this was not going to be the end of the story.  His revolution would not end this way.
What does this mean for us today?
In Luke chapter 9, just after Jesus tells his disciples that he must go to Jerusalem, be rejected by the Temple aristocracy, be executed on a Roman cross, and then be resurrected, he turns to his disciples and says, "'If any want to become my followers, let them deny themselves and take up their cross daily and follow me'" (Luke 9:23, emphasis added).
Christianity is the only major religion whose central figure was executed by society's dominant power structure.  And yet our Jesus died in full confidence, committing the keeping of his mission, in his dying moment, to the promise of his Father: "I will make him the firstborn, the highest of the kings of the earth." (Psalms 89.27) [7]
The cross would not be the end for Jesus, and a cross will not be the end for us as well.
When we, too, embrace the way of the cross, we are at our bleakest moment; when we, too, are rejected as a result of practicing Jesus' radical inclusivity of those our community deems as "other"; when our sky is "brass over our head and iron under our feet," we can have that same assurance, knowing that, although this moment looks dark, the heart of the dominating system is being "torn in two" [8] and it is not the end.  We too can, in full assurance of faith, whisper: Father God, Mother God [9], into your safe keeping, "I commit my spirit."
We need not fear our confrontation of the dominating systems of our day for we stand in the victory of Jesus over all injustice, oppression, violence, subordination, "other-ing," privileging some while excluding and marginalizing others who are also made in "the image of God" to the fringes of our societies.  This is a victory that has already been won.  Though Jesus' shared table and Temple confrontation lead him to being put on a cross, that was not the end of the story.
"You won't find Jesus in the land of the dead.  He is still with us.  
The powers killed him—but they couldn't stop him.  They crucified him and buried him in a rich man's tomb.   But imperial execution and a tomb couldn't hold him. 
He's still loose in the world.  He's still out there, still here, still recruiting people to share his passion for the Kingdom of God—a transformed world here and now.  It's not over."
—Marcus Borg
HeartGroup Application
What is it that holds you back from standing in solidarity with those who are being excluded from a "shared table" in our world today?  This week, I would ask that you simply spend some time in contemplation, allowing this last statement by Jesus, "into your hands I commit my spirit," to challenge whatever fears you may be entertaining.
Journal what you discover.  Write down your fears, your concerns, and any breakthroughs you experience through this contemplation.
Share what you experience through this exercise with your HeartGroup this upcoming week.
Whenever I became discouraged as a child, my mother, when she was alive, would always remind me, "You can gauge the size of the victory by the size of the battle.  It is always darkest just before the dawn."
A new world is coming.  In fact, for those who have eyes to see it, it is already here, growing subversively like a mustard seed in a garden.
Keep living in love till the only world that remains is a world where love alone reigns.
Many voices, one new world.
I love each of you, and I'll see you next week.
---
1. See Part 1 on the prophetic lineage of Jesus.
2.  Whoever sheds the blood of a human, by a human shall that person's blood be shed; for in God's own image God made humankind. (Genesis 9.6)
3.  "He [David's offspring] shall build a house for my name, and I will establish the throne of his kingdom forever. I will be a father to him, and he shall be a son to me. When he commits iniquity, I will punish him with a rod such as mortals use, with blows inflicted by human beings" (2 Samuel 7.13-14).
4.  "And the dust returns to the earth as it was, and the breath returns to God who gave
it" (Ecclesiastes 12.7; NRSV). "Many of those who sleep in the dust of the earth shall awake, some to everlasting life, and some to shame and everlasting contempt" (Daniel 12.2; NRSV).
5.  "As I watched in the night visions, I saw one like the Son of Man coming with the clouds of heaven. And he came to the Ancient One and was presented before him. To him was given dominion and glory and kingship, that all peoples, nations, and languages should serve him. His dominion is an everlasting dominion that shall not pass away, and his kingship is one that shall never be destroyed" (Daniel 7.13-14, emphasis added). What Jesus is saying to his disciples in Luke is that the way in which this promise in Daniel would come to fruition would be through rejection, crucifixion, and resurrection.
6.  But strive first for the kingdom of God and his justice, and all these things will be given to you as well. (Matthew 6.33)
7. Remember that Jesus would redefine Kingdom away from hierarchical authority structures to egalitarian mutuality ones in their place. "But he said to them, "The kings of the Gentiles lord it over them; and those in authority over them are called benefactors. But not so with you; rather the greatest among you must become like the youngest, and the leader like one who serves. For who is greater, the one who is at the table or the one who serves? Is it not the one at the table? But I am among you as one who serves." (Luke 22.25-27)
8.  "It was now about noon, and darkness came over the whole land until three in the afternoon, while the sun's light failed; and the curtain of the temple was torn in two" (Luke 23:44–45).
9.  "So God created humankind in God's image, in the image of God, God created them; male and female God created them" (Genesis 1:27, emphasis added).