Part 3 of 9
Forgive Them; For They Do Not Know What They Are Doing
BY HERB MONTGOMERY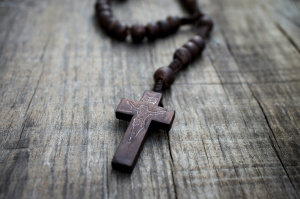 Then Jesus said, "Father, forgive them; for they do not know what they are doing." Luke 32:34
Last week we looked at what many consider to be the most problematic statement of Jesus on the cross within the gospels for readers of the Jesus story today. This week we are looking at a statement that was the most problematic for early Jesus followers.
Why?
Simply put, as early as the late first century, anti-Jewish sentiments were present among Christians. Not one of the early Christians (or even the later Church Fathers) interpreted this passage as being toward the Romans who crucified Jesus but rather as toward the Jews instead. This produced two problems for early Christians. First, this was a prayer for the forgiveness of unrepentant Jews on the basis of actions being done in ignorance. This was contradictory to anti-Jewish sentiments, which were growing at this time. And second, Jesus' prayer seemed to have been in vain, to have failed, because Jerusalem had been destroyed in 70 C.E. What we begin to see then as early as the late second century and the early third century are copies of Luke in which Jesus' prayer for his enemies is missing and some in which Jesus' prayer is present. Two theories exist today. One is that it was removed by early copyists because of the above problems, or that it was simply added in later manuscripts and therefore did not originally belong to Luke. Thus in some more recent translations you will find Jesus' prayer placed in brackets in Luke 23:34.
If you enjoy textual criticism, I want to recommend the following article to you. I want to give you a brief overview of its content and then share why, although far from conclusive, I, and even non-Christian textual critics too, feel the evidence leans toward this statement actually being original to Luke and not some later addition. Then lastly, if this is original to the early Jesus narratives, we must ask what it means for us today, who like the early Jesus followers, long for a radically new social order.
The following is from an article published in The Journal of Biblical Literature, 129 in 2010 entitled "A Disconcerting Prayer: On the Originality of Luke 23:34a" by Nathan Eubank; Duke University, Durham, NC 27708. (I'll put a link to the article in the endnotes.)[1]
The article puts forth that "external evidence" for the inclusion or exclusion of Jesus' prayer for his enemies "is far from conclusive." Evidence for both early versions of Luke (with Jesus' prayer and without) "are found in every text type, including important Alexandrian witnesses." An "important late second or early third century papyrus" gives us a version of Luke without this statement, "but a good number of second and third century church fathers" use of Luke reveal this statement actually does belong to early versions of Luke's gospel. The research goes on to say that "intrinsic probability suggests that the prayer belongs in the text of Luke: the prayer matches Luke's preferred way of addressing God; its structure resembles that of the Lukan Lord's Prayer; it resembles Stephen's prayer for his killers without having a single word in common; and the link between ignorance and mitigated culpability matches a motif running throughout Luke–Acts."
As far as the likelihood of copyists actually adding this statement or removing it, the evidence leans in the direction of the probability that early copyists removed the statement from some early copies of Luke rather than later copyists adding it to older copies. What is conclusive, however, is that this statement by Jesus in Luke was deeply problematic for early Christians.
This research shows that conclusions that suggest that the prayer was omitted for anti-Jewish reasons are "on the right track," yet adding that the "early Christian consternation with Luke 23:34a stemmed not from anti-Judaism alone but also from the fact that Jesus' prayer seemed to have gone unanswered, and from a sense that the Jews had been punished unjustly" (i.e., Jerusalem was destroyed in 70 C.E.). The early Christians "discomfort with the prayer explains why the external evidence for both readings is early and widespread; in all likelihood, Luke 23:34a was omitted fairly early, possibly by multiple scribes, while other scribes corrupted the text." Lastly, this research shows that the "confidence" that some feel that if this statement were original to Luke "that no scribe would have omitted something as sublime" as Jesus' prayer for the forgiveness of his enemies, instead reflects contemporary interpretations of the passage in question rather than in the context of "actual early Christian interpretations" of the passage in question. The theory that suggests "that early Christians inserted this prayer into Luke" as toward the Romans to "increase the guilt of the Jews by exonerating the Romans" rightly perceives the anti-Judaism during the time of the copying of these manuscripts, but it ignores a whole class of evidence that suggests that no early Christians understood the prayer to be on behalf of the soldiers, but rather as being for the Jews themselves. "If the goal of transcriptional probability is to determine what a scribe is most likely to have written, it would seem prudent to examine what the scribe's near contemporaries wrote about the passage in question."
The entire article is well worth your read. And as the research indicates, evidence is far from conclusive regarding one way or the other, yet given the contemporary interpretation of the passage during the era under question, the probability leans toward the validity of Jesus' prayer actually belonging to Luke's gospel. I want to be quick to add that the above article is not alone in this. Bart Ehrman, who is a self-professed agnostic atheist and textual critic, who has nothing to lose or to gain in either direction with this, also leans in the direction of concluding that early copyists would more likely have removed Jesus' prayer from Luke for anti-Jewish motives rather than, as some have put forth, that later copyists added the passage to excuse the Roman soldiers but increase the guilt of the Jews.
For those who are visually oriented, here are both views side by side.
| | |
| --- | --- |
| | |
| 1. Prayer believed to be for Jews | 1. Prayer assumed to be for Roman Soldiers |
| 2. Prayer matches theme of ignorance and mitigated culpability found throughout Luke and Acts | 2. Addition would have increased the guilt of the Jews and fed anti-Jewish sentiments |
| 3. Resemblance to Stephen's Prayer in Acts | 3. Always isolated as problematic in early harmonies of the last sayings of Jesus |
| 4. Similarity to Luke's "Lord's Prayer" | |
| 5. Matches Luke's favored way of addressing "God" | |
| 6. Contradictory to Early Anti-Jewish Sentiment | |
| 7. Problematic as Jerusalem was eventually destroyed | |
As I said at the beginning, last week we looked at the most intellectually problematic statement of Jesus on the cross within the gospels for readers of the story today. This week we are looking at a passage that was the most problematic for Jesus' followers at the close of the first century.
I would suggest that, on an ethical level, this statement is actually no less problematic for us today.
This is the case whether it's in the context of racial privilege between whites and non-whites, whether it's in the context of the extirpation of non-normative sexualities by those who are labeled as "straight," or whether it's in the context of wealthy (by global standards) capitalists in the West discussing what to do about groups such as ISIS; any time "enemy love" is brought into the discussion it becomes problematic for those who would seek to solve societies' struggles through "eye-for-an-eye," justifiably retributive means, rather than transforming the world through methods of transformation, restoration, and rehabilitation.
I want to be clear. Do I believe Jesus taught us to forgive our enemies? Absolutely. Forgiving one's enemies, though, is not a "do-nothing" approach. Forgiving one's enemies does not mean we ignore what our enemies are doing. Forgiving one's enemies doesn't mean we don't try and stop what they are doing. Forgiveness means we rise above what our enemies are doing to us; we see them not as evil, not as beyond redemption themselves, but as captives too, just like us, and as we strive to dismantle the system that is hurting us and others we see even those, at whose hands we suffer, as needing to be saved from the system too. In other words, we see our "enemies" as being captives, too, of a much larger, overarching problem from which both we and they need redemption.
Whether we have "enemies" within the context of race, gender, economics, or sexuality, Jesus offered nonviolent ways of confronting, discomforting (even shaming at times), and de-centering oppressors where even those at the helm of such systems of injustice are offered a better way. "Jesus did not advocate non-violence merely as a technique for outwitting the enemy, but as a just means of opposing the enemy in such a way as to hold open the possibility of the enemy's becoming just as well."[2] It's a means of liberating the world from oppression by liberating both the oppressed as well as oppressors from both of their enslavements to a much larger system of domination.
The following is from a more recent champion of social change rooted in confrontative, enemy love.
"I've seen too much hate to want to hate, myself, and I've seen hate on the faces of too many sheriffs, too many white citizens' councilors, and too many Klansmen of the South to want to hate, myself; and every time I see it, I say to myself, hate is too great a burden to bear. Somehow we must be able to stand up before our most bitter opponents and say: 'We shall match your capacity to inflict suffering by our capacity to endure suffering. We will meet your physical force with soul force. Do to us what you will and we will still love you. We cannot in all good conscience obey your unjust laws and abide by the unjust system, because non- cooperation with evil is as much a moral obligation as is cooperation with good, and so throw us in jail and we will still love you. Bomb our homes and threaten our children, and, as difficult as it is, we will still love you. Send your hooded perpetrators of violence into our communities at the midnight hour and drag us out on some wayside road and leave us half-dead as you beat us, and we will still love you. Send your propaganda agents around the country, and make it appear that we are not fit, culturally and otherwise, for integration, and we'll still love you. But be assured that we'll wear you down by our capacity to suffer, and one day we will win our freedom. We will not only win freedom for ourselves; we will so appeal to your heart and conscience that we will win you in the process, and our victory will be a double victory.'"[3]
Where does it begin? It's rooted in the beginning and difficult task of first forgiving those who have hurt us and learning to see them differently. It doesn't mean what they did was okay. It doesn't mean you are simply going to ignore what they have done or are presently doing. It simply means that we begin seeing that they need to be saved from what they are doing just as much as we do.
Is this approach problematic? Of course it is. Enemy love is always problematic for both sides. But I contend that enemy love as it was taught by Jesus, and Gandhi, and Dr. Martin Luther King, Jr. as well as others, is the only way to lasting change and a healed, restored world where only justice dwells.[4]
A new world is coming . . . a world of mutual love, mutual care, mutual inter-dependence, mutual honor, mutual submission, mutual dwelling where all our differences are valued and every person is recognized as "the image of God." The first step for many toward that new world is enemy love.
HeartGroup Application
1. Stephen's dying prayer in the book of Acts[5] is also a Lukan illustration of the kind of enemy love we are discussing this week. Step one in the wrong direction is to dehumanize our enemies as being beyond redemption. Step two is then to make us afraid of them as if they are monsters. Jesus' prayer, as well as Stephen's, counteracts these steps and helps us begin moving back in the direction of restoration, transformation, and hope. Evil, yes, should be confronted. And that confrontation must come in a form that holds out the hope of transformation for the evildoers themselves if we are not to simply become like them. There are two ways to fight monsters. One transforms them into our likeness. The other transforms us into theirs. This week I want you to take someone in your life that has hurt you. I do not want you to ignore what they have done. What I want you to do for the next seven days is to pray for their restoration, transformation, and rehabilitation. Don't pray for some divine being to get them. This is not a prayer for retribution. Some people can forgive because they believe that one day a divine being in the sky will strike their enemies for them.[6] That is not what this is. This is a prayer, like the one we find in Luke's gospel on the lips of Jesus, for the healing of those who have hurt us.7 Not vengeance, but rehabilitation.
2. Journal your thoughts and feelings as you do this exercise.
3. Share something you experience while doing this with your HeartGroup this upcoming week.
Till the only world that remains is a world where Love reigns. Many voices, one new world. I love each of you dearly, and I'll see you next week.
---
2 Walter Wink.
3 Dr. Martin Luther King Jr.; Ebenezer Baptist Church; Christmas Eve, 1967.
4 2 Peter 3:13—But, in accordance with his promise, we wait for new heavens and a new earth, where only justice dwells.
5 Acts 7:60—Then he knelt down and cried out in a loud voice, "Lord, do not hold this sin against them."
6 I would submit that this type of "forgiveness" is not genuine forgiveness at all but only reserved vengeance being administered by a much more severe third party.
7 The word translated "forgive" is much more than simply being let off the hook. It's aphiemi. It
intimates "healing" as well. Luke 4:39—Then he stood over her and rebuked the fever, and it left [apheimi] her. Immediately she got up and began to serve them.