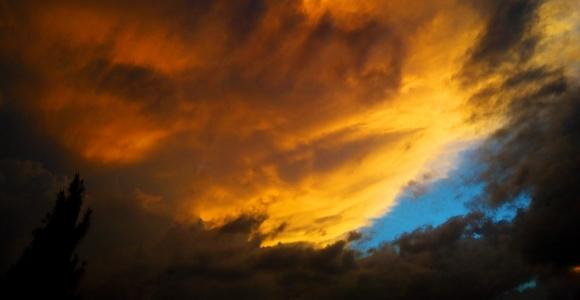 Herb Montgomery | February 11, 2022
(To listen to this week's eSight as a podcast episode click here.)
---
"But things never remain as they are. Change is the nature of reality. We can choose to bend the arc of the universe toward justice for everyone. That arc is going to bend one way or another. Either we will bend it to benefit a few at the expense of the diverse masses or, in the face of being spoken of as evil, we can continue shaping our world into a safe, compassionate, just home for everyone."
---
Our reading this week is from the gospel of Luke
He went down with them and stood on a level place. A large crowd of his disciples was there and a great number of people from all over Judea, from Jerusalem, and from the coastal region around Tyre and Sidon, who had come to hear him and to be healed of their diseases. Those troubled by impure spirits were cured, and the people all tried to touch him, because power was coming from him and healing them all.
Looking at his disciples, he said:
  "Blessed are you who are poor,
for yours is the kingdom of God.
Blessed are you who hunger now,
for you will be satisfied.
Blessed are you who weep now,
for you will laugh.
Blessed are you when people hate you,
when they exclude you and insult you
and reject your name as evil,
because of the Son of Man.
  "Rejoice in that day and leap for joy, because great is your reward in heaven. For that is how their ancestors treated the prophets.
 "But woe to you who are rich,
for you have already received your comfort.
  Woe to you who are well fed now,
for you will go hungry.
Woe to you who laugh now,
for you will mourn and weep.
  Woe to you when everyone speaks well of you,
for that is how their ancestors treated the false prophets. (Luke 6:17-26)
Even the most liberal Jesus scholars today accept that at least the first three sayings in our reading this week, and possibly some form of the fourth as well, were the words of the historical Jesus. These four blessings can be found in similar forms in both Matthew's beatitudes and the gospel of Thomas.
They lie at the heart of Luke's liberation message in Luke 4 (see Liberation for the Oppressed), and they single out four sectors of Jesus' society: those the present system makes poor, those the present system leaves hungry, those whom the present system causes to weep, and those the present system hates, excludes, insults, rejects, and labels as "evil" because of their calls for change.
Again, as we read that last blessing, just because you're being criticized doesn't necessarily mean you're on the right track, and being praised doesn't necessarily mean you are on the wrong path. It's important to take note of which parts of society are speaking negatively or speaking well of you. Let me explain.
This week's reading divides society into two sides: those an unjust system disenfranchises and harms, and those the present system benefits and privileges, enriches, makes well fed, and causes to laugh. So we have to ask which community is speaking well of us and which community is speaking negatively.
If the elite and privileged all speak well of you, then chances are this week's saying applies most directly to you. And if those the system harms speak well of you, but those the system benefits speak negatively of you because they see you as a threat to the status quo or represent change that threatens their privilege, then you could rejoice. As this week's saying states, that's how the prophets who called for justice were treated, too. You're not alone. In fact, you're standing in good company.
Again, it's not enough to be spoken well of or be spoken not so well of. We have to ask ourselves who, or which community, is doing the speaking.
I'll give a personal example. Many in my faith tradition used to speak extremely well of me. I was a guest speaker in high demand at various events and conferences across the United States. All of that changed when I came out as affirming of the LGBTQ community. When I called for inclusion and justice for LGBTQ people of faith, and began drawing attention to the tradition's exclusive practices and mischaracterizations of LGBTQ people, I became anathema.
Today, I still have much in common with those in that tradition who call for racial justice or greater inclusion of and justice for women. Yet they do not welcome me in their organizations because I don't hide the fact that, in addition to those passions for justice, I also affirm LGBTQ folks. I've been told I take Jesus' justice for the excluded "too far," farther than many progressives in that community are comfortable with.
But in this week's reading, Jesus predicted a great reversal. Jesus is stating that those the present system harms will experience that harm reversed in the reign of God, God's just future. And while that is good news for them, those who benefit from the present system would not perceive it as good. For these people, this blessing would be seen as a message of damnation: it would change the system that privileged them.
In our society, some, such as people in Appalachia, are still holding on to the hope that coal will somehow make a comeback in our economy. A Green New Deal is good news for those who recognize the environmental changes that need to take place and the benefit to workers who will be retrained in new fields of labor, but to those who financially benefit from the coal industry, the Green New Deal is the enemy.
Then there are those who are working for a safe, robust, diverse, multiracial, multicultural, pluralistic democracy, all while their efforts are mischaracterized as anti-White and destroying the fabric of America. For those benefiting from a system rooted in White supremacy, those working toward a multiracial democracy are the enemy. Terms like "socialist" or "socialism" are used to scare those harmed in the present and prevent them from voting in their own best interest or for changes that would close the wealth gap and be good for everyone.
These ancient words in our story still have a very contemporary application.
Whenever we find people calling for change now, we will see the same dynamics as we see in our passage. What some perceive as a blessing, others will perceive as a curse. I'm reminded of something the late Peter J. Gomes wrote.
"When the gospel says, 'The last will be first, and the first will be last,' despite the fact that it is counterintuitive to our cultural presuppositions, it is invariably good news to those who are last, and at least problematic news to those who see themselves as first. This problem of perception is at the heart of a serious hearing of what Jesus has to say, and most people are smart enough to recognize that their immediate self-interest is served not so much by Jesus and his teaching as by the church and its preaching. Thus, it is no accident that although Jesus came preaching a disturbing and redistributive gospel, we do not preach what Jesus preached. Instead, we preach Jesus." (The Scandalous Gospel of Jesus, p. 42).
Just ten pages earlier in the same volume, Gomes wrote,
"When Jesus came preaching, it was to proclaim the end of things as they are and the breaking in of things that are to be: the status quo is not to be criticized; it is to be destroyed . . . Most people do not go to church to be confronted with the gap between what they believe and practice and what their faith teaches and requires. One of the reasons that religious people are often cultural conservatives, and that cultural conservatives take comfort in religion, is that religion is seen to confirm the status quo." (The Scandalous Gospel of Jesus, pg. 31-32)
What would it look like if we as Jesus followers leaned into the difference Gomes speaks about here? What if we spent less energy this year preaching Jesus and more effort speaking about the things Jesus actually taught?
If we did, some would see it as a blessing, as steps in the direction of positive change. I'm quite sure others would feel threatened and want things to remain just the way they are.
But things never remain as they are. Change is the nature of reality. We can choose to bend the arc of the universe toward justice for everyone. That arc is going to bend one way or another. Either we will bend it to benefit a few at the expense of the diverse masses or, in the face of being spoken of as evil, we can continue shaping our world into a safe, compassionate, just home for everyone.
HeartGroup Application
1. Share something that spoke to you from this week's eSight/Podcast episode with your HeartGroup.
2. If the above blessing and cursing were rewritten in our society, today, who would be the recipients of each? Discuss with your group.
3.  What can you do this week, big or small, to continue setting in motion the work of shaping our world into a safe, compassionate, just home for everyone?
Thanks for checking in with us, today.
Right where you are, keep living in love, choosing compassion, taking action, and working toward justice.
I love each of you dearly,
I'll see you next week
---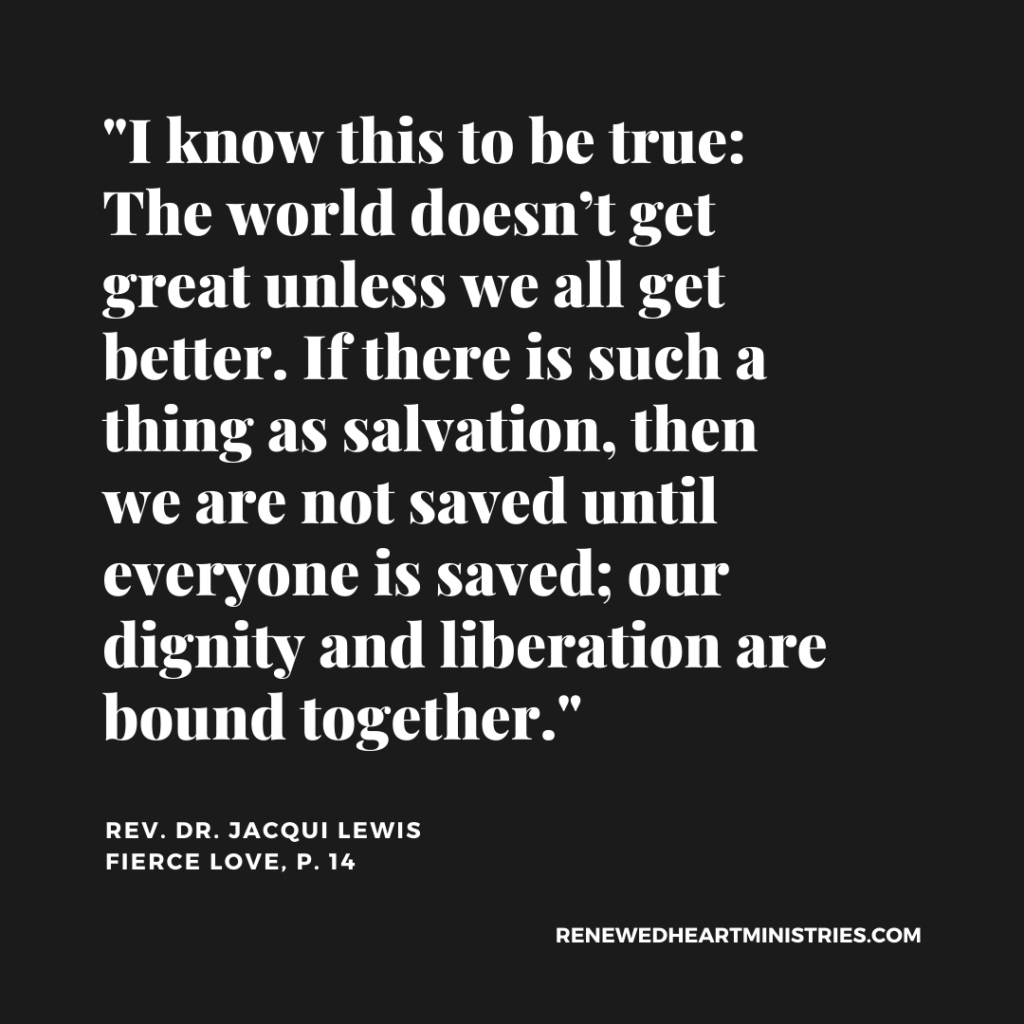 ---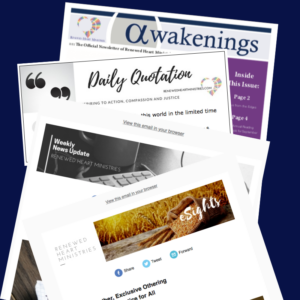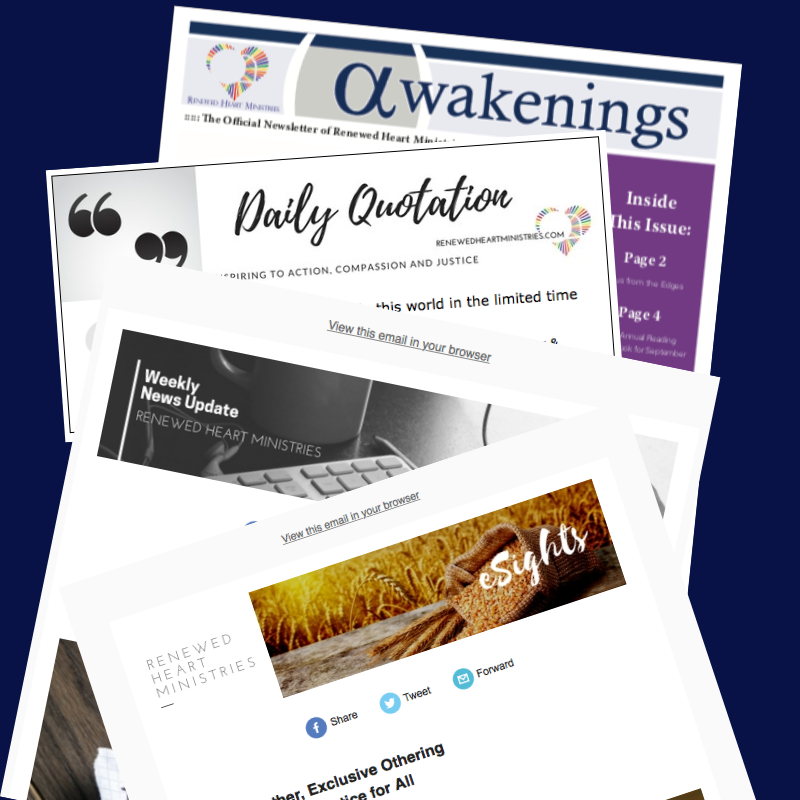 Begin each day being inspired toward love, compassion, action, and justice.
Go to renewedheartministries.com and click "sign up."
Free Sign-Up at:
https://renewedheartministries.com/Contact-forms?form=EmailSignUp