Equality, Equity and Jesus' Preferential Option for the Marginalized
by Herb Montgomery | January 17, 2020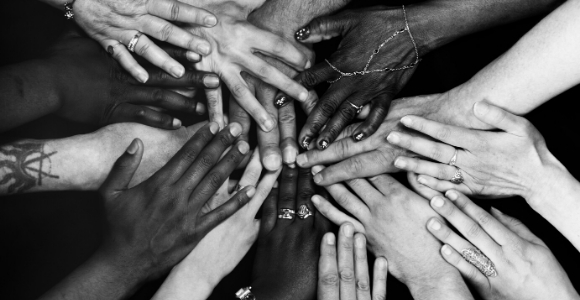 ---
"Some may cry unfair when others receive more, yet if this 'more than' is based on what they need is more than what others may need to thrive, then fairness takes on a more wholistic, less shallow definition."
---
"Looking at his disciples, he said: 'Blessed are you who are poor, for yours is the kingdom of God.'" (Luke 6:22)
This passage in Luke's gospel marks the beginning of what many refer to as Jesus' sermon on the plain. When we compare Luke's version of this sermon to Matthew's sermon on the mount, what begins to take shape is that Jesus' gospel was not good news for everyone. In Luke, Jesus uttered blessings on some and woes on others.
Those he spoke blessings to were the marginalized, exploited or oppressed of Jesus' society. Those he spoke woes to were those in his society who were in positions of privilege and power.
The Poor,
The Hungry,
The Weepers,
The Hated, Excluded, and Insulted,
versus
The Rich,
The Well-Fed,
The Laughers,
The Spoken Well Of.
Some in Jesus' own society believed that the rich, the well-fed, and those whose lives were filled with laughter had been blessed by God, while those who were poor, hungry, and mourning were being punished by God. In that worldview, they were sinners, not less fortunate and in need of compassion and justice, but rather as morally inferior.
Jesus turned that order of economics, politics, society and even religious exclusion on its head! He challenged people's preconceived interpretations of God and what fidelity to God looked like. God was actually on the side of those whom society was pushing to the edges and undersides. God was with those who were poor, hungry, heartbroken, hated, excluded, and insulted, and the "kingdom" belonged to them.
But to those who were privileged in an unjust social and economic structure, Jesus spoke woes.
These woes pronounced future sorrow or distress. Jesus spoke to the people of loss, for equity and equality will always feel like threat, loss, or distress to those who have everything to lose within a more just society. They do not understand change as the good news of liberation but as something being taken away from them. Today, some have more than they could ever possibly need. For the wealthiest among us, being less wealthy won't really affect their daily lives. But someone whose net worth is hundreds of millions of dollars may still feel losing a million of it so that others can eat is still a loss. Is supporting our interconnectedness worth more than our bottom line or net worth?
Jesus began standing in the shadow of the cross as soon as he began to teach this gospel of blessings and woes. Those he blessed were the opposite of those the elites blessed, and those he warned were the opposite of those the powerful thought deserved woes. Jesus called his listeners to look at their society and those within their society in the opposite way they had been taught to.
Nothing destroys one's empathy for others more completely than seeing them as "less than." Jesus challenged his listeners' most cherished assumptions about others. This different lens would cause deep upheaval for people, economically, politically, socially, and even religiously. The vision for human society that Jesus was seeking to inspire would require a paradigm shift after paradigm shift. It would not be a time of blessing for some of them, and they would face deep questioning and change as things turned on their head.
I'm reminded of the words of the late Rev. Peter Gomes:
"It is interesting to note that those who most frequently call for fair play are those who are advantaged by the play as it currently is and that only when that position of privilege is endangered are they likely to benefit from the change required to "play by the rules." What if the "rules" are inherently unfair or simply wrong, or a greater good is to be accomplished by changing them? When the gospel says, "The last will be first, and the first will be last," despite the fact that it is counterintuitive to our cultural presuppositions, it is invariably good news to those who are last, and at least problematic news to those who see themselves as first." (The Scandalous Gospel of Jesus, p. 42)
Equity threatens those who spend their energy striving to have more than others. But it is good news to those who work for a just, compassionate, safe world for everyone. A world becoming more equitable will bless some and be felt as a woe by others.
I want to add a word of clarification:
In both Matthew's and Luke's gospels, Jesus speaks these words:
"[God] causes the sun to rise on the evil and the good, and sends rain on the righteous and the unrighteous." (Matthew 5:45)
"[God] is kind to the ungrateful and wicked." (Luke 6:35)
In Jesus' theology, God loves all equally and gives to all the things they need to thrive. We as humans have designed ways for more of these resources to get to some people to the detriment of others. So why in Jesus' gospel are some blessed, while others receive woes? Why, unlike the rain and sunshine, is the blessing of kingdom pronounced upon certain ones while woes are the only thing promised to others?
A more current conversation of the differences between equity and equality can help us here. (Everyday Feminism had a good article on these differences back in 2014 at https://everydayfeminism.com/2014/09/equality-is-not-enough/)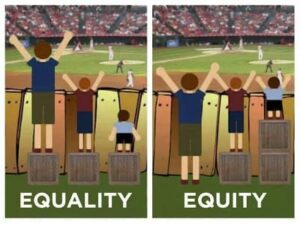 Equality is often understood as everyone getting exactly the same. But because everyone has a different social, economic, or political starting point, simply giving everyone the same thing would not necessarily create the goal of everyone having enough to thrive. Some would still have more than they need, while others would not. When everyone is different, fairness and success also differ. The image to the right illustrates these points. Equity means making sure each person has enough to thrive, and that may look different for different people.
Some may cry unfair when others receive more, yet if this "more than" is based on what they need is more than what others may need to thrive, then fairness takes on a more wholistic, less shallow definition.
In liberation theology, scholars refer to the deference given to those on the margins as a "preferential option for the oppressed." It is a choice to center those who are pushed to the edges and undersides of our society, and to place these people and their communities on equal ground with others. The preferential option is required to bring about equality.
In our small group discussions at Renewed Heart Ministries, we often say that whenever we speak of oppression or marginalization, those who are the most affected or most vulnerable are those who get to share their experiences. To the degree that others are less affected by such personal and systemic injustices, they can listen in solidarity. When it comes to discussions on gender inequity, for example, men, especially cisgender men, take a posture of listening. When it comes to racial inequity, those who are White listen to those who are not White. In discussions on immigration justice here in the U.S., those who are documented citizens listen. In discussions of Indigenous people's lives and equitable treatment, non-Indigenous people listen; and when we speak of LGBTQ justice, those who identify as straight, cisgender, or gender normative listen.
Those most negatively impacted by societal injustice receive the "blessing," while others in our present society, it could be said, "have already received" theirs (see Luke 6:24).
Go back now and reread the entirety of Luke's sermon on the plain by Jesus and see if you don't begin to get a feel for what Jesus in this story is doing:
"Looking at his disciples, he said:
'Blessed are you who are poor,
for yours is the kingdom of God.
Blessed are you who hunger now,
for you will be satisfied.
Blessed are you who weep now,
for you will laugh.
Blessed are you when people hate you,
when they exclude you and insult you
and reject your name as evil,
because of the Son of Man.
Rejoice in that day and leap for joy, because great is your reward in heaven. For that is how their ancestors treated the prophets.
But woe to you who are rich,
for you have already received your comfort.
Woe to you who are well fed now,
for you will go hungry.
Woe to you who laugh now,
for you will mourn and weep.
Woe to you when everyone speaks well of you,
for that is how their ancestors treated the false prophets.'"
(Luke 6:20-26)
Equity doesn't have to feel like inequality if we choose to see our differences and how these differences are treated. Equality doesn't have to feel like oppression even if you are used to privilege. We are all in this together. What lessens one, lessens us all. We are connected to one another. As the adage goes, equality doesn't mean less for you: it's not pie. Whether we choose to view it that way or not, is another discussion.
HeartGroup Application
1. Thoughtfully read through Matthew 5.1-11 and Luke 6.17-26. Share with your group anything the engages your attention.
2. Discuss whom these words would be directed toward in our social context today.
3. Share at least one community you would like your group to focus on working alongside with for greater system equity in our larger society.
Thanks for checking in with us this week.
Right where you are, choose love, compassion, take action.
Another world is possible if we choose it.
I love each of you dearly,
I'll see you next week.