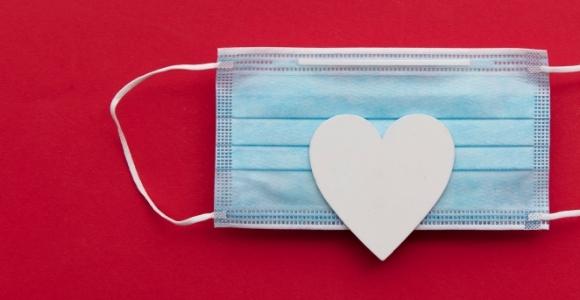 Herb Montgomery | January 14, 2022
---
"Instead of arguing whether we should mandate vaccinations for the sake of the common good and for those who are vulnerable among us, as Jesus followers we already have a mandate in place: love your neighbor as yourself. This mandate requires us to act not only for our own best interests but also for the best interests of others."
---
Our reading this week is from the gospel of John:
On the third day there was a wedding in Cana of Galilee, and the mother of Jesus was there. Jesus and his disciples had also been invited to the wedding. When the wine gave out, the mother of Jesus said to him, "They have no wine." And Jesus said to her, "Woman, what concern is that to you and to me? My hour has not yet come." His mother said to the servants, "Do whatever he tells you." Now standing there were six stone water jars for the Jewish rites of purification, each holding twenty or thirty gallons. Jesus said to them, "Fill the jars with water." And they filled them up to the brim. He said to them, "Now draw some out, and take it to the chief steward." So they took it. When the steward tasted the water that had become wine, and did not know where it came from (though the servants who had drawn the water knew), the steward called the bridegroom and said to him, "Everyone serves the good wine first, and then the inferior wine after the guests have become drunk. But you have kept the good wine until now." Jesus did this, the first of his signs, in Cana of Galilee, and revealed his glory; and his disciples believed in him. (John 2:1-11)
This story has received a lot of attention from Christians over the centuries. Whatever we take from this story, we must remember that it only appears in the last canonical gospel to be written and it was written when the Christian movement was becoming deeply anti-Jewish and trying to distance itself from Judaism in the eyes of the Roman Empire. Christians have used this story to contrast the jars used for "Jewish rites of purification" with Jesus' "best wine" as if to say that Jesus' teachings, though deeply Jewish, were at the same time superior to other Jewish wisdom and knowledge. We don't have to disparage any other religion, especially not Judaism, to value the Jesus story. Antisemitic interpretations have historically been at the root of much of the harm Christians have committed against Jewish people. We can and must do better.
This story has also been at the center of teetotaler debates: there are arguments to this day about whether the wine Jesus made in this story was grape juice or alcoholic. These debates are silly to me.
The original audience would have understood that this story established Jesus as a great miracle worker. What can we take away from this story today?
One thing I like about this story is that only a few people were in the know about this miracle: Jesus, Mary, the servants, and the disciples. The wealthy wedding party hosts were oblivious to what Jesus was up to, and this speaks to me of the reality that not everyone experiences life the same way.
Recently, Senator Harry Reid died. Reid grew up in a family in Nevada that fought daily to survive deep poverty, and he carried his experiences with classism into his politics, adult life, and career. So few Congresspeople today have any experience with poverty in the United States and it shows in the decision they make in Congress.
But our story this week gives a nod to the lower social classes for whom the gospel of John was written. Jesus came to be for them. In other gospels, Jesus explains that the reign of God was God's just future for the poor, outcast, marginalized, and excluded (see Luke 6:22-24, cf. Matthew 5).
And also in this story, Jesus' mother, Mary, is centered. A woman in that society is the one really responsible for this miracle from the reluctant Jesus. Mary persuaded Jesus to do what John's gospel treats as Jesus' inaugural miracle. With Mary's trust in Jesus, this version of the Jesus story really begins.
Mary's words to the servants are at the heart of her role in this narrative: "Do whatever he tells you." I imagine the original audience would have heard this clearly. For us today, following Jesus is much less about the creeds and much more about the ethics we choose to live our lives by. Are we endeavoring to do what Jesus told us? Are we, too, expending our energy to make our world a safer, more compassionate, just home for those our present system makes poor, outcast, marginalized or excluded?
Consider these ancient words found in the epistle of James:
"What good is it, my siblings, if you say you have faith but do not have works? Can faith save you? If a person is naked and lacks daily food, and one of you says to them, 'Go in peace; keep warm and eat your fill,' and yet you do nothing to supply their bodily needs, what is the good of that? So faith by itself, if it has no works, is dead. But someone will say, 'You have faith and I have works.' Show me your faith apart from your works, and I by my works will show you my faith. (James 2:14-18, italics added for emphasis.)
We will find this emphasis more subtly spoken later in John's gospel:
"By this everyone will know that you are my disciples, if you have love for one another." (John 13:35)
What designates one as a follower of Jesus is not the creeds we mentally assent to, but the kind of life we choose to live, the kind of values we seek to embody, the kind of ethics we endeavor to practice.
What we believe does translate into actions, but the emphasis in these teachings is always on which actions our beliefs give birth to.
Christianity's sacred texts repeat this principle of "doing" and having our doing being defined by love. One of my favorite passages is in Romans 13:10:
"Love does no harm to one's neighbor."
This principle is one of the greatest areas of misunderstanding today. Our actions can and do protect us. But they also have implications for others. Like others living lives of compassion, Jesus followers should be choosing a course of action that takes into account the potential for harming others. This is love. Love takes yourself into account, yes, and it also takes into account the wellbeing and safety of those around you.
What does this mean for a Jesus follower in a global pandemic?
It means, if you can get vaccinated, get vaccinated. If you can wear a mask, wear a mask. Concern yourself with your neighbors who may be immunocompromised. At different stages of the pandemic certain communities have been more heavily impacted than others. Concern yourself with those who are particularly affected. Globally, vaccine disparity means that countries ravaged by colonialism are vulnerable to severe outbreaks.
Instead of arguing whether we should mandate vaccinations for the sake of the common good and for those who are vulnerable among us, as Jesus followers we already have a mandate in place: love your neighbor as yourself. This mandate requires us to act not only for our own best interests but also for the best interests of others.
We live in a system that is putting vulnerable people in harms way. What can we do while we are working to change that system? We can take every step to mitigate harms we may cause others. Others might take advantage of our efforts, but that is not our chief concern. Our priority needs to be doing everything we can to protect those our present system makes vulnerable.
In this week's story, Mary says simply: "Whatever he tells you to do, do it."
Those words have echoed from within this story over the centuries for every generation of Jesus followers. Jesus has told us to love. As this new year begins, take inventory of your life. Today, how is the Jesus of this story telling you to love?
HeartGroup Application
1. Share something that spoke to you from this week's eSight/Podcast episode with your HeartGroup.
2. How is the Jesus of this story telling you to love in 2022? Discuss with your group.
3.  What can you do this week, big or small, to continue setting in motion the work of shaping our world into a safe, compassionate, just home for everyone?
Thanks for checking in with us, today.
Right where you are, keep living in love, choosing compassion, taking action, and working toward justice.
I love each of you dearly,
I'll see you next week
---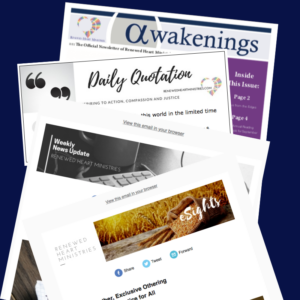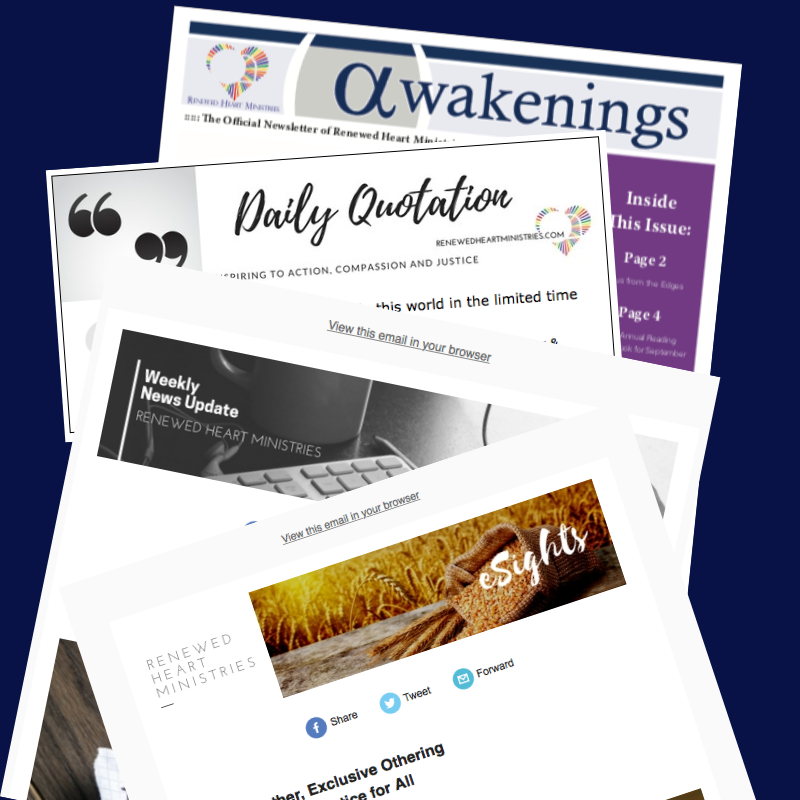 Begin each day being inspired toward love, compassion, action, and justice.
Go to renewedheartministries.com and click "sign up."
Free Sign-Up at:
https://renewedheartministries.com/Contact-forms?form=EmailSignUp