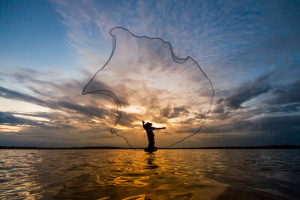 by Herb Montgomery
And Jesus said to them, "Follow me and I will make you fish for people.—Jesus (Mark 1.17)
The Downward Social Mobility of Following Jesus
I've chosen to begin this new year with a fresh contemplation of the Jesus story, specifically Mark's version. And what has jumped right off the page for me right here in the beginning is the social cost for the two brothers Simon and Andrew and the two brothers James and John in their choice to accept Jesus' offer of following him. It was typical for itinerant teachers within this culture to be sought out by would-be disciples. Yet in the Jesus story, this cultural norm is turned on its head and the teacher seeks out and chooses his disciples instead.[1]
What we find in this though is counterintuitive. Jesus does not seek out the rich to be his disciples, nor does he seek out the poor. Those whom Jesus seeks out are the very ones in motion. They are the ones who are in movement, engaged in social mobility away from those who would be classified as the poor toward those who would be classified as the rich. Both of these sets of brothers are busy at work in a family fishing business. Few people in Galilee were rich; most were relatively poor. Fishermen tended to fall somewhere in the middle (although these types of distinctions were somewhat fuzzier in Galilee). Yet these were not poor men at all as the family business run by their father was doing well enough to also have "hired help." This family business was providing income for others, not simply their own family.[2]
These were thriving family businesses where the families involved were, by the mere economic success of their business, moving from one social level to a higher one. Jesus comes to them, in the midst of their success, and asks them to walk away from it all.
The Historically Upward Social Mobility of Christianity
The reason this caught my attention is that too often groups associated with Jesus and the Jesus story are vehicles for upward social mobility rather than downward. I'll explain. I was born here in economically challenged Appalachia. I grew up with parents, no longer married, who belonged to two very different social classes here. I was being raised by the poorer of the two.
I know firsthand the feelings of looking at social classes above you and longing for means of upward social mobility. I know what it feels like to want to move up the social ladder.
I also was raised within a Christian tradition that here in Appalachia provided that very means of upward social mobility for many. Within two generations, I have watched my family go from uneducated, blue collar workers, to a white collar world and the possession of PhDs—all because of the benefit of being connected to "the church." And it's not simply my family either. I've witnessed it in other families here in Appalachia where grandpa was an uneducated farmer whose grandkids are well on their way to becoming high paid doctors and lawyers.
What Difference Does It Make?
I'm not attaching moral value to either social direction, but simply drawing attention to the contrast of social mobility directions between the Jesus story and my own experience and observations.
There is a danger though. There is a danger that we will excuse the religious disfunction of our "spiritual" community because our personal lives are economically and socially being improved. In other words, we will resist critiquing our religious community because we feel our lives have been benefited by belonging to that community. We will overlook things such as pragmatic racism, gender exclusion, economic bias, educational favoritism, or queer erasure because we mistakenly think our lives have been improved by being a part of something simply because we ourselves have experienced some level of upward social mobility within a system, the very validity of which following Jesus should cause us to question instead.
One example of economic bias and educational favoritism that I have always been puzzled by since I first noticed it, is that typically, with few exceptions, within many of the churches I visit, there is an unspoken hierarchy between the offices of deacon and elder. Deacons typically are composed of the lesser educated, blue collar workers, while being an elder is an office for those with higher educational as well as economic status. This is alarming to me. Something doesn't feel right. Not just about the hierarchical nature of the structure, but how that hierarchy is expressed as well.
One has to question first off whether upward social mobility is always a blessing. If it is always a good, then why do we find Jesus calling his disciples to abandon this very thing to move in the opposite direction downward in following him?
Christianity was not always like this. Before Constantine and the making of Christianity into the official religion of the empire, Christianity was a movement among the lower classes of society. They were often (but not always) persecuted by those in power. And to become a Christian, for most within the first three hundred years of the Jesus movement, was a clearly defined decision to embrace a downward social mobility. You were letting go of something socially and economically to follow Jesus during this time, not gaining more. The Constantinian shift changed all of this.
Today we are in danger of drinking the Kool-Aid of white, male-dominated, colonial, imperial, Christianity rooted in a theology defined by those at the top of our social pyramids. Jesus, instead, is offering us the opportunity of drinking the "living water" of critiquing these pyramids themselves.[3]
Jesus did not come offering his disciples a means of upward social mobility from disadvantaged to privileged within the current structure. Jesus came announcing the beginning of an entirely different world where the present structure of privilege and advantage are dismantled, where all injustice, oppression, and violence is put right, a world marked by equity and justice for those oppressed by the current structure.[4]
And this new world began with Jesus interrupting twelve men in their endeavors to climb their respective social and economic ladders and inviting them to rethink everything, to abandon the structuring of the world as they knew it, to embrace a cross rather than a throne, and to follow him.
They would not gain the world they were hoping for, they would lose it. For them, following Jesus would not mean upward social mobility, but a downward one.
It would change everything for these twelve.
And it should be the same for us as well.
Follow Jesus, he'll ruin your life.[5] Yet it's a life worth ruining for the sake of others. It's a life worth throwing away for, as some have labelled it, a life of "holy mischief." There are greater things to live for than mere upward social mobility within the present structures. Following Jesus today doesn't mean to simply offer upward mobility to those who are presently being held down within the system. Following Jesus means to abandon the entire social structure itself that privileges some at the cost of disadvantaging and subordinating others.  For those of us who are privileged in the present system at the cost of those less privileged, this will mean downward social mobility to an egalitarian new world.  And each of us who are presently in the process of moving even further upwards are going to have to answer for ourselves whether or not we will accept that ancient invitation: "Follow me."
HeartGroup Application
Spend some time this week contemplating what downward social mobility for the sake of others, the Jesus narrative might inspire in you this new year as 2015 begins.
Write down what you discover.
Share with your HeartGroup this upcoming week.
Till the only world that remains is a world where Love reigns, keep living in love and loving like Jesus.
I love each of you & I'll see you next week.
1.  John 15:16—You did not choose me but I chose you. And I appointed you to go and bear fruit, fruit that will last, so that the Father will give you whatever you ask him in my name.
2.  Mark 1:20—Immediately he called them; and they left their father Zebedee in the boat with the hired men, and followed him.
3.  John 4:10—Jesus answered her, "If you knew the gift of God, and who it is that is saying to you, 'Give me a drink,' you would have asked him, and he would have given you living water."
4.  Learn to do good; seek justice, rescue the oppressed, defend the orphan, plead for the widow. (Is. 1:17)
But let justice roll down like waters, and righteousness like an everflowing stream. (Amos 5:24)
A bruised reed he will not break, and a dimly burning wick he will not quench; he will faithfully bring forth justice. He will not grow faint or be crushed until he has established justice in the earth; and the coastlands wait for his teaching. (Is. 42:3–4)
He will not break a bruised reed or quench a smoldering wick until he brings justice to victory. (Matt. 12:20)
Justice is understood as fairness, correct treatment, or equitable distribution of resources. The Hebrew prophets (including Jesus) speak of justice as a chief attribute of their God. The Hebrew people were given ethical instructions (to the degree that they could comprehend in expanding stages, which also need to be expanded even more inclusively today) about their treatment of widows, orphans, and strangers; the practice of justice was tied to their mission.
The Hebrew tradition is alive with examples of men and women who brought justice to situations of oppression and injustice. From Deborah, the prophet and judge who administered justice, to the 8th-century prophets who called Israel and Judah to act justly toward the poor and oppressed, to Jesus who demonstrated the centrality of justice through his words and actions.
In the Hebrew tradition, justice is the undoing of situations of oppression or injustice. Justice is rooted in the prophets' descriptions of their God's character (Isa. 5:16), which Jesus too made central to his teachings and healing ministry. A central concept for the prophets was that the justice of a community is measured by their treatment of the oppressed (Isa. 1:16–17; 3:15). The prophets continually issued a strong call for the covenant community to recognize their God as the God of justice and to repent of their injustice. Their primary message can be summarized in the words of Mic. 6:8: "What does the Lord require of you but to do justice, and to love kindness, and to walk humbly with your God?"
If one goes all the way back to ancient Hebrew lore, their Jubilee tradition in Lev. 25 reflected their God's demands for justice in the midst of an unjust society. Intended to be observed every 50 years, the Jubilee provided for land to lie fallow (ecological justice) and indentured servants to be set free every seven years (social justice). During the Jubilee Year, debts would be forgiven and lands sold because of indebtedness would be returned to the original owners (economic justice). For agrarian societies like Israel, return of land and forgiveness of debts amounted to economic restructuring of society. Undergirding the Jubilee Year is the principle of redress that corrects past wrongs to approximate equality and restores the human community to wholeness. [We have no record of this even once being practiced but that it was part of their ancient stories is interesting to say the least.]
(Gleaned from B. C. Birch, Let Justice Roll Down; S. C. Mott, Biblical Ethics and Social Change; D. N. Freedman, Eerdmans Dictionary of the Bible)
5.  I've used this phrase for the past four years and my intention is that for most of us, we belong to either a middle or upper class. Following Jesus, for us, is not going to move us further up the pyramid of privilege, but be characterized by throwing all of that away. It was the oppressed who would be "blessed" by Jesus' new world. For those presently benefited by the present structure the new world that had arrived in Jesus would be problematic, to say the least. (See Luke 6:20–26)