Herb Montgomery | January 4, 2019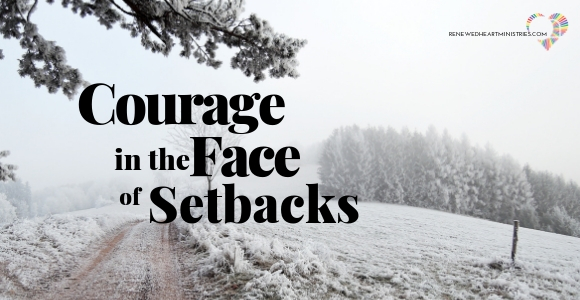 ---
"Something for us shifted because of this meeting. As the Rev. Dr. Emilie Townes so eloquently states in Journey to Liberation, 'When you start with an understanding that God loves everyone, justice isn't very far behind.'"
---
"After John was put in prison, Jesus went into Galilee, proclaiming the good news of God. 'The time has come,' he said. 'The kingdom of God has come near. Repent and believe the good news!'" (Mark 1:14)
I'm sit here this morning, after the holidays, contemplating the future of Renewed Heart Ministries. This year will be our twelfth year: Renewed Heart Ministries has been sharing the message of love and inclusion for over a decade.
But four and a half years ago, something changed. We were introduced to a precious community of people who are the objects of God's love and who most deeply face marginalization on a daily basis. Something for us shifted because of this meeting. As the Rev. Dr. Emilie Townes so eloquently states in Journey to Liberation, "When you start with an understanding that God loves everyone, justice isn't very far behind."
In 2014, Renewed Heart Ministries started to become a welcoming and affirming ministry. We have become more intentional and passionate about the intersection of the teachings of Jesus in the gospels and our work today of increasing the love, compassion, action, and justice in society. This has been a time of rebirth and rebuilding here at RHM, and we believe we're a much healthier ministry with a much healthier focus, as a result.
Yet these changes have not been without deep loss, both of former friends and of support.
This is why this week's text spoke to me this morning.
"After John was put in prison, Jesus went into Galilee, proclaiming the good news of God . . . " (Mark 1:14)
John was Jesus' mentor. He had refused to follow in his father's footsteps and be a priest of the Temple state. Possible reasons could have been the Temple state's exploitation of the poor and it's complicity with Rome as means of survival. John had chosen instead another very Jewish option. He chose to stand in the stream of actions found among the Hebrew prophets, the habitat of the wilderness, speaking truth to power.
For every action there is a reaction. And power typically responds to those who seek to name injustice. The reaction of Herod to John's outspoken critiques and call for change was initially to have him arrested. Herod expected the arrest to silence John. Those who have read the story know that John is eventually executed. At this point in the story, though, he is simply arrested. He is silenced by being forcefully removed from the masses.
Acts like these by those in power are purposed to intimidate others and discourage them from pursuing similar courses. They are acts of terror at worst, and acts of warning at best.
John's imprisonment by the political leader Herod had to have affected Jesus. It was a significant setback, and possibly also a warning. Jesus was setting out on a course for which John had cleared the way or blazed a path. In the words of Isaiah, John had been
"A voice of one calling: 'In the wilderness prepare the way for the LORD; make straight in the desert a highway for our God.'" (Isaiah 40:3)
Would Jesus turn back? Would Jesus abandon his solidarity with the marginalized sectors of his society? Or would he renew his purpose in the face of John's imprisonment?
For me, what Jesus did next shows his courage. Jesus chooses to stand in solidarity with the vulnerable and marginalized of his society in the face of deeply troubling, political consequences. John had just been imprisoned, and it's immediately afterwards that Jesus chooses to stand before the masses and resolutely say,
"Blessed are the poor in spirit, for theirs is the kingdom of heaven.
Blessed are the meek, for they will inherit the earth.
Blessed are those who hunger and thirst for righteousness, for they will be filled.
Blessed are the merciful, for they will be shown mercy.
Blessed are the pure in heart, for they will see God.
Blessed are the peacemakers, for they will be called children of God.
Blessed are those who are persecuted because of righteousness, for theirs is the kingdom of heaven.
Blessed are you when people insult you, persecute you, and falsely say all kinds of evil against you . . .
You are the salt of the earth . . .
You are the light of the world."
(Matthew 5:3-14)
Jesus is choosing the community of those whose "spirit" has been broken by systems of injustice. I think of those today who no longer have the spirit to keep fighting for a just world, those who have lost faith that another world is possible.
Jesus chose those who mourn because of the present structure. I think of parents like those of Trayvon Martin, or more recently, 8 year old Felipe Gomez Alonzo and 7 year old Jakelin Caal Maquin, whose hearts have been broken by deep loss caused by our society's systemic injustice. This is loss so deep it seems at times that it can never be repaired.
Jesus chose the "meek," those this world typically walks all over. He chose the community of the ones hungering and thirsting for righteousness—the Hebraic idea of a societal, distributive justice, an end of violence, and an end to oppression.
He also affirms the community of the merciful. I think of those who see immigrants seeking asylum and welcome them rather than coldly stating that they deserve harsh treatment.
He names the pure in heart. In our time, I think of those who refuse to be shaped by capitalism's priorities of profit over people. And he names peacemakers, not peacekeepers: those who are willing to disturb the peace to work for a distributive justice that will give birth to genuine peace, where everyone has enough, and no one has too much while others go without.
Finally, Jesus (I wonder if he was thinking of John at this moment) mentions those persecuted for the cause of justice: those who speak truth to power, who name bigotry, exclusion, marginalization, exploitation, and oppression and experience deep loss as a result of their outspokenness. He mentions those who are insulted by the privileged and who are falsely labeled as dangerous, evil, and heretical, or "too radical."
Yet it is this community of the poor, oppressed, marginalized, abused and mourning that Jesus names the salt of the earth and the light of the world. In learning to listen to those who experience is different from our own, those who are the most vulnerable to a variety of injustices that we begin to see [i.e. "light of the world"]. It is in learning to listen to the stories and the voices of communities who daily face oppression that we encounter the choice to change and the possibility of our social life, our life together as a human family, being preserved [i.e. "salt of the earth"].
I cannot help but think that Jesus might have also been afraid to stand in solidarity with those this world makes last. Would he also be arrested like John? Could choosing and modeling a preferential option for those society makes last, in one degree or another, even cost him his life?
We all know how the Jesus story ended. At the beginning of the Jesus story, though, it was still being played out.
This year, it means everything to me that, as he pondered his future if he, like John, continued to walk alongside and advocate for the oppressed, Jesus chose to keep believing that another world was possible. Jesus chose to keep working toward a world where those are presently made "last" would then be prioritized as those presently favored as "first" (See Matthew 20:8-16).
Lastly, this contemplation of John and Jesus, also makes me think of where Renewed Heart Ministries is today and what the future may hold for us. Has Renewed Heart Ministries faced setbacks as a result of our choice to stand alongside those being marginalized? In one sense, yes.
But in another very real sense, we are in a better place today than we have ever been. Never before has the Jesus story so deeply resonated with us. I'm thankful for those who have taken the time and invested their energy to open our eyes. And I'm thankful for those who follow us who were willing to have their eyes opened, too, alongside us.
Like Jesus, we choose to work for a world where those presently made last are treated the same as those presently prioritized as first. Today, there are so many forms of "being made last." But our differences—race, gender, education, religion, sexual orientation, gender identity or expression, class, ability, etc.—don't make us less than another. Humanity is richly diverse, but we are all still family.
And it's for this human family that, alongside those who have gone before us, those presently making similar choices, and those who will come after us, we here at RHM dedicate 2019 to continuing the work of shaping our world into a safer, just, and more compassionate home for all, especially those Jesus might call blessed members of the kingdom of God.
"After John was put in prison, Jesus went into Galilee, proclaiming the good news of God. 'The time has come,' he said. 'The kingdom of God has come near. Repent and believe the good news!'" (Mark 1:14)
HeartGroup Application
This week, as a group, open up Matthew 5:3-12 and explore through discussion, if Jesus were to speak these words today, whom would he say were the blessed recipients of his vision for human community? Whom would he say would inherit the earth? Whom would he say would see God? Whom would he name? In 2014 I was a guest speaker at my first Kinship Kampmeeting. Here is a link to how this experience impacted whom I chose in making my own list of beatitudes then. This is an example of this exercise. Look at our world today and come up with your own list.
Discuss how you, too, like Jesus, like John, can work alongside these communities to bring concrete change this year.
And then pick something from your discussion and begin doing it.
May 2019 bring us closer to rather than farther away from that pearl of great price, that world where everyone is safe, everyone has enough, and where compassion and love are the basis of our relating to one another.
Happy New Year to each of you.
Thank you for checking in with us. I'm so glad you did.
I love each of you dearly.
I'll see you next week.