Anatomy of an Open Meeting: What does it look like?
BY KEITH GILES
Part 2 - WHAT DOES AN OPEN MEETING LOOK LIKE?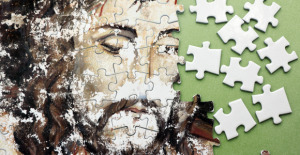 Essentially, what we try to do is to come together and "take hold of Christ" as a Body. In other words, try to imagine that your church was sitting together in someone's living room and suddenly Jesus walks in the door and stands in the center of the room.
Would you guys keep talking to one another about the weather, or sports, or even Bible verses? Hopefully you'd all sit quietly and lean forward to hear what Jesus wanted to say to you. You'd talk to Him, not to each other. You'd meet with Him, not have a meeting about Him while He watched. That's basically what we're trying to do every time we meet.
Now, it might look different each time. And sometimes, honestly, we're better at it than at other times. But, usually our times together go something like this:
Some of us meet about thirty minutes early for prayer before the meeting starts. A brother once noted that an open meeting requires more prayer together, not less. This is because an open meeting is led by the Spirit, not by any one person or persons. Everyone is invited to this prayer time, but no one has to come if they don't want to.
After prayer everyone else shows up for a shared, potluck breakfast together. Eating is an essential ingredient, I believe. It helps us to get to know one another and to be together without being pretentious. It's also how we build community and find out what people are like, what they're going through, etc. Real ministry can take place during the meal times, or we can just laugh together and eat some great food. Either way it's worth the investment of time. Plus, it's based on the practice of the earliest Christians:
"They devoted themselves to the apostles' teaching and to fellowship, to the breaking of bread and to prayer." (Acts 2:42)
"They broke bread in their homes and ate together with glad and sincere hearts…" (Acts 2:46)
Eventually we'll finish eating and gather around the sofas and set out the communion elements and wait quietly for a while to pray together before we start singing songs. The singing is always suggested by the members of the Body, or anyone in the room. We have a set of worship songs put together in a songbook format, and we also have a set of old Baptist Hymnals. Or someone can bring a CD with a song to share, or they can just start singing a song that they love accappella and either teach it to all of us, or let those who know it join in.
There's lots of flexibility, as you'll notice. We're very conscious of the fact that we're not putting on a show. We're not trying to shush the children or keep to a program. We just try to allow the Holy Spirit to move however He likes and get out of His way.
During the singing time someone might feel led to read a scripture out loud, or to pray for someone else in the group, or to call out to God in thanksgiving and praise. We never know how that might work, but we're open to whatever happens.
I think this can only work if you're with a group of people, a family of believers, that you can trust. You have to know that everyone in that meeting cares for you and loves you. They're not trying to control you or to manipulate you. Over the last six years we've been developing that level of trust together and it's great, really.
Eventually we'll move from the singing and prayer time to "open share time" where everyone (young, old, male, female, visitor, regular, etc.) is free to share with everyone else what God has been teaching them during the week, or to share something that the Lord spoke to them during worship, etc. But not everyone has to share. It's ok to be quiet and listen, too.
Transition from the singing to the open share time is very fluid and sometimes we'll drift back into singing songs again, or spend the whole time praying for one another, or maybe share with one another over a single passage of scripture, or a variety of scriptures if there are a lot of people who have something to share. It varies week to week.
What I really love is when the seemingly random verses and testimonies that each person brings suddenly begin to emerge as a complete teaching on a single topic. Sometimes someone will say, "What is Jesus trying to teach us this morning?" and we'll realize "Oh, it's about letting go and trusting Him" or "It's about forgiveness", and then we'll try to respond to Him and thank Him for teaching us this lesson as a Body.
Our meetings usually run from about 9am for morning prayer to around 1pm or so. Sometimes it goes to 2pm but usually 12:30pm to 1pm. We usually end with Communion together and sing a song before we depart.
Now, even though this is our usual meeting format, what I love about an organic church is that we always have freedom to change things around whenever the Lord directs us to.
In the past, we've had gatherings where everyone creates artwork together, or perhaps we hear a testimony from someone, or sometimes we'll hear a teaching by someone who brings a study on a particular topic or book of the Bible. Sometimes we'll meet in a park together, or spend all of our time in worship and prayer.
Breaking our liturgy and embracing our freedom in Christ to do something different is important to the life of the Body.
One of my favorite times was when we asked the children to lead our meeting. They all sat together and we waited to see what they would do. Then one of them said, "Ok, does anyone have something to share with the group today?"
It was so wonderful because they had learned from us that to lead a meeting is to ask questions and invite others to share. How cool is that?
Next installment, we'll discuss how to lead or facilitate an open meeting.