by Herb Montgomery | April 24, 2020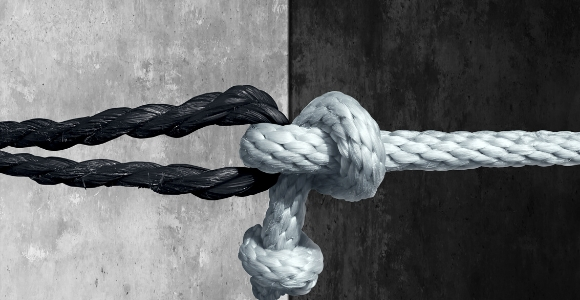 ---
"We may still be a long way from our desired outcome, but we can make progress. Our efforts may be interrupted, delayed, or even halted, but that doesn't mean we have necessarily failed."
---
In Matthew's gospel, we read:
"Blessed are you when people insult you, persecute you and falsely say all kinds of evil against you because of me. Rejoice and be glad, because great is your reward in heaven, for in the same way they persecuted the prophets who were before you. (Matthew 5:11-12)
Jesus spoke of changes that could have turned the social system he and his audience lived in on its head. Those who benefitted from the system saw his inclusion, equity, compassion, justice, and love as dangerous. If it were followed all the way out from our personal relationships to the systems that organized society, Jesus' social vision would unsettle everything.
Jesus offered life, security, and assurance to poor, mourning, hungry, and marginalized people, and so the prioritized, privileged, and powerful labeled him as an enemy. Their fear of change quickly turned into fear of complete ruin. This is what I believe was underneath the author of John's gospel placing these words in the mouths of the social, political, economic, and religious elites:
"You do not realize that it is better for you that one man die for the people than that the whole nation perish." (John 11:50)
This past Easter season, this passage was on my heart a lot.
The Jesus story isn't about dying. Jesus' death is part of the story, but the story is much more about reversing, undoing, and overcoming his death. Jesus' death was not natural. It was an execution, an execution plotted by the elite class who felt they had everything to lose from people following Jesus' social vision.
The story isn't simply about this execution though. It's also about life-giving things that overcome death-dealing things. The teachings of Jesus, such as treating others the way you would like to be treated, loving one's enemies, offering mutual aid, sharing, including those who are presently othered, and centering marginalized people, these are things that death could not silence!
Jesus' execution did not stop those values. Ultimately they lived on in the stories that the early Jesus followers told in the following decades. His life-giving values are still competing with and overcoming death-dealing things today. Jesus was a conduit of change, and he called his followers to be conduits of change, as well.
Today, we too can choose to be conduits of change.
Yet change never comes without pushback.
Jesus assured his followers,
"Blessed are you when people insult you, persecute you and falsely say all kinds of evil against you because of me. Rejoice and be glad, because great is your reward in heaven, for in the same way they persecuted the prophets who were before you. (Matthew 5:11-12)
Blessed Are You When People Insult You
We can learn from the Jesus story how to respond to negative pushback when we encounter it from those whose privilege and power are threatened by life-giving change.
First, we must remember that we are not alone. When we step into the stream of working toward a more just society, that river stretches far back and far ahead. We are participating in and building on the work of our ancestors in social justice and hopefully providing something for those who come after us to build upon as well.
This is why I believe Jesus called his Jewish audience to remember how Jewish prophets of old who called for social justice in their own contexts were treated, too.
Today, especially, I'm reminded of the prayer attributed to the late Oscar Romero but never prayed by him. It was written by Bishop Ken Untener for a homily given in 1979 by Cardinal John Dearden:
"It helps, now and then, to step back and take a long view.
The kingdom is not only beyond our efforts, it is even beyond our vision.
We accomplish in our lifetime only a tiny fraction of the magnificent enterprise that is God's work.
Nothing we do is complete, which is a way of saying that the kingdom always lies beyond us.
No statement says all that could be said.
No prayer fully expresses our faith.
No confession brings perfection.
No pastoral visit brings wholeness.
No program accomplishes the church's mission.
No set of goals and objectives includes everything.
This is what we are about:
We plant the seeds that one day will grow. We water seeds already planted, knowing that they hold future promise.
We lay foundations that will need further development.
We provide yeast that produces far beyond our capabilities.
We cannot do everything, and there is a sense of liberation in realizing that.
This enables us to do something, and to do it very well.
It may be incomplete, but it is a beginning, a step along the way, an opportunity for the Lord's grace to enter and do the rest.
We may never see the end results, but that is the difference between the master builder and the worker.
We are workers, not master builders; ministers, not messiahs.
We are prophets of a future not our own. Amen."
(https://www.caritas.org.au/docs/default-source/primary-school-resources/be-more-romero-prayer.pdf)
A word of caution about getting pushback: sometimes it's a good thing! Sometimes I receive pushback because I'm being a jerk about something. So how do I know when pushback is good or not? I like to ask myself which social location the person or community pushing back is from. If it's the centered and privileged who are pushing back out of fear of losing privilege over others, then I'm likely to be in the right story: Jesus and his early followers faced this kind of pushback too.
But if I'm receiving pushback from someone whose social location is more marginalized or disenfranchised than mine, then I have to stop, listen, and ask myself whether my work is not as life-giving as I might have assumed. When this is true, I'm not in the right story at all: Jesus was embraced by the exploited, marginalized, and pushed down. Except for one example in the stories, the pushback he experienced was from those for whom his social vision was not good news but threatened their money, power, and position. The one example we have of Jesus receiving the kind of positive pushback we are discussing here is the story of the Syrian Phoenician woman who pushed back against Jesus in Mark 7:24-30 (cf. Matthew 15:21-28). In this story, Jesus models how we, too, can stop, listen and ask ourselves whether this may be a moment where we can choose to learn from those whose social location is more marginalized than our own.
Responding to Negative Pushback
What are we to learn from the Jesus story about responding to death-dealing pushback in life-giving ways?
When we take a stand for what we believe is compassionate and just alongside those most vulnerable in our society, we can expect pushback. When we call for change from those presently benefiting from the way things are right now, we can expect pushback.
We can still refuse to be silenced.
The history of movements that have practiced nonviolent resistance to unjust systems has taught us that if we refuse to remain silent, we can unveil the system itself. When pushback coming from the socially privileged combines with our refusal to allow that pushback to silence us, we can amplify our struggle before more witnesses and awaken awareness and conscience.
We may still be a long way from our desired outcome, but we can make progress. Our efforts may be interrupted, delayed, or even halted, but that doesn't mean we have necessarily failed. We may have succeeded to some degree just by shifting the terms of debate: things that might have been unimaginable before we stirred things up are now topics of conversation. This can lead to organizing, which in turn can give birth to movements for change.
Change takes time, and negative pushback is part of the process. It can either silence us or inspire us to amplify our voice.
Think of the Jesus story for just a moment.
Had Jesus chosen to become silent when threatened by the powerful social elites of his day, we probably wouldn't even know about him today. His work would not have only been interrupted, it would have been forgotten. Consider it.
The Jesus story is about those things that have the power to overcome negative pushback, even lethal pushback. The golden rule; treating others the way you'd like to be treated; cooperation and sharing with those who do not have enough; loving one another, even our enemies; living nonviolently and centering society on those presently most vulnerable—all of these things are the things of resurrection. These are the very things that the story tells us could undo, or reverse, or overcome the interruption of Jesus' execution. These things that are life-giving and can overcome in the face of being threatened with negative pushback. These are the things worth holding onto.
Stop for a moment and consider how you'd like to see our world change. What is worth speaking up for, for you? If you receive negative pushback, will you allow it to silence you or will you keep speaking up using the conflict to attract others' attention, amplifying your voice, calling for change?
HeartGroup Application
We have the ability to slow the spread of COVID-19 if we act together. In moments like these, we affirm that all people are made in the image of God to live as part of God's peace, love, and justice. There is nothing more powerful and resilient than when people come together to prioritize "the least of these."
We at RHM are asking all HeartGroups not to meet together physically at this time. Please stay virtually connected and to practice physical distancing. You can still be there for each other to help ease anxiety and fears. When you do go out, please keep a six-foot distance between you and others to stop the spread of the virus.
This is also a time where we can practice the resource-sharing and mutual aid found in the gospels. Make sure the others in your group have what they need. We are more interconnected than we realize, as this has proven. And we need each other during this time.
This is a time to work together and prioritize protecting those most vulnerable among us. We'll get through this. How many ways can you take care of others while we are physically apart?
What are some memories of positive pushback you have received in the past? How did you respond? What did you learn? Discuss with your group.

What are some examples of negative pushback you've experienced? Did you respond in a positive, life-giving way? If not, how do you wish you would have responded? What did you learn? Discuss with your group.

How does the Jesus story inform your own action-taking in speaking out against injustice and mitigating systemic harm in our society? What hope or encouragement do you take from the Jesus story in your speaking out? Discuss with your group.
Thanks for checking in with us this week.
Right where you are, keep living in love, choosing compassion, taking action, and working toward justice.
Another world is possible if we choose it.
Stay well! And where possible, please stay home.
I love each of you dearly,
I'll see you next week.