by Herb Montgomery | September 28, 2018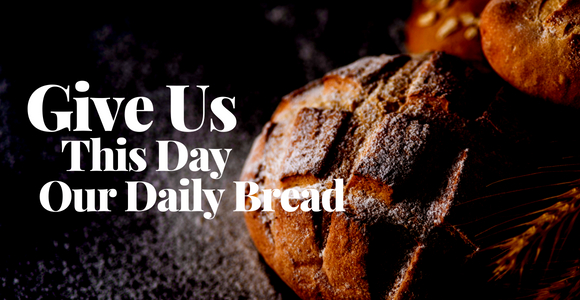 ---
"'When you start with an understanding that God loves everyone, justice isn't very far behind.' How many times have we witnessed traditional White Christianity emphasize religiousness, puritanical morality, and even the 'love of God,' but justice, justice for the oppressed, marginalized and exploited is neglected at best and at worst, obstructed? We have neglected the more important matters of the law! As Jesus prioritized people's temporal needs, those temporal needs were also to be a priority for Jesus' disciples."
---
"Give us today our daily bread. And forgive us our debts, as we also have forgiven our debtors." (Matthew 6:11-12)
Last week we began considering the prayer in Matthew's gospel often referred to today as The Lord's Prayer. This week we're continuing with the portion, "Give us today our daily bread."
In the previous verse, Jesus prays for the reign of God, the will of God, to be done here on earth as it is in heaven. But just what is that will? We must exercise caution and care whenever we presume to speak of the will of the Divine. Good can be done from these discussions for the marginalized and oppressed, and great harm can also be done to the most vulnerable among us. So let's proceed this week with caution.
Let's begin with a story found a little later in Matthew's gospel: the feeding of the multitude.
"As evening approached, the disciples came to him and said, 'This is a remote place, and it's already getting late. Send the crowds away, so they can go to the villages and buy themselves some food.' Jesus replied, 'They do not need to go away. You give them something to eat.' 'We have here only five loaves of bread and two fish,' they answered." (Matthew 14:15-17)
What I want us to notice first about this story is that Jesus objected to the disciples sending the multitude away to meet their own concrete, physical needs. Too often, some Christians today promote the dualistic idea that a person's temporal needs is categorically separate from their spiritual needs. Some faith communities therefore focus purely on the spiritual, believing that a person's temporal needs are of lesser importance.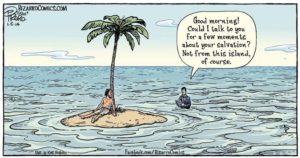 This story strikes at the heart of this kind of dualistic thinking.
The disciples want to send the crowd away to find their temporal nourishment elsewhere. Jesus stops them and says, "They don't need to go away. You feed them."
This month, the book to read for RHM's annual reading course is Gustavo Gutiérrez' book A Theology of Liberation. It's timely that we would also look at this passage in Matthew's gospel this month, because Gutiérrez addresses this dualistic thinking too. While the temporal and spiritual are distinct, he writes, "there is a close relationship between temporal progress and the growth of the Kingdom" (p. 99).
The liberation we find in the gospels stories is an integral liberation. It's not about mere post-mortem escape, or private retreat into isolated, personal piety. This liberation integrates all aspects of each person's being, including the temporal! It embraces the whole person. This is especially relevant to the question of what Jesus' teachings have to offer us today in the way of resistance, survival, liberation, reparation and transformation. Again, Gutiérrez states, "The struggle for a just world in which there is no oppression, servitude, or alienated work will signify the coming of the Kingdom. The Kingdom and social injustice are incompatible (cf. Isa. 29:18-19 and Matt. 11:5; Lev. 25:10ff. and Luke 4:16-21). 'The struggle for justice,' rightly asserts Dom Antonio Fragoso, 'is also the struggle for the Kingdom of God.'" (Ibid, p. 97)
The struggle for a just society is very much a part of following Jesus. People's temporal needs matter, and Jesus teaches a whole liberation that goes beyond the individual person to include transforming and replacing oppressive structures and exploitative social systems. Gutiérrez calls for an expanded view of Jesus' liberation gospel: even politically liberating events in history can be seen as part of the growth of what Jesus referred to as "the Kingdom." Every event that leads to humans becoming liberated to experience full humanness can be seen as a salvific event.
"Nothing escapes this process, nothing is outside the pale of the action of Christ and the gift of the Spirit. This gives human history its profound unity. Those who reduce the work of salvation are indeed those who limit it to the strictly 'religious' sphere and are not aware of the universality of the process. It is those who think that the work of Christ touches the social order in which we live only indirectly or tangentially, and not in its roots and basic structure. It is those who in order to protect salvation (or to protect their interests) lift salvation from the midst of history, where individuals and social classes struggle to liberate themselves from the slavery and oppression to which other individuals and social classes have subjected them. It is those who refuse to see that the salvation of Christ is a radical liberation from all misery, all despoliation, all alienation. It is those who by trying to 'save' the work of Christ will 'lose' it." (Gustavo Gutiérrez, A Theology of Liberation, p. 104)
In Matthew, Jesus tells his listeners of a God who clothes the lilies, feeds the ravens, and "makes the sun rise on the evil and on the good, and sends rain on the righteous and on the unrighteous" (Matt. 5:45). This is a picture of everyone's temporal needs being meet, and not merely their needs for survival, but also what they need in order to thrive. Everyone has enough.
Our present structure doesn't look like that at all. Some are growing increasingly wealthy while others are in an ever-increasing struggle just to survive.
In Matthew 19:21-2 Jesus tells a wealthy person, "If you wish to be whole, go, sell your possessions, and give the money to the poor, and you will have treasure in the kingdom of heaven; then come, follow me."
The wholeness I believe Jesus was speaking of here is a rediscovery or a reclaiming of one's humanity. As we discussed in Another World is Possible (Parts 1-3), the narrative of scarcity, anxiety, accumulation, competition, and violence is dehumanizing whether you are made poor by this narrative or made wealthy by it. Instead of poverty or wealth, Jesus offers a narrative of enough. This is a narrative where there is enough for every person's need. As in the story of the loaves and fish, even when we are tempted to embrace the narrative of scarcity, if we will in the moment choose a narrative of sharing, sharing our resources in distributive justice produces enough for everyone. It ends in gratitude, in cooperation, in connectedness. We begin to face the future with a different posture when we realize that we are in this life together and if we will choose to take responsibility for caring for one another, we can face whatever may come. It's a collective stance more than an individualistic stance. It's a vision of a distributively just world that gives birth to peace, where no one has too little or too much and everyone has enough.
It was this aspect of Jesus' teachings that led the early church to hold "everything in common." As Luke reports, "They sold property and possessions to give to anyone who had need. Every day they continued to meet together in the temple courts. They broke bread in their homes daily and ate together with glad and sincere hearts, praising God and enjoying the favor of all the people. And the Lord added to their number daily those who were being saved." (Acts 2:41-47)
Salvation is not a post mortem life insurance policy. People were being saved from starving to death right then and there! Two chapters later in Acts we read, "All the believers were one in heart and mind. No one claimed that any of their possessions was their own, but they shared everything they had . . . And God's grace was so powerfully at work in them all that there were no needy persons among them. For from time to time those who owned land or houses sold them, brought the money from the sales and put it at the apostles' feet, and it was distributed to anyone who had need." (Acts 4:32-34, emphasis added.)
Can you imagine a world where there is enough bread for every person each day? Where world hunger is no more? This is why Jesus proclaimed, "Blessed are you who hunger now, for you will be satisfied." (Luke 6:21) This is a world that is especially in the favor of those the present world causes to go hungry. Those made last by the present structures are made first.
Last week, we read from Amos about those who valued religiosity more than social justice. This week, Jesus stands in that same Jewish prophetic tradition. Consider this from Luke's gospel:
"Woe to you Pharisees, because you give God a tenth of your mint, rue and all other kinds of garden herbs, but you neglect justice and the love of God." (Luke 11:42)
Luke's and Matthew's versions of this exchange (see Matt. 23:23) put justice in the family of "the more important matters of the law." Justice and the love of God are intimately, intrinsically connected. As Dr. Emilie Townes says in the short film Journey to Liberation: The Legacy of Womanist Theology, "When you start with an understanding that God loves everyone, justice isn't very far behind." How many times have we witnessed traditional White Christianity emphasize religiousness, puritanical morality, and even the 'love of God,' but justice, justice for the oppressed, marginalized and exploited is neglected at best and at worst, obstructed? We have neglected the more important matters of the law! As Jesus prioritized people's temporal needs, those temporal needs were also to be a priority for Jesus' disciples.
Antonio Fragoso drives this point home in Evangile et Revolution Sociale (The Gospel and Social Revolution):
"The struggle for justice, is also the struggle for the Kingdom of God. The Gospel should strike the conscience of Christians and stimulate an understanding among all persons of good will regarding the liberation of all, especially the poorest and most abandoned." (p. 15)
We are not to dualistically divide a person's spiritual needs and their temporal needs. We are whole people. Jesus' liberation in each gospel included the whole person. This is the example set for us to follow. I long for the day when Jesus' name is not immediately associated with the supernatural and a disconnected privatized understanding of religion, but with relief work and social transformation/justice work for the vulnerable and marginalized that would make relief work unnecessary.
Next week we'll consider Jesus' phrase, "And forgive us our debts, as we also have forgiven our debtors" (Matthew 6:12). This week, what does it mean to live and work in harmony with these words of Jesus' prayer for all?
"Give us today our daily bread."
HeartGroup Application
Again this week, in the context of Supreme Court Confirmation hearings here in the U.S., we are hearing a lot of rhetoric that supports attitudes and a worldview that results in violence against women. This is the rhetoric of what has been defined as rape culture. Tolerance of jokes and excusing of behavior supports a normalization of a whole spectrum of behavior of which the other side results in violence, degradation and assault.
Jesus stood in defense of women within his own culture. What does it mean for Jesus followers to do the same today?
1. This week, if you are unfamiliar with what is meant by the phrase rape culture I'm providing four links that can start you on a better understanding:
http://www.southernct.edu/sexual-misconduct/facts.html
http://www.wavaw.ca/what-is-rape-culture/
http://www.dayofthegirl.org/rape_culture
https://en.wikipedia.org/wiki/Rape_culture
2. Take time this week, again, to affirm the women in your HeartGroup. Discuss as a group what you learned from engaging the information in links above.
3. It is from making our smaller communities safer that I believe we create a larger world that comes safer for the vulnerable as well. What can you do as a group to practice a preferential option for women and the vulnerable in your midst that makes your HeartGroup a safe place for them. Make a list. This next week, pick something from this list and implement it. Keep doing so each week till you've completed your list.
4. Don't just stop with your HeartGroup. Engage the work of making our larger communities safer as well. Call your Representatives and share your concerns, too.
Thanks for checking in with us this week. Right where you are, keep living in love, justice, survival, resistance, liberation, reparation, and transformation. Keep engaging the work of shaping our world into a safe, compassionate home for everyone.
And one last thing, as we approach Autumn, this is the time of year when Renewed Heart Ministries especially needs your support. Not only are we are planning for events next year, but we are working to prevent a budget shortfall for the present year. If you have been blessed by our work, please consider making a one-time contribution or becoming one of our monthly supporters. Go to renewedheartministries.com and click "donate." Any amount helps. And thank you in advance for your support.
I love each of you dearly.
I'll see you next week.