Herb Montgomery | December 21, 2018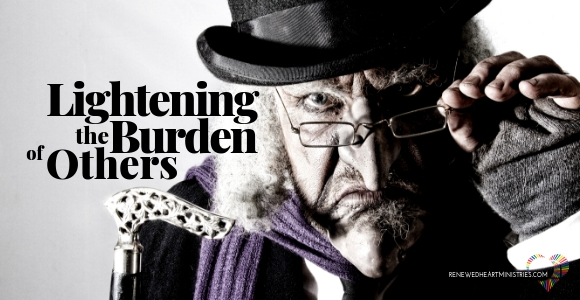 ---
"This Christmas, we may not all have someone whose economic debt we can cancel. But are there other types of forgiveness we could embrace? Are there reparations for past wrongs we still need to make? Does someone else's peace and reconciliation depend on my apology? Can I participate in restoring Jesus' distributive justice, especially for the marginalized?"
---
"To give his people the knowledge of salvation through the forgiveness of their sins, because of the tender mercy of our God, by which the rising sun will come to us from heaven." (Luke 1:77-78)
Since I was young, my all-time favorite Christmas story has been Charles Dickens' A Christmas Carol. I don't think it's really possible for me to even get into the festive spirit every year without partaking of this story in some form.
This year, I sat down with my younger daughter to watch the film The Man Who Invented Christmas. I wanted to see it last year when it came out, but we live in such a small town that it never screened at our local theater. When I was finally able to watch it at home, I loved it. In the movie, one line from Dickens comes when Charles' father reminds him, "No one is useless in this world who lightens the burden of another." I love the transformation of Scrooge in the story where he learns this lesson.
I hope this is how I will be remembered when my time here is up: as one who lightened burdens. But why should we stop at lightening burdens? Many burdens are made and could be eliminated entirely! This line in the film made me think about similar words from Matthew's gospel. Jesus says:
"Come to me, all you who are weary and burdened, and I will give you rest. Take my yoke upon you and learn from me, for I am gentle and humble in heart, and you will find rest for your souls. For my yoke is easy and my burden is light." (Matthew 11:28-30)
The Gospels' Christmas stories are rooted in liberating people from the weariness and burden-bearing that any form of oppression places on them. This teaching is in every gospel. In Luke's gospel, for example, we read of Zechariah who speaks prophetically of John the Baptist as the forerunner of Jesus. According to Zechariah, John's role would be:
"To give his people the knowledge of salvation through the forgiveness of their sins, because of the tender mercy of our God, by which the rising sun will come to us from heaven." (Luke 1:77-78)
There is an order here that struck me. First, "salvation" here could just as easily be translated as "liberation." "Salvation" was not a preoccupation with an afterlife. Salvation in first century Jewish culture was much more about participating in making this world a better place in the here and now. Many of the Jewish people in Jesus' day longed to be liberated from Roman occupation and oppression, and they tied this liberation to the idea of forgiveness. As we covered last week, the Hebrew concept of Divine forgiveness included collective forgiveness for the social sins of injustice and exploitation of the vulnerable. This forgiveness was not privatized, and not about individuals and their personal morality. Some believed these social wrongs explained their repeated occupation by Gentile Empires: foreign occupation was seen as a punishment that would end when the people had made reparations for collective wrongs and Divine forgiveness resulted. Liberation would result from "the tender mercy of our God" forgiving social exploitation.
Please notice the order here. Forgiveness would not result from Divine wrath being appeased by a violent death on a cross. An already existing mercy in the heart of the Divine is the cause of the forgiveness. Following this, humans who chose to mirror this forgiveness toward one another would then be participating in a wealth redistribution (debt cancellation) toward shaping a distributive justice society which would include those who were previously being marginalized.
In the gospels, when forgiveness isn't from the Divine to humans but between humans, the concept has an economic context. (See A Prayer for Debts Cancelled.) Forgiveness wasn't initially about people facing oppression unconditionally forgiving their oppressors. Instead the call to forgiveness was originally aimed at the economic elite, and meant a Jubilee-like cancelling of debts. It was a cry for the privileged and powerful to forgive all debts on behalf of those living under debt burdens. Talk about lightening the burdens of another. What would your life be like if every one of your debts were forgiven in one day?
Human-to-human debt forgiveness was to be rooted in the already-existing forgiveness in the heart of the Divine, the One whose heart was already full of mercy. In Matthew's gospel, Jesus explains it like this:
"Therefore, the kingdom of heaven is like a king who wanted to settle accounts with his servants. As he began the settlement, a man who owed him ten thousand bags of gold was brought to him. Since he was not able to pay, the master ordered that he and his wife and his children and all that he had be sold to repay the debt. At this the servant fell on his knees before him. 'Be patient with me,' he begged, 'and I will pay back everything.' The servant's master took pity on him, canceled the debt and let him go. But when that servant went out, he found one of his fellow servants who owed him a hundred silver coins. He grabbed him and began to choke him. 'Pay back what you owe me!' he demanded. His fellow servant fell to his knees and begged him, 'Be patient with me, and I will pay it back.' But he refused. Instead, he went off and had the man thrown into prison until he could pay the debt. When the other servants saw what had happened, they were outraged and went and told their master everything that had happened. Then the master called the servant in. 'You wicked servant,' he said, 'I canceled all that debt of yours because you begged me to. Shouldn't you have had mercy on your fellow servant just as I had on you?' In anger his master handed him over to the jailers to be tortured, until he should pay back all he owed. This is how my heavenly Father will treat each of you unless you forgive your brother or sister from your heart." (Matthew 18:23-35)
Notice that the original forgiveness was rooted in the creditor's tender mercy. When the debtor could not pay, the creditor simply forgave the debt. There were no conditions and no contingencies. Initial forgiveness should have awakened a spirit of forgiveness in the debtor. Just as the saying goes that hurt people hurt people, forgiven people should forgive people.
But that's not how Jesus' story goes. The debtor in the story didn't internalize the lesson and becoming more forgiving. Instead, he turned to his own debtors and exacted payment. His own forgiveness had no conditions but was given freely in mercy. But if the forgiven person failed to internalize the ethics of forgiveness and apply them to how they related to others, they would forfeit the forgiveness so freely given to them. There was no contingency in obtaining freely given forgiveness. But there was a condition for keeping the freely given forgiveness. One could lose liberating forgiveness if they failed to forgive toward their own debtors.
It's also very important to note that Jesus' teachings on forgiveness included reparations. Those who followed him would not only forgive debts, but also offer reparations for past exploitations. Consider the story of the wealthy tax collector, Zacchaeus.
"All the people saw this and began to mutter, 'He has gone to be the guest of a sinner.' But Zacchaeus stood up and said to the Lord, 'Look, Lord! Here and now I give half of my possessions to the poor, and if I have cheated anybody out of anything, I will pay back four times the amount.' Jesus said to him, 'Today salvation has come to this house, because this man, too, is a son of Abraham. 10 For the Son of Man came to seek and to save the lost.'" (Luke 19:7-8)
Forgiveness in Jesus' paradigm was not individualistic freedom from condemnation, but liberation from debt, reparation for exploitation, and yes, letting go of past abuses in the context of those reparations. To call for reconciliation without liberation or reparation is to perpetuate injustice, violence, and oppression. Peace and reconciliation are to be the fruit of forgiveness and also the fruit of justice restored and reparations made. Jesus' teachings on forgiveness included all of these elements.
A community initiative was to set in motion a change in the world: the forgiven were to become forgiving.
All of this is implied in our text this week:
"To give his people the knowledge of salvation [or liberation] through the forgiveness of their sins, because of the tender mercy of our God, by which the rising sun will come to us from heaven." (Luke 1:77-78)
The myth of redemptive suffering destructively teaches that Jesus' cross makes possible the forgiveness of God, but this text teaches the opposite. Knowing salvation or liberation was to come from forgiveness rooted not in a violent death, but in an already existing tender mercy in the heart of God. God's mercy, leading to forgiveness, leading to liberation from oppression and transforming people becoming a collectively just and safe society would be like the rising of the sun on a brand new day. It would bring new life and a new hope. It would be a dayspring to us from heaven.
This language harks back to Jeremiah's words in Lamentations:
"Because of the LORD's great love we are not consumed, for his compassions never fail. They are new every morning; great is your faithfulness." (Lamentations 3:22)
Discussions on forgiveness today are almost always directed toward survivors, calling for them to give even more. But in the Jesus story, forgiveness was initiated by a wealthy creditor or oppressor toward those in their debt. These types of debt cancellations have been more common throughout history then you might guess. An especially insightful and relevant article was written by Mehreen Khan back in 2015 explains this history. I would encourage everyone to contemplate it: The biggest debt write-offs in the history of the world. In it Khan rightly states:
"Loans were less a way to make money than they were a means to help one's fellow man. Given that all worldly wealth and property belonged ultimately to God, a creditor's rights over it were temporary rather than absolute."
Khan goes on to speak about the ancient Babylonian practice of smashing debt tablets and modern European and other global examples. These examples are inspiring as we consider present and future possibilities for debt forgiveness.
This Christmas, we may not all have someone whose economic debt we can cancel. But are there other types of forgiveness we could embrace? Are there reparations for past wrongs we still need to make? Does someone else's peace and reconciliation depend on my apology? Can I participate in restoring Jesus' distributive justice, especially for the marginalized?
Let's keep the spirit of this festive time of year in these ways, and so set in motion a more beautiful world today and for tomorrow.
"To give his people the knowledge of salvation through the forgiveness of their sins, because of the tender mercy of our God, by which the rising sun will come to us from heaven." (Luke 1:77-78)
HeartGroup Application
Last month, we asked our HeartGroups to participate in a show of love initiated by Auburn Seminary in New York toward the Tree of Life* Or L'Simcha Congregation.
I'm happy to share that this generated nearly 2,000 messages of love and support! You can read these messages at: http://bit.ly/treeoflifethanks
Take a moment this week and together as a group read through some of these.
A Special Request
Also we would like to remind each of you our special request from you as the end of 2018 approaches.
Renewed Heart Ministries has been in existence for over a decade now, but over the last four years we have gone through transition. We have become a "welcoming and affirming" ministry. We have also become more intentional and passionate about the intersection of the teachings of Jesus in the gospels and our work today of love, compassion, action and justice in our larger society. It's been a time of rebirth and rebuilding here at RHM, and we believe we are a much healthier ministry with a much healthier focus, as a result.
Yet these changes have not been without deep loss. We're asking you to help us avoid a budget shortfall for 2018 and be able to plan for 2019. We have many projects in the works for next year that we would love to see come to fruition. We would love to be able to expand both our online presence, as well as the number of free, teaching seminars we conduct across the nation. An initial edit has also been completed for my upcoming book that will be a sequel to Finding the Father. The title for this new, second book will be Finding Jesus. We would love to see this manuscript be able to go through its final stages and go on to publication this next year.
As many of you already know, to help RHM this year, a very generous donor has pledged to match all donations to this ministry for both this past November and this present December.
If you have been blessed this year by RHM's work, take a moment this holiday season and support our work.
You can do so by going to our website at renewedheartministries.com and clicking "donate" or you can mail your contribution to:
Renewed Heart Ministries
P.O. Box 1211
Lewisburg, WV 24901
If you would like your donation to be matched just make sure it's postmarked by December 31.
Help us continue to grow this ministry in 2019 as we, together, follow Jesus more deeply in the healing work of love, compassion, action and justice for the marginalized.
Thank you in advance.
I love each of you, dearly.
There will not be an eSight next week due to the holidays.
Merry Christmas and a happy new year!
We'll see you in 2019.