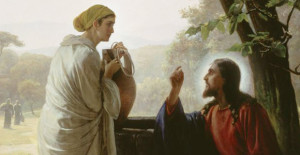 Jesus and the Living Water
Part 3 of 3
Jesus said to her, "Go, call your husband, and come back." (John 4:16)
Stop, and consider.
A woman comes for water every day in the middle of the day, instead of the early morning when she would be with the rest of the women in her town.
Why?
In a society where women found their place beneath men, some women found themselves lower still. This woman was held in lower esteem than even her female peers. Why? This woman had a story.
She had been married five times. Try to consider this not from the perspective our gender-egalitarian culture today but from the patriarchal social constructs of her time. Remember that marriage then was in some regards similar to marriage today, but within first-century Judaism, the social construction of marriage was significantly different. Women belonged to their husbands as little more than property. This was most apparent in divorce. Women could not divorce a man, but men, in this male-dominated hierarchical construction of marriage, could divorce a woman, under the Torah for any reason they so choose. Granted, a woman could not be passed back and forth between husbands, but her present husband could pass her to another if for any reason he deemed her no longer desirable (for faults as simple as burning the food or being less desirable than younger options).
This woman whom we find this day at the well had been sent away by five men. She had been told five times, "You are not desirable. You are not wanted." We are not told what her present arrangement was, but suffice it to say, she was with a man now simply so that she could have some type of existence in that culture that required her to be connected to a man.
Jesus does not hold her responsible for any of this. There is no "go and sin no more" talk between then. There is no "love the sinner hate the sin" mantra that Christians today are so famous for touting. There is simply the understanding that this woman has been the victim of a marriage institution gone completely wrong. Yes, it was monogamous, but it was no more than serial monogamy. The kind of marriage this woman had experienced only served to objectify, dehumanized, and degrade women to a status lower than men.
Next, we encounter Jesus' offer to her of "living water."
What Jesus offers this woman would answer her heart's desperate cry to love and be loved: a water that would so satisfy her basic, inmost needs that it would not only fill the deep void insider her but overflow into a beautiful force toward others, flowing from her as a source of healing for others.
However, there was a catch. When she responds favorably and asks Jesus for this water, He cannot simply give it to her. No, the water Jesus offers this woman can be only experienced within the context of complete honesty and authenticity. She must come to a place where she is herself, regardless of what the other Torah–observing women might say. If she is going to truly experience what Jesus extends to her, she must be given a safe space with Him to be who and what she is, no longer hiding, even if that means facing her past of begin repeatedly told, time after time, there was something wrong with her.
Jesus draws her into this safe space.
"Go get your husband."
The woman scrambles. 'My husband?' she thinks. 'There's something different about this man in front of me, yes, but the last thing I want this strange Jewish man to know is how many times I have been rejected, labeled as unwanted, sent away by one man after another. I know what I'll say.'
"I have no husband," she says.
Jesus, with a look that subtly tells her that she can trust Him, says, "I know. I know you've been married five times, and the man you're with now is just keeping you around."
There is something different that she sees in this man's eyes.
She changes the subject, though. Jesus will bring it back around.
What is Jesus saying to this woman?
The same thing He is saying right now to you, too.
"My love is not blind. I know everything about you there is to know. My love is not diminished by this knowledge. I love you AND I already know everything there is to know about you. Honestly, I knew you before you even did—even the things you are still in denial about. I know everything there is to know about you, and My offer to you is still on the table."
We do not need water that will leave us thirsty (conditional love). We need the living water for which we were made. We must not settle for less. We must have the water that satisfies the deepest human thirst. We need Jesus' living water of unconditional love, a love in which we are simultaneously fully known and fully embraced, loved and accepted. A love that knows all there is to know about us and loves us all the more still.
Who are you reading this right now? What are you hiding? What are you not being honest about, not with others but with yourself and possibly with God? Would you like this living water, too? Then it is time to enter the dangerous honesty of this radically inclusive Kingdom Jesus came to bring. Whatever you are hiding, He won't turn away from it, and He won't turn you away, either. You might feel like you have to come to the well at midday to protect yourself from others' opinions, but you don't have to with Jesus. As a matter of fact, He is already at the well right now, waiting for you to arrive.
In the past two decades, I have met many people who have come to a place where they can be honest with God about who they are. Some I find to be still hiding. Others are very much on this journey of deep introspection. All these stages are okay. What Jesus would have us all know, first and foremost is that, regardless of who we are, we don't have to hide from Him. His love is unconditional. He already knows, even before you do, and His offer is still on the table. His hand still extends to you a cup. Are you thirsty for this water? Come. Drink. You will never be the same again.
The lady at the well did not fit in well with the religiously valued, normative social constructs of her day, either. Look at how Jesus relates to her. If you hear nothing else, hear Jesus' words to you right now:
"My dear daughter, my dear son, I already know everything about you there is to know. And I'm still here. I won't abandon you. I love you. I've come to extend to you, too, the invitation to a world where worship on 'this mountain' or 'that mountain' is irrelevant. I'm offering you a way into a radically different world, with a river of living, wet, soul-thirst-satisfying, radically inclusive love, not just for you but also, through you, to all those around you who were made for this kind of water, too."
Do you have the courage to be honest with Jesus?
The first step is to believe that Jesus really does give us space to be honest without the fear of losing Him. The next step is to believe what Jesus said to Philip: "If you have seen Me, you've also seen God" (cf. John 14:7–10).
HeartGroup Application
1. This week, I want you to spend some time in contemplation with Jesus. What might you be hiding? Consider if there remains in you a door to that most private room of your heart that you have kept locked.
2. Invite Jesus into this, whatever it is. Watch what He does next. Journal what He shows you.
3. In the context of Jesus' encounter with the woman at Jacob's well, share what Jesus shows you with your HeartGroup this upcoming week.
Keep living in this love. Allow it to also flow out to others around you until the only world that remains is a world where Christ's love reigns.
I love you guys.
See you next week.